Finding the best acoustic guitar strings for beginners is challenging. As a new guitar player, you may find it a bit confusing when picking out a set for your guitar. There are many factors involved when it comes to picking strings. These include gauge, string material, the tone you want, and your playing style. Use this guide to find the right acoustic guitar strings for you.
In a Hurry? Here Are the Best Acoustic Guitar Strings for Beginners
How to Pick the Best Acoustic Guitar Strings for Beginners
The first thing to remember before you pick up an acoustic set of guitar strings is that these strings are different from electric guitar strings. If you have an acoustic guitar, you need to ensure that the strings are acoustic. You can't use electric guitar strings on acoustic. You may ruin your guitar if you do.
String Material
There are several string materials used when making acoustic guitar strings. They are as follows:
Bronze – Clear and bright tone. Suitable for most acoustic guitar styles.
Brass – Brass strings have a brighter tone when you compare them to bronze strings. They have a cutting voice and a high-end response. They sound great when strumming a lot of chords.
Phosphor Bronze – These strings have a warmer tone than regular bronze. If you play the music that is quite mellow, go with the phosphor bronze strings. They work best for folk style music or fingerpicking. They work well on smaller sized acoustic guitars.
Silk and Steel – These are a combination of nylon and steel. They have a mellow sound. They are easier to play than regular acoustic guitar strings.
If you're looking for a bright tone, then go for bronze strings. If you want a mellow tone that is richer, try the phosphor bronze strings. If you want strings that are the easiest to play, silk and steel are the best choices. Avoid pure nylon strings. These are for classical guitars and don't work on acoustic instruments.
Coated vs. Non-Coated
When looking for the best acoustic guitar strings for beginners, there are two types. This includes coated as well as non-coated strings. Costed strings have a special covering, so they resist rust, corrosion, and damage. They tend to last for several months before you must change them. The downside is that they may not have the tone you want. You will spend a lot more for coated strings. Non-coated strings sound great when you first put them on. The downside is that they corrode fast, and you need to change them often. The upside is a cheap cost per set.
How do I Pick the Right Acoustic String Gauge?
The gauge refers to how thick the strings are. Acoustic guitar strings are harder to play than regular electric guitar strings. If you're new to acoustic guitar, the string gauge is important. Acoustic strings will hurt your fingers to some degree. It takes time to get used to them.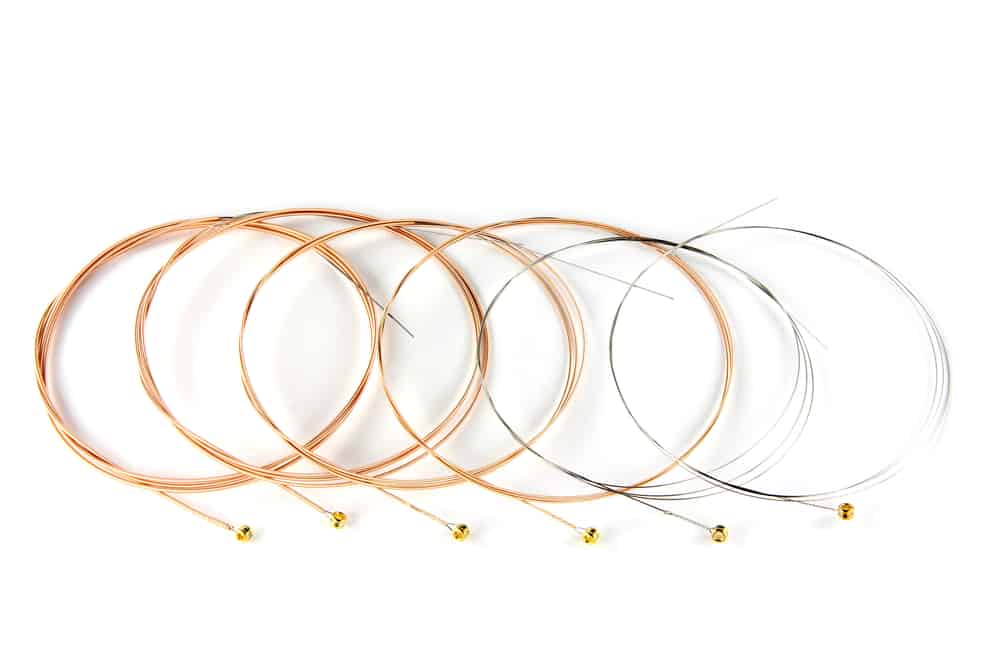 Common String Gauges for Acoustic Guitars
Extra Light – .010 .014 .023 .030 .039 .047
Custom Light – .011 .015 .023 .032 .042 .052
Light – .012 .016 .025 .032 .042 .054
Medium – .013 .017 .026 .035 .045 .056
Heavy – .014 .018 .027 .039 .049 .059
Light Gauge and Below
These strings work for fingerpicking, basic chords, lead, and arpeggios. They are easier to bend and play. They don't work as well for heavy chord strumming. Light strings are easier on the fingers. This makes them the best acoustic guitar strings for beginners. They work the best on smaller sized guitars. These sets are easier to play but lack the tone of medium sets.
Medium Gauge and Above
These strings have extra punch. You can strum these hard and they will give you good sound and tone. They are harder for lead guitar due to the thickness. If you strum chords, go with a medium gauge. These sets are best for large dreadnaught or jumbo acoustic guitars. They have a better tone due to the thickness but are harder to play.
Why You Should Use Light Guitar Strings as a Beginner
As a former guitar teacher, I recommend light acoustic guitar strings for beginners. You want strings that are easier to play. Medium strings will tire out your fingers and lead to frustration. Most beginners won't be strumming a lot of chords as their fingers won't be strong enough for full chords. As your playing develops, try the medium sets and see how they feel. You will develop your own personal preferences for string gauges. Beginner guitars strings should be light as they make playing enjoyable and learning fun.
Tips for Caring for Your Acoustic Guitar Strings
Wash your hands and use a cloth to wipe them down after playing which extends the strings life
Always have backup strings in case one break (the treble strings break more often)
Strings need changing when they sound "dead," look discolored, or are hard to play
Invest in a "peg winder" as this tool makes changing strings easy
Cut off excess string length after a string change to avoid injury
Tune strings slowly and stretch them to reduce breakage when first putting them on your guitar
Best Acoustic Guitar Strings for Beginners
D'Addario has plenty of experience making phosphorus acoustic guitars strings. They have produced these sets since 1974. D'Addario strings have great playability and long-lasting tone. They have a bright and warm tone. When compared to other strange, they last longer. They are corrosion resistant due to a corrosion-resistant phosphor bronze wire. You can get these strange in various gauges, besides light. the strings come in different package sizes, such as one set, three sets, and other sets.
D'Addario makes these strings in the USA. They used advanced winding technology. This ensures that the strings are consistent, durable, and last you for a long time. The string packaging is corrosion resistant. They will last a long time in your guitar case or a drawer before opening them up and putting them on your guitar. Popular players such as Chris Stapleton, Jackson Browne, and Bryan Sutton use them. These are one of the bests sets of acoustic guitars strings for beginners.
Pros
They are long-lasting
Corrosion-resistant packaging and wire
A warm tone with good resonance
Nice sustain and carry notes for a long duration
Cons
Some buyers had quality control issues with packaging
Strong breakage can be a problem on thinner strings for some
May corrode faster than other strings
Elixir strings are unique. They feature a special coating so the string lasts a long time. They have extended life when compared to other sets of strings. They provide you a bright and crisp tone. they will last longer and other uncoated and coated strings on the market. They come in many different gauges besides light to meet your needs.
Then why they last so long if they have antitrust plating. This ensures that the strings have a great tone and an extended life. All the strings in the set will last no matter how much you play them. They're perfect for recording, jamming, and when you are practicing. You can count on your strings to have an amazing tone and long life when you use these strings. These strings also have reduced finger squeak, debris, and sweat build up. This extends the life of your strings and protects your guitar fretboard. The patented coating helps reduce these problems. Popular players such as Bob Taylor, Wayne Sermon, and Kaki King use these stings. These are great beginner guitar stings. You don't have to buy as many sets.
Pros
Antirust plating extends the life
A reduced buildup of sweat, debris, and fewer finger squeaks
Bright and crisp tone
Easier on fingers thanks to the coating
Cons
They are expensive when compared to other strings
Some had problems with coating flaking off
Some may experience breaks at an increased frequency
Ernie Ball makes both electric and acoustic guitar strings. Their Earthwood Light set comes in various gauges. You can also buy them in pack sets, so you save money. This set features an 80% copper and 20% zinc wire. The strings have a tin-plated steel core. The plain strings use tin plate carbon steel and tempered for longer string life. These strings give you nice highs. They are well-balanced for a great tone across the entire string set.
Ernie Ball uses its Element Shield packaging to keep strings fresh. You can keep an unopened package of strings for months in your guitar case without worrying about corrosion. Earthwood Light would be a good choice as a set of acoustic guitar strings for beginners. They are on the cheap side, so if you have a low budget, get these. Ernie Ball makes these in the U.S.A.
Pros
Easy to bend and have superior tone
Perfect for cedar top style guitars
Nicely balanced across lows, mids, and highs
Easier on the hands than other strings
Cons
Some reported excessive string breaks
May corrode faster than other strings
Some had tuning problems with the set
Might be too "bright" sounding for some players
As both an electric and acoustic guitar player, I find D'Addario to be a top-quality guitar string. I have switched to another brand, but still use these from time to time. They have upped their game with the XT brand which is superior to other D'Addario sets. These have a lifespan treatment, so they last longer than regular D'Addario string sets. I would consider this set of the best acoustic guitar strings for beginners since they have a long life.
The strings have undergone treatment, but don't have the coating that some players don't like. They use Fusion Twist and high carbon steel technologies to improve your tuning stability. They stay in tune 131% better when compared to regular acoustic guitars strings. These strings also break less so you save money on replacements. You get 4x the life out of your acoustic strings with his set. The inner packaging has a sealable zip enclosure. This keeps unused strings in good condition.
Pros
Better tuning stability with Fusion Twist and high carbon steel
131% better tuning when compared to other strings
4x the life of other noncoated strings
Cons
Some experienced frequent string breaks
Some users said the strings corroded faster than they expected
Some indicated the strings lack a "bass" end to them
Martin understands acoustic instruments and strings with six generations of experience behind them. Martin is famous for its superior acoustic guitars. The company also makes strings for those instruments. One of their better brands is Martin Authentic. These offer great tuning stability and come in various gauges. The strings resist corrosion, so they last longer. They use tin plating and have a high tensile strength core wire. This manufacturing process preserves the life of the string on your instrument. Martin Authentic strings are easy to play and perfect for any beginner guitar player.
Some players that use Martin strings include John Mayer, Ed Sheeran, David Crosby, and Eric Clapton. They were designed with the guitar player in mind. They hold up during recording sessions and when playing live music.
Pros
Better corrosion resistance than some strings
Great tuning stability
High tensile strength core
Easy Playability
Cons
Some have experienced tuning problems with these strings
Like other non-coated strings, they have corrosion problems
Some had frequent string breaks
Conclusion
These five sets are some of the best acoustic guitar strings for beginners. While all these sets are a great choice, the Elixir 80/20 Bronze Acoustic Guitar Strings are the superior choice.
The reason for this is that the strings have a coating that preserves the life of your strings for a long duration. Some don't like the coating, but you get a vastly superior string life. This saves you a lot of money. I have used Elixir for many years and find that they give me the best performance for my money. The downside is that they are quite expensive.
If you don't like the coating, try D'Addario XTs. These strings last longer when compared to other non-coated strings. Martin, Ernie Ball, and regular non-coated D'Addario strings are all excellent beginner guitar strings if you want to save money. Now go string up your acoustic guitar and have fun playing.