Looking for privacy while you play your digital piano? Keen to avoid annoying the neighbors? The best headphones for digital piano are reviewed in our guide.
There are lots of reasons to play digital piano privately and listen through headphones. Whether you want to avoid disturbing your neighbors or other people in your home, or you're just embarrassed to have others hear you while you practice, headphones are the answer. In this guide, we've reviewed the best headphones for digital piano.
There are a surprising amount of options on the market. The market for headphones has more options than ever before, and navigating this market can be very confusing. There are noise-canceling headphones, open-ear, and closed-ear designs.
Our guide is designed to help find the best digital piano headphone options for your own specific needs. One standard feature that everyone needs from their headphones is an excellent sound. All of the options we've picked out and reviewed give an accurate recreation of the sound of your keyboard or digital piano.

In a Hurry? Here Are the Best Headphones for Digital Piano
Digital Piano Headphone Reviews
Rating:
4.5/5
Beyerdynamic is a brand that people trust in recording studios as well as for home audio. The brand describes their
DT 770 Pro
headphones as "an absolute studio classic".
These headphones are high fidelity and have a good sound recreation. The brand has tailored these headphones over decades of manufacturing.
The DT 770 headphones are a part of the classic Beyerdynamic range. There are three models in this range, the 770, 880 and 990. The 770s are the only ones that have a fully closed back. We've picked this design out as being great for use with a piano with headphone jack.
Being closed-back, the DT 770 Pro headphones have quite a high volume, and great noise isolation. If you are hoping to block out the external sounds when you play keyboard or digital piano then this model could well be for you.
The frequency response of the headphones is a plus point. The level of detail is brilliant. Most headphones with a closed-back design sacrifice a little bit of acoustics and spacial reproduction. However, these headphones have a good soundstage in spite of the noise-isolating design.
You can buy these headphones with three different levels of impedance. 32 OHM, 80 OHM or 250 OHM. The higher the level, the more professional the sound, but the truth is that most people don't hear the difference with digital piano. 32 or 80 OHM options should be fine.

Pros:
Comfortable headphones. These have a velour fabric on the earcups and foam padding to keep your ears comfortable.
Single cable on one side of the headphones. Simple and tangle-free.
Excellently built in Germany. These headphones are very durable and designed to last years or even decades.
Brilliant noise isolation, they keep the sound in the headphones and also stop you from being able to hear ambient noise which could distract you from your practice.
Suitable for music production. If you plan to use your headphones to mix and record music, the DT 770 Pros have enough quality to allow you to do this and not risk overcompensating.
Cons:
Much more expensive than a lot of the options on the market. If you're looking for budget piano headphones, these aren't for you.
Can sound a little 'bassy'. The bass frequencies are enclosed and slightly exaggerated by the design. Huge bass isn't needed for piano.
In summary, these headphones are a wonderful choice for people who want high fidelity audio, and may wish to use the headphones for music production as well as listening to their piano practice.
For blocking out ambient noise, there aren't many better options than Beyerdynamic DT 770 PRO headphones.
Rating: 4/5

Audio-Technica ATH-M20x
are a little more affordable. This means they are an excellent choice if you still want noise isolation but aren't looking to spend hundreds of dollars getting your hands on some headphones for keyboard use.
Like the DT 770 Pros, these headphones offer a circumaural design meaning that they sit over the ear. This provides that level of isolation which can be really helpful if you're playing piano or keyboard somewhere a bit louder.
The one cord design means that cables won't be dangling down and getting in the way. These also come with a jack adaptor meaning they will fit your piano headphone jack whether it is ⅛ inch or ¼ inch.
For the price, the audio fidelity can't really be faulted. They have a lot of booming bass, which some people really enjoy. This is mainly due to the closed-back design. The manufacturers advertise these as being suitable for studio use, but if you do use them for producing or recording, remember the fact that they are probably not giving you the most accurate bass as it is boosted.
The frequency response is what you would expect, at 15Hz up to 20kHz. It means no sounds on your keyboard will be weaker or sound inaccurate due to the frequency response lacking.

Pros:
Adjustable. You can easily adjust the length of the ear cups in order to fit perfectly around your ear. This helps with isolation but also the comfort of the headphones.
Full frequency response. While not ultra high fidelity, they are good enough headphones for keyboard piano practice as they have 15Hz to 20kHz frequency response. You can accurately hear the full range of your piano.
Affordable. These headphones offer a lot for the price tag, and compete with models which cost twice as much.
Great noise isolation due to the snug fit around the ears.
Cons:
Not exceptionally accurate for mixing and producing music in the low end due to the fact that the bass is boosted. This needs to be compensated for.
Though comfy in short stints, the headphone band can put some pressure on your head if you wear it for a long period of time.
The reason we've picked these headphones out as being such excellent quality is the fact that you get a lot for your money. They're well under $100 in price, but still have features that can rival far more expensive options.
On top of this, these headphones are fine for studio use and can also be used for listening back to your favorite music. An adapter is included so you can listen on 3.5mm or 6.3mm headphone jacks. This makes the Audio-Technica ATH-M20x great headphones for keyboard and digital piano but also means they can fit into a smartphone, record player or pretty much any other audio device.
No products found.

 – $$

No products found.

Rating:

4/5

Though Cowin is not as big a brand name as some of the other choices on the list, it earns its place as one of the best headphones for piano. However, there is one proviso. These headphones connect via bluetooth, so make sure that your digital piano is compatible with this technology before you dive in and make a purchase.

The No products found. are some of the only active noise-canceling headphones we recommend for this purpose. Their ANC technology can cancel out the ambient noise around, so if you are practicing in a place with traffic noise, for instance, you can lose these frequencies and immerse yourself in the piano.

Not having wires, and having a reliable 4.0 Bluetooth connection is a big plus point. Once you've done practicing you can quickly and easily connect to your phone, iPad or any other Bluetooth device in order to listen to your favorite songs.

If you have a piano keyboard with headphone jack but no Bluetooth connection then this set of headphones will not be suitable. Triple check that your headphones can connect up to your keyboard or piano before you make a purchase. There is a 3.5mm Audio Cable included, but you will need to buy an adapter to fit into a keyboard or digital piano and lose the benefits of a wireless connection.

These headphones have 40mm large-aperture drivers which offer plenty of power, and make the bass sound really prominent. The audio is not quite studio quality, but is very good for playback and listening to certain 'bassy' genres of music.

While it's not suitable for mixing and producing music, the No products found. can be ideal for walking, gym, exercising outdoors or other playback.


Pros:
Easy to connect to many devices, including Bluetooth-enabled digital pianos and keyboards.
Active noise-canceling compensates for frequencies such as traffic noise.
The earcups rotate and expand for a comfortable fit around your ear.
Cons:
If you want to use it wired then you need to buy an adapter and use the 3.5mm cable included. This defeats the purpose of wireless technology.
These headphones aren't as high quality in terms of fidelity and clarity as some competitors. They're not quite up to standard for audio mixing or production.
You need to take regular breaks from these headphones to stop ear fatigue.
Wireless technology is something a lot of people are looking for in the modern age so they can use their headphones with all their devices. Many keyboards and pianos are being made with Bluetooth capabilities, too.
For an affordable wireless option with active noise canceling, it might be worth considering the No products found..
No products found.
Rating:
5/5
The AKG brand of headphones has an amazing history, and the
K240 headphones
have been an affordable studio staple for a long time. The brand offers german precision and construction and the affordability of the headphones is quite amazing when you hear the audio clarity.
The semi-open design is a mix between the impressive soundstage you can get from an open-back design and the isolation that can be achieved if it is closed. You get a bit of both. Most people who are using headphones for practicing digital piano don't need to worry hugely about noise canceling. If you're just practicing at home and don't want others to hear you, semi-open can be a good choice.
The sound quality is fantastic and the frequency response is absolutely brilliant.

Pros:
3.5mm (1/8-inch) connector with 6.3 mm (1/4") adapter included for piano headphone jack.
Clear and flat frequency response which doesn't taint the sound in any way.
Some noise isolation to block out some external sounds, though not all.
Replaceable ear cups and replaceable cable.
Comfortable foam padding and adjustable design to automatically fit your head and ears.
Cons:
Padding can get tatty so you need to replace it semi-regularly.
The sound might leak out of the headphones, so practice might not be 100% private.
If you need 100% noise isolation, these headphones aren't the ones for you.
These headphones are basic in terms of the extra features. There's no Bluetooth or inline controls, no microphone to make calls. They're just a traditional set of cans.
It's worth stating again that the headphones offer brilliant sound. If you're a total bass head and plan to listen to heavy music and pounding bass on them, they might not quite be the best option for you, but for accuracy, they certainly are up there with the best. The AKG K240s are regularly used in recording studios.
In spite of this quality, the price point is very attractive. If you want pro sound on a budget then the AKG K240s could be your best option.
Rating:
4/5
If you are looking for an option that is similar to the AKG K240 headphones but with a closed-back design then the
Audio-Technica ATH-M20x
could be the answer for you. They're sold at a very similar price point to the K240 headphones, and though the audio clarity is not quite as good, these headphones are better at keeping the noise isolated. If private practice is your main motivation then the are a wonderful choice of headphones for keyboard.
The closed-back design also lends itself to being pretty durable. These are some rugged headphones that should last you many years if they're treated right.
15-20,000 Hz frequency response is pretty standard for headphones in this price range, and all of the models on our list of the best keyboard headphones. It means that all of the frequencies of human hearing are covered. The frequency response isn't the flattest out of the options out there and the closed-back design gives a bit of a bassy sound. Good for listening, but not the best for mixing and producing.
The single cable, which runs on one side of the headphones, means that you don't have to worry about annoying tangling. Unfortunately, this cable is not removable so you can't replace it easily if anything happens. This is one downside to the design.

Pros:
6.3 mm (1/4″) snap-on adapter so you can connect to pretty much any audio equipment.
Very affordable price point.
No tangling wires as there is only one cable going into one ear cup.
Great sound isolation due to the closed-back design.
40 mm drivers for great power. Quite a bassy sound as a result.
Cons:
Frequency response not as flat as the AKG K240s and some other headphones, so these aren't ideal for mixing music as well as piano.
No Bluetooth capabilities or options for wireless use.
Not as comfortable as some of the other options. Can be tight around the head after a couple of hours use.
If you don't mind the sound being a little more bassy (some people love this sound) then these headphones can be a good option. The ⅛ inch and ¼ inch connections mean they will fit perfectly in most wired devices and keyboards, synths and digital pianos.
The isolation is the best thing about these headphones. If you want to practice in private then these are a good choice. Though they don't have active noise-canceling, they're still good for using in locations where there is some background noise to try and cancel out, too.
If you don't want to break the bank too much, and you're looking for rugged and durable headphones with a good sound, the Audio-Technica ATH-M20x could be for you.
Rating:
3.5/5
Some people aren't looking to spend a fortune on their headphones. If you haven't spent loads on your piano in the first place, and just want a sound which is good enough to hear what you are playing without ultra hi-fi quality, these cans could be an answer for you.
In spite of the very low price point, these headphones actually have some pretty respectable features. You're not going to mix and produce a number one album using these, but they certainly have enough quality to help you through the early steps of playing and listening to piano. You don't need to go all out and spend a fortune on gear to learn to play.
There are some considerations to buying these headphones, and they're not an elite model. They're a bit heavier than most of the competing models on this list, meaning they might start to cause your head and ears some tight feeling and even aches and pains if you're practicing for hours upon hours. Short stints should be fine, however. They can actually be pretty comfortable if you aren't using them for extended spells.
The wires come from both of the ear cups which can leave them susceptible to getting tangled. They're also not quite as durable as some more expensive options, which is to be expected. However, this is not to say that they're not worth considering. You can get a good few years of use from these cans. As you can see from the "pros" below, there's plenty to like about the Panasonic RP-HT161-K.

Pros:
These headphones are exceptionally priced, and you do get a lot for your money.
Relatively comfortable when used for short stints. They're adjustable and have some decent padding.
Sound quality is good enough for practice. Though it's not ultra-clear, you can hear the frequencies needed to learn piano or practice with no issues at all.
Cons:
They come with a very long cord. This could also be a pro, but usually you'll be sitting right next to the piano and a long cord can just get in the way.
They're not likely to last as long as some other models.
Long spells can lead to these feeling a bit tight and uncomfortable.
Heavier than many other headphone options.
Not the best noise isolation, this isn't really what these headphones are designed for.
It's fair to say that the
Panasonic Headphones RP-HT161-K
are a basic model of headphones. The sound is absolutely fine if you're not an audiophile and just want to be able to listen to what you're playing without having to use speakers.
Basic may be exactly what you're looking for. For reliable and cheap headphones, consider the RP-HT161-K from Panasonic.
Buying Guide and FAQs
It's best to fully understand what you should be looking for when shopping for headphones for digital piano. Otherwise, you may end up with a pair that doesn't really suit your needs. Our buying guide and quick FAQ section is designed to help you to decide.
Noise Isolation vs Noise Cancelling
Noise-isolating headphones means that the cups around the ears encompass your whole ear and they form a seal to stop noise from getting in or out easily. Noise-canceling technology uses a microphone to detect frequencies it needs to drown out before compensating within the earcups.
For most uses, noise isolation is perfectly good for practicing piano. If you plan to practice somewhere with heavy traffic, for instance, noise-canceling could be the answer.
Over-ear or On-ear
All of the headphones we've recommended are over-ear models as these can isolate sound better and lead to less sound bleeding out. On-ear models can be used, but these don't tend to be as comfortable and the sound can easily leak.
Can I Use Wireless Headphones?
Many of us have got used to wireless headphones. We often listen to music through wireless headphones and the inconvenience of wires can be annoying. Bluetooth has facilitated the streaming of music from devices, and music equipment is starting to catch up. You can often use your keyboard with headphones that have wireless and Bluetooth technology.
Many modern digital pianos and keyboards are being made with wireless technology. This means that you can connect to wireless headphones with ease. Sometimes, wireless headphones include the option to use a wire. This means that you can use them wired for playing piano, but wireless for other things like connecting to your phone.
What is Frequency Response?
The frequencies of human hearing range from 15 Hz (bassy sounds) way up to 20,000 Hz (high end, bright sounds). Most headphones are built to cover these headphones with no issues, so that all of the frequencies can be adequately reproduced. However, some do it better than others.
Some headphones have areas where they don't respond as well, some might boost the mid-range, some might fail to reproduce bass very well. When we talk about 'flat' frequency response, we mean something that won't taint the sound by failing at some frequencies.
Open Vs Closed Back
Closed back headphones are designed to stop sound from leaking out, and to stop sound from getting in. These headphones offer good isolation, but can sometimes be a little bit too bassy. They can also contribute to 'ear fatigue' as a result. The acoustics don't sound as natural as the alternative, open-back headphones.
Headphones with an open back don't have the same isolation, but they do offer a great level of acoustic 'soundstage' and a natural sound which is more similar to studio monitors. Your ears are less likely to feel achey or experience 'fatigue' using these headphones.
How Much Should I Spend on Headphones for Digital Piano?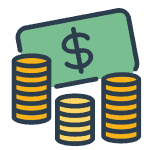 You don't need to spend a fortune on your headphones if you are just using them for listening back to your piano practice. You don't need them to be ultra high fidelity if you are just hoping that they will have enough quality for you to hear if you're playing the notes correctly. Headphones under $30 can do the job for this, but don't expect them to last long or provide lots of detail.
You may wish to hear in good detail, in which case you should invest in some headphones which cost a little more. These headphones can be used for listening to music too. Around $50 will get you a decent set of headphones.
Headphones can be very versatile. You might want to use them for other things such as mixing and mastering music. In this case, you should spend a little more. $100-200 will get you a very good pair of headphones suitable for studio use. They'll also last a lot longer.
Remember that higher cost doesn't automatically mean that the headphones will be better. You need to pay attention to reviews and work out whether they are the right model for you, rather than just splash the cash and hope!
Can I Use In-Ear Headphones?
If you get an adapter to turn the ⅛ inch connection usually found on earbud style in-ear headphones into a ¼ inch jack, then you can use in-ear headphones. However, these headphones might cause you more ear fatigue as they are constantly closer to the eardrum and causing more pressure.
Generally, we recommend over-ear headphones as the best headphones for digital pianos.
Conclusion
The headphones we've recommended are the AKG K240s. They offer a great balance between many of the features we're looking for, and though not wireless, these headphones are superb for playing digital piano and hearing accurately what you're doing.
The other options may well be the best choice for you, depending on your needs. Spend a little bit of time doing some research to ensure you truly do end up with the best headphones for digital piano according to your own unique needs.