In this guide, we're looking at synthesizer options for hip hop production. There are loads of different options, more than ever before. In the modern age, you can get both hardware synths or you can also get VSTi synths so that you can make music on your computer.
Choosing the right synthesizer can help any musician to find their sound, and if you are looking for a specific audio characteristic then you will want to explore our guide as we discuss some of the synthesizer options for bass and hook sounds, with hardware and software options explored.
In a Hurry? Here Are the Best Synthesizers for Hip-Hop

Synthesizer or VSTi
One of the biggest choices to make is whether to go the software or hardware route. Most people are in agreement that the best sounds come from hardware. They have more warmth and the analog sound is appealing to all sorts of different musicians and beat producers. Many people like having the option to play an instrument in front of them rather than control it via the computer.
The case for a virtual instrument is strong, though. You can access a huge library of sounds and different audio properties within one software synth. Many of them have a huge amount more in terms of presets, and you can even download "patches" and sounds other hip hop producers have made.
Is Vintage Better?
Some synthesizers made historically have increased in value ever since they were released onto the market. People pay thousands of dollars for certain models of synths and drum machines. For instance, consider the TR-808. The iconic bass sound in a lot of modern Trap and certain genres of hip hop comes from the Roland TR-808, which mainly produces drum beats, but can also be used to make bass tones.
A lot of people pay for the mythology aspect of a vintage synth. For example, the sounds that can come from a TR-808 can be found as samples or replicated on new and modern synths, but people like to know they are playing the model from the 80s, they are collector's pieces as well as being incredible instruments and relics from the history of music. However, they don't offer the best value for money. If you can afford an original, vintage or classic synthesizer then this is fantastic, but if not, there are some budget options out there.
"Imitation" Synths
There is an unusual loophole in the world of synthesizers. Budget brands can replicate some of the famous brands of synth. Think of it as a cheap replica of a guitar.
Manufacturers such as budget audio powerhouse brand Behringer are effectively recreating the circuit boards of popular synthesizers so that they can create the same sound.
Whether you trust one of these synths or not is up to personal preference and your own budget, but they certainly provide an option that is far more affordable but can still create a high-quality sound. Some of these synths are impressive replicas, and they cost a fraction of the price of the original.
Connectivity
Keep an eye on the connectivity when choosing a synthesizer for hip hop. Think about what you need your synth for, and do you need it to connect to other hardware or a computer. USB connectivity can be a big bonus.
Obviously, this works for virtual instruments, too. If you are looking to get a VST instrument, it might well be worth looking to get a keyboard that can be used to control your virtual instrument. Though you may be able to trigger sounds from your software, it helps if you have a keyboard or control surface.
In the modern age of music production, connectivity between multiple devices and programs is easier than ever. Old school and vintage synths may not give this option.
Keys and Sensitivity
How many keys does the synth have, and how many do you need? Are you looking for a synthesizer that you can play two-handed or just something to produce some great sounds on?
Some digital piano keys have touch sensitivity, and some do not. A touch-sensitive keyboard will allow for more expression, you can play harder or softer depending upon how hard you hit the keys. This gives a lot more expression and means you can play more subtle and interesting melodies and give many more options when producing
Extra Features
Some synthesizer options will provide extra features to try and stand out from their competitors. Extra presets, inbuilt effects and sequencers give users a lot more options with creating new sounds and add a level of convenience.
Some of the features make it easier to use the synth, such as LCD screens. Some synthesizers include inbuilt effects such as reverbs and delays, and these can allow you even more control of the sound you are looking for.
Every synth on our list is slightly different, but all have the ability to come up with incredible hip hop tones including bass sounds.
Best Synthesizer for Hip Hop Reviews
This synthesizer packs an incredible amount of features into one small (very small) package. This is a 37 key synth and though it doesn't have touch sensitivity, it has some incredible sounds and the option to store loads more patches. There is even computer software and "patch editor" functionality so that you can get all your hip hop sounds designed perfectly.
Once you've created the sounds, they're easy to tweak live with a number of filters, and you can also benefit from loads of effects.
Pros:
256 sounds included with more downloadable.
Powerful synth engine.
Use as an analog synth or connect the software to your computer.
Design and save your own sounds.
3-year manufacturer warranty.
Cons:
Limited expression while playing, no weighted keys.
Navigating the patches can be awkward.
In general, for such a small synthesizer, it is incredible to experience these levels of power, the synth is expandable with loads of different patches and the inbuilt effects mean you can create some incredible bass sounds for your music production.
The Arturia MicroFreak Hybrid Synthesizer is one of a number of very affordable synths made by Arturia, and it provides a very good option for people who are in the market for a lot of different sounds and don't want to spend a huge amount of money.
This is a hybrid synth so it can be used as an analog model but also easily links up with software options, and can link with a DAW. It provides a streamlined workflow and it is very quick to work with.
It has a wavetable and digital oscillators, combined with analog filters. There are almost unlimited possibilities in terms of the sound. The MicroFreak has modes including "Harmonic OSC and "Texturer" so you can start to play around with lots of different types of sound.
Pros:
Easily affordable for most producers.
Lots of modes for producing different sounds.
Includes analog filters and an arpeggiator setting.
Links with DAWs and Arturia software.
Huge range of sounds possible.
Cons:
A flat keyboard means less expression during a performance.
It doesn't have the same analog sound as some other options.
A hybrid synth lets you get a huge amount for your money, and Arturia has so much software that can be used when creating new hip hop sound fonts.
If you are happy with monophonic (only triggering one note at a time) then the Korg Monologue could be a perfect choice for you. It starts with two oscillators with quite a few different waveforms.
To further alter your sound you can use waveshaping, ring modulation, drive and a variety of other filter and LFOs. This is great for hip hop sounds and creates amazing leads as well as bass sounds. The envelope controls give a real analog crunch to the sound.
Pros:
Includes 2 VCO(s), 1 VCF, 1 EG, 1 LFO,
16 step sequencer.
OLED oscilloscope is inbuilt.
Incredible Korg build quality. Synthesizer pioneers!
Cons:
Other software, effects, and hardware are needed to get the most out of it.
Only useable in a monophonic setting.
For bass and leads, this is hard to argue with. Ask any synth lover and they will tell you that you can't go wrong with Korg, and this gives simple but powerful synth a lot of potential for producers.
Bonus: Moog Sub Phatty – Best for Bass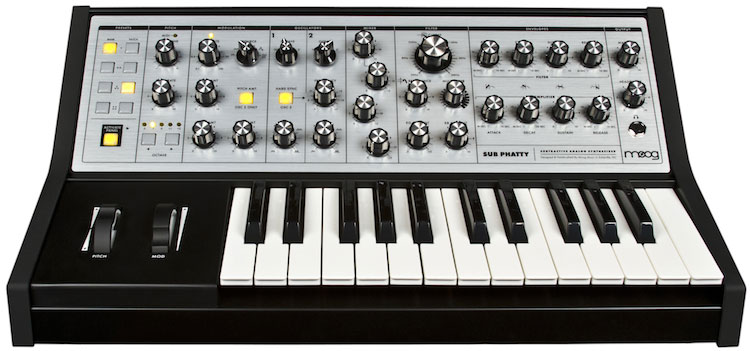 The Moog Sub Phatty can provide the best mix between analog and digital. The controls are hands-on, and there is a gritty, analog and vibrant sound to the synthesizer. However, it links with computers brilliantly and has an interface that can be used as a plugin within your DAW so you have the utmost compatibility.
In terms of expression and sounds, semi-weighted keys mean that you can play a bit more like a piano. It also has a mod wheel that can be assigned to change a number of parameters. A pitch bend is also in place to allow another element of control.
Two variable waveshape oscillators provide the basis of the tone. Filter and pitch controls let you further shape the sounds.
Pros:
25 semi-weighted keys.
Easy to use with other software, USB control to link to a laptop.
Gritty, analog sound great for bass sounds.
It is light and portable, great for gigging.
Cons:
Quite an expensive option.
Not amazing for pad sounds.
There is a lot to like about the Moog Sub Phatty, if you want a small and portable model that has a lot of power to create amazing sounds this can be a good option. It's best for basses and gritty sounds rather than big swirling pads, but for those wanting to add a punchy low-end, the Sub Phatty is hard to beat.
Summary
The Moog Sub Phatty is an excellent and versatile synthesizer. It creates a wide variety of sounds and has modern connectivity as well as an incredible analog feel.
Each producer will find that they have their own preference for what sounds they like to use. Some will even buy multiple synths to provide a bigger palette of sounds. to play with and create your ideal hip hop vibe.