The Nord Stage 3 is the fifth generation of the wildly popular Stage series made by Clavia Digital Music Instruments of Stockholm in Sweden [1, 2].
The first model in this series, the Stage Compact was introduced in 2005. Since then, a lot of bands and other artists have started using – and bragging about – the Nords as they have proven to be utterly reliable, easily portable, and very flexible performance instruments.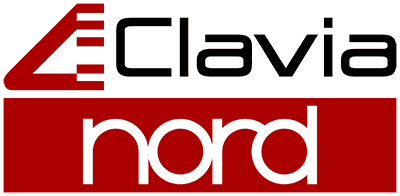 As the name suggests, the Nord "Stage" series is designed with the touring musician in mind, and it is at home on the stage. As it doesn't have onboard speakers, it really isn't designed with the pianist at home in mind, and its ultimate design and features speak best to those who require a capable instrument that can be lugged around. The design is lightweight, but the designers have managed to pack a full size, fully weighted 88-key keyboard in the cabinet, and the action really is top-of-the-line.
It has a colorful, modern design, but it doesn't conform to general ideas of what a traditional piano aesthetic should look like – so this is NOT your average-joe piano.
The Nord Stage 3 is the flagship of Clavia's stage series, and it features award-winning technologies, including an enhanced piano section and several hands-on effects. The Lead A1 Synth Engine is also the cream of the crop, and one of the best features of this versatile keyboard.
The Nord stage 3 is offered in 3 variations, with the only difference between them being the number of notes, the style of their respective keybeds and the playing action they have.  We'll be taking an in-depth look at the Nord Stage 3 88 in this review.
Design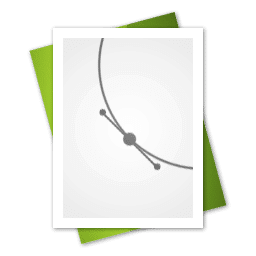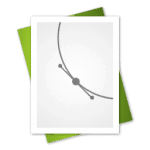 Nord is well known and recognized by its brand-specific and very striking red designs. The Stage 3 shares this same design: The cabinet has a distinct red cabinet and solid construction that speaks of high-end manufacturing standards.
The Nord Stage 3 has a dazzling array of controls, and looks nothing like a traditional keyboard or digital piano – and the technological modernity is easy to spot with just a quick glance of the eye. The buttons, rotary knobs, and other controls are sturdy, and the wooden pitch bend control (another design totally unique to Nord keyboards) looks like it is built to last.


If you're particular about tones and sounds, having full control over every possible parameter at the tips of your fingers will please you to no end. On the other side of the coin, if you're an amateur or someone who isn't tech-savvy, you might find the controls cluttered and you might be better off buying another instrument that offers the sounds you want out of the box.
Although the design is user-friendly, you might find the control panel on the Nord Stage 3 daunting at first. There ARE tons of knobs and buttons – but, they provide a LOT of control – and being a performance instrument means that the functions and abilities it has is exactly what the professional musician wants and needs. As a matter of fact, the professional player will find working on the controls of the Nord 3 to be a liberating experience.
Most professional musicians and stage performers who own Nords idolize the level of control that they bring. And, having things laid out on the panel is quite helpful. Just about any tone or setting you can imagine, any tweak or master adaption that you need to make, any quick setting you need to do in-play is easily doable either by pushing a button or turning a knob.
Need to import a new sound? There's a knob for that Need to tweak delay times? It's easy! Need to turn up the reverb intensity? There's a knob for that too! Making changes is really simple once you get used to the layout. The design also integrates visual ques to assist you during sound design and set up.


Speaking of visual cues, one of the biggest improvements that Clavia has made on the Stage 2, is that the Nord Stage 3 features two OLED displays. They are placed at the "Program selection" and "Synth section" parts of the Stage 3, and their job is to provide accurate feedback of selections and settings as you play. There is also a new Song mode that makes it way easier to manage presets. These displays are also vital if you are using the A1 Synth engine, which relies heavily on visual feedback.
In addition to the two screens, the Nord Stage 3 also features green LEDs located on the keybed, that marks Keyboard split points and other parameters (which you can assign in the morphing function).
So, the designers at Clavia have taken great trouble to make navigating the Nord Stage 3 logical and easy. The control scheme is streamlined to economically afford any setting or change you need to make either at home when you're playing around, or on the fly when you're gigging live.
It's clear that the Nord Stage 3 was designed to be a player's keyboard that is durable, and it looks and feels to be exactly so. The dimensions of everything from the cabinet to the keys just "feel" right and are a joy to look at and play around on.
Keyboard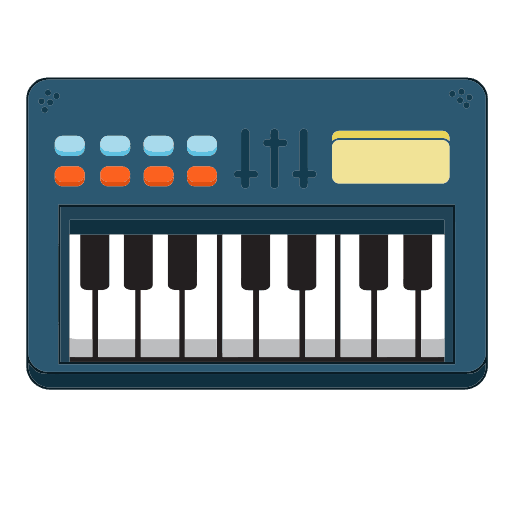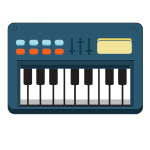 Nord Stage 3 88 has 88 full size and fully weighted keys. Clavia does not manufacture the action of these keyboards themselves – this is the gig of Italian manufacturer Fatar, who are known to be specialists when it comes to manufacturing keyboard actions.
The Fatar keybed has proven itself in the Stage 3's predecessor, the Stage 2 EX. The notes have a playable and adequate action and feel, and most musicians will have nothing to complain about here. It needs to be said that the action is NOT realistic when you compare it to that of a hammer-action acoustic piano – but, this shouldn't surprise you, and the standard is still high.
While we're discussing the keyboard and action of the Stage 3, it might be worth mentioning how great the mod wheel feels. Once you've gotten used to its thin profile, it is a precise tool that has JUST the right amount of resistance and travel between its extremes.
Performance
Nords have become synonymous with live performances, and the Nord Stage 3 is no exception. Everything you could possibly want to do is controlled by live knobs and pedals – and it is rarely necessary for you to do delve into the menu for changes. Changing programs are seamless, there are extended split functionality and crossfade options, a Song List Mode (which we'll discuss in a bit more detail later) and extended morph destinations.
The menu is easy to navigate (in the odd chance you might need to) because it is accompanied by a state-of-the-art OLED screen.
The acoustical flexibility of the Stage 3 will take your breath away. There are essentially three different sound generation sections – the piano, the organ, and a world-class synth. Best of all, all three of these can be used at the same time!
The Stage 3 has a huge amount of functions, modes and features that make performances run without incident while it generates the exact sound you want it to. While we'll delve into the details of these in detail a bit later on when it comes to performance you can rest assured that the Nord Stage 3 is intuitive and flexible enough to accommodate whatever request you throw at it.
As the 80's hit group Queen [3] suggested (at least when it comes to the Nord Stage 3) the show WILL go on!
Sound
The Nord Stage 3 has three main sound engines, namely the Organ section, the Piano section and the Synth section. We'll cover each of these separately below:
Organ section
The organ section boasts with the widely acclaimed (although slightly adapted) organ simulation engine called the C2D. Many musicians complained about the organ section on the Nord Stage 2, and to be honest, it was probably its weakest part at the time. The all-new organ section includes all the classics you'd expect (like the Hammond and Farfisa sounds) and a few other less-familiar numbers.
Organists will undoubtedly delight in just how realistic these sounds are, and you could easily accompany a congregation to the tunes of any hymnal without them realizing that you aren't playing on a pipe organ! This can be done on one of the two brand new Principle Pipe organ models.
Any two organ sounds can be used simultaneously, and the updated 122 Vintage Rotary speaker can be used for each slot independently. This simulation adds character to live organ performances and it has different slow to fast modes, and drive control. The Vintage Rotary speaker can also be used in the Piano and Synth modes.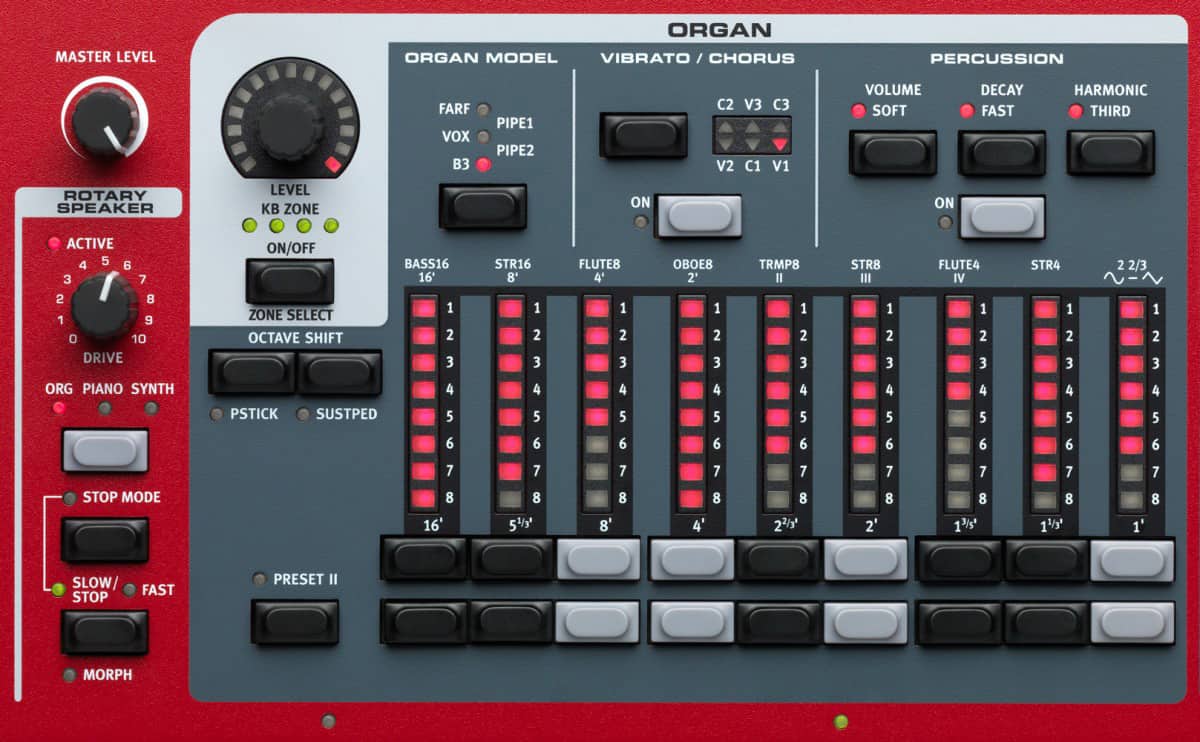 The Hammond sound emulates that of the original Hammond B2 to a tee, including the clicky keys, and realistic vibrato and chorus effects when you select them.
The Vox Continental and Farfisa Compact create excellent classic transistor organ samples, and you can play around with all the classic settings you would have enjoyed in the 1960s on them.
The Nord Stage 3 also has a B3 Tone with an Organ simulator, which has four different tone wheel settings – from factory new to leaky old vintage. This allows you to create just the right mood for whichever organ you're playing on.
The percussion section allows you to toggle softer volume, a faster decay, and the third harmonic.
Saving the best for last, the Nord Stage 3 features nine digital drawbars, offering you the chance to feel like you are playing and setting a real organ. For the organist who likes real hands-on control, this is a nice little add on. For instance, you can mix the sound of 8-feet and 4-feet pipes on the pipe organ sounds, or effectively recreate the 8+4 stops that many vintage organs have with it.  It really feels like the organ section has controls that are way more involved than that of the piano or synth sections, and you will be transported in time and place once you get the knack of it!
Piano section
The piano section of the Nord Stage 3 is the Rolls Royce of piano sections. Now featuring a dedicated 2GB of RAM JUST for the piano section, it packs a powerful punch… Piano purists will enjoy playing on the realistic and detailed sounds of Nord's pianos. The amount of sampling and design that went into these sounds are breathtaking – from the string resonance to the detailed pedal noise feature that mimics the sound of a sustain pedal being stepped on or released in-play.
As you'd expect from any decent digital piano, the Nord Stage 3 has adjustable touch sensitivity. There are three main settings, which can also be edited through the menu function if you need it to be more or less specific or sensitive.
The piano filters act as an equalizer, which can be used with any of the piano sounds. These filters can be applied to change the outputs of the soft, mid or bright tones of the piano you are playing on – so, you could make a piano sound more boomy in the low ranges, or brighter in the high ranges if you wish.  While it seems useless to some, it is a great feature to use if you ever encounter a sound engineer that doesn't know what he's doing and you need to tweak a live mix on your end while on stage.
The Stage 3 has a massive piano section which is sample-based. You can swap out samples with a USB connection and the Nord Sound Manager as you please.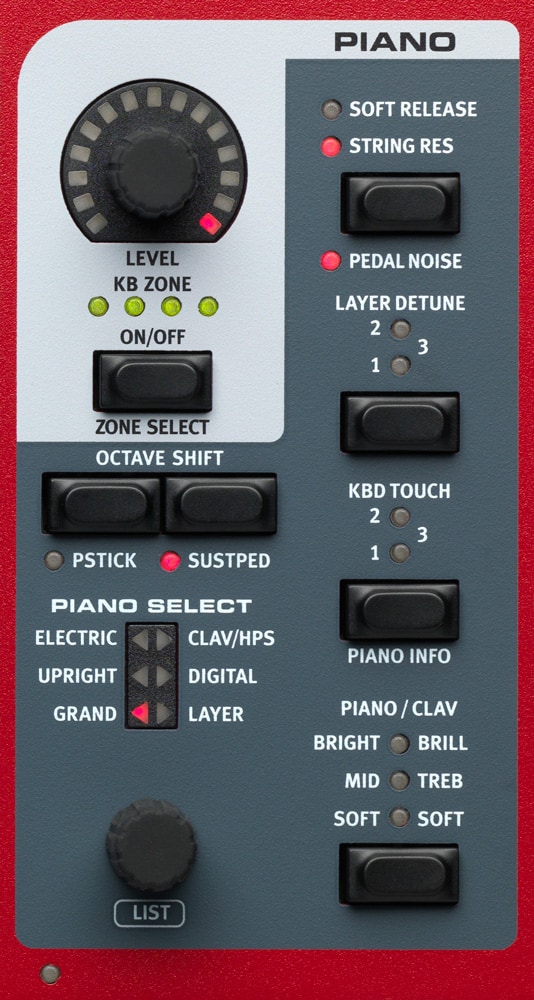 The widely praised Bösendorfer Grand Imperial XL is preloaded and should be your go-to-piano-sound. It is absolutely stunning in every way, from its rich, realistic 2 string bass sounds, to its high treble sounds which seem to have JUST the right amount of reverb and clarity without sounding pingy. This same model was used in the Nord Piano and the Nord Electro, and it is used by many world-renowned musicians for a reason – it is as close (or better) that you'll get to playing on a concert grand on stage without taking a piano or a tuner along for the gig.
Another preloaded piano is the Royal Grand 3D YaS6 XL, which takes up a lot of the 2 Gig onboard memory along with its Grand Imperial brother. The sounds are superb, and it will please folks looking for a crisper, brighter piano sound.
There are a few Clavinets, with eight pickup combinations, and popular sounds from French and Italian harpsichords.
The other sampled pianos on offer include the Steinway Model D, Yamaha C7, Kawai Sk-7, a few digital pianos (like the Rhodes Mk I, Mk II, Mk V, a few Wurlitzers and others) and numerous upright acoustic pianos(including Honky tonk, Saloon and Mellow upright sounds). There really is a piano sound for every taste and need in this suite.
These samples are great to use as they are, or to use as a foundation to build on by adding some effects such as a tremolo for slight variations.
The keys have a 120 note polyphonic capability, so you can play anything from a single note melody to a complex classical number or even a ragtime piano-saloon set without stressing about getting muted notes in between.
The Nord Stage 3's piano section screams "PLAY ME!" and you will be a happier muzo for doing so. It IS that good!
Synth Section
The Nord Stage 3 Synth section features another world-leading sound engine: the A1 Synth engine, known best for its analog modeling and smart oscillator configurations which delivers amazing sounds with very little programming. A carbon copy of the Synth engine used in the Nord Lead 4 synthesizer, it has been proven to do everything you're dreaming of… and more!
The purely digital synth has both single oscillator setups with pitch and shape modes, and Dual oscillator setups which include detune, sync, waveform, bell and noise mix modes. It also features 3 unison modes, which doesn't take away any of its polyphonic capabilities.
The Stage 3 Synth section has 34-note polyphony, which is more than enough considering the use of a synth. You'd be able to play any club track or synthetic backing with it, without getting cut off the moment you hit a few tritones in succession.
We can't compliment the oscillators enough. This is the backbone of the A1 synth section, and it offers five different oscillator categories – The classic analog, and a Wave, Formant, Sample and Super Wave forms. The Super Wave forms are a new addition to the stage series, and the Roland Supersaw classic sound it offers is particularly useful (and easy on the ear!).
The Oscillator configurations offer you a world of creativity too – you can use both oscillators independently, detune one of them, synthesize the frequency, or modulate the amplitude (FM and AM). You can also set specific parameters for these in its menu section.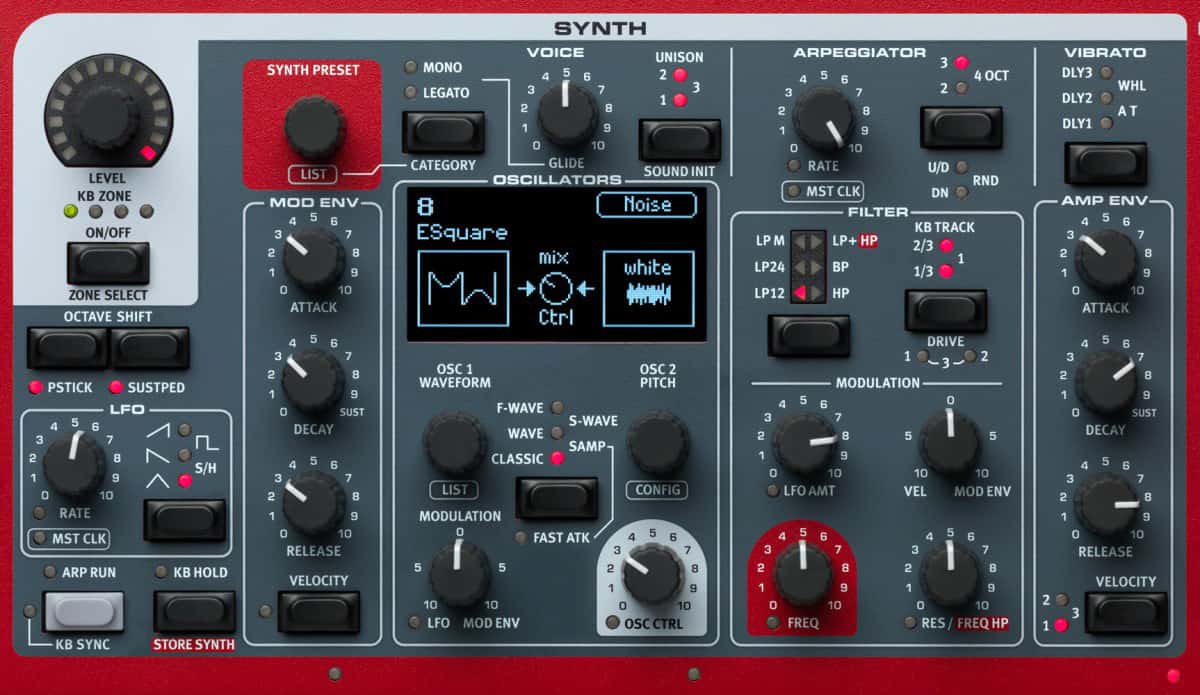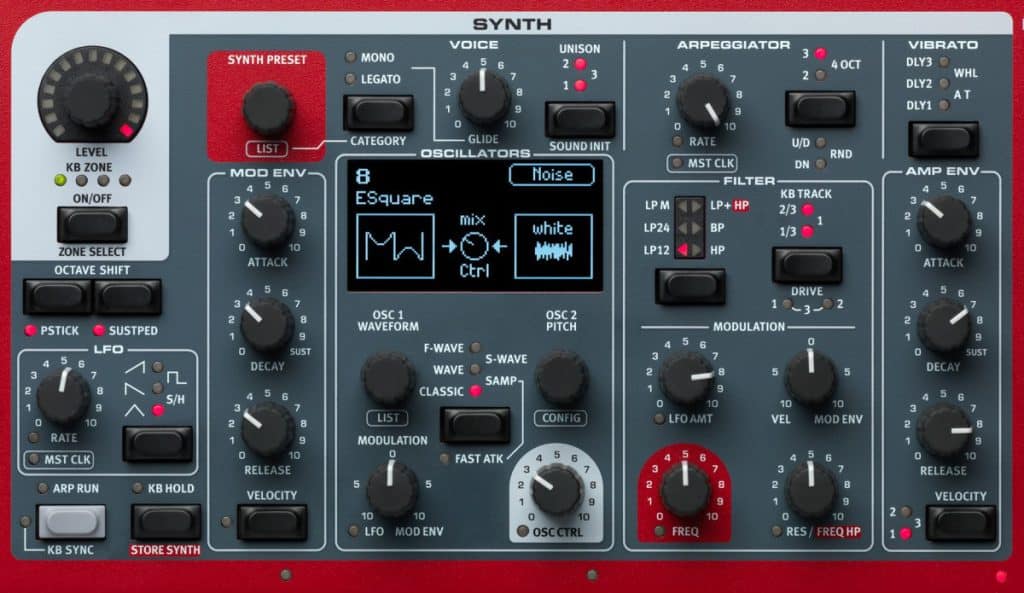 There is a vast amount of different samples in the synth section, including orchestral strings, woodwinds,  brass sounds, choirs, and others. These are all masterfully sampled, and great to use as they are – but, they can also be layered with other sounds if you want to play Picasso and get creative.
The Nord Stage 3's synth section has a dedicated memory of 480Mb for synth sounds, so there's enough space to add sounds from the Sound Manager if you wish.
The synth section has its own modes, including the polyphonic, monophonic retriggering and monophonic legato modes. It also has a glide control (which serves well for sliding between notes in a portamento-like fashion). The vibrato control can be linked to the mod wheel or aftertouch. The arpeggiator can be selected in an up/down or random configuration for adding substance to your melodies and can be set to run even after you've released the note.
The A2 Synth Engine, according to Nord reps, was designed for novices who need flexibility without the complexity of traditional synth engines – and in this regard, we'd say they did themselves proud. The Dedicated OLED display used exclusively for the Oscillator section makes navigation easy, and understanding the Synth section is not overly complex.
Pink Floyd [4] would've LOVED the Nord Stage 3!
Effects
As you'd expect from a performance keyboard, the Nord Stage 3 has an effects section. And, this section is one of the best we've ever played on.
One of the best features of the effects section is that you can control it from the front panel. There is no need to go menu-diving to access or enable them.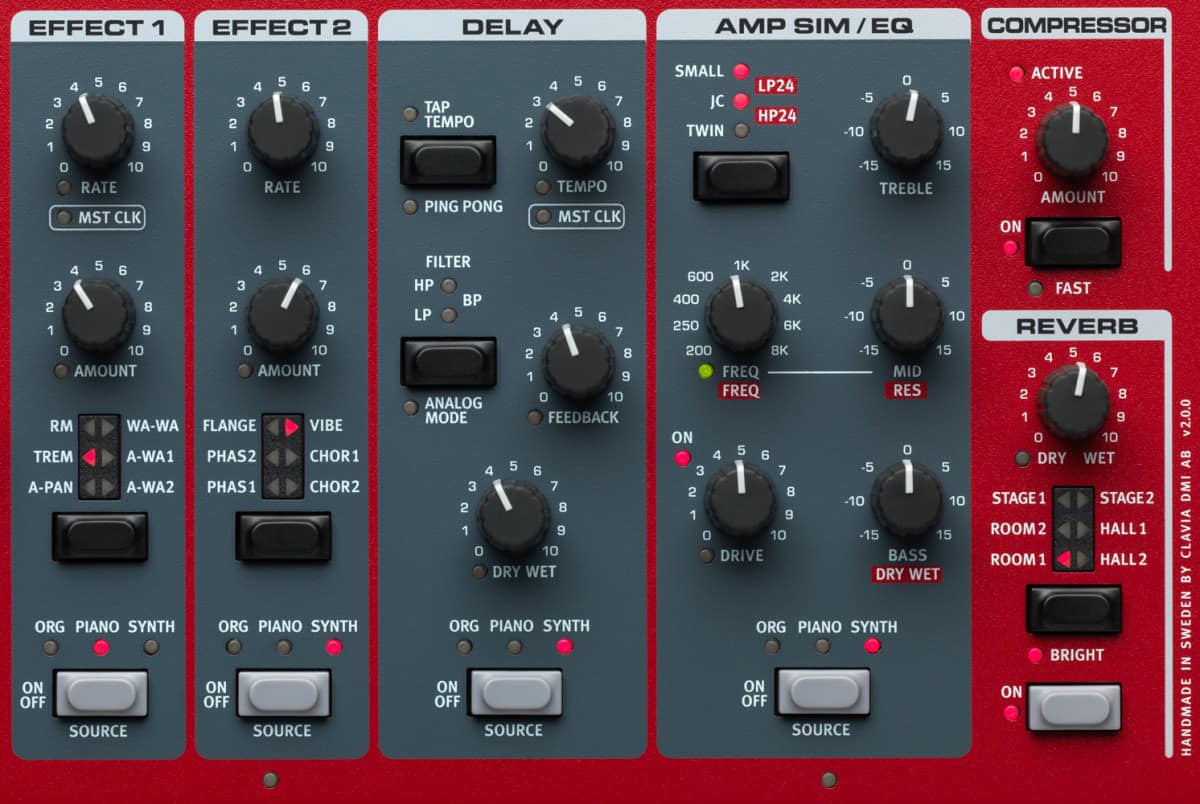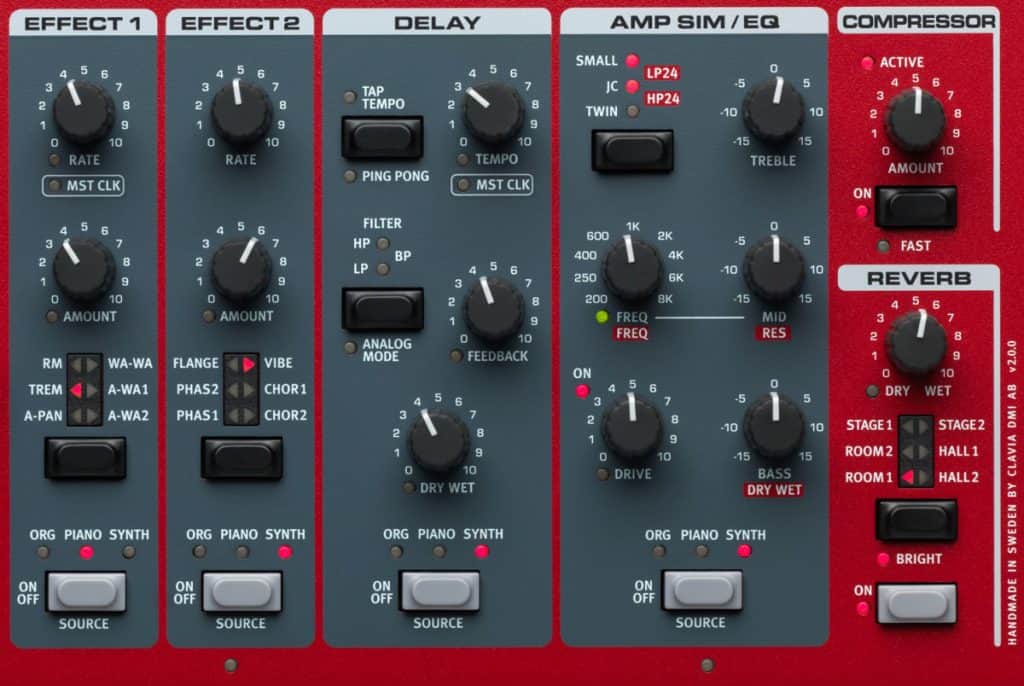 The NS2 effects section is all-new and all-improved from the ones used by Nord in the Stage 3's predecessors. There's a range of instantly tweakable effects, all of them fashioned after classic stompboxes – and best of all, they're all available for each slot! The delay has feedback filters, and the filter mode in the EQ section offers resonance and HP/LP modes. Morphable parameters have been increased, and there's a new fast compressor mode too.
So, a lot of big changes to accommodate the professional musician who needs, as Tina Turner demands, "Simply the best" [5]!
Let's look at these effects in a bit more detail:
Effect 1
These effects deal with the more niche type of styles. You can select the Tremolo, two Wahs, an Auto Wah or an Auto Pan. There's also a ring modulator. These conspire to create the most awesome experimental and raw licks that electronic musicians will love! The panning and tremolo effects are great when coupled with the piano sounds.
Controlling these effects is made easy through the "Basic rate" and "amount" controls. Alternatively, the effect rate can be linked to the master clock, or as the last option, both controls can be linked to the Morph control for even more expression.
Effect 2
The second section deals with stereo effects. There are two Phasers, two Choruses, a Flanger, and a Vibe effect, all of these modeled after the classic analog stompboxes that we all came to know and love in popular music. The choruses, in particular, offer soothing effects, and they are great in complimenting ballad-like piano or slow organ sounds.
Again, the Rate and Amount can be controlled.
These effects are world-class and crystal clear. Hats off to the designers at Nord!
Other effects and filters:
Features
The Nord Stage 3 has a list of features that reads like a book.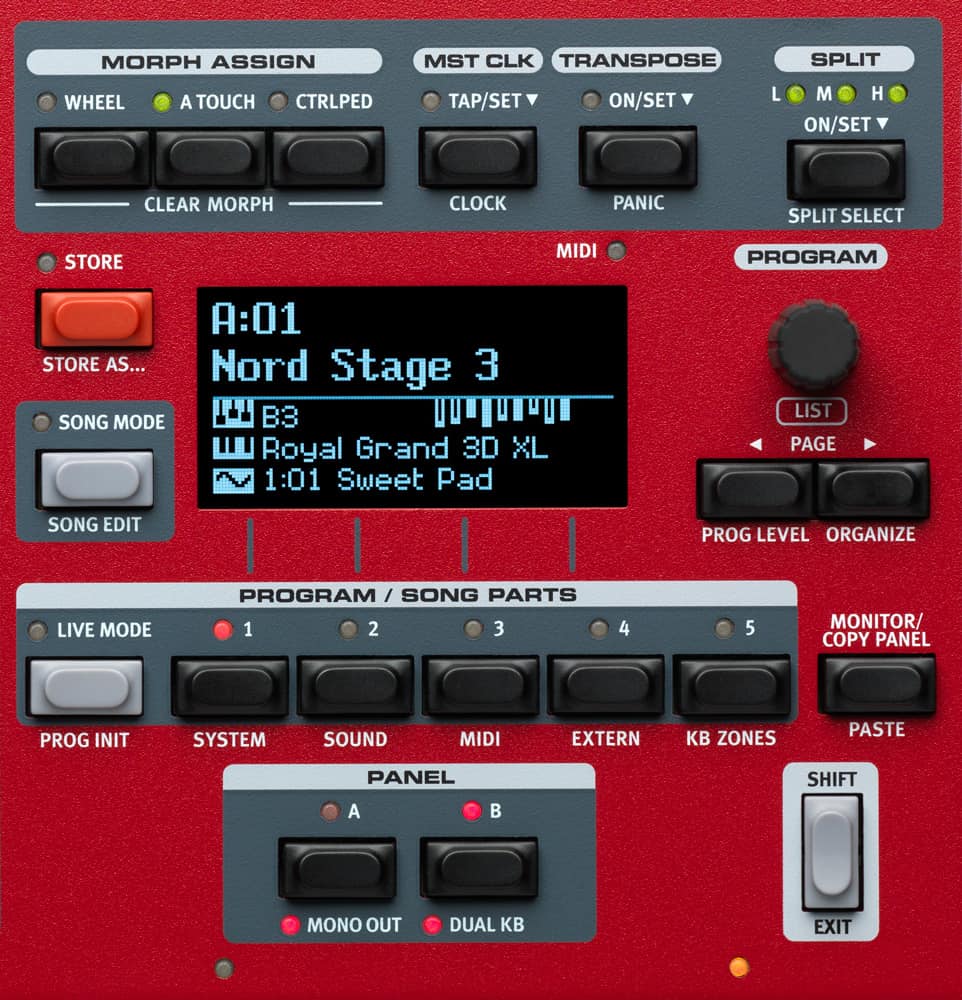 Advanced split functionality.
The Stage 3 has three split zones and a split point crossfade function. You can choose different crossfade parameters – small, large, or off. These are conveniently indicated by LEDs of different colors for different sections.
The Split point editor mode allows you to edit and organize split points to suit your song or style, with the OLED display offering an overview of the sound sources assigned to each split zone.
Program Change Pedal
A unique and handy tool is the Program change via pedal option, allowing you to effect program changes using the pedal while your hands stay on the keyboard.
Modes
There are a total of 16 program banks. Navigation is made easy with a list control, allowing you to move through banks rather than single presets. The banks are split into 5 pages of 5 programs each.
Clavia thought it was a good idea to include 12 banks of factory presets, which as you would expect, are changeable – or modifiable – to your liking.
Song mode
The all-new "Song Mode" is a great addition to the seemingly innumerable number of other presets. Almost like the "Bank" or 'Memory Bank" function on pipe organs and older keyboards, it offers the musician the option of organizing a group of programs for each specific song in the song list. These song lists can be created for different situations/bands/set-ups and saved under the song names. Pressing a button in-song will recall the settings you programmed, and you can use up to five of these presets within a single song. These presets can also be customized in-song or on the fly, without you needing to access a computer. Having access to the song mode will make your performances all the better, and this is an awesome feature!
The Nord Sound Manager
The sound manager allows you to manage programs, presets and songs in the different sections. It will also back up programs to your computer, or back up your full instrument, which you can back up again at any later stage.
Available for OS X and Windows, it is easy to operate, and the interface is user-friendly.
Having access to the Sound Manager [6] is an essential part of managing the Stage 3 without the headache of ever losing whatever hard work you put into programming it.
Morphing
Morphing is a pretty common feature on arranger keyboards, and again the Nord Stage 3 doesn't disappoint. It offers a great morph function which is easy to assign.
You can assign the morph function to the mod wheel, aftertouch, or an expression pedal. You can also assign separate minimum and maximum values to each parameter.
Transposing, octave shifting and tuning
The Nord Stage 3 has a full transposition function and an octave shifting option. Nords all feature Clavia's bespoke pitch bend wheel, which is more of a little pitch stick with a cut-out lip. Although it is smaller and way thinner than traditional ones, it is easy to get used to it, and its size makes it easy to do vibratos and bends with precision.
Other features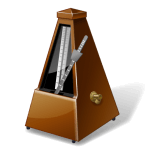 Standard features (which are not always so standard, even on high-end piano keyboards) are the recording and playback function, and a full-function metronome which handles either manual input, tempo tap, or tempo adaption.
Connectivity
The Stage 3 is a millennial. It is up to date with the latest technologies, and it has a legion of connectivity options.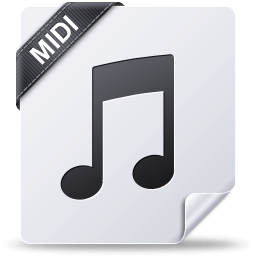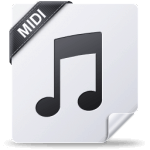 The external connection modules are able to receive MIDI, MIDI CC (Continuous Controllers) and MIDI PC (Program Change) signals. These enable you to integrate other equipment with the Nord, which allows you to use other synths, modules and keyboards live, under one controller.
Four ¼ Line out jacks cover stereo channels and offer 2 additional channels to separate sound sources. Of course, there's also a 1/4" stereo headphone jack, ideal for use monitoring. A 1/8" Monitor IN jack is included too, which is great as input for smartphones or music players.
There are jacks for a control pedal, a sustain pedal, and an organ swell. A new port is the program up/down pedal jack, which makes menu changes smooth and easy (provided you have a two-button pedal!).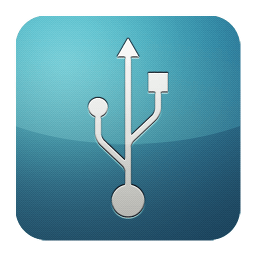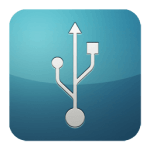 The Stage 3 has a USB type port B which makes connecting to laptops and personal computers possible. You will need to access this port quite frequently in order to use Nord's Sound manager and sample editors.
Lastly, there's a power port that takes the power cord included with the Nord Stage 3.
Accessories
Just like the huge range of connectivity options, the Nord Stage 3 is compatible with a LOT of different accessories – most of them available in the aftermarket out of your own pocket. The Stage 3 comes packages with
Of course, there are a ton of aftermarket accessories available. These are the best of them:
Best stands for the Nord Stage 3
You will want to get a sturdy stand for your Nord Stage 3. The horror of one of those babies hitting the floor will give you nightmares for the rest of your life!
There are two options here:
The first is to get a furniture-style stand,
Which is usually made out of wood and will look great if you're only going to be using your Nord at home.
This is a great option, manufactured by Nord, with an elegant matte lacquered finish, and fixed at a standard grand piano height:
The second option is to get an X or Z frame stage-type stand.
These are always easier to transport, and lighter to carry around. They're fairly easy to assemble and come at a cheaper price than the fixed furniture-type stands.
Rockjam manufactures the Xfinity heavy-duty, double-x piano keyboard stand with locking straps, which is sturdy and reliable enough for you to trust it in any situation. It is fully adjustable and can set to heights of between 4 and 38 inches. It has non-slip rubber caps on the end of its legs, and the double support straps will prevent your Nord from sliding about in-play.
Plixio makes a brilliant heavy duty Z-style stand, which is fully adjustable. What makes this stand great is the fact that both the height and width is fully adjustable. Essentially, if you plan on ever sitting down while you play, a Z-style stand is your best option. This one includes a headphone hook and anchoring straps that will keep your Nord in the position you placed it.
The best footswitch pedal for the Nord Stage 3
As we mentioned earlier, the Nord Stage 3 allows for program changes via a 2-button footswitch pedal. While this comes from the realm guitarists are more familiar with, we would recommend getting one if you plan on getting the most out of your Nord Stage 3.
The Boss FS-6 battery-operated footswitch pedal is probably your best bet. It will do what you need it to do, and you can't disagree with hundreds of happy reviewers on Amazon. Although there is a more expensive FS-7 available, we'd recommend the FS-6 purely because of its ease of operation.
As an alternative, you might consider getting a Peavey Multi-purpose 2-button footswitch. Although these were originally engineered for guitars, they work well with Nords, and they are fully compatible with the Nord Stage 3. Peavey's 2 button footswitch has 2 led lights indicating selection and is a plug-and-play, easy setup pedal.
The best control pedals for the Nord Stage 3
Control pedals, or expression pedals, are purely optional accessories. You will love having one if you will be using the Nord Stage 3 for its organ sounds, as this will double as a swell-pedal. The Control pedal can also adjust the volume, or be used as a second mod wheel.
There are a lot of different control pedals out there, but the Yamaha FC7 is the most popular one – for a reason. The Yamaha name guarantees quality workmanship and is sensitive enough to allow for accurate control in-play.
A great second option is the heavy-duty Roland EV-5. It is a tad bit smaller than the FC7, which makes it easier to pack away or transport, it is not ideal for players with bigger feet.
Other Pedals suited for the Nord Stage 3
A lot of debate has gone into the usefulness of the Nord Triple Pedal. If you need (or want) to get pedal noise or use half-pedaling, you'll have to invest in one of these. They don't come cheap, and you'll have to fork out a couple of hundreds if you want one.
The Nord Triple Pedal has other soft functions and it allows you to access hidden pedal noise (like those you would generate on an acoustic piano).
Personally, we consider it a bit of a gimmick, unless you are a classically trained pianist – in which case… GET ONE!
The best gig bags for the Nord Stage 3
Nord makes gig bags that are custom designed for each of their keyboards. As you'd expect from Nord, these are high-grade travel cases (essentially soft rolling cases) that are manufactured to perfection. Made with pockets that can hold stands, pedals or other accessories and a padded interior to protect your baby all mounted on wheels, this is simply the best – albeit slightly pricey – option to get if you plan on lugging your Stage 3 around.
Gator manufactures a decent cheaper alternative, which will protect your piano just as well.
You can buy their rugged nylon soft bag, with wheels, padded inners, and large accessory compartments here:
Or, you can opt for a Gator Hard Case, which is ideal for long-distance travel. Its nearly indestructible polyethylene construction will encase your Nord Stage 3, and you can rest easy while in transit on tour.
The best headphones for the Nord Stage 3
Having a decent set of headphones will allow you to play or practice privately, and best of all double as a monitor if you need one on stage.
Behringer makes the HPS3000, which offers ultra-wide frequency response with high definition bass sounds and super transparent highs that will compliment the output of your Nord Stage 3.
Sennheiser is trusted by musicians and sound engineers all over the world, and they make some of the best headphones available to pianists right now. The HD 579 open back headphone is an excellent mid-range choice!
The Sony MDR7506 professional headphone offers a lightweight (albeit large diaphragm) option to musicians who travel a lot. With a frequency response of 10 Hertz to 20 kilohertz, its range and capabilities are boundless, and you'll enjoy hours of great sound from the masters of digital speakers, Sony themselves.
User reviews
Nord's Stage series has always enjoyed positive reviews on Amazon and other retailers. The Stage 3 has an average rating of 4.1, with most of the purchasers raving about the excellent instrument it is. Most people enjoyed and complemented the feel of the keys, and the superlative quality of the instrument sampling and sounds. The unique pitch bend wheel also got a few mentions, and people love the unique red look it sports.
The only negative reviews we could find, was of one customer who received a faulty keyboard, that to be fair, probably got damaged somewhere along the delivery line, and people mentioning that it took a while to master the comprehensive list of functions on the Nord Stage 3.
Summary
After all these years, people are still in love with Clavia's Nord Stage series – and it's easy to see why. Everything works as it should, and it has all the bells and whistles a musician could possibly dream of.
The Nord Stage 3 has many upgrades from the previous models – like an increased sample memory, new pipe organs, increased polyphony, and better effects. The new "song mode" is also a nice addition.
The synth section is exceptional, the piano sampling is out of this world, and the organ emulations are absolutely superb.
The rugged metal chassis and simple controls, although there are a lot of knobs and buttons on the front panel, add to its user-friendliness
The array of connectivity options, the capability it has in entertaining different pedals, and the few extra functions it has (such as the program change pedal) are not only nice to have but necessities for the professional musician… and again, the Nord Stage 3 comes to the party.
The amazing audio quality and overall playability it has completes the package. And, in real operational terms – when it comes to playing and performing on a stage piano, it's hard to imagine anything better.
Total score: 10/10
All things considered: There just isn't anything better in the digital keyboard market right now!
Variants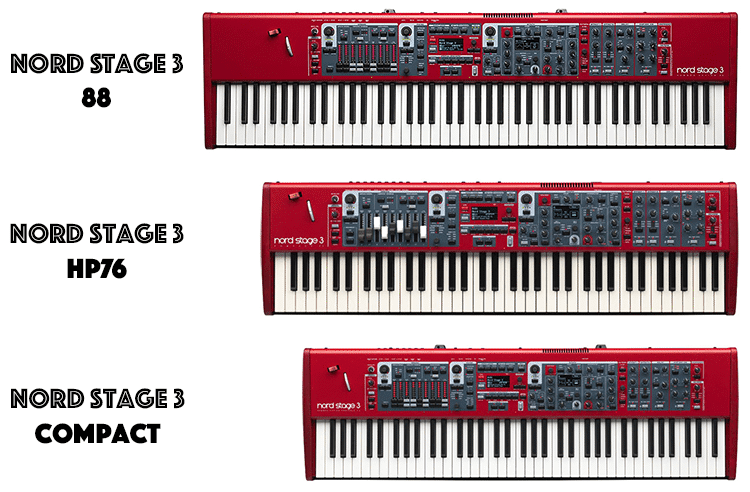 The Nord Stage 3 we reviewed is the Nord Stage 3 88, with its fully weighted Hammer Action keybed. Clavia makes two variants to this model, namely the Nord Stage 3 Compact with a 73-note lightweight hammer action keybed and the Nord Stage 3 HP76 with a 76-note semi-weighted waterfall keybed with Physical Drawbars. While most of the functions and features are the same in all three models, there are small differences – most notably the different keybeds and key actions.
Nord Stage 3 HP76
The Nord Stage 3 HP 76 is a slightly smaller version of the Stage 3 88. The HP stands for "Hammer Action Portable", and this is marketed to the musician who wants to have a more portable version of the Stage 3 88, without needing to offer up its superb playability.
The action on the HP76 is slightly lighter, but you won't notice the difference after a few practices or a performance set or two. It responds just as well to touch, and all the other functions remain identical to that of the Stage 3 88.
Nord Stage 3 Compact
The Stage 3 compact has 73 notes, which is, as its compact name suggests, a more compact version of the Stage 3 88, and the 88 keys that a standard full-size piano has.
The Nord Stage 3 Compact has semi-weighted keys, without the lip commonly seen on standard-type piano keys. The fact that the Stage 3 Compact doesn't have full hammer-action keys does compromise a bit on realism, but they are still velocity-sensitive. The Stage 3 compact is a lot lighter on your fingers, which is excellent for players who are into playing synth parts. If you're more of a pianist planning on using the piano sounds, this is probably not the best option for you. If you are an organist, or after Nord's infamous organ sounds, this IS the best option for you.
The Nord Stage 3 compact is the only of the 3 Nord variants with physical drawbars – and they're really cool to play on. They're located on the left of the cabinet, and easy to operate with precision. If you're not an organist, our bet is that you will soon enough fool around on them, and have fun doing it too!
The fact that this is a smaller (yes, more compact) piano than the Nord Stage 3 88, makes it easier to cart around too, so this is a worthy option if you don't need a full-size piano.
Nord stage 3 vs Nord stage 2?
A popular question is this: How does the Nord Stage 3 compare with the Nord Stage 2?
Well, the Nord Stage two was a phenomenal piano. But, it was more of a hybrid of the original Nord piano, the Nord C2D organ, and the Nord Lead Synth engine. But, the times they are a-changing…
Small things add up, and as a package, the Nord Stage 3 has more to offer than its predecessor.
Alternatives
It is very, very hard to find a viable competitor to the Nord Stage 3. There are a lot of pianos that are as powerful, and there are a lot of pianos that offer a better "look" if you consider a cleaner front panel to be so. But, they do so by hiding settings and important controls in their menus – and even a touch screen subtracts from both ease of use and playability.
The Nord Stage 3's closest rivals are:
The Roland FA-08
Roland's latest workstation offers top-notch sound quality and a great scratch pad sequencer. It has a substantial collection of factory sounds and effects and is a lighter instrument than the Nord Stage 3. It is competitively priced, but… it feels so too.
It has a tiny screen that is hard to read and work on, and it's plastic cabinet feels cheap. There are NO external faders, and it really looks more like a stage piano than a digital work station.
It does have a left/right/push joystick which makes operation fun and easier, and 16 drum pads which make laying out beats a breeze.
A worthy competitor? We think not. But, if money makes the decision, this isn't a bad piano at all!
The Korg Kronos
At the time of its launch in 2011, the Korg Kronos was probably the best your money could buy. Since then, the folks at Korg have tweaked and improved their flagship considerably, and it is a great instrument.
The full-weighted piano with its 9 sound engines and Karma engine, coupled with an EP and CX-3 tonewheel engine allows you full touch control of the classic control panels and drawbars via its color screen.
It has an SHX-2 piano engine which has some awesome pianos, a CX-3 Organ engine which isn't bad, and the popular AI-1 synth engine with its two oscillators and a bunch of filters which really gets the job done.
The Kronos has a full-fledged DAW recording ability and is fun to play on. Where it lacks, is again in playability. It is not as intuitive as the Nord Stage 3, and you will be a busy musician if you're playing a Kronos in a live situation.
Conclusion
The Nord Stage 3 is an awe-inspiring, amazing keyboard that ticks all the boxes. This is a do-it-all piano, a respectable organ, and a world-class synth combined in one, and it is easy and fun to use. The red cabinet means you're getting the best of everything – and if your pockets are deep enough… GO BUY IT!