Perfect by Ed Sheeran is a great guitar song for beginners because it only uses simple chords. While the no capo version is a little more complicated because it involves sharp chords, the song with a capo means you can play open chords the whole way through. In this guide we are going to be giving you the no capo version so you can challenge your playing skills.
Below you will find everything you need to know about how to play Perfect by Ed Sheeran. This includes the chords, chord progression, lyrics and strumming pattern. We have also included a video tutorial in case you get stuck at any point and need some guidance from an expert.
Perfect Chords No Capo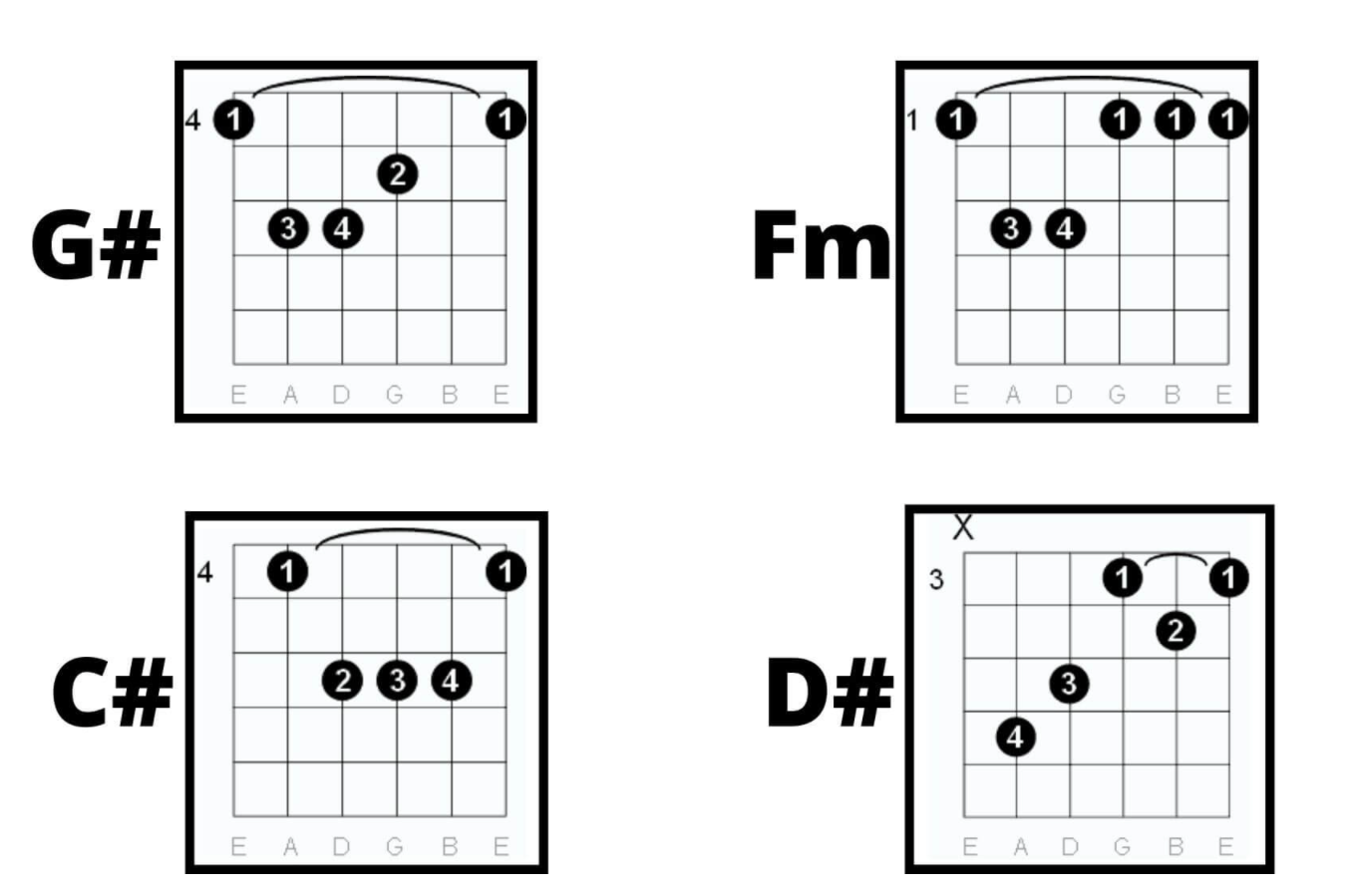 Image
In the capo version of Perfect the chords are G, E minor, C and D. However, because we're looking at a slightly trickier version that doesn't use your capo then you will be playing the chords of G#, F minor, C# and D#. You will need to play these as barre chords which is a technique that beginners will have to practice to get right. This is the version that Ed Sheeran plays so if you can master these chords, you'll be playing the song that sounds most like the original.
Perfect Strumming Pattern
The strumming pattern is fairly straightforward and it involves triplets of strumming. As you play the chords you will be strumming like this: DDD-DDD-DDD-DDD. These triplets are played by coming down harder on the first downstroke which is then followed by two lighter strokes of the strings. This pattern is then replicated throughout the whole song so you won't find anything more complicated than that the entire time.
Anyone that struggles getting this strumming pattern played correctly should watch the video tutorial we included at the beginning of this article. You can also listen to the original song which will help you get a good feel for the rhythm and tempo of the piece as a whole.
Perfect Chords with Lyrics
If you are a beginner who is looking to play this entire song then we would suggest you follow this advice. Learn the chords first one by one and make sure you are playing them properly, with the correct finger placement and that they ring out well from the strings. Next, practice the strumming pattern using these chords. Do it with each chord so you won't have any trouble with the piece as a whole. Then take the song section by section, break it down into verses and the chorus and learn it in parts. Doing this means you can perfect the song Perfect in sections without feeling overwhelmed.
Once you are feeling completely comfortable with the song and you have each section naled down, put it all together. Practice the song from start to finish and see how you get on. You can always slow it down to begin with and then speed it up once you become more confident. Below we have given you the lyrics along with the chords. Pay close to attention to where the chords are placed above the lyrics as this is where you will play each one to recreate the song.
Verse 1
G# Fm
I found a love for me
C# D#
Darling just dive right in and follow my lead
G# Fm
Well I found a girl beautiful and sweet
C# D#
Oh I never knew you were the someone waiting for me
Pre-Chorus
D# G#
Cause we were just kids when we fell in love
Fm
Not knowing what it was,
C# G# D#
I will not give you up this time
G# Fm
But darling just kiss me slow, your heart is all I own
C# D#
And in your eyes you're holding mine
Chorus
Fm C# G# D# Fm
Baby I'm dancing in the dark, with you between my arms
C# G# D# Fm
Barefoot on the grass, listening to our favorite song
C# G# D# Fm
When you said you looked a mess, I whispered underneath my breath
C# G# G#
But you heard it, darling you look perfect tonight
Verse
G# Fm
Well I found a woman, stronger than anyone I know
C# D#
She shares my dreams, I hope that someday I'll share her home
G# Fm
I found a love, to carry more than just my secrets
C# D#
To carry love, to carry children of our own
Pre-Chorus 2
D# G#
We are still kids, but we're so in love,
Fm
Fighting against all odds
C# G# D#
I know that we'll be alright this time
G#
Darling just hold my hand
Fm
Be my girl, I'll be your man
C# D#
I see my future in your eyes
Chorus
Fm C# G# D# Fm
Baby I'm dancing in the dark, with you between my arms
C# G# D# Fm
Barefoot on the grass, listening to our favorite song
C# G# D# Fm
When I saw you in that dress, looking so beautiful
C# G# G# 
I don't deserve this, darling you look perfect tonight
Outro
G# D# Fm D# C# C# D# D#
G# D# Fm D# C# C# D# D# G#
Conclusion
We hope that our guide above helped you to learn the chords for Perfect without using a cap. If you are a huge Ed Sheeran fan and want to play some more of his music, check out our guide for easy Ed Sheeran songs to play. We have a lot of different guides for beginners to experts of songs that you can play on your guitar, including tutorials and chord charts. Simply browse through the website to find more great content.
FAQs
What are the chords for Perfect?
It all depends on whether you are using your capo or not. If you decide you want to use a capo then you will place it on the first fret. You then play the chords G, E minor, C and D. If you are playing the song without using your capo then you will be playing the chords G#, F minor, C# and D#. The version that we have used in this guide is the one without the capo and you can learn how to play these chords using the chord charts above.
How many chords does Perfect have?
There are only four chords that you will need to learn to recreate this Ed Sheeran song along with the chord progression. We have given you these chords in the guide above.