John Mayer is an incredibly well-known singer-songwriter who is has a very signature sound and a soft, mellow voice. He's written some of the best guitar songs to impress that special someone, with many people trying to recreate his signature sound. As an artist, he has always been open about his extensive collection of guitars which is somewhere around 200.
In this article, we are focusing on Mayer's most notable guitars that he plays on a regular basis. He regularly switches up his guitars to achieve a different sound and had a long-standing relationship with Fender until switching make. Discover both the acoustic and electric guitars he favors most by reading on.
Electric Guitars
1996 Fender Stratocaster Stevie Ray Vaughan Signature
Mayer first got the Stevie Ray Vaughan Signature Stratocaster back in 1996. He traded a 12-string acoustic and a distortion pedal to be able to afford it, as well as paying the difference with earnings he made from a gas station. He went on to play this guitar in his bedroom which is where the early years of his musical career began. John Mayer also took this guitar with him when he went to Berklee College in Boston for two semesters. You can see Mayer talking more about the guitar here.
When asked about the guitar Mayer spoke about some of the custom changes he made to the instrument. Customizations like this would be something he would continue to make to many other guitars he purchased. This Stevie Ray Vaughan edition had his name engraved on the backplate which he had done at his local mall. He also had to have the bridge changed after he broke the whammy bar. At college, he had his initials engraved onto the back of the body of the guitar and he also decided to sand off all of the lacquer on the neck and fretboard.
You will probably recognize this guitar if you have followed John Mayer's career from the very beginning. It was used as his main stage instrument for much of his early career before he retired it for a newer SRV Stratocaster. He still used it on stage up until 2013 for various live performances and it's still a part of his collection and legacy to this day.
Fender Custom Shop Stevie Ray Vaughan Lenny Tribute Stratocaster
John Mayer first received this piece from the Fender Custom Shop in 2008 and it was featured on his Where the Light Is DVD. The funny thing about this custom guitar is that Mayer never actually used it live. The guitar was designed to be an almost exact replica of the Stevie Ray Vaughan's Strat that he got from his wife on his 26th birthday. This piece was, of course, master-built by Fender so it's surprising that he never used it for live shows on stage.
Towards the end of 2003 John began to use this guitar. It made its stage debut with the artist on the Late Night with Conan O'Brien Tv show. John Mayer went on to use this unique-looking instrument at the Grammy Awards in February 2004 and it went on tour with him upon the release of his Heavier Things album.
Although it was never confirmed to be a replica of a Hendrix guitar, it does look exactly like the one that he went on to burn in 1967 at the Monterey Pop Festival. It definitely came from the custom shop over at Fender and is one of 210 that were exclusively made and hand-painted by the manufacturers.
Of course, being John Mayer there have to be further customizations to the instrument. He said in one interview backstage on his Jones Beach tour that he had a new custom-made neck made and a fretboard crafted from Brazilian rosewood. The back of the guitar was also sanded down which became a John Mayer signature custom to make to his instruments.
2004 Fender Stratocaster John Mayer Artist Series
When this guitar first appeared it was considered to be the prototype for the upcoming series of artist guitars that Mayer did with Fender. The guitar became available to the public within a year and was released in July of 2005.
This was very much John Mayer signature model with a starburst design. His original guitar was a prototype for the series custom built by a guitar maker from Fender called Chris Fleming. John Mayer uses this guitar in both of his 2004 and 2005 tours. Mayer did, in fact, receive two prototypes of this instrument, one of which was gifted back to Fleming or sent it back to the Fender Reissue Shop.
You can see the influence from the Stevie Ray Vaughan model in this guitar which comes as no surprise as this was the guitar Mayer had heavily used up until this point. The difference between the two models is that the bridge orientation was different and the pickups were single-coils which were John's personal design. These single-coils became unique to John Mayer and were only available on his guitar series.
The rest of the guitar's design followed a standard pattern that was taken from previous models of similar instruments. The body was made from alder wood which an African rosewood neck and fretboard. Eventually, the John Mayer signature guitar would be discontinued in 2014. Shortly after Mayer announced that he and Fender would no longer be working together because they couldn't deliver the truly custom designs he wanted. He continues to use Fender guitars to this day but the brand no longer endorses him.
2004 Fender Stratocaster John Mayer Signature (Black One)
Anyone who is a fan of John Mayer will know this guitar. It's probably his most well-known piece because it was used by him at the height of his fame. This is another signature model that John Mayer uses from the Fender Custom Shop.
The guitar featured a body made from leader wood and the neck was made from maple with a C shape. Once again there was African rosewood used and all of the specs come from the Stevie Ray Vaughan signature model. The guitar is so noticeable because of the way it's been finished. This is where John Mayer's own personal design came in. It was based on one of Stevie's models which was meant to look old and a bit beat up. The no lacquer design was completely on purpose. Many people think that a guitar with less paint on it allows the wood to breathe and will make it sound better – a sentiment that Mayer agrees with.
This was absolutely John Mayer's main instrument as soon as he received it in 2004. Even though he didn't like the way it sounded when he first received it (which led him to putting the instrument in a freezer) he found this to just be a problem with the wiring. You will see this guitar come into action after the Continuum album and it was this guitar that was used for most of the recording for that.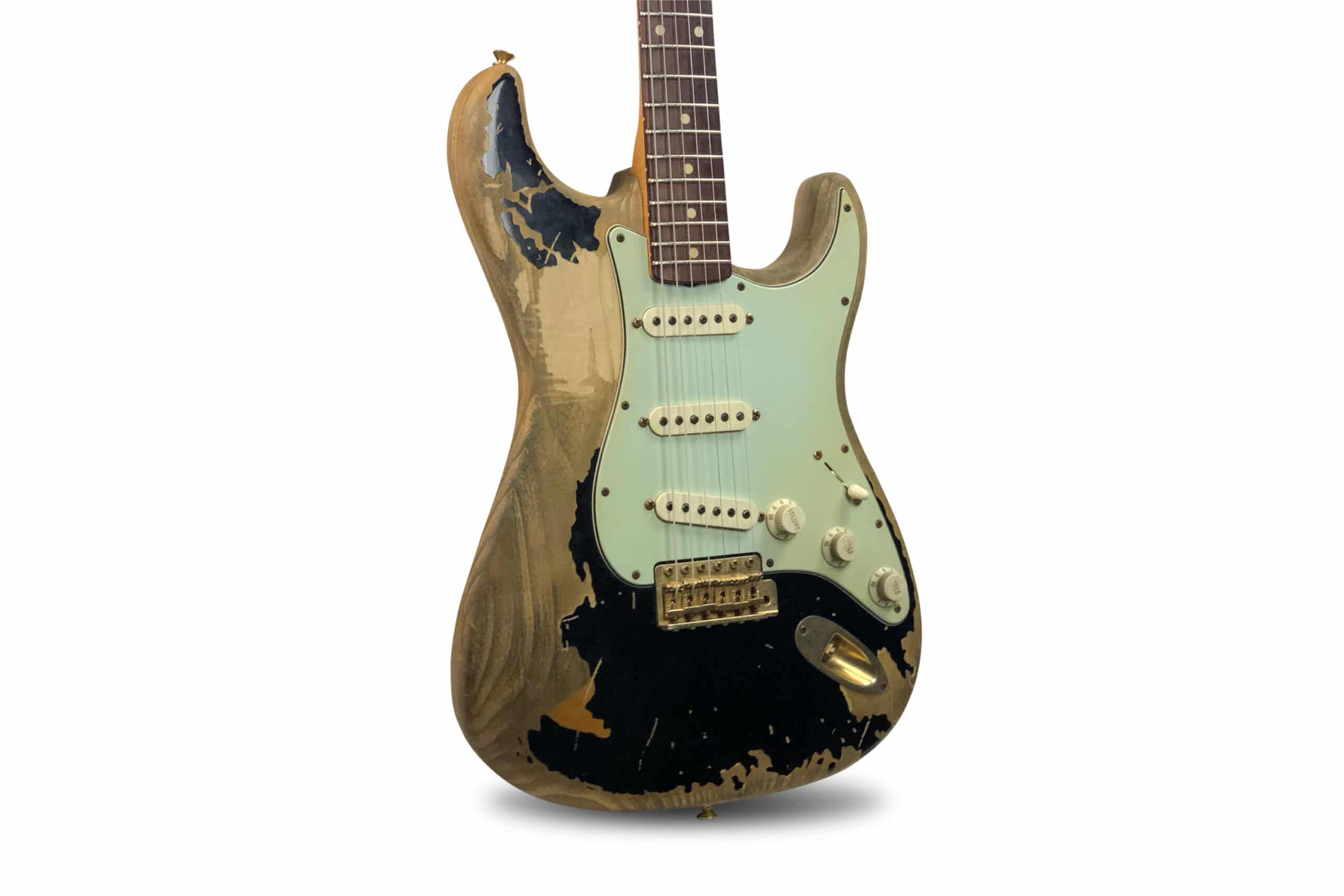 2005 Gibson ES-335 Eric Clapton Crossroads
The first appearance of this guitar for John Mayer was on his Trio tour which hit the road in 2005. It came from the Gibson Custom Shop and was available for purchase at this time to the wider market. From it's first appearance at the 2005 gigs, John Mayer uses this guitar for many more years to come. One of it's most famous gigs was at the Crossroads festival in 2010. He used the guitar to play Ain't No Sunshine – a Bill Withers cover he is very fond of.
The guitar itself is an exact replica of one of Clapton's guitars – the ES-335 signature model to be exact. It was used for Clapton's Yardbirds and Cream years. The original that he used was sold off at auction for a whopping ¢847,500 in 2004. Thanks to the quality and popularity of the instrument, Gibson decided to replicate the model in their custom shop and made 250 of these limited run guitars.
The body of the guitar has been crafted from maple as well as having a center block made from solid maple too. The aged cherry finish contrasts beautifully against the slim neck featuring mahogany and a rosewood fretboard.
1977 Gibson L-5
Many people will recognize this guitar because it was featured heavily in John Mayer's Where The Light Is DVD. He used the guitar often for footage where he was playing on Mulholland Drive outside. Occassionally the guitar would appear on John Mayer's social media pages but he rarely bought it out to use in a concert setting. You can see the guitar used live when Mayer appeared on the David Letterman show back in 2008. On this show he decided to cover In The Wee Small Hours by Frank Sinatra. He also used the guitar in 2019 at a more recent appearance in New York at the MSG.
The Gibson L-5 that Mayer uses is a 1977 guitar with a rounded cutaway. This was a big design change for the manufacturers who always used a pointed cutaway until the late 60s. As with many Gibson guitars the body of the piece is hollow. The top of the guitar has been crafted from spruce and features back and sides made from maple, as well as the neck.
Acoustic Guitars
Martin 00-45SC
John Mayer designed a few guitars along with Martin and this was his second to come from that partnership. He had an idea to create a guitar that was smaller, therefore more portable, for guitarists everywhere.
This guitar has a 00-style body with the spruce top crafted from Adirondack and the back and sides made up of Cocobolo. The neck was made from hardwood and the fingerboard was crafted from ebony. John had a great idea to add a unique feature to the guitar. He decided to make the Abalone rossette extend over the guitar's fretboard.
Although John Mayer had significant input into designing the look of this guitar, it's actually not one of his official signature model guitars. This was on Mayer's own request as he preferred to be just the designer behind the guitar. He preferred for his signature models to be targeted to his fans whereas this guitar was more of a special edition. Because of how Mayer felt about the uniqueness of this piece, Martin decided to limit its run to only making 25 models.
2003 Martin OM-28JM Limited Edition
This was the first official acoustic guitar that became the John Mayer signature model in 2003 from the maker Martin. There was a limited run of these instruments, with only 404 being made. The fourth and 43rd models were given to Mayer, although the numbers on this have been speculated. In an interview about these guitars John Mayer mentioned that he had two of the OM-28JM Limited Editions. This sort of confirmed the theory that he had more than one of these acoustics in his possession at the time.
You will see that Mayer used these guitars a lot since receiving them in 2003. The first appearance of this acoustic was at Madison Square Garden in New York when he played in November 2003. Although he may have two of them, we always seem to see the same one. You can tell which one he is using because one of the pieces has a large scratch that sits on the bridge side below the pickguard. Guitar injuries such as this are very common when an axe is used as extensively as popular artists do.
The body has been made from solid Engelmann wood and features a spruce top. The back and side were crafted from rosewood and the neck is made from mahogany. Both the headstock and bridge edges are made from sterling silver and binding made from Herringbone. John put his signature between the 19th and 20th frets which was something he likes to do to a lot of his instruments.
Martin 000-ECHF Bellezza Nera
The Bellezza Nera guitar gained so much popularity when John Mayer used it in the music video for his Half of My Heart hit. Bellezza Nera translates to Black Beauty in Italian and this was one of Eric Clapton's signature guitars which was first released in 2004. The top of the guitar was made from solid Italian spruce with a lot of custom features such as ivoroid binding and pearl rosettes.
Martin D-45 JM
One of the newer John Mayer signature models to be released in 2018 was the Martin D-45. The instrument was part of a limited run from the manufacturer which only featured 45 guitars. The top was made from Engelmann spruce and the back and sides were made from Guatemalan Rosewood. It had rosette inlays as well as an Abalone top. When it was first released this guitar was sold for a huge $14,999.
There are many guitar aficionados out there who keep themselves busy watching what John Mayer is going to bring to the stage or screen next. He uses such a great array of instruments including electric and acoustic guitar that it's hard to keep up with him. You may also be interested in the different guitar amp and accessories he uses to sound just like John Mayer. Musicians never give the same performance twice but with John, it's rare he uses the same guitar twice either.
FAQs
Why did John Mayer leave Fender?
Many people think that John Mayer and Fender have bad blood but this is absolutely not the case. In an interview about the reason why he decided to leave the guitar manufacturer he stated that he was 'not pissed off'. Instead, he cited the reason for leaving Fender was because they weren't able to bring his vision to life. It made more sense to him to go to Paul so they could make the exact guitar he wanted.
What was John Mayer's first guitar?
John Mayer's first-ever guitar was a Washburn acoustic. He then went on to get his first electric guitar when he purchased a Squier.
How much is John Mayer's guitar?
John has an extensive collection of custom made guitars and we have no doubt that a lot of money was spent on these pieces.
Is John Mayer a good guitarist?
Mayer has been said to be as good as guitar legends such as Hendrix and Clapton with a modern twist