Dave Matthews is a musician who first arrived on the music scene in the 90s. The Dave Matthews band has some of the best acoustic guitar songs to impress which are simple to play on the guitar for beginners. They are one of the most popular bands from the 90s era and Dave Matthews acts as the frontman, lead vocalist and songwriter for the group. Now they are some of the most commercially successful live acts to have existed in the last 25 years. In this guide, we are going to discover what kind of guitar does Dave Matthews play with a full explanation of his setup.
Dave Matthews Guitar Setup
There are many different makes and models in Dave Matthews guitars history but the main one he uses is his acoustic guitar, Taylor 914CE. Apart from a few Yahama models thrown n there. Taylor has been the Dave Matthews signature model for many years as part of the Dave Matthews current lineup.
If you are a fan of 90s music then it's impossible not to have heard of the Dave Matthews Band. They use a setup of saxophone, baritone vocals, electric violin and rhythm guitar, all played over a percussive drum set.
The Dave Matthews Band originally got together in Charlottesville, Virigina back in 1990. Matthews was actually a bartender who had recorded some of his solo demo songs. He then got together with Carter Beauford who was a local and noted jazz drummer. Next, he sought out Leroi Moore who was a well-known saxophone player in the area to create the original lineup.
According to Matthews himself, the signature sound for the Dave Matthews band was made when his band mates asked him what he wanted their music to sound like. His response went, "I know this is a song I wrote and I like what you guys play, so I want you to play the way you react to my song."
The original sound evolved from this point and this is when they realized they wanted their music to sound fuller. They got Stefan Lessard who was a fifteen-year-old bass player and then Boyd Tinsley came along soon after to play violin.
The main thing you will notice about the Dave Matthews sound his jazz like guitar style with percussive notes. He uses a lot of different guitars to achieve this signature sound, mostly being acoustic guitars from brands like Taylor and Yahama. Occassionally he will use an electric guitar as well.
Dave Matthews Guitars
Now we are going to move on to what guitar does Dave Matthews has so you can see the pieces he has used over the years.
Taylor 914CE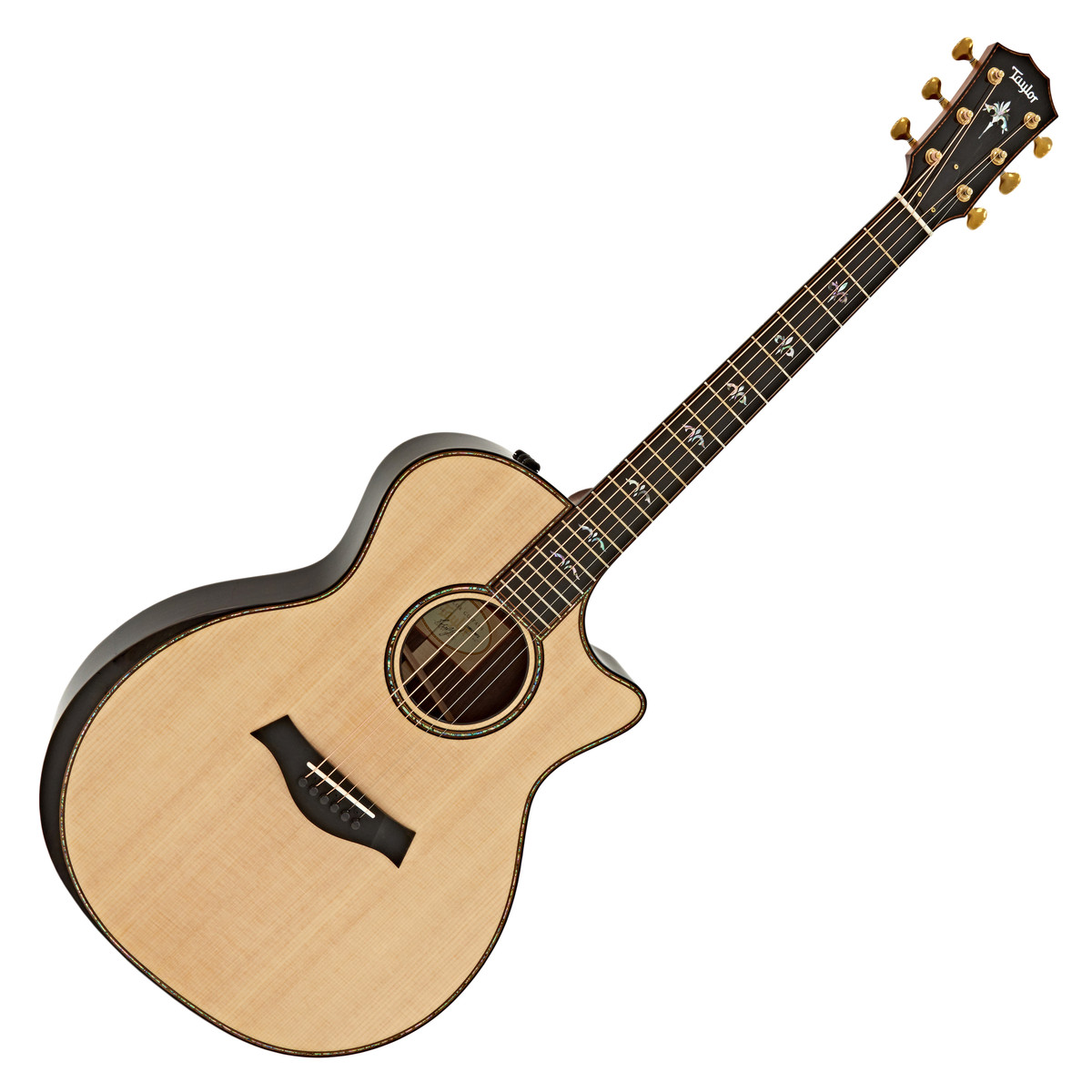 The Taylor 914CE is the acoustic-electric guitar that Dave Matthews plays the most. It is made from rosewood to form the body and features a Sitka spruce top. it also has V-Class bracing which has been designed to boost the sustain, volume and intonation of the instrument.
When you get a standard acoustic guitar they have an X-shaped brace that is placed inside the body to provide extra structural support. With a V-Class brace, you get the same support but with less rigidity. This in turn allows the guitar body to resonate more when you play the strings.
The Dave Matthews Band played these guitars as their go-to instruments for both their live gigs and for their studio recordings. Matthew's even has a signature line of Taylor acoustic models which was nicknamed the Grux, coined after their bandmate Leroi Moore who sadly passed away in 208. The model has actually now been discontinued but its main feature was the custom neck inlays.
Yamaha CJ 818SB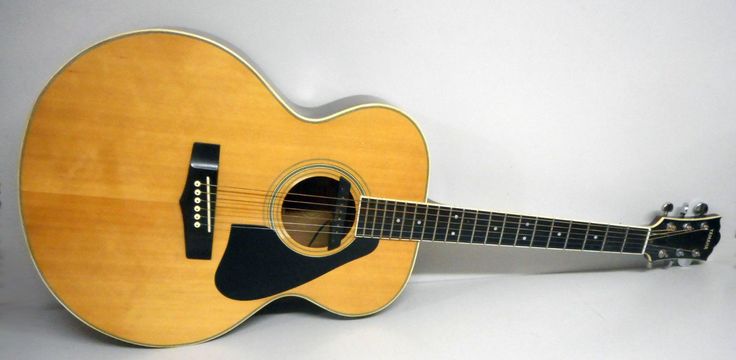 The Yamaha CJ 818SB guitars are very much a workhorse of an instrument and are priced at the lower end of the scale. They are widely popular amongst guitarists thanks to how durable and dependable they are. The guitar is built in Taiwan, crafted from inexpensive materials such as mahogany and ply spruce. They don't make these models anymore either.
When Matthews would be playing guitar on stage for smaller acoustic performances, this is the one he would use. He usually amplified the sound of his guitar with the microphone.
National Resoelectric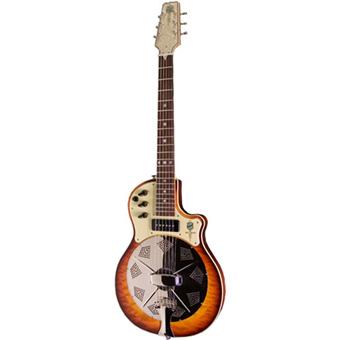 National Resoelectric guitars are designed to be resonator instruments. This means they provide extra volume from the guitar itself, specifically meant to be used in the era before guitars had amplification. The way they did this is because the body of the guitar is made from metal so it builds the sounds up and then it resonates through the top part of guitar, out of the soundhole.
The way these guitars sound lend themselves to the slide guitar technique and they have been widely popular with country music artists. Musicians such as Emily Robison and Jerry Douglas have been known to use such instruments, as well as blues players like George Thorogood, Son House and Rory Gallagher.
Even though the resonator guitar was initially made to produce a louder sound, it's the tone of that sound that has now become their main selling point. They survived through the electric guitar age, and the pickups used in models such as this are incorporated into many guitars to this day.
Dave Matthews uses a National Resoelectriv guitar as his resonator of choice, crafted with a mahogany body. It features a P90 pickup situated at the neck and then another piezo pickup which sits under the bridge. It also has a three-way toggle switch which allows Matthews to toggle between the two pickups.
You will hear this guitar used a lot on the seventh album released by the Dave Matthews Band title Big Whiskey and the GrooGrux King. If you really want to hear Dave Matthews play using this guitar, listen to the track Alligator Pie.
Jerry Jones Neptune Baritone Guitar
Jerry Jones is a guitar brand that was small and based out of Nashville Tennesse. They ran until Jones retired and closed the factory down back in 2011. They built guitars that were based on Danelectro designs from the 50s and 60s. The key to these guitars is the masonite bodies which are super light and the lipstick pickups which have a jangly sound. These ensure that every guitar sounds as retro-futuristic as they look.
You will notice that baritone guitars have longer necks and this is to accommodate tuning the strings lower than you would a standard guitar. This keeps the string tension at a similar rate. The acoustic models of these guitars usually have a larger body too.
The Naptune Baritone that Dave Matthews used has just one cutaway that gives it that deeper sound he prefers from his electric guitars. He first started using guitars such as this when he was recording the band's fourth album title Everyday. You can hear what the Neptune gives out on songs from the album including Some Devil and The Space Between.
Fender Stratocaster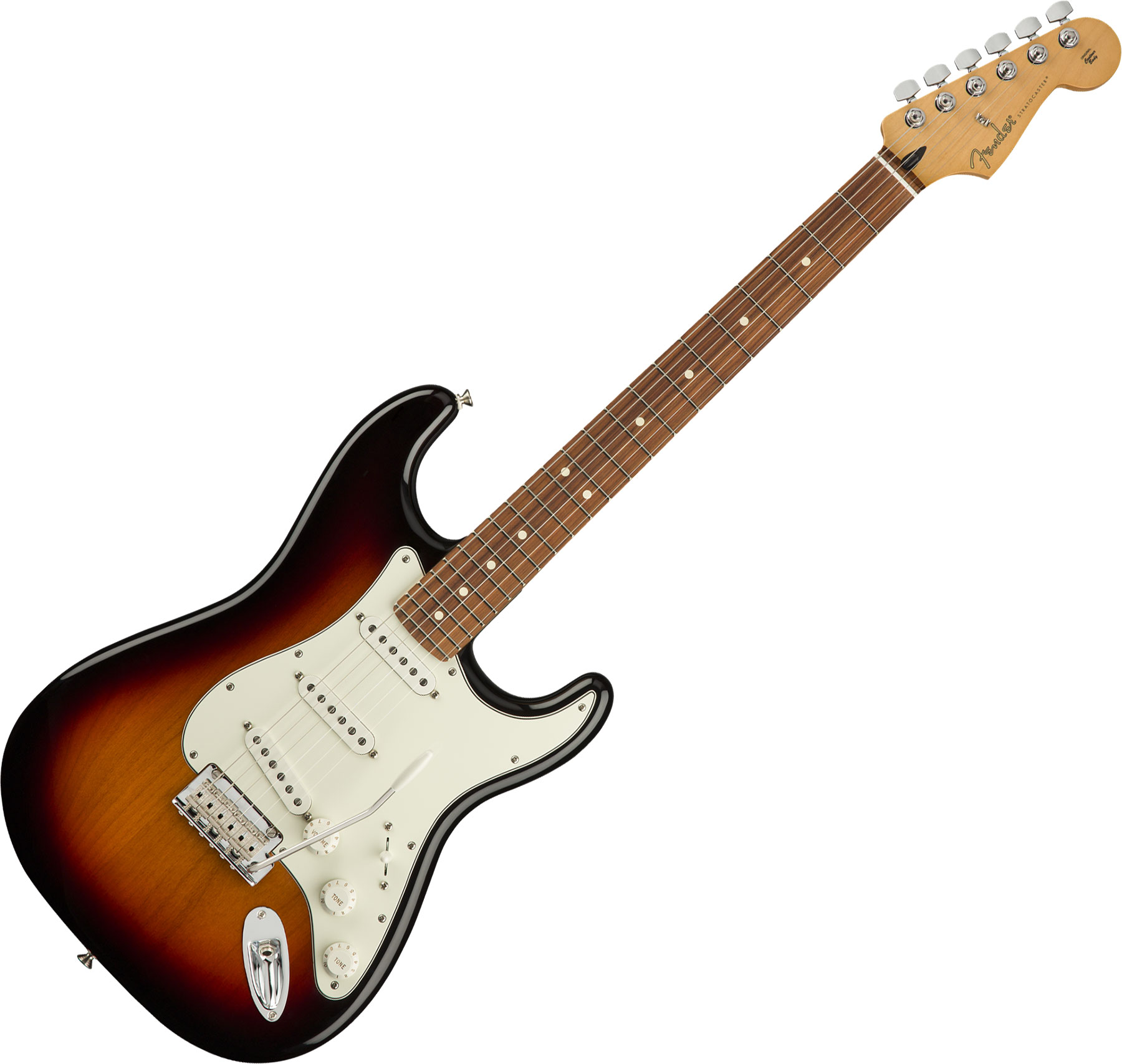 There aren't many guitarists out there, famous or not, who haven't picked up a Fender Stratocaster at some point. If you want a true electric guitars this is the one to go for, and Dave Matthews did just that. It's the guitar you think of when you think of a rock guitar, being used by legends such as Jimi Hendrix and Billy Corgan.
The first Stratocaster was released in 1954 and it has been on the market ever since thanks to its popularity. The body is typically made of alder or ash and includes a maple neck. Most of the models feature three single coil pickups.
Dave Matthews uses Strats that have been specially designed for him to include mini-humbucker pickups. In recent years this has become the primary electric guitar that he uses during live shows and recordings. You can hear him play it on the song What I Am.
Conclusion
Hopefully we've been able to answer your questions about what guitar does Dave Matthews play. Make sure you look at other guides included on our website which can give you great beginner guitar songs to get you started on your journey.
FAQS
What tuning does Dave Matthews use?
Almost every song that Dave Matthews plays on his baritone guitar is done in standard tuning. One of the only alternate tunings he uses is drop-D so this makes his music more accessible to new guitar players.
What is Dave Matthews net worth?
As of 2020, it is estimated that Dave Matthews's net worth is a huge $300 million. He's one of the wealthiest musicians in history, having sold over 100 million tickets and 100 million albums during his career.