In the early days of metal music, it didn't have the greatest reputation but nowadays there's no doubt that it's made its mark on modern music. As the genre of metal music has continued to evolve we have seen it popping up in other genres and even played a part in some of the more mainstream music.
Many people would agree that the metal genre started out in the late 1960s. It began to evolve in the early 1970s as bands like Deep Purple, Led Zeppelin and Black Sabbath emerged on the scene. By the 80s the genre had really come into its own, and Metallica played a big part in making this happen.
James Hetfield's Guitars
James Hetfield is the lead guitarist for Metallica and he plays both acoustic and electric guitars. He favors his Explorer-style pieces which have been made by Gibson and Ken Lawrence. Hetfield likes ESP guitars too, along with V-style pieces and Les Pauls. There's been a lot of guitars throughout his career and below we have made a list of the most notable ones.
Ken Lawrence Explorer, aka Carl
Years used – 2012 to Present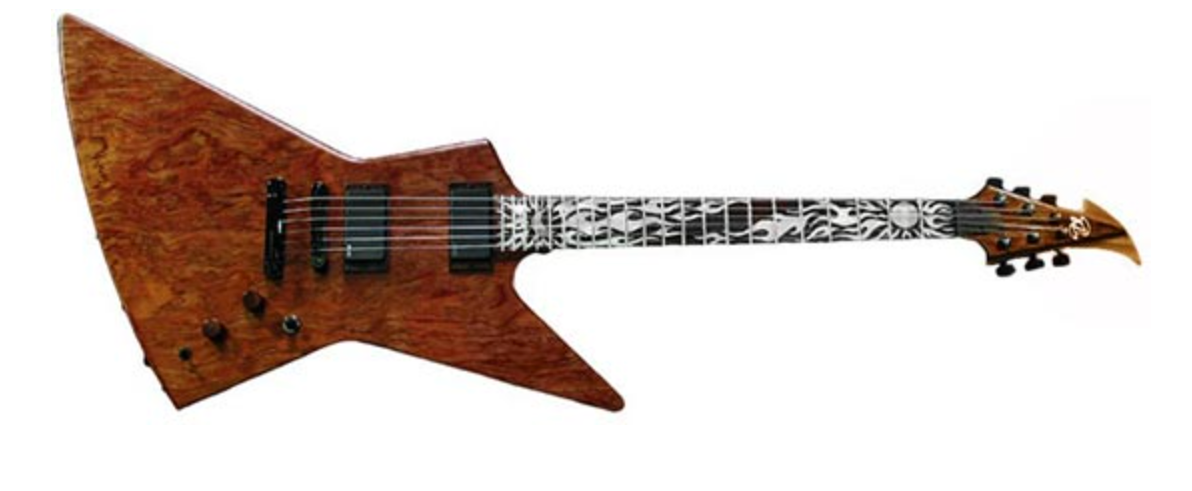 We'll kick off our list of James Hetfield's electric guitars with his most sentimental piece which was built for Hetfield by Ken Lawrence. In recent years Metallica was considering buying an old garage that they used to use to rehearse in during the 80s. They later found out that the garage had been demolished but one of their friends had kept some wood from it for some reason.
Ken Lawrence is known for being a very thorough guitar builder and he took his time to finish off this piece made from the reclaimed wood from the garage. There are some nice touches added onto the Explorer which were added in by Petar Milivojevic, a Serbian artist. The images tell stories from the band's history.
The body of the guitar has a mahogany neck attached and features a fretboard crafted from African blackwood. The guitar was given the nickname Carl as a reference to Carlson Boulevard which is in El Cerrito, California. This was the place that the old garage rehearsal space was. People also refer to this piece as James Hetfield's garage guitar.
Ken Lawrence Custom Flying V
Years used – 2011 to Present
You can see another testament to Ken's fantastic craftsmanship in the custom Flying V model which he also made for Hetfield. It has an almost identical headstock to the custom Explorers he has. The body has been shaped to be like the Flying V guitars by Gibson. When you look at the guitar closely you can see it has an inlay design that resembles either a dragon or a serpent. This engraving wraps around most of the guitar's neck. There's not much known about the instrument because Hetfield doesn't use it that often. It's a good piece that proves Hetfield likes to keep things spicy in terms of his guitars and gear even now.
1973 Gibson Les Paul Custom
Years used – 2022 to Present

Because James Hetfield is a metal musician it shouldn't come as a shock that he has some Gibson's as part of his extensive electric guitar collection. One of the most interesting Gibson models he owns is the 1973 Les Paul Custom. We're not sure where he managed to get this from. It came with Sperzel locking tuners installed as well as EMG 60 and 81 pickups with gold covers. You can instantly recognize the guitar thanks to the Maltese cross that sits below the bridge. It also features gold stripes on one side of the body. The guitar was used the most during Hetfield's St Anger era as he used Gibsons more later on during Metallica's career.
ESP James Hetfield Iron Cross
Years used – 2017 to Present

In more recent years James Hetfield has become increasingly fond of ESP guitars as a brand. He loves them so much they approached him to make his very own custom piece. This model of ESP guitars is a James Hetfield signature piece. It was inspired by the Gibson Les Paul Custom with the Iron Cross which we mentioned above. If you look at the body of the guitar it looks very similar, although the visuals of the cross itself are different.
The part of the guitar that is obviously different is the fretboard. It features flag inlays which ESP guitars are famous for along with the Maltese cross which is inlaid on the twelfth fret. There is also a load of active pickups on the guitar. Both ESP and ESP Ltd produce signature models for James Hetfield that were made after this instrument was created. It's one of the more famous guitars that the musician has in his collection.
ESP James Hetfield Snakebyte
Years used – 2015 to Present
The Snakebyte model of ESP instruments is another famous model of James Hetfield guitars. It is a James Hetfield signature model, in fact. We know how much James enjoys Explorer guitars so it's no surprise that he uses different versions of them with the same body shape. He has a few of these Snakebyte guitars that have been made especially for him.
One of these guitars is a completely plain white model that has no special features or insignias on it. We're not sure when he actually began to use this piece but it's more than likely it was sometime in the 2010s. The guitar is orientated towards heavy metal music with its mahogany body and neck. The fretboard is made from ebony and it has two EMG James Hetfield signature humbuckers installed.
ESP James Hetfield Snakebyte Custom Baritone
Years used – 2015 to Present

Another example of the Snakebyte ESP guitars that Hetfield uses is his custom baritone. He has two of these models in total. One of the guitars has a grey camouflage finish which is pretty unique, while the other features a purple sunburst. There are not many details out there about this specific instrument but we do know that Hetfield began using it during the WorldWired Tour. He uses it mostly for the track Sad But True. The guitar is longer because of the baritone design which allows for more stability when using lower tunings. Hetfield typically uses it for the band's down-tuned tracks.
ESP MX220 aka Eet Fuk
Years used – 1987 to Present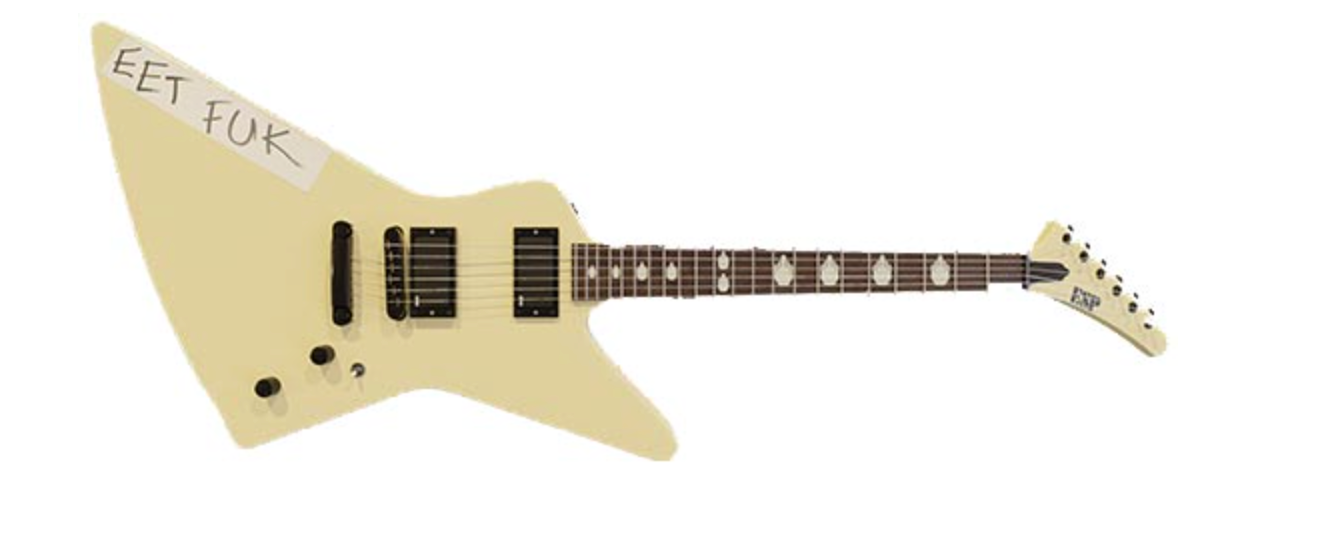 An instrument that a lot of fans of James Hetfield will recognize is his white ESP MX220 which has the words EET FUK written on it. Hetfield got the guitar back in 1987 before he recorded …And Justice for All and then the caption was added on sometime in 1988.
The guitar has a standard mahogany body and neck along with a rosewood fretboard and middle finger inlays. Between 87 and 88 this guitar was Hetfield's go-to instrument. The instrument also had the 60 and 81 EMG humbuckers which are common for James's guitars to have.
Electra 2236 Flying V
Years used – 1980 to 1984 then 2008 to Present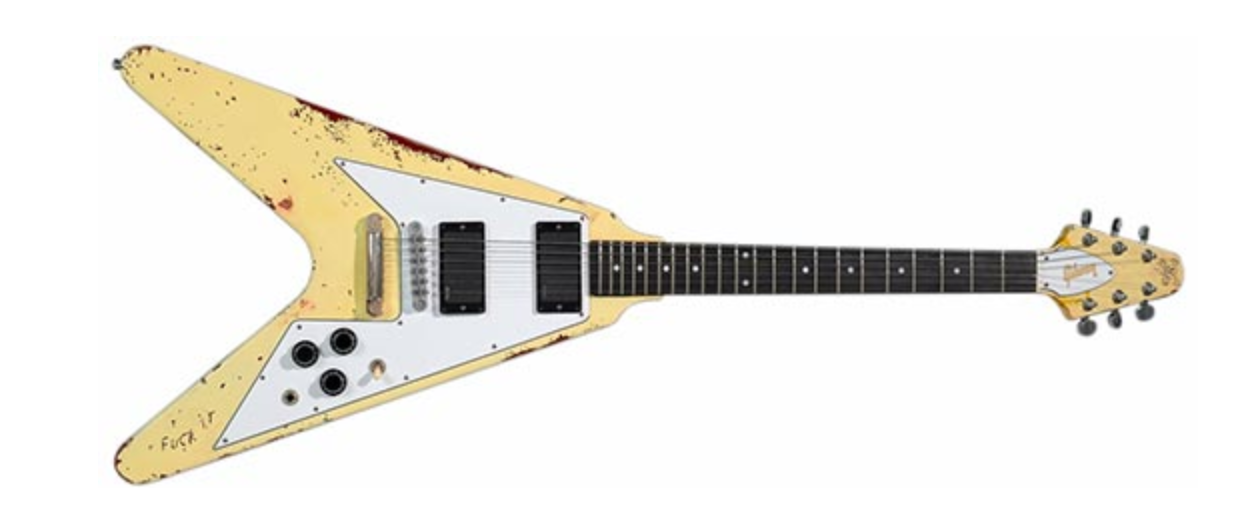 This is an interesting entry in our list because for this one we need to go back before Metallica was even a thing, to 1980. All the way back then Hetfield purchased this Gibson Flying V copy which was made by Electra and was their 2236 model. He reportedly paid just $200 for it. In those days they were considered to be cheap alternatives to the real thing but they have become popular since for guitar collectors due, in fact, to James Hetfield.
The Electra Flying V was used on the debut album titled Kill 'Em All and it remained his main guitar until he managed to snap the neck of it during a live show in 1984. He would later get the guitar restored back to its original working order in 2008. The original instrument had a set of Seymour Duncan Invader pickups but James swapped them out for the EMG 60 and 81 set he is so fond of.
1984 Gibson Explorer aka So What
Years used – 1984 to Present
When he snapped the neck of his Electra guitar, Hetfield bounced around and experimented with a few different models. Eventually, he would settle on the 1984 Gibson Explorer that became popularly known as the So What guitar thanks to the sticker. The instrument was fitted with Gibson 496R and 500T humbuckers when he go it. Later on, during 1987, James swapped them over for the EMG pickups he favors. The instrument in its original state was used heavily on the Ride the Lightning record. James had the guitar restored along with his Electra in 2008.
1984 Gibson Explorer aka More Beer
Years used – 1984 to Present

Yet another Explorer from James's extensive Gibson is this 1984 version which is known as More Beet. It was used as a backup for his other Gibson which was nicknamed So What and was almost identical in every way to this model. James taped over the So What caption on this guitar and wrote More Beer on it instead, more than likely in 1986.
Later on during the 80s James would go on to sign an endorsement deal with ESP but he still used this Gibson. He got around the branding issue by placing a Jagermeister sticker over the Gibson logo. There is also another Jagermeister sticker that was placed behind the bridge. This model isn't as popular as his So What guitar but fans associate it with the Alcoholica period for the band which was followed by stints in rehab amongst other personal issues.
1985 Jackson King V Custom aka Kill Bon Jovi
Years used – 1985 to Present
In the 80s James was a fan of Jackson guitars and he has a few in his collection. He liked their King V guitar and it became popular due to the addition of the Kill Bon Jovi sticker. Dave Mustaine from Megadeth popularized this guitar but Hetfield actually got his before that.
The King V has a Tune-o-Matic bridge fitted along with Grover tuners which are typical of Gibson guitars. The guitar came with Seymour Duncan Invaders but in true Hetfield style, he swapped them out for the EMG humbuckers.
Apparently, the Kill Bon Jovi sticker was added in 1987 after the Monsters of Rock show. The story is that Jon Bon Jovi was in his helicopter over the audience during the gig.
1988 ESP MX220 aka Fuk Em Up
Years used – 1988 to Present

The ESP MX220 is a great model of guitar that James has in his collection and he got it in 1988 after the release of the Justice album. It was originally pretty much identical to the MX220 guitars he had a tthe time but Hetfield painted it black and added in different hardware. There is also the caption on it which gave it its popular Fuk Em Up name along with an LA Raiders sticker.
This guitar is often mistaken for an MX250 model of instrument because the headstock design is unusual. However, the MX250 didn't come out until the 90s so we can assume this was a custom instrument made for James.
1996 ESP MX250 aka Elk Skull
Years used – 1996 to Present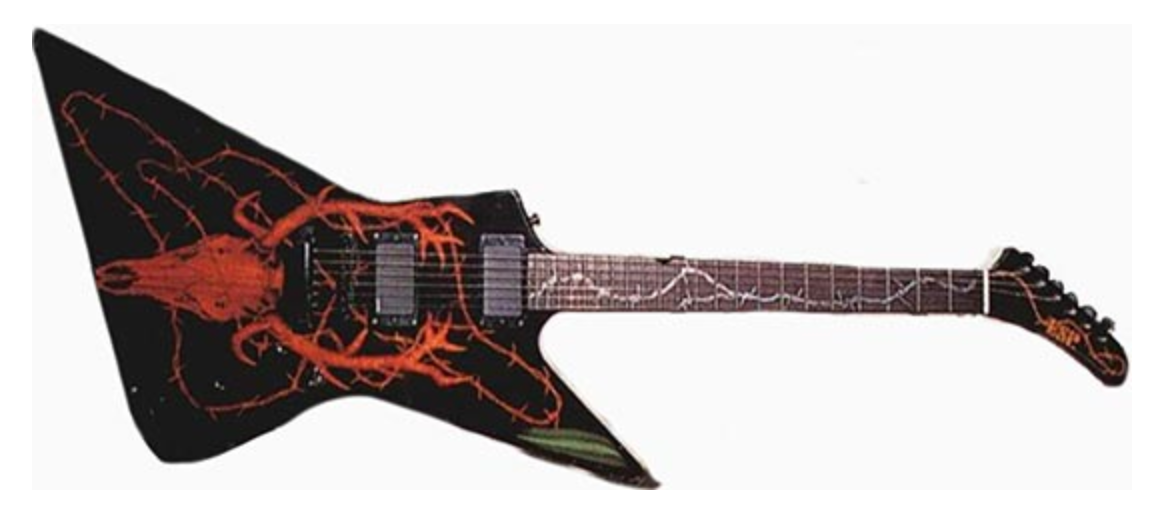 James got one of the ESP MX250 guitars in 1996. You can instantly recognize this instrument thanks to the Dino Muradian artwork which represents an elk skull wrapped in barbed wire. It's this barbed wire that continues up the fretboard of the guitar in the form of an inlay which was done by the artist Rob Thron. We're not sure if this guitar was played during any studio recordings but he did use it during some of his live shows. This is a truly classic metal guitar that has two EMG humbuckers with standard controls.
Double-Neck ESP M250
Years used – 1991 to Present
James Hetfield has had a long and successful relationship with the ESP brand and it was this friendship that bore the double-neck version of the M250 guitar. It's similar to many of his other ESP guitars in terms of pickups and hardware as well as other specs. The model was used mostly for the Fade to Black track during live shows. There is 12 strings on the neck which is typical of this design and it's a rarer item in his extensive collection.
Gibson Explorer Korina
Years used – 2017 to Present

It's always nice to see an older vintage guitar in a metalheads collection. We're not sure when James got his hands on this particular guitar but it's a classic part of his arsenal. The Korina's are known for their bodies which are crafted from Korina wood.
These models are similar to the Holy Grail guitars that Les Paul released in 1959 which went on to become some of the most valuable instruments of all time. The original production data for the Korina was lost but it is known that no more than 50 of these models were made. There are some estimates that say there were only 38 made, making it a truly rare guitar.
1969 Gibson SG Standard
Years used – 1978 to 1989

To finish off our list of James Hetfield's electric guitars we're going all the way back to his early days. According to Hetfield himself, he got the Gibson SG Standard along with a tremolo bridge from one of his friends in high school as they were both part of the jazz orchestra. This guitar is more than likely the 1969 SG model which had a Bigsby-style tremolo, a black pickguard and a cherry red finish. After using this guitar for a while Jame traded it in for a PA system.
Gibson Chet Atkins Signature Classical
Years used – 1988 to 1999

Now we're going to swap over and look at some of James Hetfield's acoustic guitars. The band was criticized by many of the metal elitists out there for including acoustic parts in some of their tracks as well as for writing ballads. They tend to ignore these people and just do their thing both in the studio and during their live shows. For a short while, James used the Chet Atkins Gibson guitar with its signature nylon strings. You can see him playing it on the Live Shit: Binge & Purge performance in 1993. It was also used during the performance of The Unforgiven.
1966 Martin D-28
Years used – 1994 to 1997

It's uncertain whether James still has this piece in his guitar collection but he definitely was seen playing a Martin D-28 back in the 90s. The story says that this instrument was played on the Load album for the track titled Mama Said. This song was also performed live a couple of times using the Martin guitar. The D-28 is still one of the most prestigious Martin guitars to this day.
There have been so many great musicians who have used this guitar model over the years including Johnny Cash, Bob Dylan and Neil Young. The top is made from Sitka spruce and features a back and sides crafted from East Indian rosewood. This combination of materials is what gives it a well-balanced tone and is the reason why so many guitarists try to find it to this day.
James Hetfield Amps and Other Gear
Since we've gone through all of James Hetfield's signature guitars, we wanted to let you on the guitar gear he uses to make his iconic sound. In this next part of our article, we will be showing you the guitar gear that Hetfield uses the most.
Marshall JMP
Years used – 1982 to 1988
Now that we're looking at the guitar amps that Hetfield uses, we're going to start out by exploring his older stuff that he would use in the early days of Metallica. For both the early live shows and when Kill 'Em All was recorded, James used a Mashall JMP amp. This was more than likely the JMP 2203 model although we are speculating here.
The reason why we think it's the JMP 2203 is that this was the go-to model for rock and metal musicians during the 70s and 80s. It only had one channel and very basic controls. The other potential amp it could have been was the 1959 Super Lead but we'll never know unless Hetfield confirms it. This was an amp that got stolen right when the band was heading to the studio to record their Ride the Lightning album.
Marshall JCM800 2203
Years used – 1984 to 1991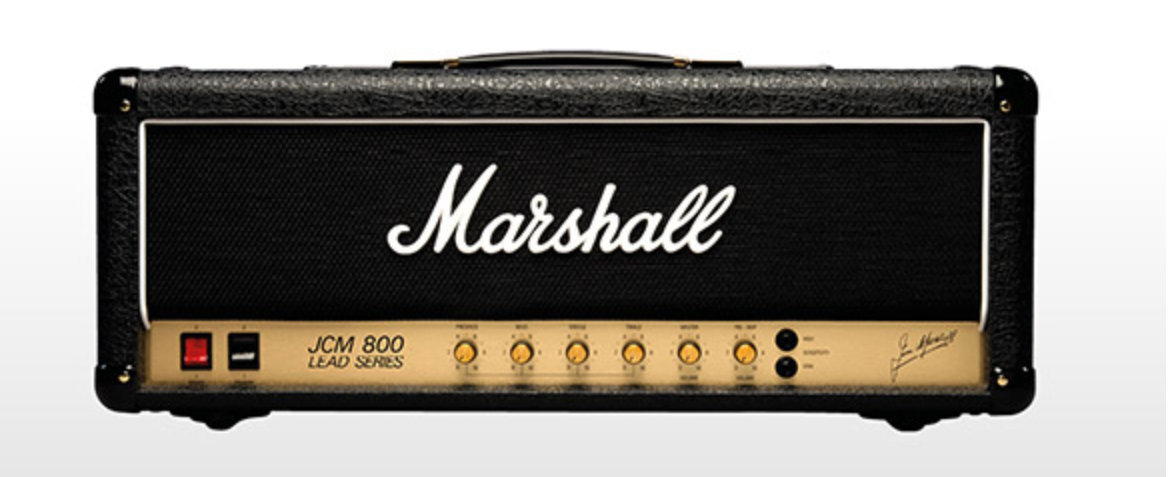 After Jame's original amp got stolen James managed to get a brand new one which was the JCM800 2203. This was the one used to record the Ride the Lightning album. As well as the main amp head this came with a Marshall speaker cabinet, fully loaded with Celestion G12-65 12-inch speakers.
During a short spurt in the 80s this was the main amplifier that Hetfield used. This amp became a popular one that was used by a few metal musicians at the time. Even though it was only a single channel amp that gives it that slightly dirtier tone, many would combine it with an overdrive such as an Ibanez Tube Screamer TS9 which would give you some pretty heavy results surprisingly.
Another practice that was well used at the time was to pair this amp with a ProCo Rat distortion pedal which are legendary pieces of guitar gear. This is exactly what Hetfield did but we will talk more about this in a little while. The Marshall JCM800 was modified at a later date by Ken Fischer.
Mesa Boogie Mark IIC+
Years used – 1984 to 1988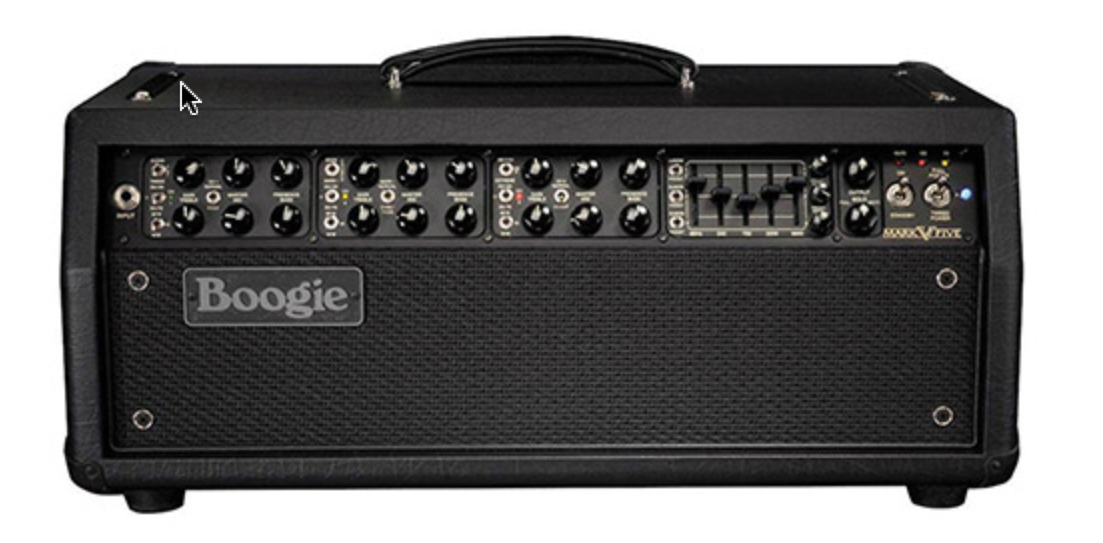 When Hetfield swapped over to this amp it completely turned things around for Metallica. It's not often that just one piece of gear can change the entire trajectory of a band's career. The Mesa Boogie Mark IIC+ has a tight tone to it and it was so powerful that it helped Metallica create an album that would eventually wind up in The Library of Congress.
Flemming Rasmussen, their producer at the time, worked closely with the band on the amp so that the tone was perfected. This is the amp you can hear on the Master of Puppets album. It was also used throughout the Justice album but the final mix was different so the tone doesn't sound the same.
This Mesa Boogie model would also serve the brand well, being the blueprint of some of their more advanced gear. As well as having two channels the amp has a 5-band graphic equalizer that gives you more detail on the tone shaping. It was an incredibly diverse amp for the era and it became popular for lovers of both tight and heavy tones.
Mesa Boogie Mark V
Years used – 2010 to Present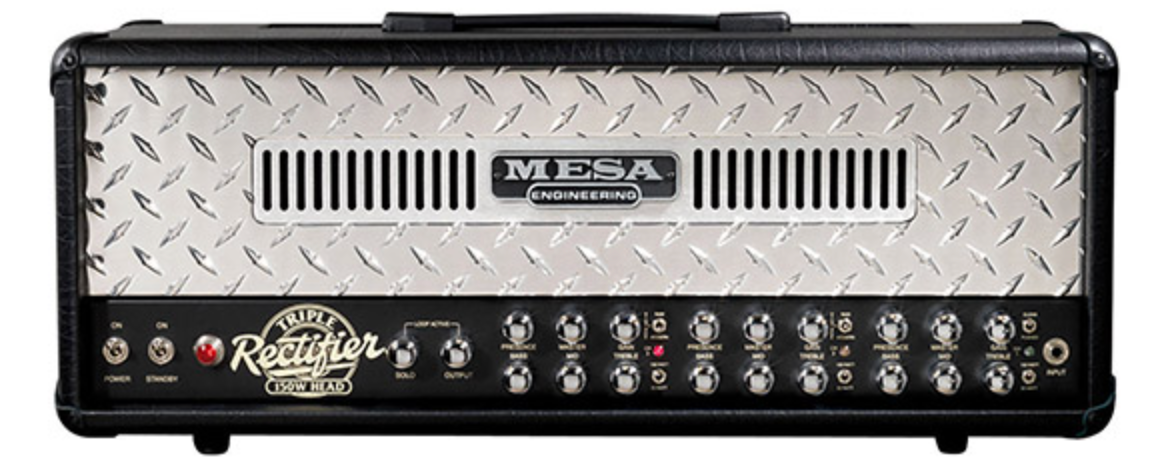 The whole band along with James fell in love with the Mesa Boogie IIC+ and the tone it could be produced. Later on in their career, James used a Mark V model which we guess was inspired by the old amp he used to have. It was an advanced version of the old model and had some detailed controls for tone shaping. The amp also includes three channels and the option to channel the output power down to the lower levels.
Each of the three channels included with this amp has some super handy controls that allow you to add in more tightness and brightness to your sound. The amp comes equipped with a 5-band equalizer which is switchable. The most impressive part of the amp is that each channel includes a switch for three different voicings which gives the musician a lot of possibilities.
Mesa Boogie Triple Rectifier
Years used – 2010s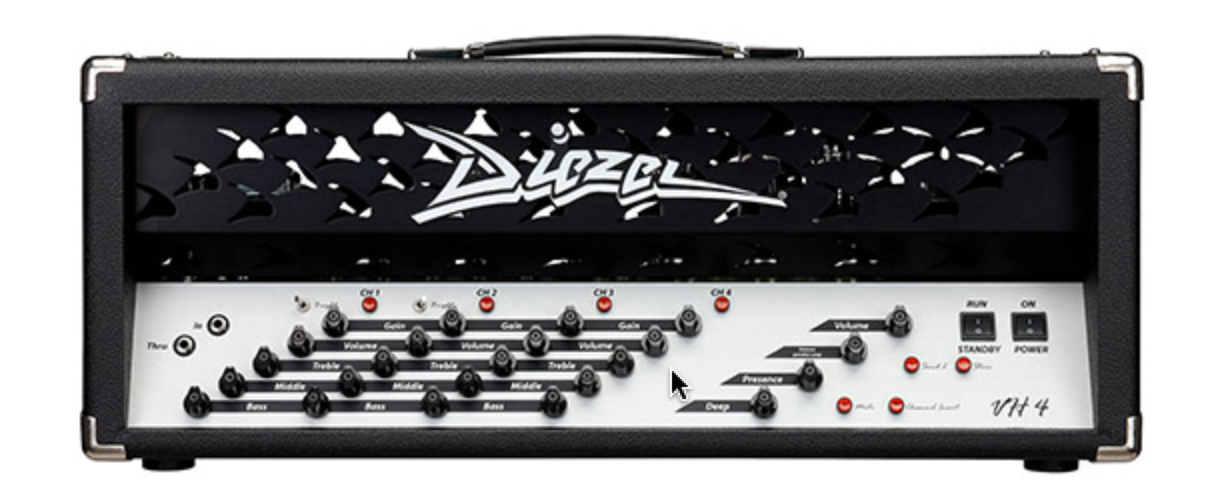 Yet another Mesa Boogie amp that found its way into James's collection is the Triple Rectifier which he used for live shows during the 2010 era. It's known to be one of the longest-lasting amps of all time and there are quite a few generations of guitarists who have used this gear. During the time when Hetfield was using it had three channels which gave the player much more versatility in terms of tone shaping.
As before, each of the three channels comes with voicing switches which means you can add in vintage or modern twists to the overall tone. Mesa Boogie is a brand that leaves nothing to chance, even giving the effects loops some additional controls that can give you an extra boost for lead guitar parts. The Triple Rectifier is still one of the most popular products for the band and serves as proof of how loyal Papa Het is to the Mesa Boogie models.
Diezel VH4
Years used – 2002 to Present
Diezel is an incredibly underrated brand for guitar amps. Hetfield started using their VH4 amp right around the time that the band would record their iconic St. Anger album. The VH4 is one of Diezel's more popular models and it is known for having a thick and heavy tone.
This is what's known as an all-tube guitar amp. It has an output of 100 watts and includes four channels which give you all the shades of tone you could possibly ever want. There are four effects loops as well, one for every channel on the amp, and this opens up the possibilities you have in terms of tone shaping. There are a lot of great guitarists out there that use the VH4 amp head including Adam Jones from Tool, Matt Bellamy from Muse and Neal Schon from Journey.
Roland JC-120 Jazz Chorus
Years used – 1998 to Present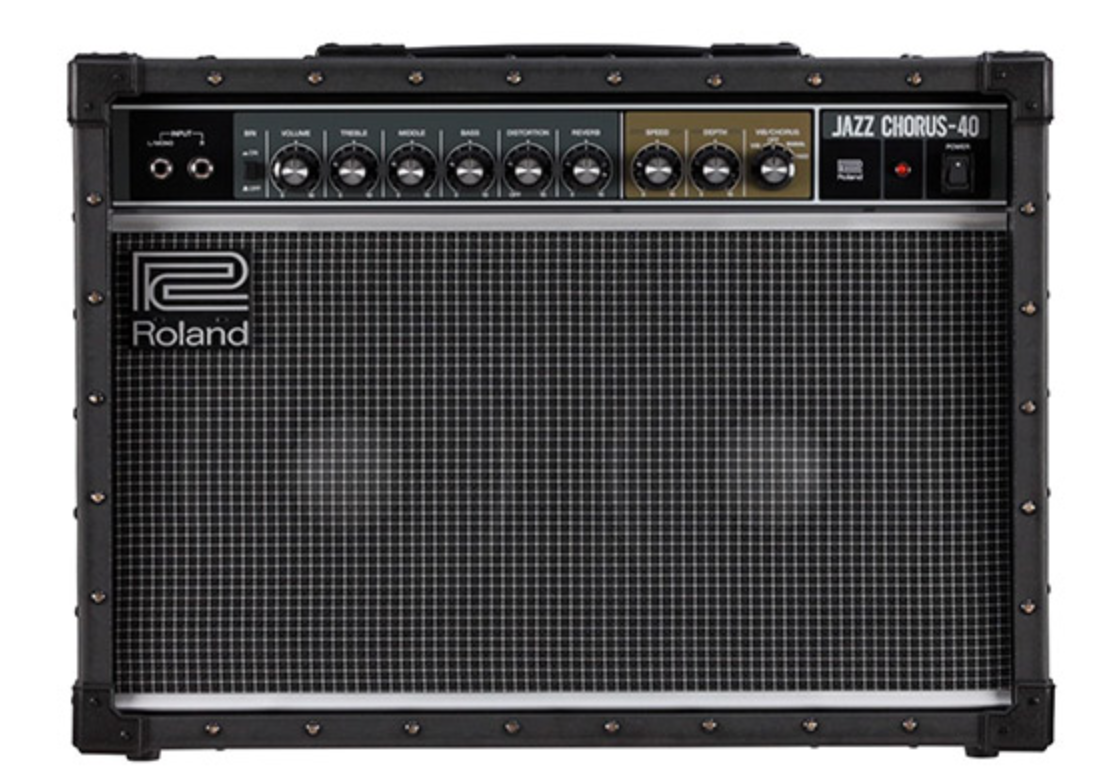 When Metallica were recording their …And Justice for All album James really liked the clear and controlled tone that the Roland JC-120 Jazz Chorus amplifier. You would normally expect a metal guitarist to use something with a heavier tone but this amp was useful for James in the cleaner sections. From the recording of the Justice album onwards, all of the cleaner sections you hear Hetfield play are done through the Roland Jazz Chorus amp.
The original model was first released in the 70s and it has remained pretty much unchanged up to this point. It's a solid-state amp that is equipped with two channels, although it's the cleaner of the two that it is known for. Both of the channels have two inputs as well as an extra bright switch that adds in some higher ends to the sound. The amp is known for the vibrato and chorus effects in the circuitry which gives you a unique sound effect. It has been kitted out with two 12-inch speakers that both work in stereo mode and has a total power output of 120 watts.
Roland JC-120H Jazz Chorus
Years used – 1988 to Present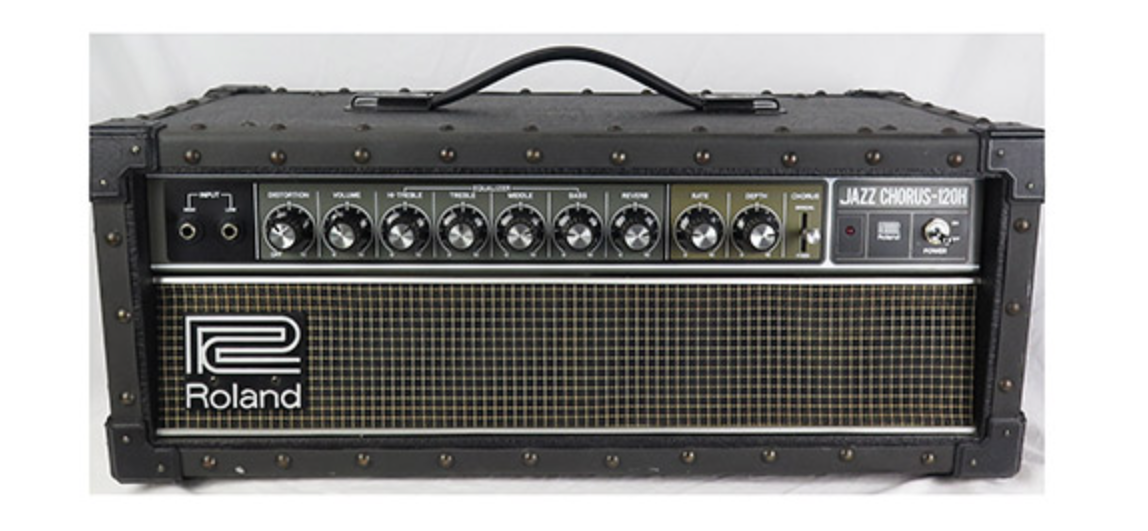 Along with the Roland Jazz Chorus amp, Hetfield also has a JC-120H model that he pulls out from time to time. This is as an amp head and isn't very common, with most guitarists being used to the classic version. It's almost the same amp with a few small differences. We're not sure exactly when James used this model and whether it was used in any of the live shows and studio sessions for the band.
Wizard Modern Classic
Years used – 1990s to Present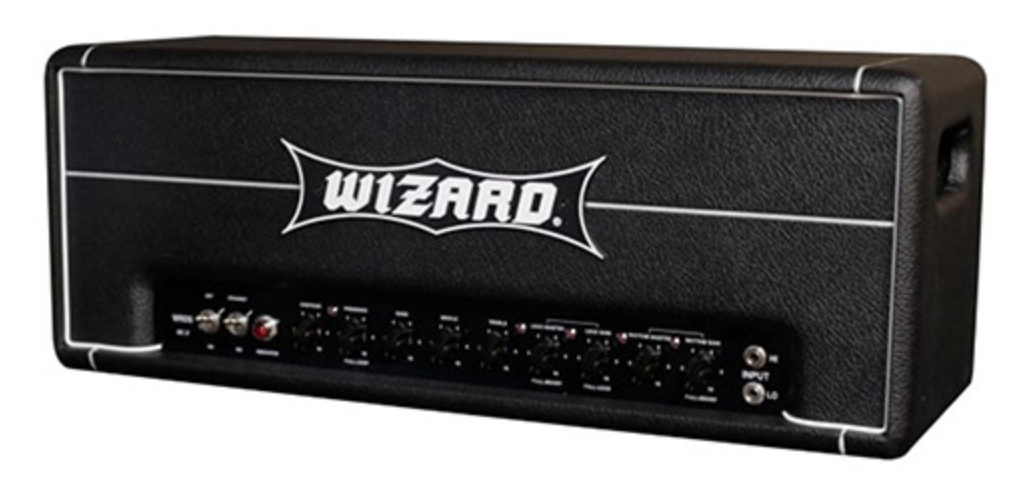 Moving forward to the late 90s, Metalica recorded an album called Garage Inc which was a selection of popular covers of songs including tracks from Thin Lizzy, Black Sabbath, Diamond Head and Bob Seger. The gear that Hetfield used on this album is a guitar rig that fans are always very curious about. He actually used the Wizard Modern Classic amp head which is a very prestigious amp and is only made through a special order being placed. It's known for having a very heavy tone and it's also quite versatile. There are loads of different sound controls including push and pull knobs which add to the overall functionality. Along with the Garage Inc album, Hetfield also used this amp on the St Anger record which was released in the early 2000s.
James Hetfield Pedals
The last part of our guide will look at the most popular pedals that have been used by James Hetfield over his extensive and successful career.
ProCo Rat
Years used – 1983 to Unknown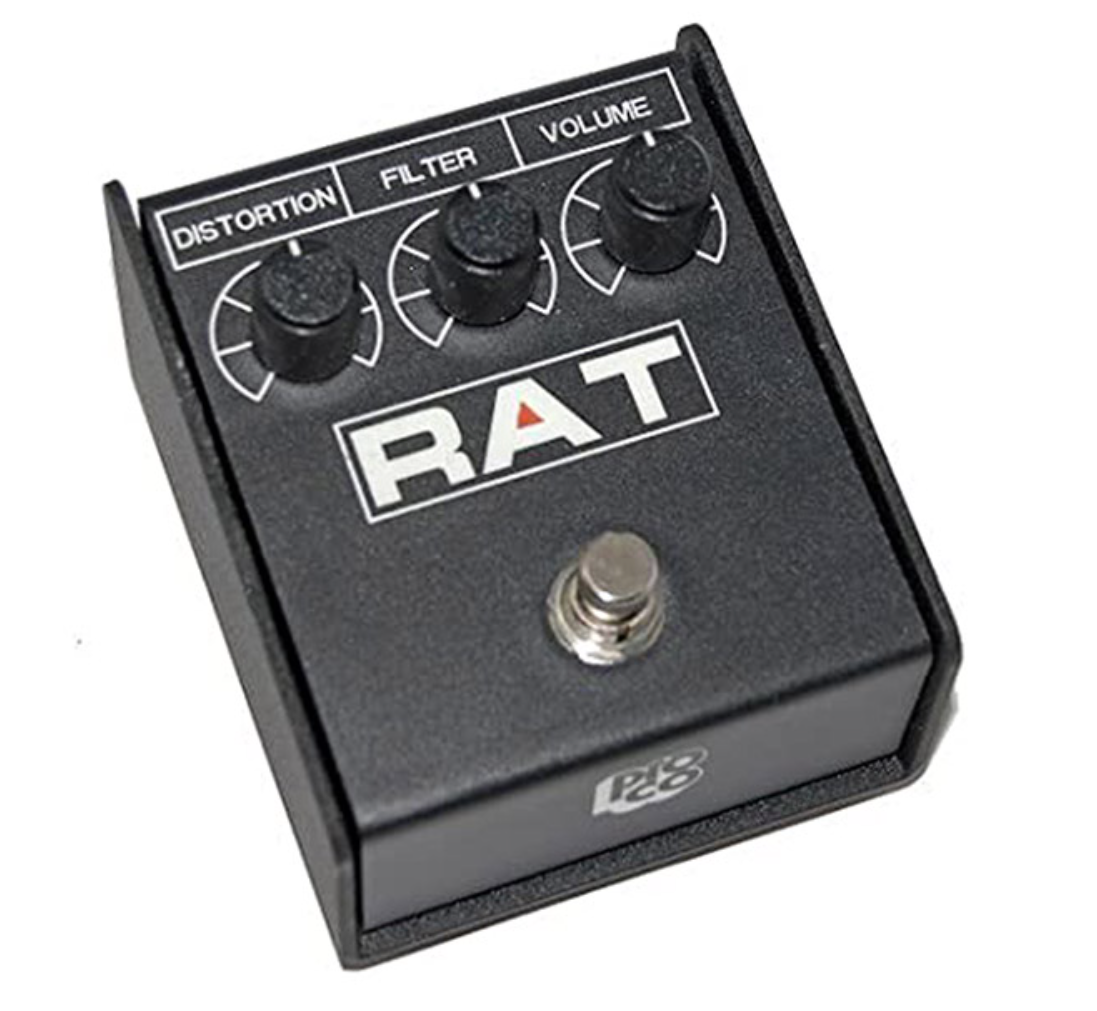 The ProCo Rat was used in the earliest days of Metallica and was Hetfield's main pedal for providing distortion. He combined it with this original Marshall amp that was eventually stolen and it produced a wicked tone that would end up being the typical sound for 80s thrash metal artists. The combo of amp and pedal was used on the Kill 'Em All album and the story says that this was stoled along with the amp.
You will get a classic distortion pedal with the ProCo Rat and it provides fuzzy overtones. It was a standard during the 80s and changed metal music as a genre. It only has three controls for volume, the filter and the distortion level.
Ibanez TS9 Tube Screamer
Years used – 1983 to 1992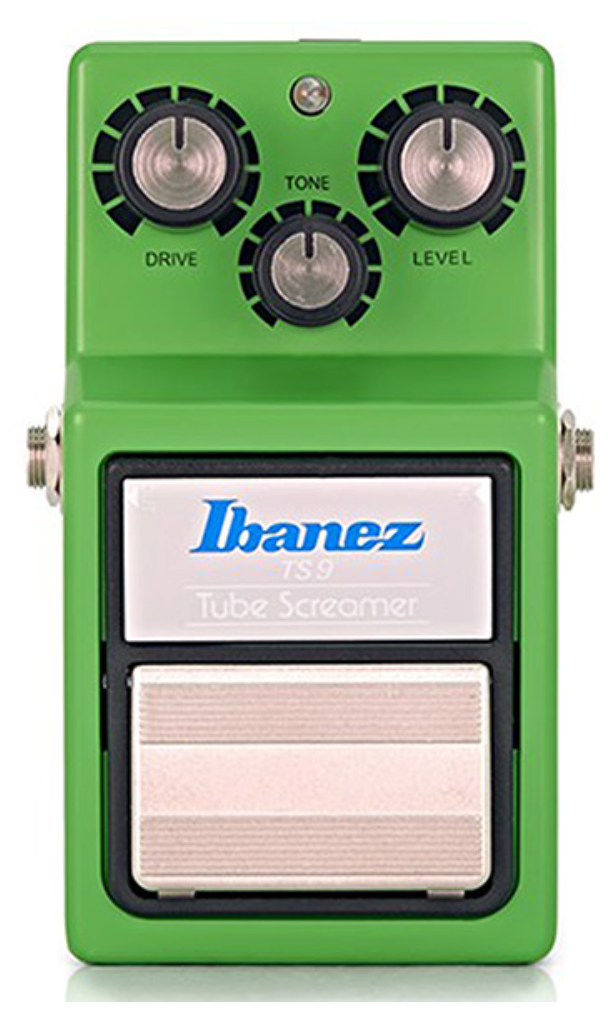 On the Ride the Lightning album Hetfield used the Ibanez Tube Screamer TS9 which is an overdrive pedal. It's the only album, reportedly, where this device was used. It's a smoother-sounding overdrive but when it was combined with the Marshall JCM800 amp you can get a solid heavy tone. Driving it over the edge creates a good distortion and its this that adds a special twist to the gear.
Klon Centaur
Years used – 2012 to Present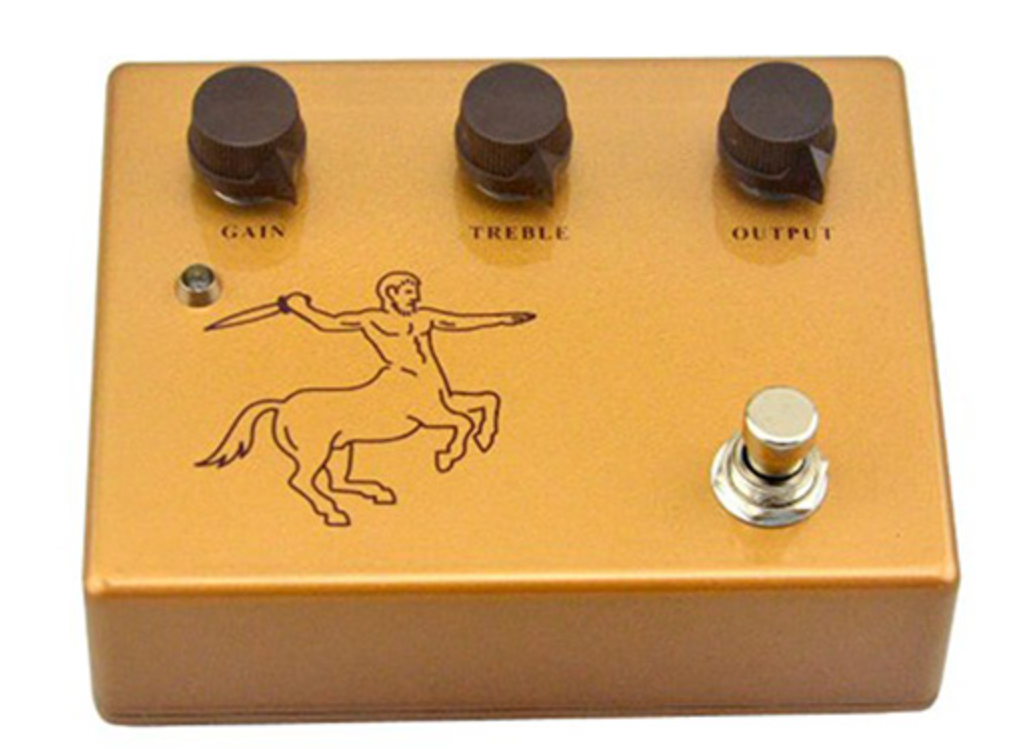 Here we have the Klon Centaur which was made by Bill Finnegan and released somewhere between 1994 and 2008. Today there are only around 8000 of these around today and they can reach some really high prices amongst collectors.
The Klon Centar is known for adding in distortion to the guitar sound without changing the original signal too much. It comes with an IC MAX1044 converter which takes the voltage up to 18 volts and then channels this through to the operational amp. This results in a rich, harmonic tone. In the right setting, you can also use the pedal as a clean booster. James added one of these to his collection in the early 2010s.
Line 6 DL4 Delay Modeler
Years used – 2002 to Present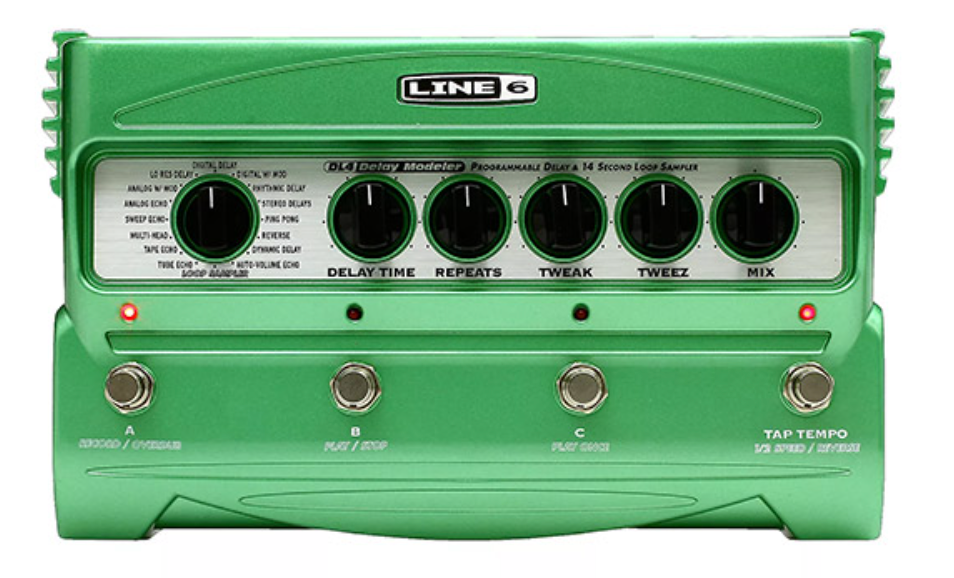 It's not actually been verified when James got one of these pedals but he did confirm that he has a Line 6 DL4 Delay Modeler in his arsenal. This is a delay pedal which is a bit different from others on the market because it's more complex and allows for some echo presets.
In total that pedal has 16 delay models and covers anything from old school tapes to modern digital devices. You can also use a stereo device and includes an expression pedal input so that you can tweak the parameters depending on the mode you have set it to.
Line 6 DM4 Distortion Modeler
Years used – 2002 to Present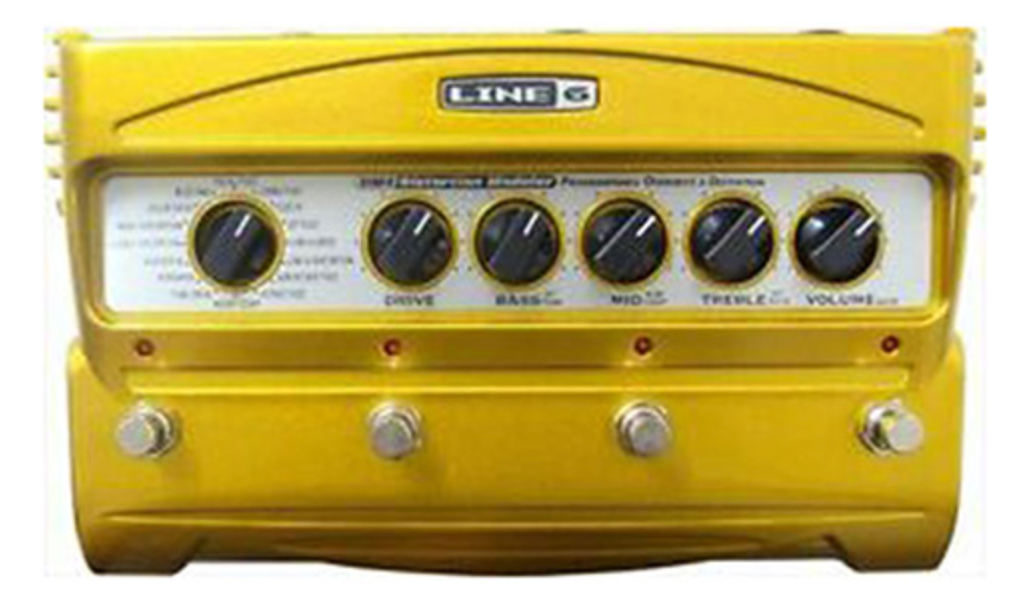 Reports from the early 2010s show that the Line 6 DM4 Distortion Modeler has been part of James Hetfield's live guitar rig. However, we're not sure which tracks he actually uses it for or if it's even still part of his collection. It has the same casing as the pedal we mentioned above and features versatile distortion shaping functions. It also has 16 distortion models which span from ultra-smooth up to more extreme clipping abilities.
MXR M107 Phase 100
Years used – 2010s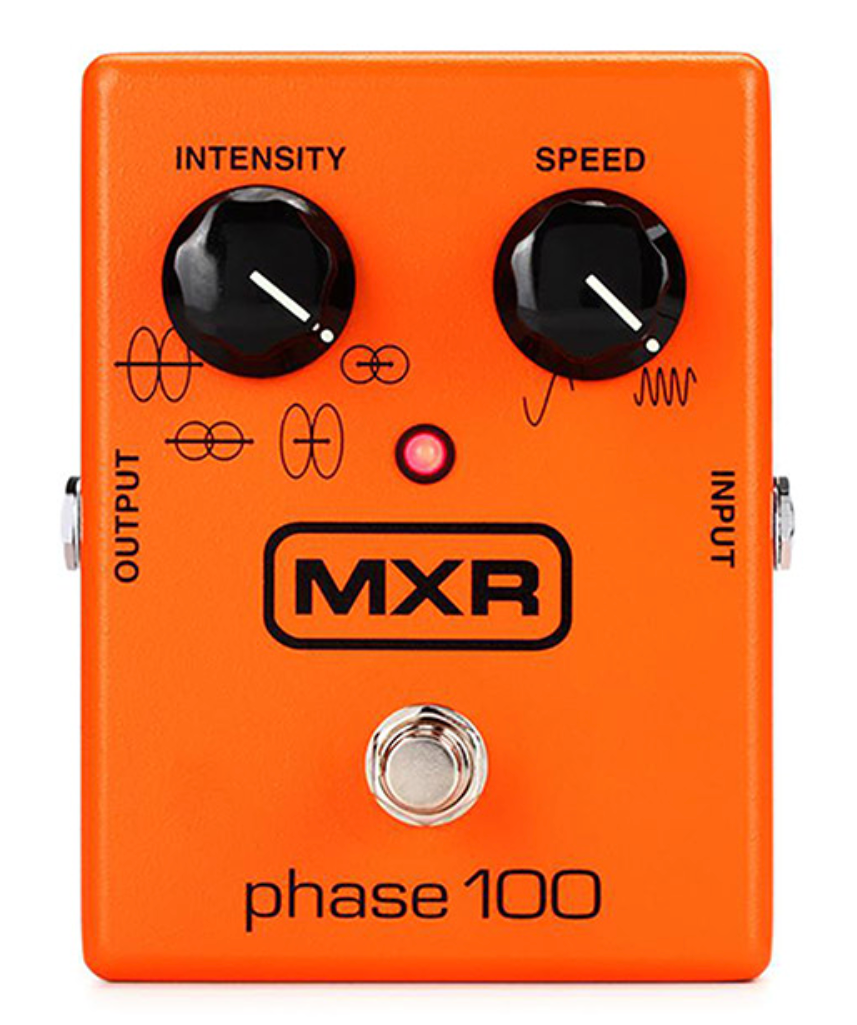 MXR are known for their phaser pedals and the Phase 90 is probably their most famous. However, James opted for the more advanced version with the M107 Phase 100 model instead. He confirmed that it was part of his setup in the early 2010s which he used in his live shows but it's unknown whether he still uses this for gigs today.
Conclusion
That's all we have for this article folks. We hope that you learned something interesting from the guitars and gear we have featured in this article. Many of these pieces James Hetfield still uses to this day as part of Metallica. As you will be able to see from the above, this frontman has used a great variety of gear to create his staple sound. Remember to check out our other guides here on our website where we can show you the best pickups for metal guitars and how to play easy metal songs. We have loads of great guides to help.