Joe Walsh has had an extensive career and many people know him for his elaborate guitar solo featured on Hotel California and his blues guitar on Life's Been Good. He is considered to be an icon of American rock music and is the lead guitarist for the band, The Eagles. Throughout his career, he has inspired many other guitarists to pick up the instrument including Eric Clapton and Jimmy Page, both of whom went on to become legends themselves. In this article, we are discovering what kind of guitar does Joe Walsh play.
Joe Walsh's Guitars
Walsh is known primarily for playing Fender and Gibson guitars and has had various models from both brands. He credits these guitars for their classical sounds and dynamics which is why he loves to play them. Joe has also had some signature models made in his name. Discover more about his collection below.
1958 Gibson Les Paul Goldtop
Years used – 1970 to Present

The story about how Joe got his hands on this Gibson Les Paul is unknown but there are theories out there that say he got it after he sold his 59 Les Paul to Pete Townshend. The Goldtop would make a few appearances with The Eagles but it was rare because the humbucking sound didn't go well with Don Fedler's go-to EDS tone. The guitar finally got out into the spotlight when Walsh decided to become a solo artist in the mid-80s.
The Goldtop edition of this Les Paul was from the 50s which is affectionately known as Gibson's Golden Era, especially towards the end. this was one of the last gold Les Pauls built before the brand would switch it out for the sunburst finish. The neck and body are both made from mahogany and it features a maple top. The materials it has been made from contribute to both the tone and weight of the guitar itself. Along with the finishes, the bridge is the Les Paul standard Tune-O-Matic that can be adjusted easily using the deluxe Kluson tuners. All of these things combined add to the premium look and feel of this guitar. The fretboard is crafted from rosewood and it has the Gibson trademark trapezium inlays on it.
The legendary PAF pickups, two of which are included in the piece, are able to produce a lot of different tones and have won over guitarists for many years. Joe Walsh said that the design and sound of this guitar are some of the best he has experienced and this is why it's probably his all-time favorite instrument. He uses it now on a regular basis to inspire him when making new music.
There are several versions of the Goldtop Les Paul in Walsh's collection, including one that features a Bigbsy tremolo bridge and the pickguard removed. He used this during a live performance of Life's Been Good in 1995. He also received a 58 reissued version of the guitar from his wife.
Fender Stratocaster Elite
Years used – 1983 to 2012

Joe has sometimes been credited for his fused solo sound which was enhanced by the use of this Stratocaster. Some fans think that Walsh got this guitar during 1980 when the first-line up of The Eagles was on its last legs but it didn't make its debut appearance with Walsh until 1983. Regardless of when he got the guitar, the Fender Stratocaster Elite has been a big part of his main guitar rig since this time.
This particular model of Fender tried to incorporate the standard Stratocaster design with active electronics. The Elite has a lot of features that are the same as a standard Strat but the tremolo bridge is different. It is called a Freeflyte and features separate push-pickup selections.
The body of the guitar is made from alder with a maple neck and fingerboard. Twenty-one jumbo frets sit on the neck which suits Walsh's playing style. The tremolo mechanism in the Freeflyte bridge was a step up from earlier versions of this model and it allows Joe to get more daring with his whammy bar.
Other distinguishing features of the guitar include two single-coil pickups from Alnico that are gold-covered and there is an internal dummy coil that cancels out humming. This was unusual for a guitar of this time and was considered to be advanced in terms of technology. There are the three standard push-button pickup selection controls and the master volume knob, an MDX booster and a TBX equalizer.
All of the extras that come with this Elite model of Strat made it sound like a humbucker and it makes the piece a lot more versatile and distinctive from other models on the market. The Elite series has easily become the flagship in terms of how innovative Fender can be and Joe Walsh is very fortunate to own an instrument like this.
Fender Eric Clapton Signature Stratocaster
Years used – 1988 to Present

The Fender Eric Clapton Signature is pretty much a reissue of the 1957 Strat. The body is made from alder with a rosewood neck which has been cut into a soft V-share. This replaced the original maple neck from the 57 guitar because Joe prefers the tones that rosewood can provide compared to maple.
Powering the guitar are three Vintage Noiseless pickups and an MDX mid-boost circuit along with TBX tone controls. The combination of these controls means that Joe can pretty much replicate Clapton's signature sound.
Joe Walsh has been seen with this particular model during a few of his tours with The Eagles. One of the appearances that people remember the most was in Wembley in 2004 which was to commemorate the 50th anniversary of the Stratocaster guitar.
Rickenbacker 230 GF
Years used – 1992 to Unknown

The Rickenbacker 230 GF was made as a collaboration with Glenn Frey, a co-founder of the Eagles. It was his signature guitar and he gifted one to Joe. Glenn wanted to make a guitar that did away with complexity of the time and return back to simplicity. The guitar is practical as well as having clarity and longevity and did away with the fancy finishes.
The shape of the guitar comes from the Rickenbacker Series 200/2000 solid bodies and then refined it with some more contours for extra comfort. The body, neck and fretboard are all made of solid maple and it was finished off with a jet black, high-gloss lacquer which makes the instrument feel majestic.
The 230 GF has two humbucking pickups with a high output of sound that can produce tones from loud to warm. These particular models have a more refined sound which can be adjusted with a pickup-selector, volume knob and tone controls. Joe enjoys using this as a slide guitar and you can see him playing it in the History of the Eagles Netflix documentary for Hell Freezes Over.
1977 Fender Telecaster Custom
Years used – 1977 to Present

This vintage 1977 Telecaster is a beautiful model with a contoured maple neck, a slim body and black dot inlays. The neck is incredibly smooth and plays like an absolute dream. The sunburst finish is made up of three tones and it adds to that already vintage feel of the piece.
For the humbuckers there are two original Fender Wide Range ones installed which come with embossed covers. The pickups are controlled by a three-way switch along with two volume and control knobs which have been embellished with witches hats.
There are a lot of premium qualities to this guitar and it also has an intense tone which makes it no surprise that a guitar player like Joe would have one of these in his arsenal. You can see Walsh playing the guitar during a live 1977 concert when he performed tracks like Take it Easy and One of These Nights.
1959 Gibson Les Paul Standard
Years used – 1959 to 1969

You will often hear Joe Walsh say that this guitar is one of the most important instruments he has used throughout his career. It was this guitar which helped him find that balance between and Larry Lewis who was in the Mesles. Whenever Lewis would opt for his single-coil axes, Joe would pull out his 59 and find the ideal tone to suit it. This guitar was the main one Walsh would use when he played with The Mesles and it was also a part of the James Gang.
From 1959 onwards Les Paul guitars were considered to be the pinnacle of craftsmanship in terms of American electric guitars and are now some of the most collectible instruments on the market. This model acted as a flagship and features a maple top along with a cherry sunburst finish which can only be found on these guitars from this era.
The original guitar is setup with PAF humbuckers which have been used on almost every infamous rock album from the 60s. Another great benefit of this piece is that it can be adapted in both appearance and sound. Joe would often use this guitar during his live concerts.
Jimmy Page of Led Zeppelin fame would be the one to buy this piece from Walsh in 1969 for a measley $500. It was to be his first ever Les Paul and soon became his most famous guitar. The Custom Shop over at Gibson would later inspect this original and reproduce it in limited numbers for a much higher price.
Gretsch 6120
Years used – 1957 to 1970

The Gretsch 6120 is a truly iconic axe. It has a hollow body and it first appeared on the scene in the 50s. It was to be the first in a series of guitars signed by Chet Atkins. The 16″ maple body is laminated with an ebony fretboard and inlays that are known as thumbnails.
If you want a guitar with a clean tone, this is the one to go for thanks to the two Filtertron humbucking pickups which you can control with a volume knob, pickup selector and tone switch. The tremolo tailpiece is a premium Bigsby one which adds to the overall look of the guitar. Joe kept the guitar until 197p and then he gave it to Pete Townshend from The Who as a gift.
Duesenberg Joe Walsh Signature
Years used – 2015 to Present

There was a few times Joe Walsh collaborated with guitar brands and Duesenberg were one of them. He wanted to create a guitar that had his favorite tones along with that crunchy rock feel that Joe is known for, along with a single coil that were common in the 60s. Named the Joe Walsh Alliance Series, there are quite a few pieces of Joe's style and personality added into these models.
Joe is an avid fan of radio and what's interesting is that the fretboard inlays of this guitar spell out his name using morse code. The Tibetan Knot which you will see between each pickup is a symbol that has a lot of meaning to Walsh and he also has a tattoo of it.
The top of the guitar is made from laminated spruch while both the neck and body are strong maple. The mini-humbucker is a LittleToaster and this mixes well with a SingleTwin Mini noiseless single coil that gives you an open, responsive sound.
Walsh is a self-confessed guitar nerd who likes to tinker with the hardware on his guitar's which is why there is nickel and gold featured on this one. You can see that the craftmanship of this piece is exceptional and it's a great model for Walsh to have in his collection.
Carvin Custom Shop CT6M/CS6 California
Years used – 2004 to Present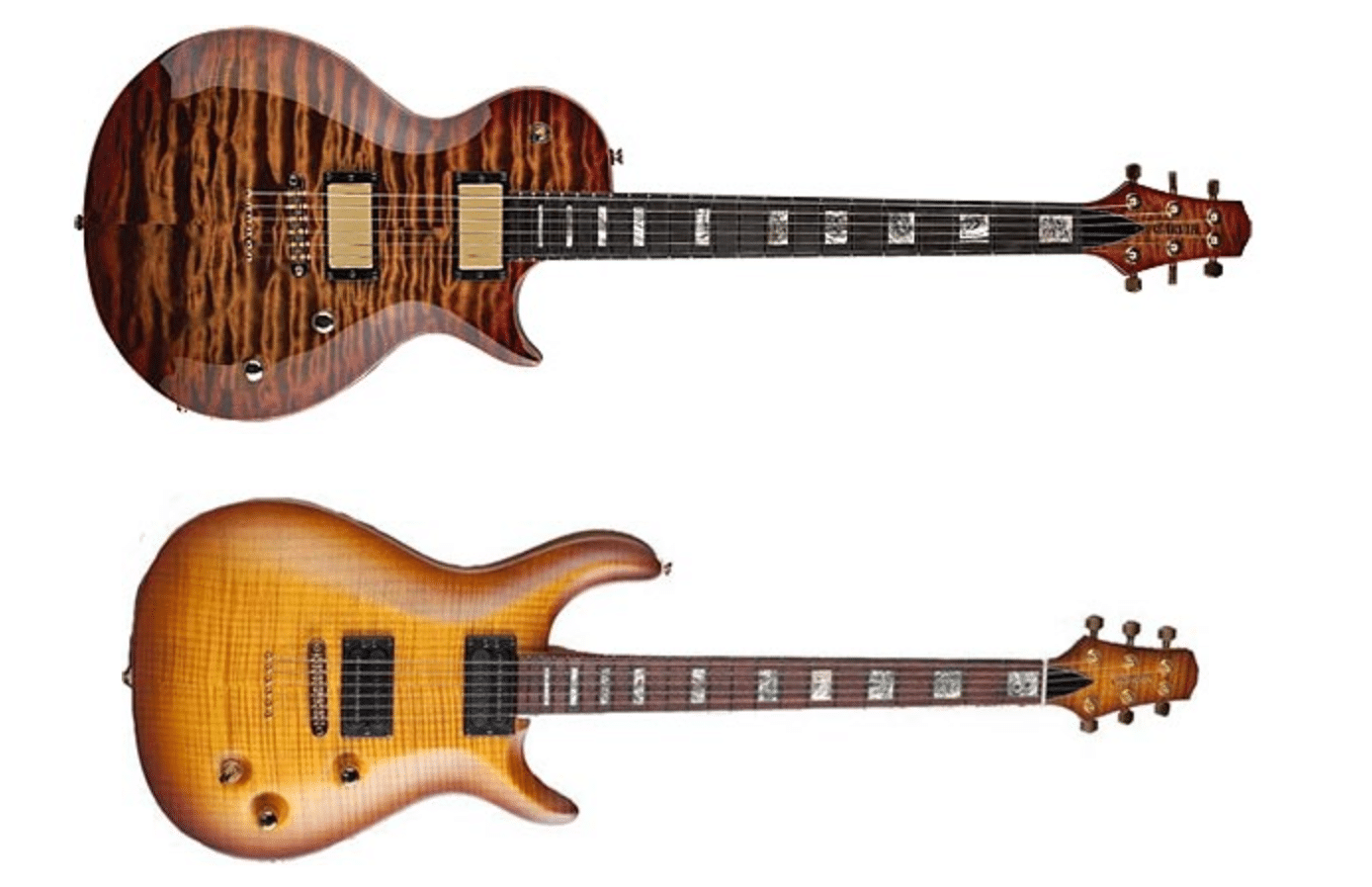 Joe first saw this model of Carvin in the back of a magazine as an advert. He knew the brand already from the 60s and had used one of their amps before he purchased their guitar. Joe says that his Carvin is both reliable and delightful and thank to Frank Zappa, he reached out to the brand to get some custom guitars made.
The CT6M has a maple top with a burst finish that goes to the edge of the body which is then finished off with a faux binding. Both of these models have Carvin Vintage Alnico humbuckers, the C22B and C22N. Joe is a fan of the bridge being built into the body rather than sitting on top of the screws, claiming that no other guitar brands had agreed to do this for him before. The shorter neck make it ideal for Walsh's larger hands so that he can reach the higher frets.
While Joe has a lot of custom guitar models, he says that no other company has allows him to be as involved in the design of this piece than Carbin did. He had a lot of input on the different aspects to make it truly custom.
In more recent years Joe has replaced some of his more traditional Les Pauls with the CS6. The sound coming from this guitar was made under Walsh's exact specifications so they're better for him to play. You can see these models being played both in live shows and in the studio ever since Joe received them in the early 2000s.
Fender Custom Shop Gold Sparkle Telecaster
Years used – Unknown

Fender issued a limited run of the Gold Sparkle Telecasters in the mid-90s that was finished with a Lucite coating which many of the Sparkle guitars had in these years. The specs are pretty much the same as the 65 Telecaster. It has a solid alder body along with a rosewood veneer fingerboard and a maple neck.
The neck and fretboard are all one piece and they include the spaghetti symbol. Kluson tuners are featured and the pickups make the sound more twangy. You can see the guitar being used by Joe when performing The Girl From Yesterday in 1995.
Duesenberg Double Cat
Years used – Unknown

The Double Cat is so -called because it has a cat eye F-soundhole and deep cutaways that give it a unique personality. The body is made of solid alder and it also has a flat maple top. The body is robust which gives the Double Cat that distinctive look and the maple neck gives it the tone that musicians such as Joe look for.
Inside the bridge is a traditionally wound GrandVintage humbucker and the neck has a Domino P90 single coil pickup. Both of these have been wired in the middle so that the frequencies can be separated, giving the guitar an open and varied sound.
The fretboard has been finished by hand so it makes it much smoother and playable. Everything that has gone into this instrument has made it one of Joe's favorites and we can see why he cherishes it so much.
Joe Walsh's Amps
Fender Blackface Champ
Years used – 1964 to 1970
Kicking off our list of Joe Walsh's guitar gear is the Blackface Champ which was introduced in the 60s by Fender. It is a 5-watt amp which is powered by a 6V6 tube and an 8″ speaker which means you can push it to the absolute limit. This is the reason why it was one of the most popular amps used in the 70s.
When you play using the amp you will hear that it's pretty loud and offers your sound a lot of depth, particularly if you mike it up closer to the speakers. The straightforward and innovative design produces a great tone that is ideal for recording. Joe used this amp to record Funk #49 which was one of his biggest hits in the 1970s.
Roland JC-120 Jazz Chorus
Years used – 1975 to 1984
The JC-120 is a classic guitar amp that came out of the 70s and it has been popular ever since it has been released. It is one of the more popular Roland models and guitarists around the world have used it for a long time.
The Jazz Chorus is known for having a clean tone and it was the first one of its kind to use this sort of effect. Now it's used all the time, but Joe was able to use it to improve the overall quality of his sound and add on a natural stero chorus tone. In terms of guitar gear it is sturdy so it's ideal for those who travel with their equipment all the time.
Vox AC30
Years used – Unknown
Due to the increasing demand for loud amplifiers, the Vox AC30 was introduced in 1958. It's become known to hit those high ends and is an important piece of guitar gear for rock artists like Walsh. It can produce smoother tones as well as the rowdier ones and it would become known as the amp that powered the British Invasion with the iconic AC/DC. Walsh is a big fan of this amp because he says it sounds great when paired with his Fender guitars.
Dr.Z Z-Master Joe Walsh Signature
Years used – 2019 to present
This is the amp that is Joe's signature and it came about when he was approached by Dr. Z in 2018. They wanted to recreate one of Walsh's favorite amps which was the '59 Tweed Fender Bandmaster amp. This was another one that he gifted to Pete Townshend.
As an amp, this one provides enough versatility to match how Joe likes to play and to suit his extensive collection of guitars. Inside there are two internal blended voices that each have independent volume knobs which means it can generate a great range of different audio textures.
Carvin Nomad
This Carvin amp has been a regular fixture on the stage with Joe and he says that it is very reliable for him. The powerful amp is loud and features 50 watts of power. The speaker is a GT12 which produces a distinct and clear sound and it's incredibly lightweight being only forty pounds.
The Carvin Nomad has twin channels and loads of different level settings which means that Joe can dial in his rhythm and lead guitar tones. The reverb gives him more range in terms of sound texture and adds to the atmosphere. It's an important piece of gear that he has at his disposable and he once said he couldn't blow one of these up despite making several attempts to do so.
Joe Walsh's Pedals
Boss OS-2 OverDrive/Distortion
Years used – 1990 to Present
This is one of the pedals that Joe uses a lot and it usually accompanies him on his tours. It combines both overdrive and distortion effects int he same pedal. You can use the effects by themselves or join them together so that the tone is more unique. There are four onboard controls which allow you to customize the tone further and it's a pedal that is known for pickup up on those subtle guitar accents. It's a great pedal that doesn't take up too much room and it is perfect for the blues solos Joe is known for playing.
Boss DD-3 Digital Delay
Years used – 2012 to Present
The Boss DD-3 Digital Delay pedal comes with a range of different applications. It's one of Walsh's favorite pedals for effects and he always keeps one around. He uses it to create repeats and latch effects during his live shows. It features a complete delay time control for those slapback repeats and all of the characteristics make it worth being in Joe's collection.
Summary
Joe Walsh has made a huge impact on what is now known as a rock guitarist. Besides being an amazing musician, his voice is also ideal for singing blues rock. There are so many riffs and solos he has produced that continue to influence modern guitarists even now. Fans around the world will always remember the contribution he has made to rock music as a genre.
FAQs
What guitar did Joe Walsh use on Life's Been Good?
Joe Walsh used his Les Paul coupled with a Fender amp called a Twin Reverb to create the sound you hear in Life's Been Good.
What guitar did Joe Walsh use on Hotel California?
For the famous solo you hear in Hotel California, Walsh used his classic 70s Fender Telecaster, one of many Fender guitars that the musician has in his collection.
Is Joe Walsh a good guitarist?
Joe is a great guitar player and was recognized as such back in 1970 to 1971. Many people believe these were the years he was even better than when he was playing solo and with The Eagles. He has also been very influential on other great guitarists we know and love.