Willie Nelson is an unmistakable character whenever you see him, even before he opens his mouth to sing. He's an incredibly iconic figure in the world of American music with his recognizable hair braids and woven guitar straps. His guitar is affectionately named Trigger and he uses this along with others to create his country music. He has played a critical role along with other artists such as Johnny Cash to bring country music into the mainstream.
Using nothing but his trusty acoustic guitar, Willie Nelson has had a career that has lasted 65 years and it's still going to this day. He has earned a huge amount of awards including being inducted into the Country Music Hall of Fame. He also has ten Grammys to his name, receiving 52 nominations in his lifetime. With such a great career behind him, Nelson has used quite a lot of different guitar equipment to create his iconic sound. In this guide we are looking at what kind of guitar does Willie Nelson play along with the gear he uses to achieve his sound.
Willie Nelson's Guitars
Willie Nelson has used the same guitar for most of his career – his guitar called Trigger. This is a 1969 Martin N-20 model of acoustic guitar. There are a handful of other guitars he has used throughout his career but Trigger and Nelson have been pretty much inseparable ever since he got the guitar in the 60s. We have given you the full list of Willie's guitars below.
1969 Martin N-20 "Trigger"
Years Used – 1969 to Present

In 1969 Nelson was playing a gig as a struggling singer and songwriter in a place called Floore's Country Store in Helotes, Texas. This was a suburb of San Antonio and he didn't know how much this concert would end up changing his life and his career. It would also change the course of music history as it was known.
At the time of the show, Nelson has a Baldwin C800 acoustic guitar. He played it on the floor of the stage after he had finished playing. This is when someone who was a patron of the bar who was also inebriated decided to wander onto the stage and ended up stepping on the instrument. Willie decided he would send the guitar to be repaired at a local store that was called Sho-Bud Music. It was owned by another country singer by the name of Shot Jackson, who informed Willie that the Baldwin guitar was beyond repair.
Although there was no bringing the Baldwin back, Jackson offered Nelson a replacement instead. In the store at the time was a brand new 1969 Martin N-20 acoustic guitar which he felt would fit Willie's needs. Nelson never really had attachments on his Baldwin guitar but he was very fond of the Prismatone ceramic pickups which is one of the earliest pickup systems to date. Jackson told Nelson that for $750 he would install the pickups from the Baldwin guitar onto the Martin and then send the new guitar to his tour bus.
Willie was unsure about buying a guitar that he had never seen before so he asked Jackson if it was any good. Jackson is quoted to have replied, "Well, it's a Martin. They don't make bad guitars!" So, without even seeing the instrument, Nelson took the plunge and bought the N-20 along with the Baldwin pickups for an additional $750. This would have been around $5,652 in today's money. For the next 50 years this guitar and man would be completely inseparable, and it's still the guitar that Nelson uses today.
Trigger is a guitar that was built especially for use with nylon strings and suits a fingerpicking style. Unlike a guitar that comes with steel strings, Trigger doesn't have any bracing under the top of it. When you watch Willie Nelson play you will notice that he often uses a pick which is what ended up causing the iconic hole you will see in the soundboard.
The guitar is built using very high-quality materials. The top is Sitka spruce which was sourced in the Pacific Northwest. The back and sides are made from Brazilian rosewood and the fretboard and bridge are made from African ebony. The Amazonian mahogany neck has tuning pegs made from brass which were crafted in Germany. All of these pieces came from each corner of the world to create a truly iconic instrument.
When the original finish was added it was an aged lacquer that Nelson called mellow yellow. There's not much of this left though.
The guitar came from the Martin factory as a purely acoustic instrument and it was Willie who decided to have the Prismatone piezo electronic pickups from the Baldwin installed in the bridge. These were considered to be revolutionary for the times. They were one of the very first electronic pickup systems which had been designed specifically for use with an acoustic guitar. There are six sensors which are ceramic, one for every string, that amplify the acoustic sounds without giving out much feedback. When Nelson installed this into his guitar Trigger, it became one of the first acoustic-electric guitars to ever exist.
The reason why he loved the look and sound of this guitar so much, and the reason why he's used it for so many years, is because it sounds like the instrument Django Reinhardt used to create his jazz riffs. Nelson was a devoted fan of Django and would often say that he was the best guitar player in the entire world, even though he had a two-finger playing technique. It was Willie's reasoning that if Reinhardt was able to play the same guitar using just two fingers, think of the possibilities he could achieve using all five.
Trigger now had a little more 'Django' in it – a phrase Nelson liked to say – and he understood he needed to keep it. Willie didn't have a horse to name like many of the cowboys at the time so he figured his guitar could be his noble steed. He decided to name it Trigger, coined after Roy Rogers horse
Shortly after acquiring Trigger Nelson's house caught fire in Tennessee. He arrived some from a party he had attended in Nashville and found the entire home ablaze. He took quick action and ran into the inferno to save the two most precious things to him in the entire world: a pound of marijuana and Trigger.
After the house fire, he became even more attached to his guitar. He took it on stage with him almost instantly. You can see in the video below a show from 1969 filled for The Glen Campbell Goodtime Hour. It's probably one of the only times you will see Trigger without any sort of dents or holes.
One Nelson had lost his home in Tennessee he thought it was a sign to move away from Nashville. He decided to pick up his Martin guitar and move back to his hometown of Austin, Texas. Willie was inspired by Austin and instead of mimicking the Nashville stars, he turned to musicians such as Jerry Jeff Walker, Doug Sahm and Townes Van Sant. He traded in the suits and stiff jackets for a more laid-back style of bandanas and braids.
Willie exploded onto the Austin music scene who had never seen anything like what he was producing. Having the acoustic guitar being amplified was a brand new thing for the music world. Nobody had successfully done it before and so Nelson took it and ran. He began blending his country style with bits of rock and blues for a more hippy feel, breaking the mold for what was considered to be the standard country music at the time. Nelson didn't know it at the time but he was creating what would be known as outlaw country music.
The big shift in Nelson's career would come upon the release of his 1975 album, Red Headed Stranger. He threw in that Austin flavor he loved so much and tossed out the templated music he was writing back in Nashville. On this album, you can tell that he really kicked it up a notch and wanted to show off what his Martin guitar could do.
If you listen to the album you will hear that it really is Nelson and his old guitar doing all of the work. Willie's sound was stripped back as he realized he didn't need all of the frills that the Nashville music scene demanded. Martin guitars are incredible instruments and you can tell that Willie Nelson wanted to show that off.
Nelson's record label wasn't so thrilled with the album though, dubbing it to be too simplistic. However, his fans loved it and it launched outlaw country as a genre into the mainstream. Willie Nelson would soon be a household name and would cease to be a struggling singer/songwriter in Nashville.
At this time the iconic hole below the strings and sound hole on Trigger had appeared. Classical guitars like Willie Nelson's were only meant for fingerstyle playing. Because Wilson played with a pick he wore a hole through the top of the guitar.
Once the album had some success and the outlaw genre had launched, Trigger and Willie went on tour, recorded more songs and collaborated with other musicians. He played with the big names such as Leon Russell, and he was one of the people he asked to sign Trigger. Nelson presented him with a pen but Russell stopped him in his tracks. Instead, he took a ballpoint pen and carved his name into the wood, stating that it would be worth more.
Leon returned the favor and wrote his name into Trigger, being the first signature to appear on the guitar. Over the years Nelson would continue to ask people to sign the guitar and now there are more than 100 signatures over the top of the instrument. Some of the name many people would recognize on Willie Nelson's guitar include:
Leon Russell
Johnny Cash
Kris Kristofferson
Roger Miller
Jack White
Gene Autry
Paul English
Jamey Johnson
As well as being covered in signatures Trigger also went through a lot on the road. The hole continued to grow and the guitar also received more scratches and dents from how much it was used. According to some people, you would be able to see splinters of wood flying off the instrument when Willie would play the faster picking songs such as Bloody Mary Morning.
In 1991 it came to light that Nelson owed the IRS $16.7 million in back taxes which he was unable to pay up front. Willie was scared that they would come and take away valuable items from him to settle the debt. Trigger was just as iconic as Nelson himself at this point and it would have auctioned for a stupid amount of money. To stop the IRS taking Trigger, Nelson told his daughter to get the guitar from his studio and bring it to his home in Hawaii. He then handed it over to his manager for safekeeping until the debt was fully repaid.
Trigger would remain in Hawaii until about 1993 until the debt was paid back and he could get out on tour once again.
Looking at the state that the guitar is in today it's a miracle that it even still exists, let alone plays. Mark Erlewine is the one that keeps the guitar in good working order. Nelson sends it to his shop twice a year to have it reconditioned, not messing with it too much but give it that bit of TLC it needs to keep going.
The guitar is a marvel because it hasn't really needed a lot of big maintenance jobs through the years. Most of the pieces are the original ones. The main thing that has been added to the guitar is a wooden block behind the hole that Willie made into the top of the instrument. It was intended to support the guitar but Willie tends to cut through these hardwood blocks too.
Before Nelson goes on the stage Trigger is placed at the front so that the audience can come and see the instrument. It's a big draw for the fans and remains the centerpiece of his concerts.
When Nelson was interviewed for Acoustic Guitar Magazine, he was quoted as saying, "I feel we'll give out about the same time. We're both pretty old and have a few scars here and there, but we still manage to make a sound now and then."
Now the duo has entered into their 50th year together and they are still going as strong as ever. In 2022 they performed alongside Nelson's son, Lukas Nelson, at the Farm Aid concert. We hope they have some years left together. Trigger will always be Nelson's most iconic guitar.
Grammer G-20
Years Used – 1965

When Willie was first starting out he would receive guitars from manufacturers who wanted extra publicity for their instrument. He would usually end up playing whatever was sent to him. One of these guitars that Nelson played is in the Grammer G-20.
The Grammer brand came out of Nashville which made them an easy go-to for artists like Willie who worked in the area. It was a large-bodied guitar with steel strings – a bit flashier than what Willie would usually be seen playing. The binding around the body and fingerboard was quite fancy and set off the red sunburst finish.
With all of the extras going on with this guitar it's easy to see that it was made for the flashy cowboy singers with their rhinestone suits and bolo ties. The G-20 had a spruce top and the back and sides were made from maple.
Baldwin 800C
Years Used – 1969
Before Nelson got Trigger he was a recording artist for RCA which meant he would receive guitars from different manufacturers to try. The last guitar he got before he met his beloved Trigger was the Baldin 800C.
This guitar was similar to the Martin in many ways, being an acoustic-electric instrument. It had a small body made for concert playing with narrow shoulders, a wide bottom and a slotted headstock which was made for nylon strings. It also had a natural spruce top. Willie was never really happy with how the instrument played but the amplification was what stood out.
The Baldwin 800C was one of the very first guitars of its kind to be made. It had those Prismatone piezoelectric pickups as well which Willie was a fan of. These are six small ceramic sensors that pick up the vibrations of each individual string as the instrument is played.
This was the guitar that someone stepped on during a concert in Texas and would then be swapped out for the Martin once it was deemed to be unsalvageable.
Martin 000-18
Years used – 1965 to 1969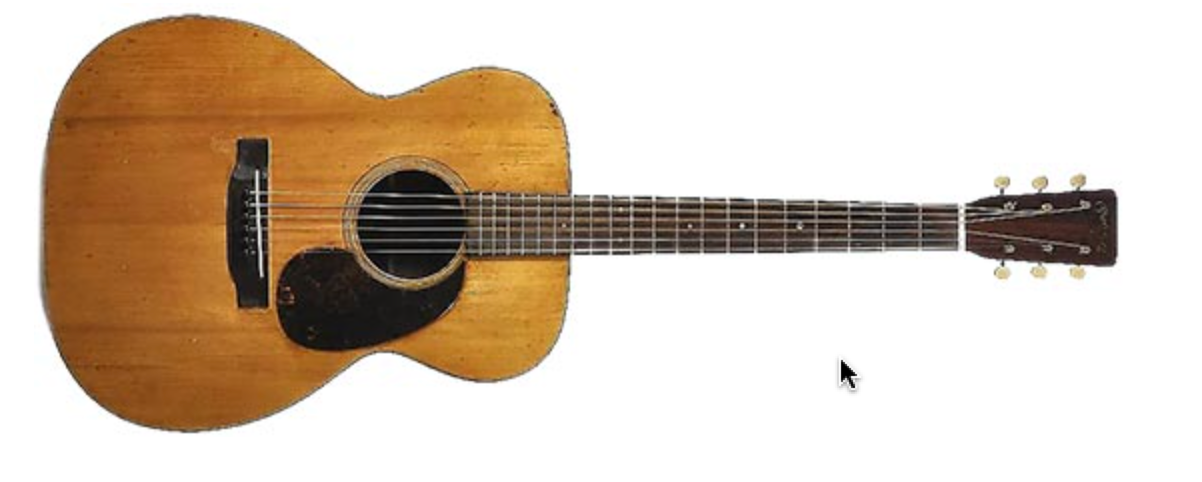 Trigger wasn't the first Martin guitar that Nelson would play. he used a Martin 000-18 off and on for a few years before discovering the N-20. This model would have a thinner waist and smaller body, making it more comfortable to play. The round body meant that the sound projection was still enough to fill an entire room though.
The 18 in the guitar's name meant that it was a lower-tier model when compared to the 28 and 45 higher-end versions. It doesn't make much difference to the sound, it's more about the fancy touches such as the patterned binding and the inlays.
Nelson was known for his use of nylon strings but the 000-18 was actually a steel string guitar. It had extra bracing under the top of the guitar and the standard headstock to support the extra tension that steel strings produce. It was something more in line with what country music stars at the time were playing.
Because it was a Martin guitar it was made to a high quality and included a solid Sitka spruce top. The back and sides where made of solid, real mahogany and the fretboard and bridge were made of ebony. He used it on and off throughout the late 60s and can be seen in live performances with the instrument.
Willie Nelson's Amps
One of the things that makes Trigger sound so good is Nelson's clever use of technology. The pickups that he loves use a specific amp that goes along with Willie's signature sound.
1969 Baldwin C1 Custom Professional with Supersound
When Willie got his Baldwin 800C guitar they also gave him the amp that matched with it. This amp was designed to work in sync with those pickups. It's not just your standard guitar amp. It was built specifically for guitars that had piezo pickups such as the Prismatone. The Baldwin C1 features reinforced 12″ speakers, 45 watts of power and a 125W peak.
The amp has two channels which each have two inputs. The first channel is the clean one that comes with your standard adjustment knobs for treble, bass and volume. The second has the same knobs with three more added to control tremolo intensity, speed and reverb.
The part of the amp that was the Supersound is the push buttons at the top which can boost the mix, bass, treble, mid I and mid II. There's a three way switch as well to toggle the Supersound between normal and dual.
Even though the guitar that went with the amp didn't hang around, the amp that was designed for it did. Technically the amp has been with him longer than Trigger has so takes a big part of the responsibility for producing Nelson's iconic sound.
Conclusion
Willie Nelson will continue to be a permanent fixture on the country music scene for years to come. With over 70 albums under his belt and tens of thousands of shows played, you can see why he has had such tenure as the frontman for outlaw country. If you want to play the sort of music that Willie Nelson was known for we have a great guide for easy country songs that you can play as a beginner.
FAQs
Why does Willie Nelson play a guitar with a hole in it?
Willie Nelson's trusty guitar Trigger is his favorite and he loves the tone, even with a hole. The hole was created because Nelson often uses a pick to play and the guitar is over 50 years old. Over time the hole got big enough for him to carry enough drugs in there that would see him through a two hour concert. The reason he still plays it is because he loves the guitar. Simple as.
What guitar strings does Willie Nelson use?
His guitar, Trigger, has always used Martin N-20 nylon strings which are typical for this model of guitar.