All pianos offer some form of customization – be it with piano lamps, piano pedals, piano stands, sheet music stands, or any of the many other decorative items available in music stores and purveyors worldwide. It's a sad fact that the average person gives the piano seat very little consideration.
In this review and buying guide, we'll show you why it is important to spend a lot of time and effort, and as much money as you can afford on a good piano bench.
Read on to find out what to look for, which brands are the best, and importantly, what the best piano bench is for your needs and budget.
In a Hurry? Here Are the Best Piano Benches
What is a piano bench and why do I need one?
A piano bench is typically a bench-style seat that sits in front of the piano. A pianist will sit on a piano bench while he or she plays the piano – and a good piano bench can make all the difference in both comfort, and performance.
That's right. Investing in the best piano bench you can afford will not only complement the ergonomics of the room your piano is stationed in but also add to the amount of pleasure you will derive from sitting in front of those ivories.
Playing Rachmaninoff's Prelude in c-sharp minor or preparing for your first performance in Carnegie hall's Christmas spectacular will require some serious time practicing – so you ought to make it as comfortable as you can. A good piano bench will make hours of practice seem like minutes, and that's why you need one!
Are you gigging? Touring? Honing your talent as a rock musician? If you plan on being the lead musician in the 21st century's version of The Rolling Stones, you want to make sure that you buy a transportable, adjustable piano bench that can accompany you to the big time!
As you can garner, every situation and piano will highlight the need for a different piano chair.
It is vitally important to buy the RIGHT piano bench for YOU. The right bench will improve your posture, allow your hands and arms to move freely (read with ease), and offer enough support to host you in front of the keys for hours on end!
Different types of piano benches
In this section, we'll discuss the numerous different types and designs of piano benches on offer. Some of them are wooden, some of them are upholstered, some of them can fold up, and some of them have to be placed stationary in one position. Here are the more common types, and their primary attributes:
The adjustable piano bench
 Most professional pianists and
classical performers
mark this as their primary choice when it comes to
piano chairs.
The
adjustable piano bench
looks very similar to the traditional bench that usually accompanies an upright piano, with one notable difference: The bench typically includes a knob (or two knobs, one at either side of the chair) that allows the height of the seat to be manipulated.
This is a great piano bench for those who need to accommodate more than one pianist (like a household with piano students of different ages), and one of the more comfortable options when it comes to piano benches for longer practice sessions. The fact that it is height adjustable means that your back won't be under unnecessary pressure and your posture should almost auto-correct while you play.
Adjustable piano benches are usually padded or upholstered, allowing for even greater comfort. High-end adjustable piano benches have leather padding and/or ornate patterns on material of the seating area. If you can afford it, this will make for a dazzling piece of furniture that will make every performance more glamorous.
Some adjustable piano benches have storage sections under the seating area (accessible by opening the seat up like a door on hinges) which is great for storing sheet music.
The upholstered piano bench
An upholstered piano bench is similar to the adjustable piano bench we discussed above, with the exception that the height is not adjustable at all.
There are various options in regard to different styles of upholstery, but the general aim of these designs is to keep the cost low – so they are usually padded with vinyl or foam and cheaper finishes in attempts to keep their costs low.
These are often seen as student piano chairs, and some of these piano seats are also hinged to open a storage section below the seat where sheet music and theory books can be stored.
The adjustable piano stool
The showman's favorite is known as an
adjustable piano stool
. Typically this type of
piano stool
has a round padded seating area, upholstered to be pretty firm, and covered in vinyl.
The adjustable piano stool rotates clockwise and anti-clockwise on a big screw-like leg to raise and lower its height. While most adjustable piano benches have just a few height-options, this design allows a pianist to get the chair to the exact height that suits his or her body and playing style.
This chair is great for live performers and piano bar-type shows. Engaging the audience is as easy as a quick flick of the heel… and presto! You're facing the audience.
This is also a great option for younger kids who will need a higher seating position, and usually light to carry around – so this is a versatile option and great "second" piano chair.
The antique style round adjustable piano stool.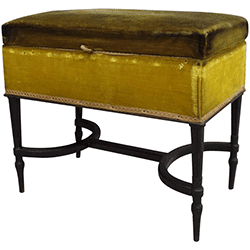 The antique adjustable piano stool reflects the designs of a bygone era. Round piano stools were really popular before other variants took over and mass-produced chairs became the norm. Lately, designers of piano chairs have started focussing on the antique style piano chair again, and we're mighty glad they did!
The difference between this and the adjustable piano stool we looked at above lies in the upholstery. The antique style round adjustable stool has all the same attributes as the adjustable piano stool, bar the upholstered seat. These stools are made out of wood, and while they can get uncomfortable quite quickly, they are as versatile if not more so than their contemporary counterparts.
As their construction material suggests, these wooden adjustable piano stools are sturdy and durable, and they tend to outlast fashion changes. They can also function as side tables or even bedside tables, so they are easy to repurpose, and ideal for pianists who don't have much available space in their living rooms or houses.
The standard wooden bench
These wooden benches are – as the name suggests – manufactured entirely out of wood. As far as
piano benches
go, this is by far the one most people have seen, and probably the one least preferred pianists.
While they are usually made out of high-quality wood with impeccable finishes that compliment the design of a piano, they don't always do much more than looking good.
If you're looking for a piano seat… this is it. If you're looking for a comfortable, adjustable or transportable piano seat… shop elsewhere.
The standard wooden bench isn't all bad though. They are very durable and will outlast most other designs. They are easy to refurbish and can be varnished to a different color. They generally present well and are easy to pair with most other wooden furniture in a house.
The piano practice chair.
A piano practice chair is… a chair! It looks very similar to a standard dining room chair but has a sloped back. They are adjustable seats, with the added benefit of offering some back support.
This is perfect for those who suffer from ailments in the legs or people with back problems.
While designs vary quite a bit and this is a pretty niche offering, you can expect to have some form of upholstery on a piano practice chair, with (usually wooden) sturdy legs attached.
The foldable keyboard bench.
The foldable keyboard bench comes in many shapes and forms, with the most popular design sporting an
x-frame
that folds up to a compact and flat chair that is easy to carry around.
The bench is usually adjustable, and adjustment is done via a peg-and-hole design. While the amount of height and setting options differ, they usually accommodate most players comfortably.
This is a great piano bench for those who need to travel with their instruments and a great on-stage accessory.
If you're looking for a bench that you can pack away when your keyboard's in the cupboard, this is your top choice too.
The duet piano bench
Duet benches
(Also known as a
'double piano bench'
) are intended for use by more than one pianist – and they are thus a lot bigger than standard piano benches.
The traditional duet bench has been around for some time – although older models have become pretty scarce. Newer models of the same design-style have seen the light of day, and you can count on them being very similar to those manufactured by hand from the '40s to the '80s. The traditional duet piano bench usually has a hinged top and is made out of wood.
Alternative designs see this bench with an upholstered seating area and even taking on an adjustable form with the seat-height being manipulated by two knobs at the side.
Music thrones
The music throne type op piano chair is often called a 'drummer throne'. Very similar in both design and look to the adjustable piano stool, this is a great lightweight option for those who need a versatile piano chair at an affordable price.
Some music thrones feature a backrest (similar to an adjustable piano chair), which helps to reduce back and neck pain when you perform for extended periods.
Things to consider before you buy a piano bench
Simply knowing what type of piano bench will suit your style and need the best isn't enough to guarantee that you'll land up with the best bench for YOU.
There are many considerations and other factors that will determine your ultimate satisfaction after making a purchase. These are the main ones to keep in mind:
Workmanship
Workmanship is probably the MOST important thing to look at before you buy a piano bench. Is the bench sturdy? Are the legs even? Do the hinges or adjusting knobs creak when you operate them? Is there any notable defect on the chair? Does looking at the assembled product inspire your confidence? Does the manufacturer offer a guarantee? Does the bench have positive reviews on reputable sites?
Manufacturing material and style
Next, inspect the material used during the manufacture of your piano bench. Does the wood have any cracks in? Was real leather used to upholster the seat? What does the inside/storage compartment look like(be wary of cheap plywood showing its face here)? Even the quality of the plastic, the packaging and the necessary tools play a role here, so make sure you check all the elements.
Design
The amount of new designs that reach our shores every year is simply astounding. Piano benches now come in many shapes and forms, colors and sizes.
The most important factor here is your personal preference. Do you LIKE what you see?
Size
When you buy a piano bench, make sure you have an idea of where it will be used, if you have enough space for it, and if it is big enough to accommodate two players if that is your need.
If you need a transportable piano bench or you will need to pack your bench away, go for an adjustable x-frame type piano bench.
If space is an issue, a piano stool should be a good choice.
If you are a student, or if you want a chair that can hold both your books and seat you comfortably as you grow or change your posture, and adjustable piano bench with storage is probably the best for you.
For pianists who often perform duets, the obvious conclusion is to buy a duet bench.
A short word on height adjustable piano benches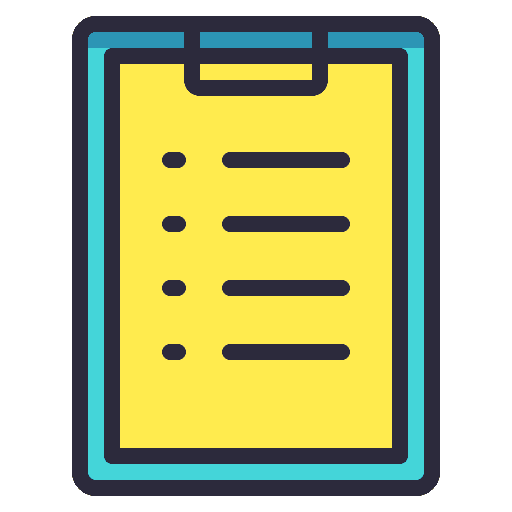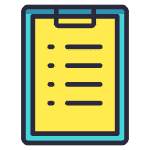 Playing the piano should be a fun experience that instills a sense of joy and peace in you. But, playing piano while you're sitting at the wrong height or in the wrong position is not only a kill-joy… it can literally put physical strain on your body. To prevent back and neck pain and uncomfortable practices and performances, make sure that you either buy a piano bench that is at the right height for your body type, or adjustable.
Different brands of piano benches:
The last thing you need to consider before you go shopping for the ultimate piano bench is what brand you will buy. Most of the big-brand manufacturers offer superlative benches thrones and chairs at competitive prices, and you can't go wrong with them. It is impossible to include all the different brands out there in this list, so while this isn't an exhaustive list, these are the best-known manufacturers of piano benches:
Roland
Roland is a well-known manufacturer of musical instruments and chairs. They consistently produce superb and well-manufactured products and offer a guarantee that you can count on. Their piano benches are made from high-quality materials, and their products last. Alas, Roland is not cheap – and you might pay a premium when buying a chair from their stable.
Yamaha
You might know the name from seeing Yamaha motorcycles (I had a small Yamaha road bike myself which could rev a few octave ranges if you angered it enough). But, they manufacture top-quality musical instruments and accessories too, and they have been doing so for quite some time. In fact, the first piano to be made in Japan was an upright built in 1900 by Torakusu Yamaha! As far as piano benches are concerned, Yamaha makes some of the best piano benches out there, and you can be assured that you will be acquiring a bench with high manufacture quality from them.
George Hennesy
George Hennesey, the Danish manufacturer, has quite a wide range of piano benches on their assembly line – and they all reflect their attention to detail and the quality of material that they use in their manufacturing process.
Griffin
The range of piano benches manufactured under the Griffin brand offers great value for money. This brand is especially known for its great customer service and their 12-month warranty and exchange program. Griffin piano benches are generally long-lasting and robust, and a great investment
Songmics
Songmics is a manufacturer and distributor of furniture, home decor, and jewelry. While they are quite new to the market, their offering over the past few years has proven to be exceptional. Songmics piano benches and stools are great, especially for those in the entry-level market.
North Star
Like the real North Star, this beacon of light in the piano bench arena manufactures only the best out of the best. They use expensive manufacturing materials, and their quality control process is out of this world (pun intended). You will need to pay a bit more, but a North Star piano bench is always a good buy.
On-Stage
Since its inception in 1979, the folks from On-Stage have been manufacturing mostly adjustable piano benches and stools. They offer good value for money with a reputation for good products in the lower price categories, and their X-frame designs are widely popular.
A guide to the best piano benches on the market today:
You are now ready to go shopping! We have selected and reviewed some of the best piano benches on offer in three different categories – the best wooden piano benches, the best x-frame, and foldable piano benches and thrones, and the best duet piano benches. We have also included a piece of eye candy right at the end – so, read on and find the BEST piano bench for YOU!
Best wooden benches
PRICE XXXxx
OUR RATING: 4.5/5
SONGMICS makes some of the best adjustable wooden piano benches out there – and the ULPB57H is one of their premium models.
The fully upholstered cushion-like seat with its six decorative buttons is probably the best selling point of this piano bench. Add to that the dual side knobs that adjust the bench height to anywhere between 18.5" and 22.4", and the fact that it has a built-in storage compartment beneath the seat, and you're sitting in a comfortable seat indeed!
This particular model is one up from the ULPB57H retailing in the sub 50 dollar category. While the latter also has a padded seat and a storage compartment, forking out a little more for an exceptionally better product just makes more sense.
Speaking of product, the high-quality faux leather, wooden frame and leg, rubber foot pads and the popular SONGMICS stamp of approval represents the best.
The packaging is neat, and the comprehensive instructions and toolset that accompanies this piano bench make it an easy-assembly product that weighs in at 20.35 Lbs.
Pros:
The legs are sturdy, and the bench is stable
The upholstery and decorative buttons look sublime
Fully adjustable seat height
Cons:
Comes with a hefty price tag
Some users rate that the lid mechanism that opens up the storage compartment feels flimsy.
PRICE: XXxxx
OUR RATING: 4/5
This solid little piano bench from the Yamaha stable is not fancy by any means, but it gets the job done. Although it isn't adjustable, the 19" seat-height is pretty standard and at a comfortable height for most pianists.
Featuring quality wood construction and an upholstered black vinyl-covered seat, it looks at home especially when paired with high-end digital pianos and black upright or grand pianos. Yamaha markets this covering as "Leather Touch" – and you will be forgiven for thinking that it is upholstered with real leather.
The designers at Yamaha have cleverly included a strategically placed air vent which aids in preserving the seat and padding from expected wear and tear. A nice feature, especially if you plan on buying a piano bench for the long haul.
The Yamaha BB1 padded wooden piano bench is easy to assemble, and at 10 pounds, easy enough to move around.
Pros:
An affordable option for those who want to invest in a wooden piano bench without paying a premium price.
Looks elegant, and the leather touch upholstery displays beautifully.
The 4-bolt assembly process is easy to follow.
Cons:
Apparently, the legs keep unscrewing themselves – so you might have to tighten them from time to time.
This piano bench is mass produced by a factory in China, and distributed by Yamaha. You couldn't really expect more, but this must impact manufacture quality.
There is no storage space under the seat.
PRICE XXXXx
OUR RATING: 5/5
Hidrau Model (HM) designs and builds these fantastic benches in Spain, where they have been manufacturing some of the best piano benches in Europe for decades. This high-tech contemporary-looking bench is no exception.
A testament to the fact of its exclusivity is that the customers who have reviewed this piano bench on Amazon, all gave it a 5-star rating!
This ultra-modern Hydrau Model bench features a metal structure on which sits a piano bench capable of seating two pianists. The hydraulic system is operated by levers and effortlessly adjusts itself without making a squeak. Having complete silence in a formal-concert setting is imperative – so this might be the right chair to have in city halls and country theatres, or as the ideal bench for your grand piano.
HM markets this as a duet piano bench, but fitting two adult pianists on it will be a tight squeeze at the least. You will, however, be very comfortable on it as a solo player, and sitting on the high-quality European Vinyl will give you great pleasure.
Yes, it is expensive. But, it is comfortable, elegant and modern. It's design style and quality is phenomenal. The hydraulic system is of the highest engineering standard, and all in all, this is a great piano bench to buy… even at the price!
Pros:
Modern look
Not enough can be said about the hydraulic seat adjustment system
It's big size
Cons:
It is heavy (weighing 30 pounds)
Yes it is only available to the top end of the market
Best x-frame and foldable piano benches and thrones
PRICE: Xxxx
OUR RATING: 5/5
The Yamaha PKBB1 adjustable and padded piano bench is currently the top-ranking keyboard bench on Amazon. With close to 2000 reviewers rating this product 4.4/5, it's easy to conclude that this is a people's favorite that delivers consistent and great manufacturing quality.
So it's popular. But is it GOOD? Absolutely. The ultra-thick padding and wide seat were designed to offer a pianist the best possible seating position… and sitting on this bench IS really comfortable. The steel constructed X-frame legs have 3 adjustment options offering a low-medium-high setting that will adjust its height between 19" and 21" – essentially offering a suitable height setting for just about any player.
It looks sturdy and durable, and it is finished all in black. The x-type legs fold away for easy storage, and the black padded seat presents well (it does look more expensive than it is, for sure!).
Gigging keyboardists and pianists that perform in different venues will love how easy it is to fold up, and how light is to carry around. Weighing in at around 5 pounds makes this one of the lighter adjustable piano benches around.
Pros:
It offers exceptional value and quality.
The padded and exceptionally wide seat is very comfortable.
The Yamaha stamp means you can expect excellent manufacturing standards and long-lasting service from this bench.
Cons:
Some users noted trouble in moving the adjustment bolt (to adjust the seat height)
Some reviewers rated this bench to be unstable, but the many good reviews stating the opposite overrules that notion. Over time, and especially when it is lugged around a lot, the X-frame type piano stools sometimes get wobbly – and this might be the reason.
PRICE: xxxxx
OUR RATING: 5/5
The Yamaha PKBB1and the On-Stage KT7800 are close rivals, and they offer each other a fair amount of competition. While the benches are very similar, a large number of buyers prefer the On-Stage adjustable keyboard bench over its rivals.
Weighing 8.82 pounds, it is still quite light and perfect for those fold-and-go type of situations. It folds flat completely, so storing it is easy, and it doesn't take up much space.
The measurement of the seating area is slightly larger than that of the Yamaha, and that is probably the biggest selling point. For larger players, this is the best x-frame type of piano bench. Worth mention is that it can carry a load of 360lbs, which covers just about everyone!
The spring-loaded double deadbolt locking mechanism and non-slip rubber end caps ensure that you have a safe and stable bench to use. The stand hosts a 3" thick cushion, which is adequate and firm enough, and there are four different height adjustments to choose from.
Pros:
It comes with thick cushioning on the seating area.
Adjustable to four different heights.
Extremely stable – you couldn't tip it back or forward if you tried!
Cons:
It does not offer back support.
It has a chemical smell after unpacking, but this goes quite quickly.
PRICE: XXXXx
OUR RATING: 4.5/5
The CPS Adjustable piano stool is slightly more expensive than other models, but you ultimately get what you pay for. Made out of 100 percent solid hardwood and a heavy-duty adjusting mechanism ensures that this product will last a lifetime.
The ebony(black) color finished in high gloss gives this piano stool an air of glitz and glamour. You can almost imagine a piano bar setting with Billy Joel tinkering the ivories on it! The padded cushion has a soft and comfortable 14" synthetic leather seat which turns freely.
There's no assembly required, and it weighs only 15 pounds – so this is an easy carry-around, and a lightweight stool that can easily be moved around. It doesn't take up much space, and you can easily slide it under a piano or keyboard.
As the name suggests, this piano stool is fully adjustable – and its height can be adjusted to anywhere between 16.5" and 23"
The CPS one-year warranty against defects in both material and workmanship offers you complete peace of mind.
Pros:
It doesn't require any assembly
The solid wood construction is durable
It offers a wide range of height adjustments
Cons:
The seat padding could be thicker
It is fairly pricey
Large people might find this stool uncomfortable
Duo benches
PRICE: XXXxx
OUR RATING: 4.5/5
This very popular piano bench has close to a five-star rating by nearly 400 people on Amazon.
Made of superior-quality synthetic brown leather, this isn't a LEATHER piano bench as the name suggests – but it comes pretty close. The texture and plushness of the upholstery are of premium standard, and the legs and frame are constructed from solid wood.
This comfortable piano bench is extended to be able to accommodate two people in a duo-setting. Underneath the seat, sits the storage compartment held in place by bracket locks. These locks can also hold the seat open, to allow you to scrounge around on the inside which is so huge that your music sheets and books might get lost in it!
As you'd expect from all manufacturers of repute, this duet piano bench carries a full 1-year factory warranty.
Pros:
The Camelbrown leather-color and mahogany legs will beautify any piano
The Adjustable seat allows for a comfortable playing height.
As the reviews suggest, this piano bench meets the expectations of the average buyer.
Cons:
When first assembled, it apparently gives off a toxic smell for a while.
Many reviewers mentioned manufacturing defects (Which were promptly repaired/replaced).
PRICE: XXxxx
OUR RATING: 4/5
The Bonnlo brown duet piano bench is a great buy for those who have the need for a duet piano bench without the luxury of a thick wallet. The thick cushioned hinged top seat is exceptionally comfortable and seats two adult players with ease.
The upholstery is waterproof and dustproof, and cleaning and keeping it clean is a breeze – the user manual recommends a simple wipe down with a wet cloth.
The storage compartment is enormous, and opening the seat up almost gives you access to a storage cupboard for your music sheets and books.
The legs are made of high-quality wood, and the construction is pretty solid. The manufacturer claims a carrying capacity of 440lbs, which is pretty impressive! Simple design additions like the rubber feet on the legs which prevents floor damage and sliding make this a great buy.
Assembly is often a headache with bigger piano chairs, but the Bonnlo Duet piano chair is easy to assemble – and best of all, the tools required for the job is included with your purchase. Simply attach the legs and top, and you're ready to duet!
Waterproof and dustproof upholstery, easy to clean with a damp cloth. Warranty Policy: Free replacement for installation problems,damage, and missing parts within 1 year. Replace & refund within 1 month.
Pros:
This is a sturdy bench that can carry a lot of weight.
Affordable – especially for a duet bench
Easy assembly
Cons:
The brown color of the top varies – some are darker and some are lighter it seems – so pairing it with your furniture might be difficult until your product arrives at your doorstep.
While you can't get better for the price, the end-product does look a bit tacky and no one will mistakenly think that you bought a new chair from the Steinway factory.
The best piano bench to buy if money is no object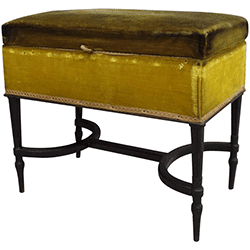 If you have heaps of cash to blow or you're dreaming big, where would you go? Sure, you can do worse than heading for a big german manufacturer's factory shop.
We'd take a different route though… We'd buy a once-in-a-lifetime old antique piano bench. These usually sell for upwards of 5000 dollars – like the one we chose as our favorite. The only way to find them is to frequent private sellers' websites and auction houses – unless you want a cheap knock-off which is not the aim of our game here. These benches weren't ever mass-produced, and the limited quantity available doesn't always meet the demand out there – so you can count on your antique piano bench actually appreciating in value.
Call these 'spoiling yourself'…
Call these 'a necessary addition to your home décor'…
We call it a great investment, and a beautiful piece of art. This is our favorite:
French Mid-Century Modern Neoclassical Louis XVI Piano Bench
Available from 1st dibs
PRICE: 5870
OUR RATING: 5/5
This elegant french mid-century piano bench in the modern neoclassical style has delicately fluted and tapered legs united by a stretcher.
Manufactured somewhere in France in the 1940s, it oozes nostalgia and elegance. Being so old, it might show some wear and tear, and it might even require some reupholstery… but who cares? Money's no option, right?
It was last seen for sale on the site 1STDIBS, and who wouldn't like to have 1st dibs on that?
Conclusion
When you buy a roll of toilet paper, you have to choose between either the one-ply or the two-ply variety. When it comes to purchasing a piano bench, you have a mind-boggling amount of different options.
For us, the easy choice was the Yamaha PKBB1 adjustable bench. While it is an adjustable piano bench, it functions just as well on stage as at home – and keeping it stationary in one position and one height setting will allow it to also serve just like a standard piano bench. It is affordable, meaning that it will accommodate most budgets. The Yamaha logo means that it reflects excellent build-quality, and you'll always have a guarantee should something go wrong when you take delivery. Lastly, it is a comfortable piano chair that gives a feel of sturdiness.
The Yamaha PKBB1 ticks most of the boxes on our list of things that make for a good piano bench. You as the buyer need to make your own decision – so good luck, and happy hunting.
May you find the right chair for your piano, and may it host you in playing many happy melodies with a smile on your face!