Casio have continually been blowing away their competition in the digital piano market thanks to their quality instruments. With a wide array of digital pianos that suit beginners, professionals and everyone in between, Casio have become a house-hold name in the digital piano market.
Casio have curved a niche for themselves and they're known for providing quality instruments at an affordable price.
In this review, we take an in-depth look at the Casio PX-560 digital piano where we shall touch on its design, its specifications and its features. 
Casio PX560BE 88-Key Digital Stage Piano, Blue, Digital Piano
The PX-560 features Casio's renowned Tri-Sensor Scaled Hammer Action II keyboard, which accurately reproduces the touch and response of a concert grand piano.
Casio's Multi-Dimensional Air (Acoustic and Intelligent Resonator) Sound Source delivers some of the best piano sounds you've ever heard.
Going beyond the traditional definition of a stage piano, the PX-560 includes 550 Tones, covering a huge variety of musical instruments and genres.
Size with stand : 52.0 x 11.5 x 5.8 (inches) / 52.0 x 11.5 x 30.4 (inches) [optional]
Casio PX-560 Specs & Features
Keyboard: 88-key fully-weighted keyboard, Tri-Sensor Scaled Hammer Action II, simulated Ivory & Ebony keytops, Touch Sensitivity (3 types, Off)
Tones: 256-note polyphony, 650 built-in tones, 100 Hex Layer tones
Key Transpose: 2 octaves (-12 semitones ~ 0 ~ +12 semitones)
Speaker system: 8W + 8W (2 x 12 cm + 2 x 5 cm)
Dimensions: 132.2 x 29.3 x 14.7 cm (52" x 11.5" x 5.7")
Weight: 26.5 lbs (12 kg)
Warranty: 3-year manufacturer's warranty
Design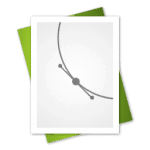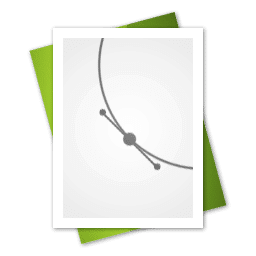 Introducing one of the most compact digital pianos available, the Casio PX-560 features a modern design and a contemporary look. The piano's housing is made of durable plastic material and features a blue and black finish (please note that this particular model is only available in one colour finish)
Despite their being only one colour finish available, the contemporary design of the Casio PX-560 gives it a great look and it easily stands aside from other competing digital pianos within its price range.
It's nice to see Casio try something different with the design rather than stick to the industry standard black finish (of which, if we're being honest, can become a little monotonous and feel like a drag)
Despite the use of hammer-action keys and the in-built speakers' system, the Casio PX-560 is nevertheless incredibly light and weighs in at 26.5lbs (12kg) thus making it a truly compact and light-weight instrument.
Furthermore, the Casio PX-560 is 51.9" wide, 5.7" and 11.5" deep. This further adds to the compact design.
The light-weight nature of the Casio PX-560 and its compact build allows for easy transportation and movement thus making it the ideal choice for the gigging musician that's always on the go. Just pop it into a travel case and you are all set!
One of the best features of the Casio PX-560's design is the inclusion of a digital display in the form of a touchscreen. While some manufacturers nevertheless include digital displays, Casio once again shines above the competition by making the digital display a touchscreen.
This allows for quick and seamless navigation of the different options and setting available within the digital piano. Not to mention that it saves from cluttering the keyboard design with too many buttons.
There are 27 physical buttons on the Casio PX-560. While 27 may seem like a high number, the Casio design team do a great job with assimilating these into the piano design as it looks contemporary and elegant without a cluttered appearance. 
The physical buttons on the Casio PX-560 simply allow for even better navigation when using the instrument as each button is clearly named and has its own specific function. Thanks to this, you no longer have to press the same button over and over simply to get to the next stored pre-set.
Keyboard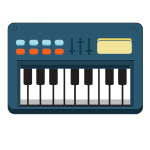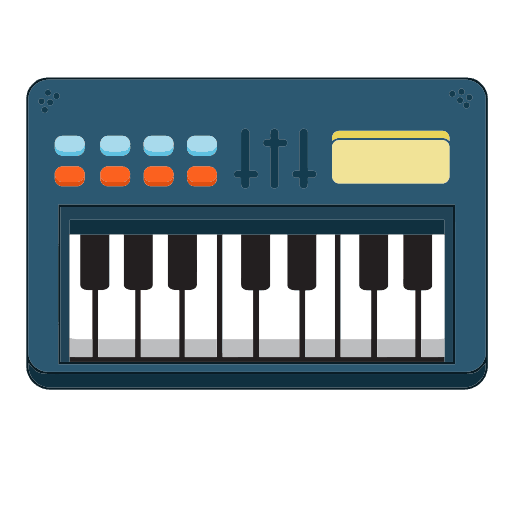 Made with simulated Ivory & Ebony keytops, the Casio PX-560 provides the user with a realistic playing experience. This feature should not be overlooked, and it is well worth paying attention to.
Unlike other digital pianos on the market which make use of a glossy finish, the Casio PX-560 simulates the feel of real ebony and ivory key by covering the keys in a textured material. This in turn allows for much better control while playing as it allows for the keys to absorb excess moisture.
This is an important addition as you no longer have to worry about slipping mid-performance and making any unwanted mistakes while playing. 
Featuring the Tri-Sensor Scaled Hammer Action Keyboard II, which has become a flagship of Casio's Privia digital pianos, the Casio PX-560 features a very realistic feeling keyboard.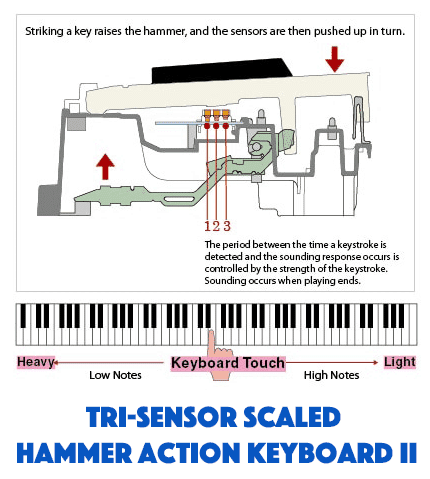 The significance of the Tri-Sensor Scaled Hammer Action Keyboard II is that it provides an extremely realistic feel when playing. This is because Casio employs the use of real hammers, rather than springs, that recreate the feel of a real piano action.
The use of hammers allows the keys on the Casio PX-560 to have the same weight and feel as those on a real acoustic piano. This is a feature worth taking into account when purchasing a digital piano as you want the most realistic feeling, and sounding, digital piano available.
Casio include the Tri-Sensor Scaled Hammer Action Keyboard II in all their digital pianos under the $2000 mark.
Another fantastic feature of the Casio PX-560's keyboard is the inclusion of the Graded Hammer Action effect. This feature is part and parcel of all acoustic pianos whereby the lower register keys feel heavy, and as you gradually rise up the keyboard the keys become lighter.
By including this, the Casio PX-560 provides and even more realistic feel. This means that players who are used to acoustic pianos can easily pick up this model and play as if they're using an acoustic piano as it feels the same. 
The touch sensitive feature of the Casio PX-560's keyboard is a very welcome addition as it provides for an even more realistic playing experience. 
When the touch sensitivity is activated, the keyboard responds in accordance on how hard or how soft you hit the keys. Therefore, the harder one hits the keys the louder the sound will be.
This allows for greater dynamic range and expression as sometimes, depending on the composition you are playing, performances may demand for different notes to be hit at different velocities. This could really bring your performance to life as well as create an interesting musical piece. 
There are three touch sensitivity pre-sets available to choose from and these are Light, Normal and Heavy. There is also the option to switch off the touch sensitivity so that all the keys produce the same amount of loudness regardless of how hard of soft they are played.
Sound


As with all digital pianos from Casio's Privia range, the Casio PX-560 features the use of Casio's award winning Multi-Dimensional Morphing AiR (Acoustic and Intelligent Resonator) sound source.
To quickly explain what this is, the AiR sound source reflects thorough attention to detail in expressing the rich, resonating tones inherent to the piano by using a longer sampling duration and enhanced waveform data.
The AiR sound engine found on the Casio PX-560 makes use of multi-layered samples. This simply means that users get a greater dynamic range while playing because each grand piano note was recorded several times at differing volumes.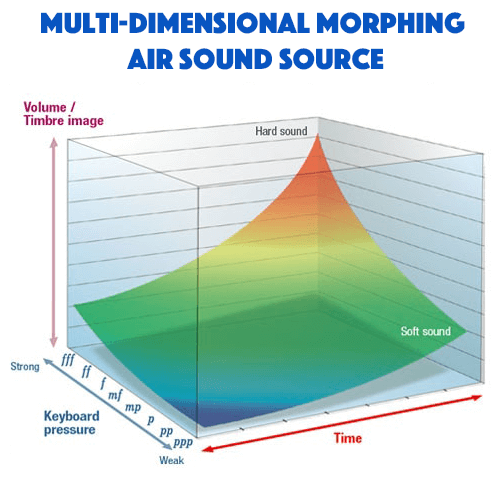 While the sound source is not something most novice players would pay attention to, seasoned veterans will no doubt welcome this information as this is part of what allows the Casio PX-560 to sound so realistic.
The AiR sound source also uses lossless audio compression, so you are assured of high quality sounds when playing the Casio PX-560 with little to no degradation to the audio quality being produced by the instrument.
The Casio PX-560 features an impressive library of sounds and comes with 650 in-built sounds. This includes 20 diverse piano tones including Rock Piano, LA Piano, Honky-tonk and of course a variety of grand piano tones including concert, modern, bright etc.
Despite being a digital piano, the wide array of sounds built into the Casio PX-560 allows for it to double as a work station or even a synthesizer. This means one's on stage performances and jam sessions can be greatly diversified as the PX-560 allows for greater mobility when it comes to sound design.
Additionally, the Casio PX-560 allows users to include up to 400 User Tones of one's choice. This means you can edit and customize the different sounds and tones until they perfectly fit your requirements.
With the Casio PX-560, Sound Customization has never been easier, and this is one of the features that makes it such an amazing digital piano.
As with almost all digital pianos, the Casio PX-560 comes with a variety of standard sound effects such as reverb, chorus and delay. There are 17 reverb pre-sets, 16 types of chorus pre-sets and 6 types of delay pre-sets.
Furthermore, Casio have included 20 Digital Signal Processing (DSP) effects in the Casio PX-560. Most music producers and seasoned musicians will be familiar with this. Simply put, these are effects such a compressor, distortion, tremolo, limiter, phaser etc.
With a bit of time and practice, tweaking these to sound 'just right' will allow for amazing piano sounds with great clarity and dynamic range.
Being able to tweak DSP effects is a feature that is not common on the market therefore it is a very welcome addition. This once again sets aside the Casio PX-560 from all other competing digital pianos within this price range.
Not to forget that the Casio PX-560 features the inclusion of a 4-band Master EQ. This allows for users to decrease or increase frequencies within specific frequency bands.
Being able to internally EQ your piano sound means that you can achieve great clarity in your recordings and performances without having to export the audio track to an external application.
Casio makes it incredibly easy to edit tones as it allows for users to make changes by using the touchscreen display, rather than having to struggle with clunky buttons. The LCD display allows for a simple and straightforward sound customization experience. You don't have to be an audio engineer with five Grammys in order to achieve your desired results.
So, with the help of the digital display, one can easily change the envelope of the sound on the Casio PX-560 by playing with the attack, decay, sustain and release times. And if none of that makes sense, not to worry, practice makes perfect and playing around with the different parameters is always a fun experience. 
Features
Speakers

When it comes to the speakers, the Casio PX-560 features a satisfactory onboard speaker system with four speakers in total with an output of 16W
This may not be the loudest speaker system in the world, but it offers ample amplification for small intimate gigs and it is more than sufficient in terms of hearing oneself while practicing.
The speakers on the PX-560 offer a great listening and playing experience. Even without using the in-built EQ options, the speakers provide for precise clarity in the higher frequencies and the bass sound is also audible and not murky.
Interestingly enough, the Casio PX-560 provides a loudness of 91.5dB (decibels) when measured from 3 feet away. Believe it or not, but this is roughly the same loudness that would be produced from an acoustic piano.
With that being said, the built-in speakers may not provide the loudest and most professional sound in the world, but you get bang for your buck with this very impressive speaker system (especially when you take into account the size of the speakers and the fact that they are built into the piano itself)
Polyphony
Most digital pianos on the market feature 128-note polyphony. This has become the unofficial industry standard. However, the Casio PX-560 goes above and beyond and actually features an astounding 256-note polyphony.
To explain what polyphony means, it basically ensures that no notes get cut off while the user is playing regardless of how intricate or complex the composition is. So, the higher the polyphony, the better.
Most users will not actually go past the industry standard 128-note polyphony mark, but the 256-note polyphony on the Casio PX-560 is great as it allows for various sounds to be layered without the fear of running out of notes, and with the guarantee of greater attention to detail.
Modes
With the inclusion of several modes to pick from, the Casio PX-560 offers for an interesting playing experience:
Dual Mode (Layering)
Split Mode
Hex Layer
Duet Play
The Dual Mode feature of the Casio PX-560 allows for users to layer two sounds at once, which will then sound simultaneously when a key is played. Users can load up a piano sound with a string sound and create a new and interesting playing tone. 
With this mode selected, users can adjust the volume balance between the two tones so that they sound just as loud as one another, or one may be more prominent than the other.
When the Split Mode option is selected, the keyboard splits into two parts, just as the name suggests. Once split, the Casio PX-560 allows for you to assign a specific tone for either side of the keyboard.
This allows you to play two different sounds with either hand. This takes solo performances to another level and bring in a whole new element.
The default split point on the piano is usually the F#3 key, but users have the option of moving the split point higher or lower on the keyboard in order to accommodate their needs.
Casio reinvent the wheel, so to speak, with the inclusion of the unique Hex Layer tones option whereby users can layer up to an impressive six tones together.
Users are therefore able to create some very interesting sounds with the Casio PX-560 hex layer tone feature. They are also able to fine-tune a different specifications and parameters on each sound.
The Duet Play feature on the Casio PX-560 is a straightforward as it sounds. When selected, the PX-560 splits into two equal sections with identical pitch ranges. Each side of the keyboard will have its own middle C.
This means that you can play alongside another pianist without having to employ the use of another piano. This saves time, and ultimately money as well.
This feature is particularly useful for teaching someone else how to play the piano as you can play side-by-side with your student or tutor. 
Auto Accompaniment
Another cool feature of the Casio PX-560 is the Auto Accompaniment function. 
This feature allows for users to pick from over 200 styles and musical ranges. Once selected, the PX-560 will playing the matching accompaniment instrument along with the chord the user plays. 
Essentially, this recreates the feel of playing along with a full band whereby the piano reacts along to the chords you play. In order to command the accompaniment, chords need to be specified with the use of your left-hand. 
There are various chord fingering modes to be selected whereby you can use the full range of the keyboard to specify chords, or you can use the left side of the keyboard for simplified chords.
Transposing, Octave Shifting & Tuning
The Casio PX-560 features a variety of pitch shifting and fine-tuning options.
Firstly, as with most digital pianos, the PX-560 features an in-built Transposing function that provides the user with the ability to raise or lower the pitch of the entire keyboard in semitone steps.
Any modern day digital piano manufacturer includes this in their pianos, therefore it is not a new or ground-breaking feature. In fact, we would be surprised if Casio did not include this.
Up next is the Octave shifting function on the PX-560. As the name hints, this allows for the user to alter the pitch of the keyboard in octave steps until the desired pitch is achieved. It is a simple and straightforward feature to use.
Users can also Fine-tune the Casio PX-560. Where pianos usually have a standard tuning of A4 = 440Hz, users can change the tuning of the piano in 0.1Hz steps.
Beginner players may not see a need to change the tuning, but this function will come in handy as they progress and look to experiment with different tunings.
Recording and Playback
Like many of the Casio Privia digital pianos, the Casio PX-560 allows for users to record their performances so that they can be played back later on. There are two recording options available with this digital piano: MIDI and WAV.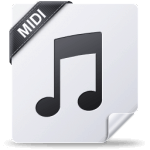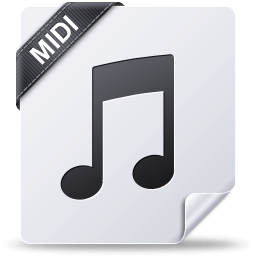 The MIDI Recording feature has become a common addition of the Casio digital pianos. When this option is selected, the PX-560 will capture the performance data of the recording, not the actual audio. The performance data is tones, velocity of key strokes, key of the song etc
The MIDI recording feature allows for users to record and store up to 100 songs. Each song can have as many as 16 individual tracks. This is a bonus as some models such as the PX-770 only allow for two tracks to be recorded on one MIDI song.
Other Privia models such as the PX-870 only allow for one MIDI song to be stored on the digital pianos internal memory. So if you begin recording another song, the existing MIDI data will automatically be overwritten, and you will lose your data. 
Once recorded, users can go back and rerecord certain parts thanks to the punch-in recording feature. This allows for the user to make very specific changes without altering anything else.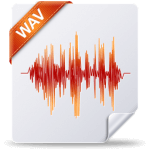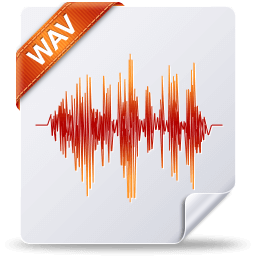 The WAV Recording feature of the Casio PX-560 is also available to users. When selected, this records the actual audio data being performed in high quality .WAV audio format (16bit, 44.1kHz, Stereo).
Users can play along to one of the pre-recorded MIDI songs as they make an audio recording of their playing. The main advantage of recording audio tracks instead of MIDI files is that audio tracks can be played on most media players including iPods, mobile phones, laptops, sound systems etc
Unfortunately, the one drawback of this feature is that audio recordings cannot be saved on the Casio PX-560's internal memory. Therefore, when making an audio recording, an external flash drive must be connected to the Casio PX-560.
Worth mentioning is that the Casio PX-560 also supports the playback of WAV audio files from external devices such-as flash drives. This means you can playback every audio recording you make and critique your performances.
Arpeggiator
Unlike most digital pianos, the Casio PX-560 features an Arpeggiator function. This is another aspect of the PX-560 that sets it miles ahead of the competition.
This feature, as the name illustrates, turns the chords you play into an arpeggio pattern. So when the user plays a chord, they will instead hear an arpeggio whereby the notes will be played one-at-a-time i.e. the notes will be played in a sequence.
The inclusion of this feature allows for much greater experimentation as well as creation of stunning music pieces. Using this feature, you can create intricate compositions sure to leave the crowd stunned and in awe.
Metronome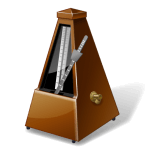 Included in the Casio PX-560 is an in-built Metronome function.
This is a simple feature that allows for users to stay in count by providing them a click track of their selected tempo. This is particularly handy when practicing as it will help you keep in time. 
Many great musicians swear by the use of a metronome to improve their speed and technique. It is therefore a welcomed addition on the Casio PX-560.
Connectivity
With a wide variety of ports and jacks, the Casio PX-560 can easily be connected to a variety of external devices.
The left-hand side of the keyboard features two 3.5mm stereo mini jacks. This means that users can connect up to two headphones at the same time. Once headphones are connected, the speaker system automatically shuts down. Perfect for late night practice sessions.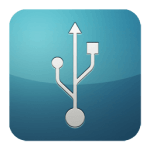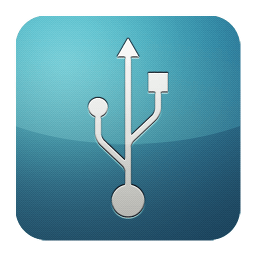 The front side of the Casio PX-560 features a USB type A port. This allows users to connect flash drives so that they can then record and playback their performances.
It also features a USB type B port which allows for the Casio PX-560 to be directly connected to a computer for the transfer of MIDI data. Not to mention that the piano itself can be used as a MIDI Controller.
The rear panel of the Casio PX-560 also features several connectivity options including the standard Line Out R, L/Mono jacks. The industry standard ¼" jacks can be used to connect the piano to an external speaker system, amplifiers, mixers etc.
Accessories
Stand
The Casio PX-560 comes with its own score stand that allows for users to easily read sheet music and other notes as they play along.
Potential buyers should not confuse this with an actual piano stand. The PX-560 does not come with its own piano stand and users would have to purchase this separately. These are usually inexpensive depending on what you desire.
For the Casio PX-560, one would recommend the following piano stand:
Pedals
In comparison to other Privia models such as the PX-870 or the PX-770, the Casio PX-560 does not feature the use of in-built piano pedals (no doubt because it does not feature the same design as the other two models)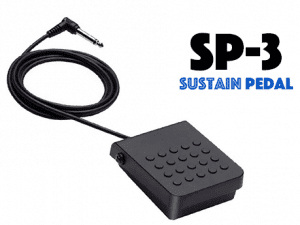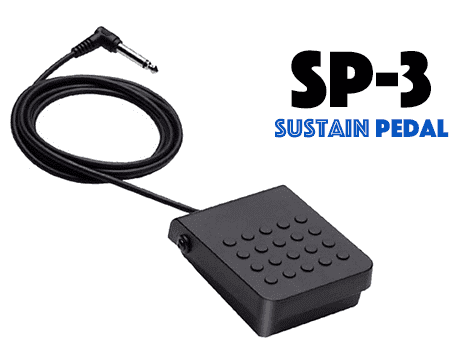 Instead, the Casio PX-560 is accompanied by an external sustain pedal from Casio known as the Casio SP-3.
At first glance, it is very easily to tell that the SP-3 is nowhere close to being similar to a sustain pedal on an acoustic piano. The SP-3 is made of plastic housing and when used it does not feel remotely like a traditional pedal.
Despite this, the main advantage is that it is extremely lightweight, and it can easily be moved around. It works great when you have performances as you do not need to carry around an entire pedal board.
Novice players may be satisfied with the pedal, but for more seasoned players there are several alternatives that they can look into:
Best Pedals for Casio PX-560
Sale
Casio SP-3 Pad-Style Sustain Pedal
Piano-style sustain pedal for all Casio keyboards and digital pianos with pedal jacks.
Add an optional sustain pedal to your Casio keyboard for easier playability and more expressive possibilities.
Compatible with most keyboards with a 1/4" sustain pedal input.
Brand: Casio
Guitar, Amps and Accessory Type: Guitar Effects
M Audio SP 2 | Universal Sustain Pedal with Piano Style Action For MIDI Keyboards, Digital Pianos & More
Universal sustain pedal with chrome foot pedal for a natural, realistic pedal action
Classic design with a conveniently located polarity switch for compatibility with all electronic keyboards
Premium build with a robust, heavy duty mechanism for un compromised reliability
Lightweight, ultra compact aesthetic provides classic piano style sustain in portable footprint
Specially designed rubber pads located on the pedals underside grips the floor and stays put while you play
In order to achieve a more realistic playing experience with the Casio PX-560, users will have to spend some money to upgrade the pedal system.
Summary
Pros
The Casio PX-560 is an extremely compact musical instrument. It is very light and easy to transport around thus making it the perfect companion for the musician that's always on the go.
The simulated ebony and ivory keytops

feel amazing to the touch as they provide

fantastic grip and moisture absorption

. This is a massive advantage as opposed to using keytops with a glossy finish.

Featuring 650 in-built sounds

, the Casio PX-560 gives so much room for creativity and experimentation.

The sound customization feature of the Casio PX-560 is a massive plus as it allows you to tailor your sound to be exactly as you want it. If the in-built sounds are not to your satisfaction, then you can easily edit them.
Being able to record bot MIDI and audio data is a big advantage

as many digital pianos only offer one of the two options, not both at the same time. This is another great benefit of adding the Casio PX-560 to your musical arsenal.
Cons
Despite being an incredible instrument, the Casio PX-560 is slightly let down by the amateur sustain pedal. For its price tag, Casio really should have included a better pedal.
Not everyone is a fan of the blue and black housing

, therefore it would be ideal if there were several colour options available.

Though the housing on the Casio PX-560 is sturdy enough, the plastic only build could be reinforced so as to make it stronger and more durable.
Though users are able to make audio recordings with the Casio PX-560, they must do so through the use of an external storage device.
Final Verdict
Playability: 8/10
Ease of Use: 7/10
Value for Money: 7/10
Features: 9/10
Sound Quality: 9/10
Design: 6/10
OVERALL SCORE: 7.6/10
Alternatives
Casio PX-360
Casio Privia PX-360 Digital Piano - Black Bundle with CS-67 Stand, SP-33 Pedal, Furniture Bench, Instructional Book, Austin Bazaar Instructional DVD, and Polishing Cloth
Tri-Sensor Scaled Hammer Action II keyboard
Includes 550 Tones, polished with a powerful effect system
Acoustic and Intellligent Resonator
Color touch screen
Bundle includes furniture-style stand, 3-pedal system, furniture-style bench, instructional book, instructional DVD, and polishing cloth
This piano is almost identical to the PX-560 in a variety of ways. The PX-360 makes use of the same sound source as the PX-560 whereby they both have the Casio AiR sound source. This digital piano also features the use of a touchscreen display for quick and easy navigation across the different options. Furthermore, they share the same Tri-Sensor Scaled Hammer Action II keyboard.
However, the PX-360 only supports 128-note polyphony as opposed to the 256-note polyphony offered by the Casio PX-560, hardly a comparison there. Furthermore, the PX-360 lacks many additional features such as the arpeggiator, the hex layer feature and a modulation wheel.
Casio PX-5S
Casio PX-5S 88-Key Privia Pro Digital Stage Piano with Power Supply
A stage piano with unprecedented sound quality and performance features in a lightweight design that is supremely portable
Casio's proprietary AiR sound source provides incredible realism, detail over instrument tones and effects with 256 notes of polyphony
A powerful four zone controller completely configurable to control internal sounds, effects parameters or send continuous controllers to other gear
100 completely user configurable Stage Settings all you to easily access the sounds, settings, and parameters you need for your performance
Hex Layers allow you to stack sample layers and tweak individual filters and parameters to create your own complex tones
This is a great alternative to consider as it is the only stage piano in the Casio Privia range. This piano is capable of running on batteries whereas the Casio PX-560 is not. This is a huge advantage for the gigging musician, or even for the adventurous musician that may want to do some busking. The PX-5S offers up to 3 different split points whereas the Casio PX-560 only has one. This offers greater room for experimentation. Furthermore, the PX-5S is slightly lighter than the PX-560 making it even easier to transport.
However, a major drawback of this digital piano is that the PX-5S does not have its own on-board speaker system therefore it must be plugged into an external sound system or played with headphones. The PX-560 also blows away the PX-5S when it comes to in-built tones as the former has at least 280 more tones than the latter.