Over the years, Casio has become a household name in terms of their instruments, especially pianos and digital pianos. More specifically, Casio's Privia lines of digital pianos.
Over the years, Casio has curved a niche for manufacturing top of the line digital pianos through its Privia series. In this review we take a close look at one of Casio's latest additions to the fabled Privia series, the Casio PX870.
Casio PX-870 BK Privia Digital Home Piano, Black
The AiR engine provides highly-accurate grand piano sounds with seamless dynamics for a remarkably expressive and powerful performance
The PX-870 features a variety of 19 instrument Tones, with the ability to layer and split them as needed. Touch Response - 3 sensitivity levels, Off
With a generous 256 notes of polyphony, you can rest assured that even the most complex performances will sound perfectly natural
The Tri-Sensor Scaled Hammer Action II keyboard has an incredible feel and captures the dynamics of a performance with unparalleled speed and accuracy
The powerful 40-watt, 4-speaker system is designed to envelop the listener, audience and room with rich, detailed sound
Casio PX870 Specs & Features
Keyboard: 88-key fully weighted, Tri-Sensor Scaled Hammer Action II, Touch sensitivity, Ebony and Ivory key tops
Tones: 256-note polyphony, 19 instrument sounds
Key transpose: 2 octaves (-12 semitones ~ 0 ~ +12 semitones)
Speaker system: 20W + 20W (12cm x 2 + 4cm x 2)
Dimensions: 54.8" x 11.7" x 31.5" (139.3 x 29.9 x 80.1 cm)
Weight: 75.6 lbs (34.3 kg)
Design
The Casio PX-870 comes available in three wood finishes: black, brown or white. Users are free to pick a finish that best suits their tastes.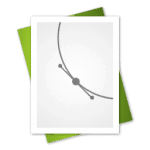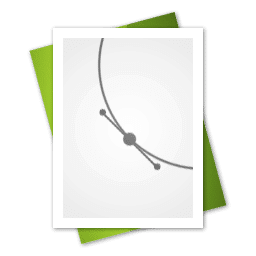 The digital piano features a furniture-style cabinet design like that of an acoustic piano. However, the Casio PX-870 is a sleek and compact instrument that does not take up nearly as much space as a traditional acoustic piano.
The elegant and contemporary design allows for the piano to accentuate its surrounding environment without sticking out intrusively.
The frame of the piano is made from pressed wood that creates a nice natural look. At first glance, it is easy to mistake the PX-870 for a mini-grand piano simply due to the stunning design. The piano also has a lovely vintage look that aides towards its appealing appearance.
Assembling the Casio PX-870 is relatively straightforward and takes less than an hour to fully assemble the piano. All components come in the box and the only external tool which will be required is a screwdriver.
The Casio PX-870 weighs in at 34.3 kg when fully set up. While this is not feather-light, it is remarkably lightweight for a digital piano when you take into account that fact that this includes the stand and all other components of the instrument.
The lightweight nature of the instrument allows for it to be moved around if necessary. Caution should however be taken when reposition the instrument to avoid any damage.

Compared to its predecessor, the Casio PX-860, the newer Casio PX870 has a smoother design and fewer seams in the cabinet. It is also slightly shorter in terms of height, but this is not a negative as the design is eye-catching and compact.
One of the main improvements on the Casio PX-870 is the re-position of the control panel buttons. These have all been moved to the left-hand side of the keyboard. This results in a less cluttered appearance for the piano and a much smoother and cleaner look.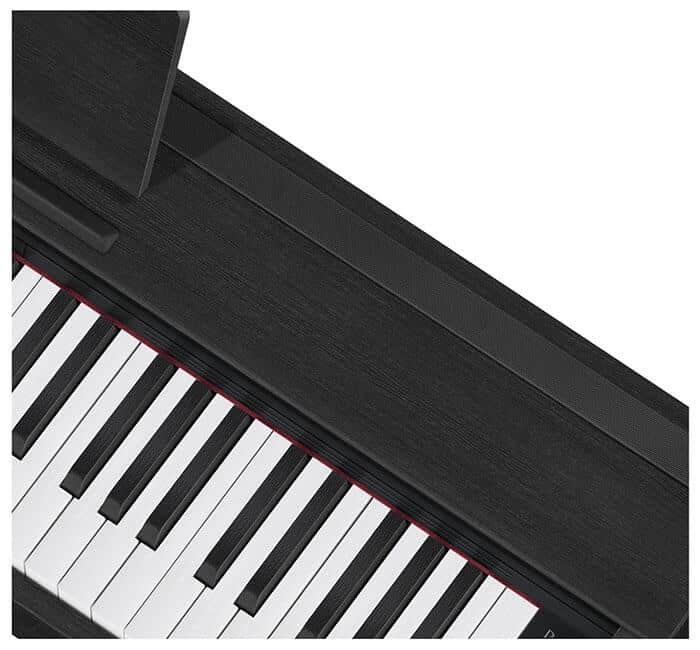 The PX-870 features a pull-out keyboard cover. This protects the keyboard from dust, or any external debris that may find its way into the keyboard.
The digital piano comes with three pedals: sustain, soft and sostenuto, just like an acoustic piano. The inclusion of in-built pedals into the design creates a more elegant look, not to mention that buyers can save a decent amount of money instead of buying external pedals.
One thing that is noticeable about the Casio PX-870 design is that it does not feature and LCD display for the user to see settings. In modern day era, many top manufacturers include this in builds that are far less expensive. While this is not a deal breaker, it may be worthwhile for Casio to look into this in the future.
Despite the lack of an LCD display, it is still relatively easy to navigate through the settings as the keyboard beeps in accordance with the setting that is selected. A quick browse of the manual will allow the user to seamlessly navigate through the device. 
Keyboard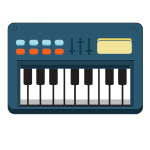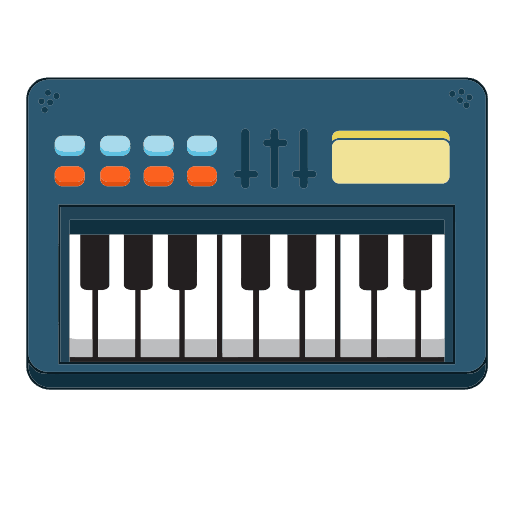 The Casio PX-870 comes with a much-improved keyboard from its predecessor. Firstly, the keys have been re-textured. This results in the feeling of playing an actual acoustic piano. The improved keytops also allow for much better moisture absorption with greater control.
The Casio PX-8790 features 88-keys and has Casio's world renown Tri-sensor Scaled Hammer Action Keyboard II. To those unfamiliar, what this simply means is that the keys are weighted by actual hammers, as opposed to the use of springs and therefore they feel more like those of a real acoustic piano.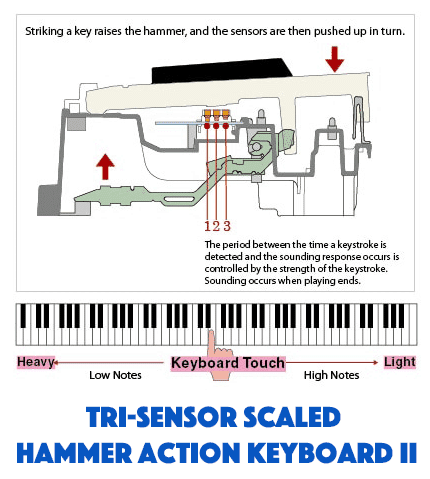 They keyboard realistic feel can be attributed to the Graded Hammer Action whereby the lower register keys are heavy, and as you move up the keyboard they become lighter. This perfectly mimics the feeling of playing on an acoustic piano.
Many digital pianos lack this feature. This makes the Casio PX-870 one of the most realistic feeling digital pianos available on the market.
Just like an acoustic piano, the keys on the Casio PX-870 are touch-sensitive meaning that the loudness of a note will directly depend on how hard you press on the key. 
There are 3 touch sensitivity levels available so as to allow for greater dynamic control and expression when playing. The 'medium' setting is the default level of sensitivity and players have noted that this feels the most 'natural' feeling level.
However, users are free to experiment with the different levels to find what suits them the best. Additionally, the sensitivity function can be switched off altogether so that all the keys produce the same amount of volume regardless of how hard or soft they are played. Beginner players may find this particularly useful.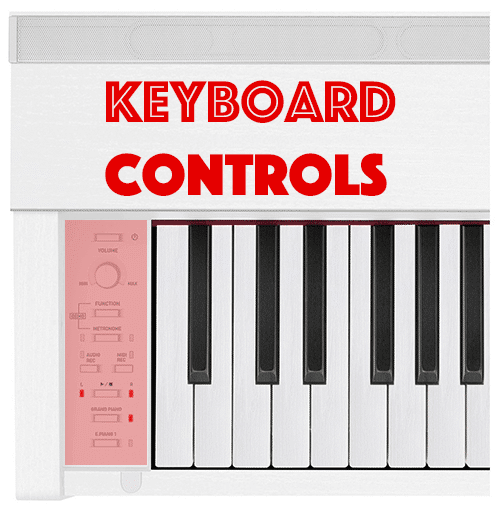 The triple-sensor system allows for greater note repetition when playing the piano. It also provides for an overall much smoother playing experience. 
Sound
The Casio PX-870 comes with 19 built-in sounds:
5 Grand pianos
4 electric pianos
4 organs
2 strings
Harpsichord
Vibraphone

 

Bass

 
Although the PX-870 is not chalk-full of different sounds, the available instruments and sounds are high quality and the various features and modes of the piano compensate for the lack of greater instrumentation. 
The high quality grand piano samples can be attributed to the use of Casio's award winning Multi-Dimensional Morphing AiR (Acoustic and Intelligent Resonator) sound source. There has been improved memory capacity in the processor as well thus allowing for more accurate sounds and greater attention to detail when playing.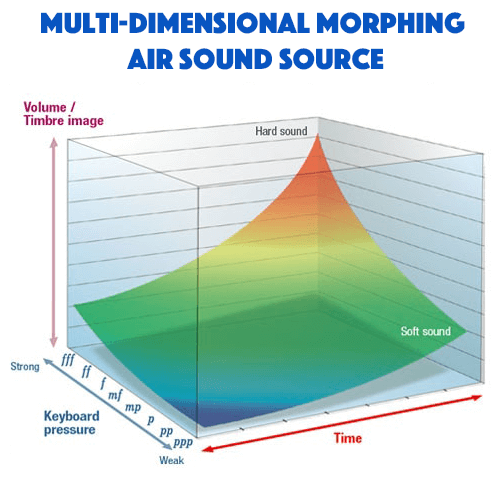 The Casio PX-870 employs the use of lossless audio compression to allow for high quality samples to be played without and distortion or deterioration to the audio quality.
The 4-layer feature is a welcomed addition and a massive improvement from previous attempts. In the past, some of the Privia models suffered from and abrupt cut-off to the decay. This is not a problem with the Casio PX-870.
The Casio PX-870 makes use of the String Resonance system. This simulates resonance for each of the 88-keys, just like an acoustic piano. The string resonance setting comes in four pre-sets: Suppressed, slightly suppressed, Reverberation and Strong reverberation.
he Casio PX-870 also has a new and innovative feature known as the Lid Simulator. As the names suggests, this feature allows for the user to pick between four different options that mimic the sound changes that come with closing or opening the lid on a grand piano.
The four lid simulator settings are: Lid closed, Lid opened slightly, Lid fully open and Lid removed.

A feature that is reserved exclusively for the Casio PX-870 is the Key Off simulator function. What this means is that the depending on how fast your fingers lift of the keyboard, the tone will change along with the reverberation.
So essentially, the slower you release the key, the longer the reverberation will be. A very straightforward feature to understand, but a great addition to an already amazing digital piano.
Polyphony
The Casio PX-870 features a mind-blowing 256-note polyphony! Though this was also available on the Casio PX-860, it is nevertheless a very welcomed inclusion due to the possibilities it holds. Not to mention most digital pianos only feature 128-note polyphony.
Simply put, a digital piano having a high polyphony will result no notes will being cut off early regardless of how complex or intricate the piece being played. 
With that being said, the 256-note polyphony opens doors to many composition possibilities. It also means one does not need to upgrade their piano even if they become virtuosos as 256-note polyphony is plenty!
In this price range, the Casio PX-870 blows away all its competition as no other digital piano offers the same amount of polyphony.
Speakers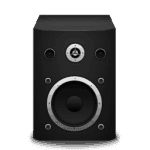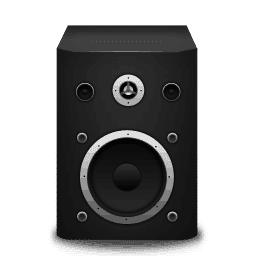 The Casio PX-870 features an extremely powerful speaker system for a digital piano. The new and innovative Sound Projection system easily immerses listeners with full and rich sounds as it is designed to capture the attention of any listeners.
The Casio PX-870 comes with 4 speakers and features a 40W sound projection system. This may not seem like much on paper, but this sound projection system is strong enough to mimic the loudness of a real acoustic piano.
Unlike former Privia models, the PX-870 has a very wide dynamic range. Other digital pianos fail in this area simply because their speakers are not powerful enough to accentuate the sounds being produced.

The speaker system emanates sound form multiple spaces within the instrument; top of the piano, under the keyboard and also above the keys. What this does is create an extremely realistic and immersive sound that blows away any competing pianos within this price range.
Furthermore, the Volume Sync EQ feature ensures that you hear a balanced and clear sound across the entire frequency range, regardless of how loud or quiet the volume may be.
Features
Modes
The Casio PX-870 comes with a variety of in-built playing modes that have become part and parcel of the Casio Privia range:
Dual Mode
Duet Mode
Split Mode
The Dual mode setting allows for the user to layer to different instruments, such as a piano and a string, so that they may sound at the same time. This allows users to combine various tones together and allows them to adjust the sound balance.
The only sound that is not compatible on dual mode is the bass option.
In Duet mode, the Casio PX-870 automatically splits itself into two equal halves with the same octave range. It essentially creates the impression that there are two different keyboards being used as each half has its own middle-C section.
Given the identical ranges, two players can play side by side and create interesting performances. This mode may also be particularly helpful for piano teachers as they needn't employ the use of a second piano. In one's opinion, this allows for a better learning experience altogether.
The split mode function is as straightforward as its name suggests and is a common feature on many digital pianos. When this option is selected, the keyboard splits into two sections and allows for the user to play two different sounds on either side.
The Casio PX-870 does not come with an in-built split mode feature. However, when the user picks the bass tone, the keyboard automatically splits into two and assigns the bass tone to the left-hand side and allows the user to set any other tone to the right-hand side.
This essentially works in the exact same manner as the split mode feature, with the exception that only the bass sound can be assigned to the left side of the keyboard. Despite this, it nevertheless works in the same way, so users do not feel like they're missing out.
Transposing, Octave Shifting & Tuning
The Casio PX-870 comes with several in-built pitch changing functions.
Firstly, it features a Transpose function. Transposing is the act of lowering or raising the entire pitch of the keyboard in semitone steps. This allows for quick pitch-shifting and the user can easily change keys without struggling.
Transposing is not a new feature, it is an industry wide practice to include the transpose feature in digital pianos. Therefore, regardless of the manufacturer or the price tag, almost all digital pianos feature this function.
The fine-tuning function is also as straight forward to use. Pianos come in a standard tuning of A4 = 440 Hz, the tuning function allows for this to be changed in 0.1 Hz steps.
Most beginners will not feel the need to change the tuning of the keyboard, but as you advance you skills this may become a necessity for experimentation and more intricate practice sessions.
All-in-all, it is function that is essential to any digital piano and we would be remiss of Casio did not include this in the PX-870 (but hey they did not disappoint, and this is indeed included!)
Octave shifting is the final pitch changing function that is available on the PX-870 and as the name suggests, users simply shift the pitch in octave measurements until they find their desired pitch.
Recording and Playback
The Casio PX-870 comes fully loaded with a variety of different recording options for your performances.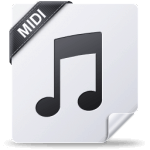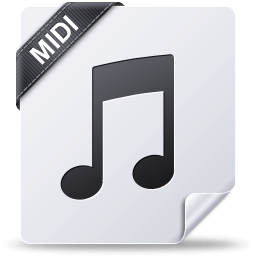 You can record your performances, or practice sessions, on-board the Casio PX-870 thanks to the in-built MIDI-recording feature. When this option is selected, the piano records the MIDI data, not the actual audio/sound being produced by the piano.
An advantage off this is that producers and composers can quickly save their ideas and the transfer this data to their preferred Digital Audio Workstation (DAW) for later manipulation and editing.
There is also the option to record a two-track song. This allows for the user to record a song with two different tracks which will then be stored within the piano's internal memory storage.
So, a user can record a piano riff and then record a string or bass section on top of that. The two different instruments are what are referred to as 'tracks'. Both tracks can be played at the same time, or one track can be switched off.
This is a great feature, but it is a bit of a disappointment that only two tracks can be recorded. Given the sheer power and versatility of this device, it is easy to argue that Casio could have improved this feature by allowing for more tracks to be recorded.
Something important to keep in mind is that the Casio PX-870 can only store one song at a time. That means when you begin recording another the song the previous saved data will be deleted.
This is not a deal-breaker, but it is nevertheless disappointing as users must export their saved song before recording another so that they do not lose data. This process may be tedious, especially if you create and compose multiple pieces of music on a daily basis.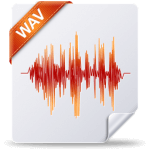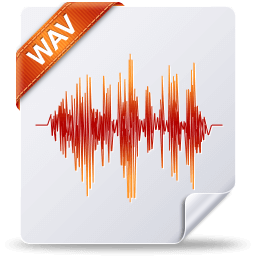 A massive improvement from previous Privia models is that you can now record audio directly from the piano to capture the actual sound being produced! In models such as the PX-770 audio recording was not available. This is a very welcomed addition!
The PX-870 allows you to record your performances in high quality WAV format. The data can then be transferred to an external flash drive in a very simple and straight forward process. WAV is a high-quality audio format.
Metronome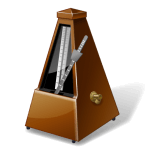 Metronomes are part and parcel of the music world. Every great musician swears by practicing with the use of one as it allows for you to keep in count regardless of what tempo you are playing in.
The Casio PX-870 comes with an in-built metronome function. It allows for the user to set a tempo (BPM) of their choice and then it provides a very simple click track that allows for the user to play along.
Though metronomes are usually inexpensive, the in-built function will nevertheless save you some money as you do not have to purchase an external device. 
Connectivity
The Casio PX-870 has a several in-built options to allow for seamless connection to a variety of external devices and accessories. 
The Casio PX-870 comes with two standard 1/4" stereo jacks that allow for the user to connect their headphones. This allows for practice or jam sessions at any time of the day without causing much noise. 
With two jack options, two people can listen in without having to depend on earphone splitters. This is particularly useful when used in conjunction with the duet mode feature.
The Casio PX-870 does not feature any dedicated line-out jacks. This is a bit of a disappointment given that its predecessor, the older Casio PX-860, included this feature. 
Nevertheless, that is not a deal breaker as the headphone jacks can be used as Line Outs and connected to amplifier systems if need be.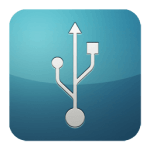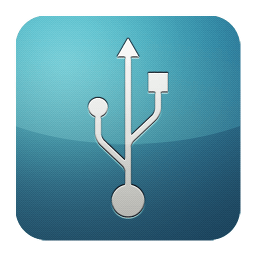 The Casio PX-870 features a USB Port that would allow for users to directly connect their external storage devices to the instrument. This allows for quick and easy transfer of files from the piano, and even allows the user to load MIDI files onto the piano's internal storage system.
Another great thing about the USB feature is the fact that users can play songs directly off the flash drive without having to transfer them to the piano's internal storage. This is extremely useful given the fact that the PX-870 can only hold one song recording at a time.
The Casio PX-870 features in in-built MIDI to Host Terminal. This simply means that users can connect their digital piano to any external device and use it as a MIDI controller. This feature is a must have for any good digital piano.
This allows for users to connect the piano to their music editing software of choice. Once this is done, the keyboard can then double as a drum machine so long as the keys are assigned correctly.
The beauty of this feature is that users do not need to spend time installing any additional drivers or software in order to use the piano. This saves a great deal of time as you merely need to connect the keyboard to your device.
This will be of particular relief to users who are not tech-savvy, or users who do not have experience in installing complicated and technical software drivers.
A MIDI-USB cable is however not included; therefore, users would have to purchase this. These are usually inexpensive and are easily available.
Accessories
Pedals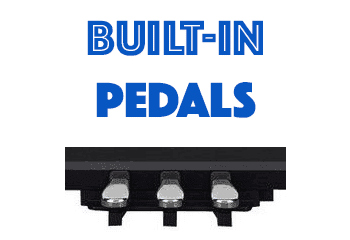 As noted earlier in the design section of this review, the Casio PX-870 comes with three in built piano pedals that mimic the functions of those found on acoustic pianos.
The three pedals cover sustain, sostenuto and soft just like those of an acoustic piano. The main advantage of the inclusion of these three pedals is that users do not have to purchase any external pedals.
The triple pedal unit is made of good material and unlike the sustain pedal that comes with the Casio PX-160, these do not feel cheap or plastic. Seasoned veterans will be able to tell a difference, but it is not as drastic as to ruin the overall playing experience.
This in turn saves the user from having to fork out any more money.
Stand
As part of its elegant design, the Casio PX-870 features its own built-in piano stand once it has been fully assembled. The stand actually makes the piano look like a mini-grad piano due to its lovely wooden finish.
Luckily users need not have to spend any more money purchasing an external piano stand. This is advantageous as some older models such as the PX-160 did not come with its own stand.
Headphones
The Casio PX-870 comes with two line-in options for headphones, but the digital piano itself does not come with any headphones. Most piano manufacturers do not package headphones with their pianos, so this is not exactly a disappointment. 
Some headphones that users may consider can be viewed below:
Best Headphones for Casio PX870
Sale
Sennheiser HD 579 Open Back Headphone (Discontinued by Manufacturer)
Open back, around ear design.Connectivity Technology: Wired
Powered by proprietary Sennheiser 38mm, 50-ohm transducers
Soft, replaceable ear pads for enhanced comfort
Robust 3m detachable cable with 6.3mm jack and 3.5mm jack adaptor included
Two year warranty when purchased from an authorized Sennheiser dealer
Sale
Philips SHP9500 HiFi Precision Stereo Over-Ear Headphones (Black)
50mm neodymium drivers deliver full spectrum of sound
1.5m cable gives you freedom of movement for indoor use
Comfortable double layered headband cushion, breathable ear cushion for longer wearing comfort
Finishing of connector: gold-plated, acoustic system: open, Magnet type: neodymium
Impedance: 32 ohm, maximum power input: 200Mw, sensitivity: 101 dB, speaker diameter: 50mm, Frequency response: 12-35 000Hz
Sony MDR7506 Professional Large Diaphragm Headphone
Neodymium magnets and 40 millimeter drivers for powerful, detailed sound
Closed ear design provides comfort and outstanding reduction of external noises
9.8 foot cord ends in gold plated plug and it is not detachable; 1/4 inch adapter included
Folds up for storage or travel in provided soft case
Frequency Response: 10 Hertz to 20 kilohertz
Case
The Casio PX-870 is made from a sturdy and durable wooden material to allow it a long-lasting life, not to mention the eye-catching design and colour finishes. Care should nevertheless be taken not to damaging the housing of the instrument as repairing, or replacing it, could set you back a pretty penny.
The housing also offers a sliding cover for the keyboard to keep it free from dust.
Summary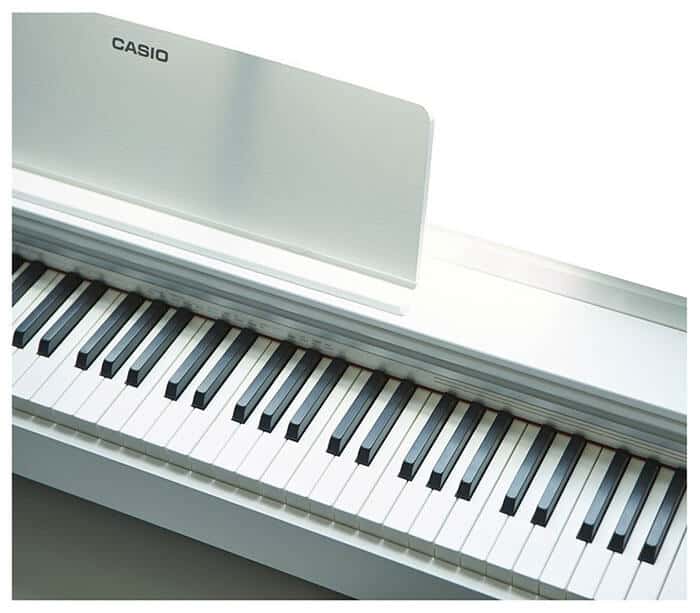 Pros
The Casio PX-870 features an upgraded design to the cabinet thus providing with a fresh contemporary look. While we are often told not to judge a book by its cover, the Casio PX-870 sounds, and plays, as great as it looks!
With an incredible 256-note polyphony

feature, even the most intricate and complex of piano pieces can easily be played and created on the PX-870 without fear of any notes or sounds being cut off prematurely.

The Casio PX-870 comes with a variety of different modes and features including the concert pay

feature which allows for the user to play along to a song with an orchestra as the backing track.

Beginners can take advantage of the lesson mode

function in the Casio PX-870. This comes with

60 in-built songs

that users can play along to, and even has a mute function for better practice.

The new and improved speaker system means that users do not have to rely on external connections and amplifiers. The Casio PX-870 is loud and powerful enough to project its own sound without needing further help.
Cons
The Casio PX-870 is not exactly a portable device, despite being relatively light-weight. With that in mind, this may not be the best option for the on-the-go musician if you require a lot of travelling with your instrument.
With its price tag, you would expect that the in-built MIDI recorder would have been improved so as to accommodate more than two-track recordings.
Furthermore, it is a disappointment that you can still only store one song

within the piano's internal memory system. Casio should upgrade this so as to allow for multiple song storage at a time.

The lack of an LCD display

is also a bit of a let-down. In the modern-day era, this should be an industry wide standard.
Summary
Final Verdict
Playability: 8/10
Ease of Use: 9/10
Value for Money: 8/10
Features: 7/10
Sound Quality: 9/10
Design: 8/10
OVERALL SCORE: 8/10
Alternatives
Sale
Casio PX-770 BK Privia Digital Home Piano, Black
The AiR engine provides highly-accurate grand piano sounds with seamless dynamics for a remarkably expressive and powerful performance
The Tri-Sensor Scaled Hammer Action II keyboard has an incredible feel and captures the dynamics of a performance with unparalleled speed and accuracy
Includes a powerful stereo amplification system offering an optimal listening experience that is crystal-clear across the entire audio spectrum
Duet Mode splits the piano into two equal pitch ranges, allowing a student and teacher to sit at the same instrument
Concert Play allows you to play along with ten recordings of well-known orchestral pieces
Another Privia model that would work as a great alternative to the Casio PX-870. It is a slightly more affordable model and comes with a large amount of the same features such as the AiR sound source as well as the same Tri-Sensor Scaled Hammer Action II keyboard.
However, the Casio PX-770 only features 128-note polyphony, this is a massive step back from the 256-note polyphony offered by the Casio PX-870. Not to mention that the former does not have the option of directly recording audio of your performances.
Yamaha YDP143R Arius Series Console Digital Piano with Bench, Dark Rosewood
The Pure CF Sound Engine faithfully reproduces the tone of a meticulously sampled, acclaimed Yamaha 9 feet CFIIIS concert grand piano, allowing for incredibly dynamic and expressive playing
GHS weighted action is heavier in the low keys and lighter in the high keys, just like an acoustic piano
50 classic piano songs are provided in the built in song memory as well as in a music book, "50 Greats for the Piano"
The Controller App for iOS devices adds a rich graphical user interface, allowing for quick and easy navigation and configuration
The 2 track song recorder allows players to practice one hand at a time, or record their next hit single. Half damper pedal control creates more detailed nuance and subtlety when playing, similar to...
Though this particular digital piano comes from a competing manufacturer, some may consider this as an alternative purchase to the Casio PX-870. This model comes with a furniture-style cabinet design and three pianos pedals, just like the PX-870. The Yamaha YDP-143 also features a keyboard with graded hammer action.
However, the Yamaha YDP-143 is about $100 dollars more expensive than the Casio PX-870. This may not be worth the outlay given the Yamaha only features a 128-note polyphony system. Also it is not as loud as the Casio PX-870 as it speakers are significantly smaller.