Hotel California is an incredibly famous song all around the world and was originally played by the talented band The Eagles. In this guide, we are looking at the no capo version of the song where we will show you the chord progression and strumming pattern for the song. Elsewhere on our website is the version with the capo if you would like to learn the original song and its chords.
The song was first released in 1977 and it's been a classic for the band that has stood the test of time, still being popular today. Learning this song as a beginner to the guitar may be more of a challenge because it contains a few barre chords. If you're a more advanced player and already know this technique then you should be able to pick it up with no issues.
All of the tabs and chord diagrams we have included in this guide have been done by ourselves. This version doesn't require a capo and we've tried to be as accurate as possible. For extra help, we have included a video tutorial for you in case you get stuck at any point.


Hotel California Chords No Capo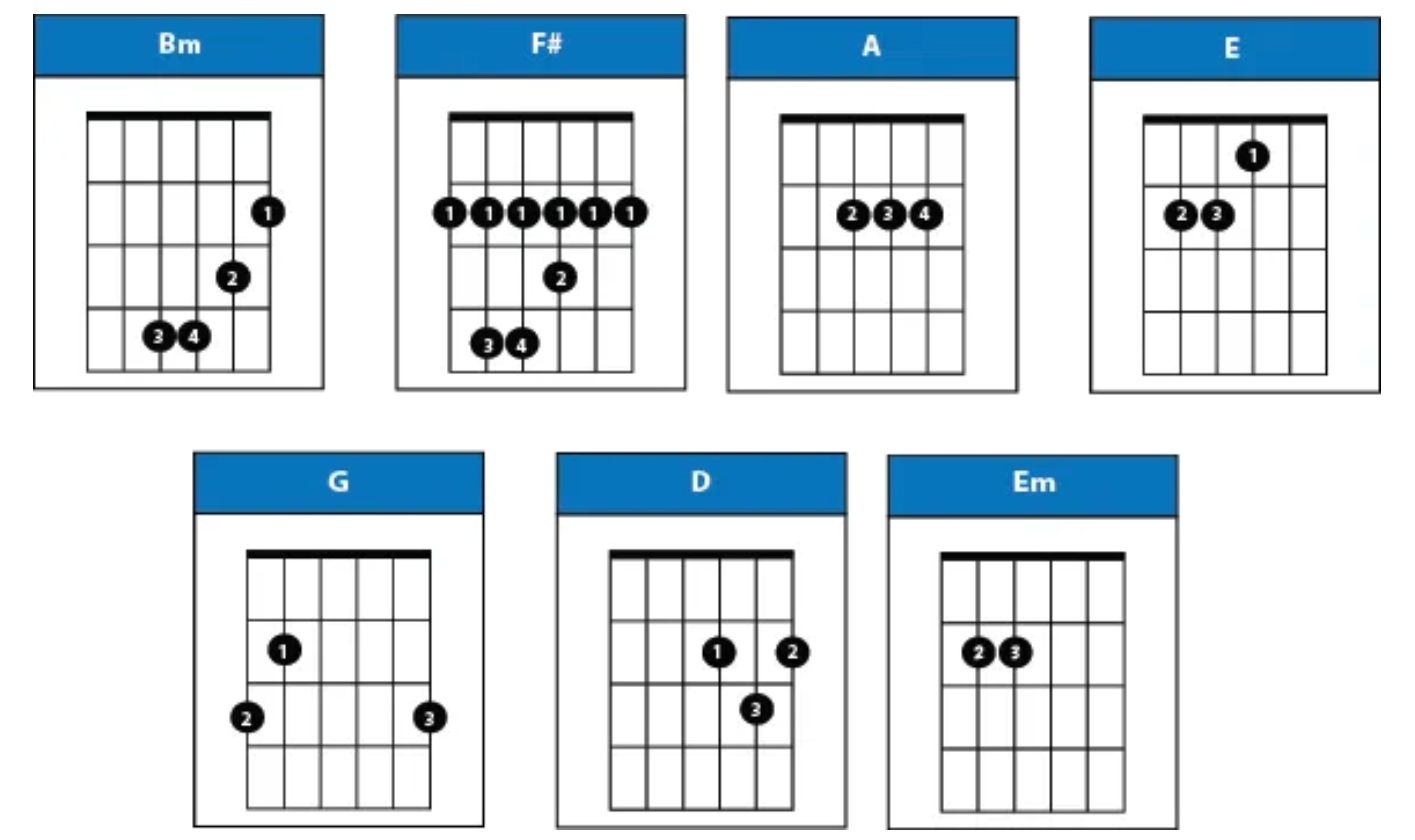 In the image above we have given you the original chords so that you can recreate Hotel California without using a capo. These chords are E major, G major, D major, E minor, B minor, F# major and A major. This chord progression may seem a little bit scary to you at first but it's the same throughout the whole song so you don't have to worry about it changing up on you. All you need to remember is the chords and they are played in order which we will give you along with the lyrics below.
The best place to start with any song, not just Hotel California, is with the chords. Learning each of these chords individually if you're not familiar with them or aren't confident in playing them will help you later on. We would recommend strumming each chord to the pattern we will share with you in the next section before you begin to try and play the whole song altogether. If you are a more experienced player then feel free to dive right on in and complete the whole piece – it should be a California breeze for you!
Hotel California Strumming Pattern
One of the reasons why this song is more on the beginner friendly side is because of the strumming pattern. It's really easy, and goes DD-UU-DD-DU. If you aren't finding it easy to pair this strumming pattern up with the rhythm then you can listen to the original track or take a look at the video tutorial we provided for you at the beginning of this guide.
Hotel Califonia Lyrics and Chords
If you think you are confident enough in playing the chords from Hotel California and can also master the strumming pattern then it's time to try and give the whole song a go. We would suggest that if you are a beginner who isn't used to playing full songs like this yet to break it down into sections. Try to play the verses and chorus separately, then join them together as you become smoother at the transitions.
Verse 1
Bm F#
On a dark desert highway, cool wind in my hair
A E
Warm smell of colitas rising up through the air
G D
Up ahead in the distance, I saw a shimmering light
Em
My head grew heavy and my sight grew dim,
F#
I had to stop for the night
Verse 2
Bm F#
There she stood in the doorway, I heard the mission bell
A
And I was thinking to myself
E
This could be heaven or this could be hell
G D
Then she lit up a candle, and she showed me the way
Em
There were voices down the corridor,
F#
I thought I heard them say…
Chorus
G D
Welcome to the Hotel California
F# Bm
Such a lovely place (such a lovely place), such a lovely face
G D
There's plenty of room at the Hotel California
Em F#
Any time of year, (any time of year), you can find it here…
Verse 3
Bm F#
Her mind is Tiffany twisted, she got the Mercedes Benz
A E
She got a lot of pretty pretty boys that she calls friends
G D
How they danced in the courtyard, sweet summer sweat
Em F#
Some dance to remember, some dance to forget
Verse 4
Bm F#
So I called up the captain; "Please bring me my wine" (he said)
A E
"We haven't had that spirit here since 1969"
G D
And still those voices are calling from far away
Em
Wake you up in the middle of the night
F#
Just to hear them say…
Chorus
G D
Welcome to the Hotel California
F# Bm
Such a lovely place (such a lovely place), such a lovely face
G D
They're livin' it up at the Hotel California
Em F#
What a nice surprise (what a nice surprise), bring your alibis
Verse 5
Bm F#
Mirrors on the ceiling, the pink champagne on ice (and she said)
A E
We are all just prisoners here, of our own device
G D
And in the master's chambers, they gathered for the feast
Em
They stab it with their steely knives, but they
F#
Just can't kill the beast
Verse 6
Bm F#
Last thing I remember, I was running for the door
A E
I had to find the passage back to the place I was before
G D
"Relax" said the night man, "we are programmed to receive,
Em
You can check out any time you like
F#
But you can never leave…"
Chorus
G D
Welcome to the Hotel California
F# Bm
Such a lovely place (such a lovely place), such a lovely face
G D
They're livin' it up at the Hotel California
Em F#
What a nice surprise (what a nice surprise), bring your alibis
Conclusion
That's everything you should need to know to play Hotel California without using a capo. Remember that we do have a guide with the full version of this song which includes the capo if you would like to play using yours. There are plenty of guides available here on our website to help you through beginner and more advanced songs so that you can learn the music you love the most. Happy playing.
FAQs
Is Hotel California played with a capo?
You can play this song both with a capo or without. In this guide we are playing the Hotel California chords no capo version but you can find another version here on our website that gives you the chords with the capo on. The original song was played with a capo which gave it that ethereal sound and quality.
Where do you put the capo for Hotel California?
If you would like to play the song with your capo so that it sounds more like the original then you will need to place it on the seventh fret. This is where Don Felder placed his during the recording and live performances of the song with The Eagles.