Korg B1 digital piano released in 2017, is an entry-level, 88-keys digital piano with a Natural Weighted Hammer Action (NH) keyboard, 120-note polyphony, 18W built-in speakers, and it uses Stereo PCM to generate tones.
If you are a beginner or an amateur player, you need to experience this awesome digital piano. It is cost-effective, light, compact, and can take care of all your piano needs. It has a streamlined design which offers the main features that any pianist may look for in a keyboard.
It comes with a superb and superior sound, real keyboard touch, great design that adds color to your home interior, and it's easy to use. 
Keyboards and digital pianos from Korg are known to be affordable, with a nice design and good quality. It is not a very popular brand compared to Yamaha or Casio digital pianos of the same price range. For this reason, the company, Korg is working very hard to maintain the competition by offering new innovations.
In this Korg B1 review, I'll list out and explain all the features it offers for a good playing experience and compare it with its competitors such as Yamaha and Casio.
Korg B1 Specs & Features
Weight – 26.01lbs (11.8kg)
Dimensions – 1312mm × 336mm × 117mm (51.65" × 13.23" × 4.61")
Number of keys – 88 fully-weighted keys

 

Keyboard Response – Touch sensitive with Normal, Light, and Heavy settings
Type of keyboard – Natural Weighted Hammer (NH) Keyboard Action
Modes – Duo

 

Overall controls – Transpose, Metronome, Fine-tuning
Sound generation – Stereo PCM
Number of polyphony – 120-note polyphony
Number of sounds – 8 instrument sounds (3 Acoustic, 2 Electric piano, 2 Organ, Harpsichord)
Effects – Reverb, Chorus
Connections – Headphone jack, Sustain pedal jack
Amplification – 9W × 2 (9W + 9W)
Speakers – (3.94" × 1.97") × 2
Power supply – DC 12V, AC Adapter included
Power consumption – 3W
Included Accessories – Damper pedal, Music stand, AC adapter
Warranty – 1 year.
DESIGN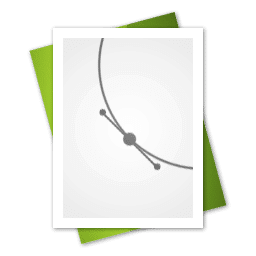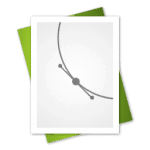 This keyboard is portable and compact to exceed all expectations with its streamlined design which makes it unique in its class. It is designed from the scratch using cutting-edge technologies to offer vital features to any player. The efficient structure of Korg B1 digital piano minimize distractions while encouraging you to enjoy your playing experience.
Its compact body conceals the onboard speaker system with a long-grill, and it fits easily into any small space. It can be placed on a table or desk, but it is more comfortable to put it on its compatible stand. Due to its compact nature, college students can find it suitable for their needs as it'll fit into their small corners in the dormitory.
With a weight of only 26.01lbs (11.8kg), it is lightweight and can be carried around easily or taken to gigs without asking for an assistant to move it.
There are few connectivity options on this piano compared to what other pianos in its class offers, that's why it may not be suitable for stage performance, but perfect for home use.
There is a headphone jack available for you if you decide to practice privately without disturbing your neighbors. It also has a volume knob and four buttons on the front board, and its sound and features can be accessed by combining "Key + Button".
Navigating the keyboard may be a bit difficult because of the absence of a display screen which shows the current setting used, thereby enhancing the instrument's accessibility.
This keyboard has two color options of white or black, and both colors are stylish but maintaining the black type is easier.
KEYBOARD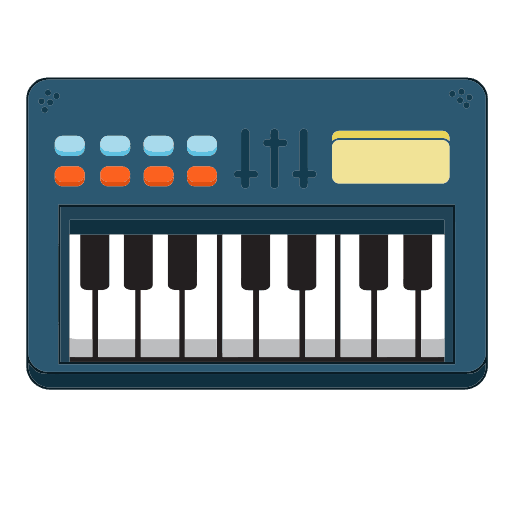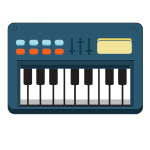 The Korg B1 digital piano has 88-keys, fully-weighted keyboard with matte black key tops and Natural Weighted Hammer (NH) keyboard action which offers a lighter touch in the upper registers and a heavier touch in the lower register just like a real piano.
You can set the keyboard's dynamic response with the 3 preset settings (Normal, Light, Heavy), to match your playing style. The real hammers used on this keyboard replicates the acoustic piano's response and feel.
The keyboard action is touch sensitive which gives an expressive sound to conform with how you strike the keys. With the settings on this keyboard, selecting the "Heavier" preset settings means that a powerful sound will only be produced when the keys are struck harder.
With the "Light" keyboard setting, the sound produced will have a great impact notwithstanding how you press the keys, and it is mostly used by soft-touch pianists.
This piano has plastic keys just like most keyboards in its class, but no synthetic Ivory/Ebony key tops which helps absorb moisture from the fingers to prevent slipping due to a prolonged playing session. It also has glossy white keys and matte finish black ones which gives a realistic feeling like a real piano.
The Natural Weighted Hammer (NH) keyboard action has the characteristics of the Yamaha's GHS action, while the Casio's Scaled Hammer Keyboard Action is a bit heavier with Ivory and Ebony surface on the keys.
SOUND


Korg B1 utilizes the multiple digital recordings sampling technology known as PCM Stereo Sampling, to capture and reintroduce the acoustic piano's rich and vibrant tone. 
The improved sampling technology and digital memory features enable it to offer an authentic, accurate, and a more expressive sound compared to other instruments manufactured some years ago.
The numerous sound range of an acoustic piano is also captured and the sampled sounds meant for this digital piano reproduces the damper resonance and string vibrations which maintains the pianos character.
There are 8 instrument sounds on this keyboard which include: 3 Grand pianos, 2 Electric pianos, 2 Organs, and a Harpsichord, with each of them delivering a precise realism. With these set of sounds, you can expand your skills to take care of several genres of music.
You can also recall the sound of a Grand piano with the unique "PIANO PLAY" button. The Korg B1 keyboard is certainly not a downgraded version of any upgraded model, but it's a product of its own designed from the scratch with Korg's cutting-edge sampling technology. To sum it up, its Chorus and Reverb effects can be adjusted with the power setting.
Polyphony
Korg B1 has 120-note polyphony. This amount of polyphony ensures that you don't run out of notes, and complex classical sounds can be played. Also, you cannot use all the polyphonies at the same time, because there is no MIDI recorder or Dual Mode (Layering) on the instrument.
Speakers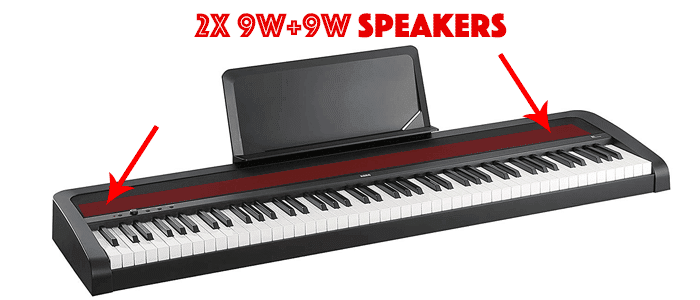 Korg B1 has full range speakers with an output of 18W. To achieve its rich, deep, and clear sound, it uses Servo-assisted Motional Feedback (MFB) Technology, a passive radiator, and a pair of full-range speakers. 
These characteristics gives the rich sound emanating from the speakers of a grand piano. This means that, MFB Technology is embedded on the instrument's speaker system, and the cone's movement is controlled by the Servo system, thus allowing the reproduction of low frequencies with reduced distortions. 
When it is in use, the velocity of the vibrational surface is detected, thereby returning a signal to the feedback. The speaker system achieves an ideal frequency response with the MFB, which also allows the low frequency range to be accurately reproduced to correct any coloration of sound due to the speaker's enclosure. The low-end response from small speakers is reinforced by this technique which can also help to compensate for the room acoustics. 
The sound emanating from the Korg B1 is so great, and it is quite surprising to have this technology on an entry-level keyboard. Although it doesn't have a very loud volume, but it's loud enough for a small room without an external speaker.
Generally, this innovative technology offers full-range fidelity and enhanced low-end response.
FEATURES
As an entry-level digital piano, it doesn't come with many features except few basic ones which include transpose, metronome, fine-tuning function, and a Duo mode or Duet play.
Modes
The B1 digital piano offers a Duet play also known as Partner Mode. This Partner Mode allows two people to play the keyboard at the same time by splitting the piano into two sections but with an identical pitch range. It allows an instructor to play side by side with the same note as his student. The Dual and Split mode found on most piano is not available on this keyboard. 
Transpose and Fine-tuning
You don't need to tune the B1 piano, but the keyboard pitch can be adjusted with the transpose and fine-tuning function. 
The keyboard pitch can be increased or decreased in semitone steps using the transpose feature. This means that, if a song is written with a difficult key, it can be transposed with simple chords to an entirely different key. Songs can be played using different keys without changing the fingers.
This keyboard pitch is changed in steps of 0.5Hz with the fine-tuning feature. This is very useful when matching another instrument's pitch.
Recording and Playback
There is no built-in MIDI recorder on this instrument which enable you to record your performance and playback at anytime. Onboard songs and accompaniment rhythms are also not available for listening and practice, but are offered by its competitors.
Metronome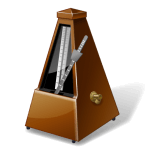 The onboard metronome of this piano is very useful, and you can perform along with its steady beat. You can develop time-keeping skills and improve rhythms by practicing regularly with the metronome. 
You can use the available settings to adjust the tempo, time-signature, and the metronome's volume to take care of your needs.
Music Rest
The improved Korg B1 digital piano's music rest has the ability to retain and keep music pages from flipping during performance, thus allowing you to concentrate while playing.
CONNECTIVITY
Korg B1 has basic connectivity options such as the headphone jack of 3.5mm or 1/8" located at the rear of the piano. Apart from connecting headphones, you can connect speakers and external amplifiers to the instrument through this jack, which is also called the Line-Out jack.
There is a damper pedal jack of ¼" situated at the pianos bottom. The sustain pedal that accompanies the instrument, or the optional 3-pedal unit can be connected through this jack.
This piano does not come with MIDI In/Out or USB interface, so it cannot be used as a controller neither can it be connected to a computer to access various software in music production or learning.
ACCESSORIES
The accessories that accompanies the Korg B1 include: 
Sustain Pedal (with half-pedal support
AC Adapter
Music Rest
Owner's Manual
Sustain Pedal
The damper pedal included with the B1 digital piano is a metal piano-style pedal with a solid construction. It offers stability with a great feel under your foot, and supports half-pedaling. This single sustain pedal is suitable for many performers and pianists unless you want to purchase the optional triple-pedal unit.
Stand
The STB1 stand offered by Korg is a furniture-style stand which adds color to your home interior. This stand has the standard height for playing the keyboard comfortably. 
The furniture stand is too bulky to be taken to gigs or trips, instead, the mobile X and Z-type stands are preferable. They are portable, collapsible, and easy to move about. It doesn't require any screw to attach it to or detach it from the keyboard. 
The only good thing about the furniture-style stand is that, it adds color to your home and secures the keyboard firmly to it.
Case
The Korg B1 can be taken to rehearsals and gigs easily because of its portability, but before you go on a trip with it, you have to purchase a well-padded piano bag to prevent damage to the keys.
Although there is no standard case offered by Korg for this piano, but bags from other brands could be used. Such keyboard bags include: Gator 88-keys Piano Gig Bag and Yamaha Artiste Series Piano Case.
Headphones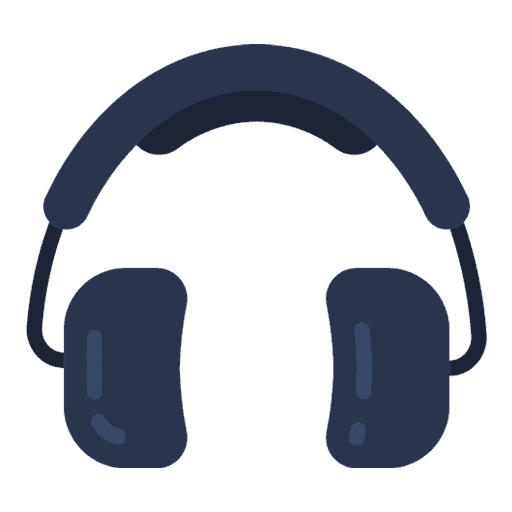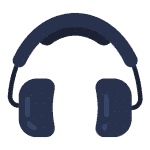 Headphones are suitable for private practice without disturbing people in your neighborhood. Using a good headphone offers a detailed and clear sound which cannot be gotten from the built-in speakers, that's why it is better not to depend on headphones that comes with the Amazon package, because they don't offer good quality sound and are cheap.
CUSTOMER IMPRESSIONS
I purchased this digital piano because of its amazing feature – "Partner Mode," which enables me to play side-by-side with my students as a Music Tutor. 

It has a great, non-distorted sound and a very nice key action with weighted keys. It's also light and portable which allows me to take it to gigs easily, but I was disappointed when I realized that there is no USB or MIDI In/Out ports. 

The oval shaped speakers offer a rich sound that's only suitable for a small room. This means that, if you want to perform in a big hall or stage, you must use an external speaker to amplify the sound output.

I tried to model the sound of this keyboard but I couldn't, because it doesn't respond easily to different pressure on the keys. It also has a competitive price but needs improvements in its quality.

The best thing about this piano is the sound, so if you're interested in a keyboard with high-quality sound, I recommend it to you. I know that Korg is a great brand, but my piano arrived without the sustain pedal included as advertised, even when it came in a secured Cardboard box.
SUMMARY
From what I've seen on this Korg B1 digital piano, it was targeted at pianists that needs simplicity in a keyboard. 
Digital pianos of this class comes with the Dual and Split modes, MIDI recorder, and USB interface which are missing on this instrument. You'll never be disappointed with its sound if you're the type that doesn't need those missing features.
This keyboard doesn't need tuning and it's very compact, which gives it an advantage over a real piano. Other advantages include: adjustment in volume and the headphones compatibility.
The Damper and String resonance with 8 instrument's sound delivers a rich, clear, detailed, and high-quality sound output through the speakers with 18W amplification, coupled with the MF technology. It is more suitable for learners and upcoming piano players who are looking for a portable keyboard designed with no frills. Note that, there are no educational features on this instrument.
After a careful consideration of the features, design, response to touch, sound, and the quality of this digital piano, it has earned a rating of 6.8/10.
Pros
Has a stylish design
Great level of realism
Partner mode suitable for learners
Portable, compact, and lightweight

 

88-keys fully-weighted Natural Hammer keyboard
8 piano sounds
Metallic body sustain pedal included
Moderate price
Cons
No recording/playback feature
No USB port
No lesson function for learning
Does not have a display screen.
ALTERNATIVES
If you're not satisfied with what the Korg B1 digital piano offers, then you've to consider these two main alternatives which gives more sound, features/functions. 
This is also an entry-level, portable digital piano with a Hammer keyboard action, which helps to build strength on the fingers. It uses Yamaha's GHS action similar to the NH action offered by Korg B1.
The P-45 has 64-note polyphony and a speaker output of 12W. A piano-style damper pedal with a half-pedal support is used on Korg B1, while a box-like footswitch made of plastic, but doesn't support half-pedaling accompanies the P-45 digital piano.
There are more piano sounds on the P-45, Duo and Dual modes, and a USB port which makes the connection to a computer possible.
Nevertheless, some basic functions are available on both pianos which include transpose, fine-tuning, and the metronome. 
The Casio PX-160 has more features compared to the B1 portable piano. The features include: recording/playback, 50 preset songs, USB port, Dual and Duo modes. It also has 18 piano sounds, Hammer keyboard action, and 16W speaker output. 
The sound from both instruments are so rich if you're using a headphone, that's why it may be difficult to know the one that's better in terms of the quality of sound. 
After considering this full review of the Korg B1 digital piano, what's your opinion about the instrument? Share it with us in the comment section.