Korg is a brand that's synonymous with quality audio. They are known for creating some incredibly good pieces of music equipment including synthesizers. When you read korg keyboards reviews, you don't usually associate them with budget products. The band makes great audio equipment but doesn't usually occupy the cheap end of the market. The Korg D1 is perhaps the exception.
This is a digital piano that is designed to be affordable and portable, and while it is quite a simple design, it has some cool features as we're exploring in our Korg D1 review. Read on to find out how this piano packs in professional quality at a competitive price.
Korg D1 Specs & Features
First, a list of the top features of the D1. This gives an overview of exactly what you can expect from a keyboard such as this.
Keyboard style: 88 key (A0–C8), comes with RH3 (Real Weighted Hammer Action 3)
Pitch controls: Transpose, Fine tune
Sound generation: Korg Stereo PCM
Polyphony: 120 voices (max)
In the box: Keyboard, AC adapter, music rest, damper pedal
Sounds included: 30 (10 x 3 Banks)
Inbuilt FX: Brilliance, Reverb and Chorus
Demo Songs: 30
Pedals: Damper (Half-pedaling supported)
Connectivity: LINE OUT (L/MONO, R), MIDI (IN, OUT), Headphones,
Power supply: DC 9 V, AC adapter
Dimensions: (W x D x H) 1327 x 263 x 128 mm / 52.24″ x 10.35″ x 5.04″
Weight: 16 kg / 35.27 lbs. (including Stand)
Design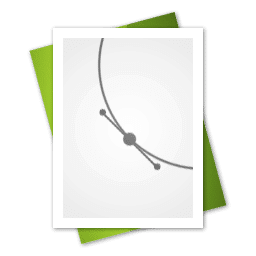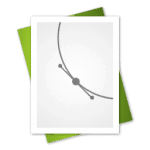 A good word to describe the design of the Korg D1 would be "minimalist". There's nothing on the design except what needs to be there. It's a simple digital piano, and on first glance you can't really differentiate it from many of the other products on the market. Korg is known for making a lot of synthesizers and some of their digital pianos even borrow elements of synth design, but this isn't the case with the D1.
This model is described by Korg as a stage piano. To look at it, you can absolutely see why. The simple and minimal design is perfect for taking on stage and designed for portability. What we will comment on though is the weight. 16kg is pretty hefty for a stage piano. A lot of companies making models to be portable do everything they can to reduce the weight, so why is the Korg D1 different? Well, the manufacturers have clearly prioritized the keybed. The keyboard is excellent quality and feels hefty (more on this below) and because of this, the weight is still considerable. It still comes in at less than 40 lbs, though. It's not unthinkable that you'd take a piano like this on a tour.
All of the controls can be found on the top left of the keyboard, above the key bed itself. These are clearly labelled and simple to use. Other design factors are less obvious. For instance, the headphone jack is tucked away underneath and harder to locate for the first time.
Keyboard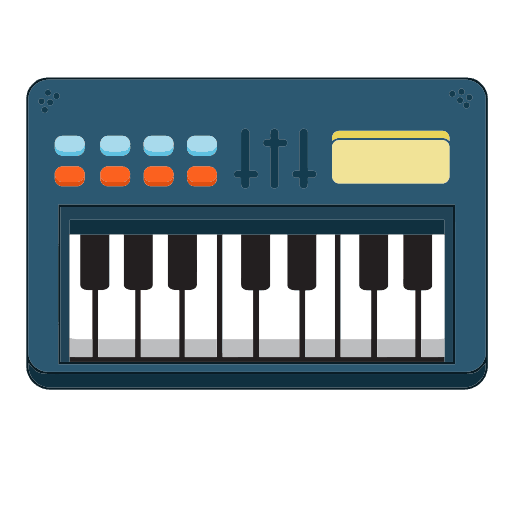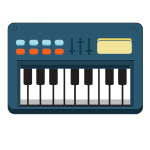 If the quality of the keyboard itself is not up to scratch on a keyboard, you can write it off instantly. Fortunately, this is not the case at all with the Korg D1. The keyboard on the Korg D1 has no such problems. I'd go so far as to say that for the price, you'll really struggle to find a better keyboard on a stage piano.
It has an 88-key RH3 keyboard which is built to feel like real piano keys. It does a good job, too. This is the same keyboard found on the brand's SV-1, the Kronos and the Grandstage. These keyboards are also made by Korg and cost a lot more than the D1!
RH3 stands for Real Weighted Hammer Action 3 (it's the third iteration). The keys are customly built by the brand in Japan, and are designed to feel heavier at the lower keys and then feel lighter as you reach the high end. This emulates how a real acoustic piano would feel.
The actual keys feel nice, with a gloss finish on the white keys and matte on the black keys. This is yet another way the Korg is designed to feel like an acoustic grand piano. Hammer action is another way in which this works, as it feels like you are hitting the keys of an acoustic piano. The action might be a bit too hard and need more of a push than other models, but generally, the keyboard is almost impossible to fault.
The fact you're buying an affordable keyboard and getting the same as some high-end Korg products is a big bonus. Our other Korg digital piano reviews have praised the feel of the RH3 technology.
Sound


Korg has a reputation of being a sound pioneer. Whenever they release a new digital piano, synthesizer or just about any other audio product, the pressure is on to make sure it lives up to the name they've built up over the years. So how does the Korg D1 review in terms of sound quality and options?
Firstly, we should note that there is no speaker system on the D1. At the price point, this shouldn't be a huge surprise. However, this isn't a problem for most stage performers as you will probably be plugging directly into a live mixer. For practicing at home, you can use the headphone out or connect to an amplifier or set of speakers.
In terms of the sounds that are generated by the D1, there are 30 in total. This is split up into 3 banks of 10 different sounds. This is plenty of choice for an affordable stage piano.
The acoustic piano sounds are particularly good. This is great if you're moving from an acoustic piano and are prioritizing the feel and sound of a "real" piano. As well as having multiple velocity samples for each note, Korg have included damper resonance and a resonance when you take your finger off the key, this sounds like a real acoustic piano being played.
The multiple velocity samples (4 in total for each digital piano sound) gives a feeling of nuance and lets you play more subtle variation in your melodies.
It isn't just grand pianos and acoustic pianos, as Korg have incorporated some classic sounds from other digital pianos. Wurlitzer and Fender Rhodes sounds are included among a variety of others.
Some of the sounds, like the acoustic guitar sound, probably won't be used on a regular basis on stage, but they're fun tools to have.
The 30 sounds are:
6 x "acoustic" Pianos (concert piano, grand, pop, jazz, honky-tonk, and electric grand)
6 x Electric Pianos (including Rhodes, Wurlitzer and CP-80)
3 x Jazz Organs
3 x Pipe Organs
3 x String section sounds
3 x Choir variations
And multiple others including Harpsichord, Marimba and Acoustic Guitar.
Sounds are all labelled and it's very easy to switch between them. The selection isn't as varied as some other digital pianos. Some Yamaha models have over 500 sounds to choose from. The truth is that for the price, the sound selection is decent, and the digital piano sounds are very good quality.
Features
On to some of the features of the Korg D1 that set it apart from competitors. It's useful to know what the Korg can do. Some of the models the brand released in the early 2000s are a little bit low in modern tech, but the D1 was released much more recently and has some modern features and functions.
Modes
The only playing mode besides the standard mode is Korg's layer mode. As you would expect, this just lets you combine two sounds and play them layered. This is great for both performing and composing music.
To use this mode, you can press two separate sound buttons on the front panel, it will combine the sounds in question. You can try strings along with piano, synthesized sounds along with acoustic, and just experiment to see what works. You can even adjust the volumes separately. You can even adjust so that one sound is playing an octave higher or lower than the other.
There isn't a dual mode or a split mode, so you can't split the piano keys into two smaller sets for lessons. Also, you don't have the option to play two sounds on different hands. This may not be a dealbreaker, but some people like these modes, especially for learners.
Transposing, Octave Shifting & Tuning
You can transpose the key with ease on the Korg D1. You can also shift the octave with a simple up and down button. As explained, you can even do this for individual sounds in the layer mode.
Tuning can be done in steps of 0.5Hz and tunes the pitch of the D1 note. Naturally, the A1 note is at 440Hz. If you need to change the tuning to suit a piece of music, for example, this can come in really handy.
Recording and Playback
This Korg digital piano review has been full of positives. There's a lot to like about the D1 and we're happy to sing its praises. However, there are a few areas that let it down, and mean this isn't suitable for everyone. If you rate recording and playback as an essential feature for a digital piano, the D1 is not your friend.
There's no recording and playback feature inbuilt. Also, there's not even a USB connection for linking up to apps or music software and using this for recording and playback. This is something of a let down. If you're using the D1 purely for performance, this isn't going to be a big problem, but if you want it to be the hub of a home studio, it might not be the best option.
Metronome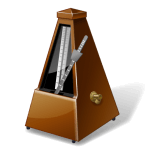 There is a specific metronome button on the control surface. Pressing this turns on the tick of the metronome, and a simple + and – control allow you to control tempo. The metronome button can also be held down to change the time signature and play in 6/4, ¾, 2/4 and other time signatures. You can even change the style and sound of the metronome.
Connectivity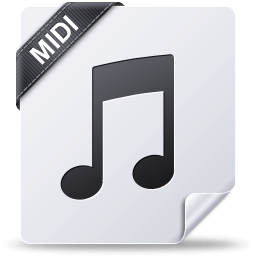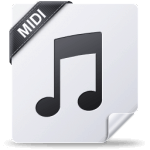 The connectivity features have their pros and cons. For one thing, the audio connectivity is all that you will need from a digital piano. It's clearly been designed with people performing in mind rather than using it as any sort of a studio controller or sequencer.
It has two ¼ inch line outs, so you can connect to an amp, mixer or other speakers. If you want to use it in a mono mode, you can just connect the left channel.
There's a MIDI in and a MIDI out which means you can connect it to modular synths or other instruments. There's an ⅛" headphone jack, too. You can plug in any ordinary set of cans and listen at home even though there aren't any speakers.
Again, we feel like we have to mention the fact that there's no USB connection. This may be a way that Korg have kept the price down, but most digital pianos and keyboards have some form of USB connector. Even $50 keyboards can hook up to your laptop. The workaround is to buy a MIDI to USB adapter and use the piano this way, but it still isn't ideal.
There's no Bluetooth functionality, either. This is not such a big omission but it is worth mentioning.
Accessories
As you would expect, the piano does come with some accessories. These are shipped with the Korg D1 when you buy it. These accessories include an AC adapter, easy to use music rest and a damper pedal for adding a damper effect when playing. As well as this, you can buy certain other accessories.
If you want a more subtle and nuanced damper pedal, you can go for the DS-1H Half damper pedal which is used to add a sustain effect to the keyboard and add an element of realism in your playing, emulating the pedals on an acoustic piano.
Korg have their very own standard stand, the ST-SV1 Keyboard Stand. This works perfectly with most of their range of digital pianos, and the Korg D1 is no exception. This stand makes an excellent companion, and as we expect most people buying the D1 to be stage performers, it's worth ensuring you have a reliable and sturdy stand for playing live.
The Korg SC-D1 Soft Case is designed to fit this particular digital piano. It is an essential addition for a lot of musicians. If you're going to be taking the D1 out to gigs or practice sessions with you, you need something reliable to carry it in, which can offer plenty of protection. The SC-D1 is exactly that.
User reviews
A huge amount of the user reviews for this product back up what we've said in the above review. There are certain things that pretty much everyone loves about the Korg D1, and then there are other aspects of the design that are a little bit frustrating.
A lot of people have talked about the lack of a USB connection. "It's hard to even understand why they've not included a USB slot for connecting my laptop. I wanted to use VST instruments but without buying an adapter I can't". This is one of the reasons why this may not be the very best for use in a studio or for recording and sequencing. For instance, a lot of people really love having the ability to do recording and playback on their digital piano, but not being able to do so on the D1 is a disadvantage.
Having pointed out the recurring themes in the negative reviews, it's important to say that there are workarounds. A MIDI to USB interface will give you the benefits of a USB connection. Also, many of the positive reviews are extremely favorable.
"Why would I pay over $1000 for a top end Korg when this has the exact same keybed? It feels just as good as the $1500 model I played in the store". This is hard to argue with. The keys are one of the main plus points and the fact that there's both meticulous sampling and an amazing hammer action feel means that the sound is up there with the best digital pianos.
Another recurring theme is people not being able to believe the realism of the piano sound at the price point. The four velocity samples and realistic resonance settings are a huge bonus. It's no exaggeration to say that this digital piano really outperforms the price point it is marketed at, and most reviewers seem to say the same thing.
Summary
If you are looking for loads of sounds, easy connection to a computer or just a piano to use as a centerpoint for a home studio, this might not be the best option for you. Some of the connectivity features are a bit of a letdown. That's not too much of a criticism. It's important to remember that the Korg D1 digital piano packs a lot into a relatively small and affordable package. The things it is good at, it is truly great at!
If you are in the market for a simple digital piano, there's every chance this could be a great option for you. As well as having really simple features, it still manages to have plenty of functions that you might find really useful. 30 sounds, that can all be layered with one another, iss plenty for a lot of stage performances.
The sound of the main acoustic piano samples is truly fantastic. Arguably, it is the very best that can be purchased for such a modest price. As a stage piano, it could maybe be a little bit lighter for an easier time lugging it around, but this isn't a dealbreaker. We still think the D1 deserves to be rated very highly.
Pros
Exceptional sound modeled on a grand piano. Added resonance for realism.
30 fantastic tones which can all be layered.
Very affordable. It's hard to find a better sound at this price point.
Lots of Korg accessories are compatible with this digital piano. Ships with a sustain pedal and AC adapter.
Cons
No USB or Bluetooth connection.
No inbuilt speakers. You need to connect to an amp or listen through headphones.
The action is a bit too hard for some people who would prefer a lighter touch sensitivity.
No split or duo mode for teaching or learning melodies.
A bit heavier than some other stage pianos.
Our rating
Our rating for the Korg D1 is 4 out of 5 . To get up to a 5/5, it would need that all-important USB connectivity and some more connectivity features. Also, inbuilt speakers and playback would be beneficial.
Alternatives
Roland's FP-30
(full review)
keyboard is a similar option and a great choice for those who want something like the D1, but with a few more modern functions.
The Roland PHA-4 keyboard is decent, with synthetic ivory keys. It's a lighter action and the sound is perhaps not quite as good as the D1.
However, both are brilliant acoustic substitutes. The FP-30 also has the USB output we crave and some small inbuilt speakers which can be useful for practicing at home. Both are similar stage piano designs, but they have some distinct differences that could sway your buying decision.