Over the years, Roland has created a name and reputation for itself as the go-to brand for professional grade digital pianos and they are easily amongst one of the leading digital piano manufacturers in the game right now.
While expanding the already impressive product range in their arsenal, Roland has introduced some entry-level digital pianos that fall under the $1,000 mark. The Roland RP-102 is one of these pianos and is aimed at the beginner player. 
In this review, we take a detailed look at the Roland RP-102 digital piano. We explore everything from its design, its keyboard, sound and many more. We're going to talk about what we love about it, and what we're not so crazy about.
Roland RP-102 Specs & Features
Keyboard: Full 88 keys, PHA-4 Standard keyboard
Polyphony: 128-note polyphony
Tones: 15 built-in instrument sounds
Sound: SuperNATURAL Sound engine
Speakers: 2 x 6 W (2 x 12 cm)
Dimensions: 137 x 41.3 x 97.7 cm (54.2" x 16.2" x 38.4")
Weight: 83 lbs (37.8 kg)
Warranty: 3 year warranty
Design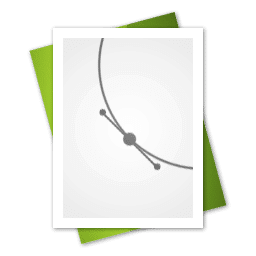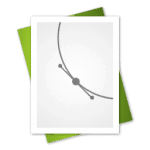 Featuring a polished contemporary look, the Roland RP-102 has a traditional cabinet design and mimics the look of a real acoustic piano. The sleek and minimal design of the Roland RP-102 means that it can be placed in any part of the room and it blends into the surrounding.
The cabinet style design is a major advantage as users do not have to spend money on external piano stands, not to mention that the cabinet style design allows for a sturdier and secure feel as opposed to the typical X-stand.
There is a pedal board that has the 3 piano-style pedals, just like a real acoustic piano. This further adds to the traditional design of the piano, but it does not take away from the refreshing contemporary design of which we are big fans of.
What we like most about the pedal board is that the pedals are made of metal rather than plastic. This gives it a heavier feel as well as a more realistic experience when playing. The fact that you do not have to buy any external pedals is also a major plus as users do not have to dig deeper into their pockets.
The Roland RP-102 will require some assembling when it is first purchased. Users will have to assemble the main keyboard, the rear and side boards, the music rest and the pedal unit. This should not be a daunting task and would take approximately 40 minutes to complete. All you need is a Philips screwdriver and a little bit of time.
Weighing in at 37.8kg, the Roland RP102 is a relatively heavy instrument and as such it would be difficult for one person to move it around by themselves.
Due to the weight of the piano as well as its delicate nature we would recommend getting some assistance when assembling it so as to minimize the risk of damaging the piano. Two people ought to be more than enough to get the job done.
The Roland RP-102 blends into its surrounding thanks to the compact nature of the instrument. It does not take up too much space nor is it a distraction. The instrument neatly fits into smaller spaces.
The design of the Roland RP-102 is kept to a minimum in terms of the different buttons found on the digital piano. Unlike most other digital pianos in this price range, the RP-102 only has four buttons located on the left-hand side of the keyboard.
By having fewer buttons than most other digital pianos, the Roland RP102 does not look cluttered at all and it maintains a minimal look that is quite aesthetically pleasing. After all, less is more.
However, fewer buttons means that navigating through the different options may be a bit tedious. While this would ordinarily be the case with most digital pianos, the Roland RP-102 is not chalk-full of different options to navigate through.
Worth noting is that the Roland RP-102 is available only in black colour finish, a rather popular choice for most pianos. 
Keyboard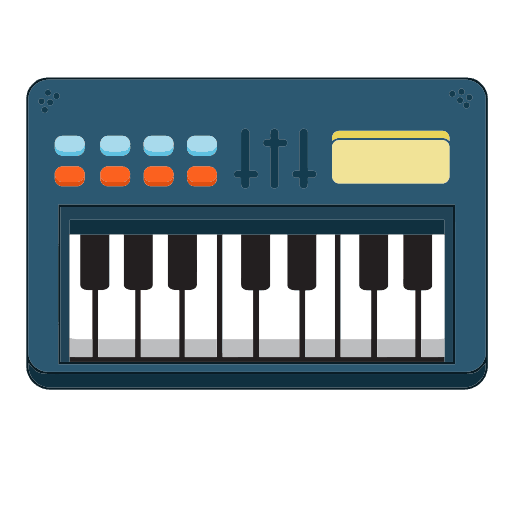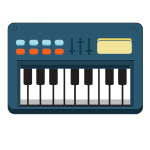 The keyboard is amongst the most important aspects of the digital piano seeing as this is what you would be playing on the most. A poor keyboard will not only affect one's playing ability, but it may further cause you to lose interest in playing.
Luckily for us, Roland are known for their quality build pianos with realistic feel keyboards. As such, they continue with this trend in the RP-102 as the digital piano features an 88-key fully weighted-action keyboard.
Featuring the PHA-4 Standard keyboard, the Roland RP 102 makes use of the weighted hammer system that mimics the feel of a real acoustic piano. This means that Roland employs the use of real hammers in the keys rather than using springs. The use of hammers no doubt adds on to the overall weight of the instrument.
The PHA-4 is a step up from the older PHA-3 keyboards. Roland have improved these so that they do not produce as much noise when they are played. When compared side-by-side to the older PHA keyboards the difference is quite noticeable.
The PHA-4 standard keyboard features the Escapement mechanism. For those unfamiliar, this is the clicking sensation felt on an acoustic piano when the key is pressed half-way down. Escapement action allows for a note to be repeated without fully releasing the key.
The escapement feature may not seem particularly important to some players, but the main take away is the fact that the Roland RP102 is quite realistic in terms of what they keyboard offers.
The keys on the Roland RP-102 are graded and this means that the keys feel progressively heavier on the lower registers, and they get progressively lighter as you move up the keyboard to the higher register notes. This further contributes to the realistic nature of the keys as this feature is found in acoustic pianos.
One important aspect of keyboards that many people overlook is the actual build material of the keys themselves. This is crucial as poor quality material will ultimately affect how you play.
The Roland RP-102 keys are built from ivory simulated material. As opposed to plastic leys, these offer better grip as well as better moisture absorption thus making it less likely for one's fingers to slip. Better grip will allow for one to play with confidence and overall will improve their playing ability.
However, some users have mentioned that the ivory simulated keys have felt a bit too 'grippy' for them and that it took some time to adjust and get used to this sensation. Despite that, this is still not a deal-breaker nevertheless.
Sound


Most users will be paying close attention to the sounds offered when they consider which digital piano to purchase. These in-built sounds and tones will be your main go-to arsenal seeing as not all digital pianos offer customizable sounds.
When it comes to the Roland RP 102, this digital piano offers users some decent sounds and has several options to pick from:
4 Grand piano tones (Mellow, Concert, Bright & Ballad)
2 Organs (Combo jazz, Pipe)
2 Strings (Epic, Symphonic)
2 Electric Pianos (Pop, Tremolo)
Soft Pad
Harpsichord
Celesta
Jazz Scat
The piano tones are sampled from a real concert grand piano. The Concert tone provides a rich tone that is well defined. The samples used by Roland are truly high quality as the tone is resonant and large.
For those who are unfamiliar with the concept of sampling, this is basically when a portion of a recording is reused as a sound or as in instrument. In this instance, the samples used are those of real acoustic grand pianos, amongst others.
While the selection is admittedly somewhat limited in terms of the different options available, we note that the Roland RP-102 was primarily intended to be used mainly as a piano and for this purpose the tones provided are more than adequate.
The high quality nature of the different tones can also be attributed to the use of the Roland SuperNATURAL sound engine. The sound engine makes use of samples and accounts for various aspects of the piano such as timbre variations and overtones. This allows for a richer and more defined sound with greater attention to detail and better quality audio.
Unlike some Roland models such as the FP-90, the RP-102 relies solely on sampling and there are no modeled sounds such as with the former.
All in all, for a digital piano that is aimed at the beginner player the Roland RP-102 has a great overall sound with several interesting and diverse instrument sounds/tones to choose from thus making it unlikely that you'll get bored of playing this instrument any time soon.
Polyphony
Another important aspect of digital pianos is the maximum polyphony available on a particular instrument. When it comes to the Roland RP-102, this particular digital piano features 128-note polyphony.
Polyphony basically describes the number of notes that can be produced at the same time by a digital piano without notes being cut off. While there is no general measurement for how much polyphony you may or may not need, the general rule of thumb is that the higher the polyphony the better.
With that being said, 128-note polyphony will be more than enough for the average piano player, in fact it is highly unlikely that most piano players will get all the way up to 128 notes. As such, it will prove to be adequate when it comes to the needs of the beginner/novice player.
With 128-note polyphony you can be confident of playing the piano without notes cutting off. Not to mention you most probably will not need to purchase a new digital piano even as your playing ability grows and progresses.
People sometimes overlook polyphony but it quite literally affects every area of the digital piano, in terms of sound and playing that is. For instance, when playing along with a backing track the piano will also use polyphony for the backing track. 
Speakers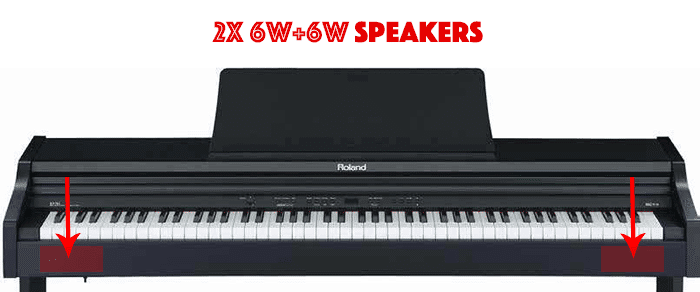 With any decent digital piano you decide to purchase, you're going to want to be sure that the speakers will be powerful and audible enough to suit your needs and requirements. It is important that the audio quality being produced be good enough so that you can accurately listen back to your playing.
The Roland RP-102 has two 12cm speakers located on each side of the piano. These are 2 X 6W speakers and quite frankly they are nothing to write home about. That's not to say they're terrible, but the reality is that they are hardly as powerful or audible enough for anything more than a small intimate performance, or practice session.
An external set of speakers will no doubt be needed to amplify the Roland RP102 during performances, especially if there are other instruments accompanying the piano such as a full band set up. The sound carries itself just fine for small at home practices.
Luckily for users the Roland RP-102 has decent connectivity options which facilitate for easy connection to speakers, monitors, PA systems, amplifiers etc. We shall cover connectivity in-depth later on in this article.
The speakers' lack of power can be attributed to the lower wattage. Despite this, it doesn't mean that the sound quality is bad; it's just not loud enough.
Connectivity
Connectivity is a vital component when it comes to selecting a digital piano that will fit your exact needs. For instance, a music producer looking for a digital piano will want to make sure that it offers MIDI connectivity so they may use it to create music.
Apart from being able to cater to your specific needs, a good digital piano should be able to offer you multiple connectivity options so that you can easily connect to computers, monitors, amplifiers etc.
Taking this into account, the Roland RP 102 offers a several connectivity options that are sufficient to catering to the needs of most users.
Firstly, there are two headphone jacks on the RP-102 that users can connect to. There is the standard ¼" jack and the mini 1/8" jack. Two headphone inputs is advantageous as two people can listen in on the same time without having to use headphone splitter – and let's face it, those are known to sometimes degrade sound quality.
Furthermore, the two different inputs mean that users don't need adapters when using headphones with different plugs. You could also connect your digital piano to an external device using either of these two ports, you simply need the appropriate cable. So all in all, it's a big win-win.
Moving on to the other options, there are two USB ports. The first one is the USB type B port located on the rear panel of the Roland RP102. This port is predominantly used to connect your digital piano to your computer and it allows for the transfer of MIDI date.
In order to connect the Roland RP-102 to your computer via the USB type B port you will have to purchase am A-to-B USB cable as they do not come with the digital piano. They are however very common and inexpensive.
Once connected, you can use a variety of music making apps and programs to record and create interesting music. For this reason, MIDI connectivity is quite important for anyone that seriously wants to create and record music.
Also found on the rear panel is a USB Type A port. However, this is used only for firmware updates to the Roland RP 102. Unlike some other medals, you cannot play back audio from external flash drives, nor record directly on to them.
The Roland RP-102 also has Bluetooth connectivity. The best part about this is that you do not need any additional cables, just a compatible device. This ultimately negates the use of cables. Once connected via Bluetooth, users can create and practice music via any MIDI compatible app.
Features
Modes
As we have already seen from some Roland digital pianos such as the FP-90, it has become common practice to include a variety of different modes when crafting these instruments. After all, with changes in the industry it only makes sense for manufacturers to find new and exciting additions to their instruments.
In this section we explore the various modes found in the Roland RP-102 and we take a look at what's so great about them. Technically, there are two modes on the RP-102:
Dual Mode (Layering)
Duet play
When it comes to the Dual Mode (Layering) feature, users are able to stack, or layer, two instrument sounds that will play simultaneously when the user hits a key.
Users can stack a piano sound and a string sound and create interesting tones and sounds. There is plenty of room for experimentation and this mode guarantees that you will not end up bored.
The Duet Play mode is another fun and interesting feature of the Roland RP-102 digital piano. Also referred to as Twin Piano mode, when this mode is selected the keyboard splits into two identical halves with each one have its own middle C as well as the same pitch range as the other.
This feature is particularly handy when it comes to piano lessons as the teacher can sit and play side by side with the student without having to make use of a second piano. It also makes jam sessions much more fun as two people can play at the same time.
The duet play feature is great when you are limited in terms of space seeing as two people can jam out on one instrument.
Piano Partner 2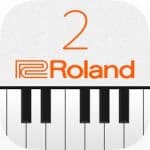 Roland has developed a rather handy and neat application by the name Piano Partner 2. This app is an interactive way to learn music as well as change certain settings and parameters within the Roland RP-102.
Where the Roland RP-102 may lack or fall short, the Piano Partner 2 app makes up for this. For instance, when dual mode is selected it is not possible for users to change the volume balance between the two instruments via the piano itself. However, this can be done through the Piano Partner 2 app.
While this is not a feature directly included in the Roland RP-102, it is nevertheless makes life much easier given the fact that it opens up a whole world of possibilities for the user. As such, we highly recommend it.
Transposing, Octave shifting & Tuning
With an in-built Transpose function, users can easily shift the pitch of the Roland RP-102 up and down in semi-tone steps. While not a revolutionary function, it facilitates the user with the ability of being able to play a song in a different key without having to move the position of their fingers.
This is a particularly helpful feature of beginner players as it will help in experimenting.
Another feature located on the Roland RP-102 is the Master Tuning function whereby users can change the pitch of the piano. Usually in the default A440 tuning, users can change this in 0.1Hz steps so as to match the pitch of another instrument, or just to experiment and try out different ideas.
Metronome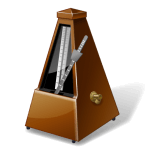 Most digital pianos are loaded with a lot of different useful functions. One such function is that of a Metronome.
Simply put, a metronome is a device that helps the player stay on tempo, or in count, by providing them with a basic click track, or a guide, in which they follow as they play along. All one needs to do is to set the BPM (beats per minute) that they want to follow/play along to.
Recording and Playback
As the requirements of users have grown and evolved over the years, so have the capabilities of the digital pianos that are present in the modern day music market. One such development is the ability to record directly onto your piano and store the data in its memory.
Some digital pianos only have MIDI recording whereby others only have WAV recording options. Some digital pianos offer both these options while some do not offer any sort of recording option.
Despite all its positives, the Roland RP-102 does not offer recording options in regards to MIDI or WAV. However, users can nevertheless count on the Piano Partner 2 app when it comes to this little bump in the road and the app can be used for recording purposes.
Users can also record directly to their computer by way of utilizing the MIDI connectivity options that we have discussed earlier in this article.
Nevertheless, we must admit that it is a bit of a disappointment that this feature is lacking given how convenient it can be when you need to quickly jot down ideas so you don't forget them, not to mention the price tag of the digital piano itself.
In terms of playback, the Roland RP-102 unfortunately does not allow users to playback songs via USB as we have seen in some Roland piano models. However, the Roland RP-102 has an extensive sound library with 200+ songs that users can pick to play along to and learn from.
Accessories
Pedal
As we have already mentioned in the design section of this review, the Roland RP-102 comes with its own in-built pedal board as part of the cabinet style piano set up of the RP-102 digital piano.
This essentially means that users do not have to spend any extra money on an external pedal board, seeing as this comes with the digital piano itself.
The pedal unit mimics that found on an acoustic piano whereby they are the Damper (Pedal switch, capable of half pedal detection), Soft and Sostenuto pedals.
Built of metal material, these pedals feel firm and sturdy as opposed to filmsy plastic builds that can easily break after extensive usage. The metal material closely mimics the feel and comfort you get when playing an acoustic piano and using its pedals.
So all in all, you get a great quality pedal unit at no extra cost.
Headphones
As with most digital pianos on the market, the Roland RP-102 does not include headphones as part of the purchase. However, there are many inexpensive options that would be available for purchase:
Usually when it comes to headphones most users will pick them depending on their particular needs and requirements. For example, a hobbyist will not buy the same pair of headphones as a sound engineer as they will have very different needs; one simple wants to hear music while the other needs to close attention to detail of what they're listening to.
With that being said, it is quite notable that Roland are giving away a FREE pair of headphones witch purchase of the Roland RP-102. More details on this amazing offer can be found here.
Summary
Pros
With a neat and compact finish, the Roland RP-102 is the perfect choice for the dedicated entry level player. The clean design means that users will not be distracted by a cluttered appearance and can easily navigate through the different settings.
The cabinet style piano stand has a contemporary look and finish that accentuates any room. In simple terms, it has an old school look with a new-age feel.
The ability to use Piano Partner 2 in conjunction with the Roland RP-102 is a massive advantage as users can learn new songs, as well as record their own compositions.
The Roland RP-102 comes with over 200 in-built songs that users can play along to and learn from. This is perfect for beginners and entry level players they won't have to struggle when it comes to learning.
Cons
The lack of an in-built recording mechanism is a big disappointment. While there are other avenues of being able to record, the truth is an in-built recording feature is extremely convenient and saves on time.
The speakers on the RP-102

are nothing to write home about given the fact that they are not as powerful as we would like.

The Roland RP-102

falls short in terms of features and customizable sounds and options. While one can rely on the Piano Partner 2 app in terms of making some changes, it would be more convenient if these could be done directly from the digital piano itself.
Final Verdict
Playability: 9/10
Ease of Use: 8/10
Value for Money: 6/10
Features: 5/10
Sound Quality: 8/10
Design: 10/10
Overall score: 7.6/10
Alternatives
The Roland FP-30 is quite similar to the RP-102 save for a few differences such as the fact that the latter is not a cabinet style digital piano. They however share the same sound source and in terms of features the Roland FP-30 has significantly more options than the RP-102. Furthermore, the speakers on the FP-30 are much more powerful than the RP-102 speakers.
However, the FP-30 does not have a piano stand nor does it come with a triple pedal unit. Purchasing these to the same standard as the RP-102 will set you back a pretty penny.
With a cabinet style design and a built in triple pedal unit, the PX-870 from Casio is a worthwhile alternative worth considering. With 256 note polyphony and built in recording options (both WAV and MIDI) the PX-870 gives the RP-102 a run for its money as they are both within the same price range.
The PX-870 is not geared towards the entry level player and as such they may end up being overwhelmed by all the different functions and features. The key action on the PX-870 is also noticeably louder than that on the Roland RP-102.