The 80s were a decade where rock music came into its own in terms of originality and creativity. Metal music made a particular appearance then, and the surge in this new kind of music was led by Metallica. They are easily the biggest metal band of all time and have had massive commercial success throughout the 20th century. They've also managed to stay relevant to this day as we travel through the 21st century.
Many people associate the genius of Metallica to James Hetfield and Lars Ulrich, but Kirk Hamett is a very important part of why the band has been so successful. If it weren't for his guitar contributions then the band would not have looked the way it does today. Although he isn't an original lead guitarist for the band, he stepped in when Dave Mustaine left. His ability to perform and the way Kirk played music makes him a prominent and recognized musician.
Kirk Hammett's Guitars
Kirk Hammet is mainly known for play ESP LTD guitars. He also owns an infamous 1959 Gibson Les Paul Standard which he affectionately calls Greeny. This piece was owned by Peter Green and then Gary Moore before Kirk got his hands on it.
Thrown into the mix of Kirk Hammett guitars are some Gibson and Jackson models but he is almost an exclusive player of ESP guitars. He partnered with the brand in the early 90s. We've made a full list of Metallica's Kirk Hammett guitars below.
ESP MM-270 aka Zorlac
Years used – 1986 to Unknown

Shortly after Kirk had reached stardom as part of Metallica, he started to use ESP guitars almost entirely. Somewhere around 1986 he received his first ever ESP which was the MM-270 model. This was a Super Strat sort of guitar that had active EMG pickups, the 81 and 60 humbucker models. It was the first time Kirk would ever partner with the brand to make signature ESP guitar models.
The original headstock of this guitar resembled that of Jackson guitars. To stop any lawsuits coming their way they decided to flip it for a new feel. The guitar is known as the Zorlac thanks to the sticker on the body. Another recognizable part of the piece is the design of the inlay which pictures a skull and bones. This guitar would serve as Kirk's base for his signature models and it became very popular over the following years.
Zorlac was well known for being Kirk's go-to in the studio when the recordings for And Justice For All were made. It was also captured on the DVD recorded concert, the first for Metallica, called Live Shit: Binge & Purge which was recorded in Seattle, Washington. From this point forwards Zorlac has been the guitar that is most commonly associated with Kirk Hammett during his live performances.
ESP MM-290 aka Caution Hot aka Skull & Crossbones II
Years used – 1991 to Present

The MM-290 ESP model became known as the Cautio Hot guitar thanks to the sticker on the body. However, other fans also referred to it as the Skull & Crossbones II. If you look closely at the neck pickup, you will see a small sticker that says Kirk's Guitar.
We believe that Kirk received this guitar somewhere around the recording of the Black Album but the exact year isn't known. It's a Kirk Hammett signature that is still used to this say. It has an alder body and has been equipped with those humbucker ESP pickups along with a Floyd Rose bridge.
1959 Gibson Les Paul Standard aka Greeny
Years used – 2014 to Present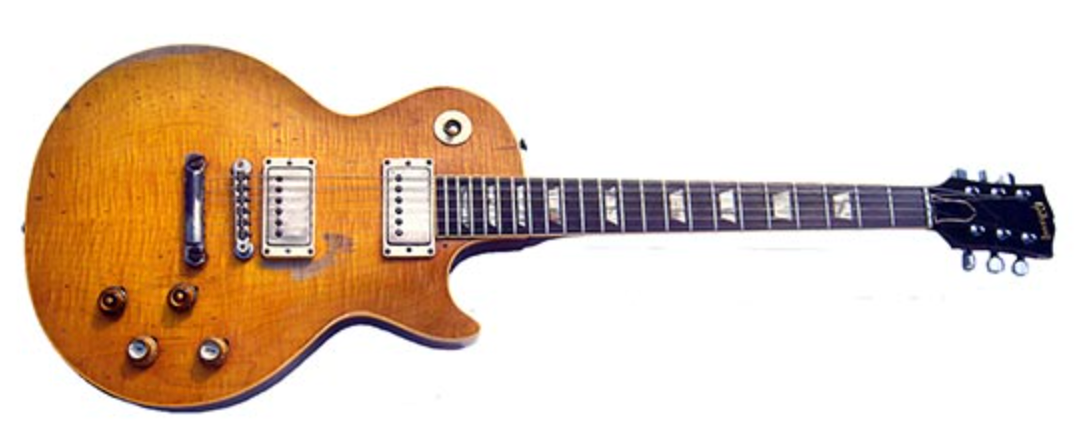 There is no doubt the in the guitar world of Kirk Hammett, the 1959 Gibson Les Paul Standard is his most prize possession of all time. It is often referred to as the Holy Grail of guitars and was made in 1959. Having previously been owned by Gary Moore and Peter Green, it has a long history of working with lead guitarist legends.
One of the most known traits of this instrument is the factory error which ended up giving the guitar its tone. Another theory is that the tone change could have resulted from Peter Green making some modifications when he owned it. Regardless of what made the sound, you can hear this unique instrument being used in the early days of Fleetwood Mac too.
The history of the guitar continued when Gary Moore bought it from Gren for $300 which was the original price it was purchased for. Moore had to sell it on in 2006 and it is believed that th price was somewhere between $750,000 and $1,200,000. That's a big difference!
The guitar would continue to circulate amongst various collectors for eight more years before Kirk Hammett purchased it in 2014. It was reported that Hemmett paid around $2,000,000 for it. It was an important piece in rock and roll history and it was about to start another chapter as it was used on the Hardwired… to Self Destruct album from Metallica in 2016. Kirk still uses it for live performances even now, especially when covering the Thin Lizzy song titled Whiskey int he Jar along with Fade to Black.
ESP LTD KH WZ
Years used – 2013 to Present

The graphics that are featured on this guitar are completely customized to be from an old-school horror film called White Zombie which was directed by Victor Halperin in 1932. There are lot of features similar to the other ESP models Kirk uses but this is the one that is officially and ESP LTD instrument.
ESP KH-3 M-II aka The Mummy
Years used – 1996 to Present

Out of all the guitars that Kirk Hammett uses, The Mummy is probably one of his most favorite pieces. It is an ESP version of one of his signature models and you can recognize it instantly by the finish. Kirk is a massive fan of horror movies and he wanted a guitar that had images inspired by the 1932 movie, The Mummy which starred Boris Karloff. He got the guitar in 1996 before he went to the studio for the Load sessions with Metallica. The guitar is still used to this day and there is a rumour that he also owns the right to the graphics.
What makes the piece so cool is the design and the EMG pickups which are 81 and 60 humbuckers. It has a neck-thru style and has some of the standard features that appeared on the signature models from Hammett. It's definitely one of the more legendary pieces he has in his collection.
ESP KH-2 aka Purple Sparkle
Years used – 2019 to Present

One of the more recent additions to the Kirk Hammett signature models released by ESP LTD is the purple sparkle. It feels like it's a little bit out of place with the other guitar's in the collection because they normally have horror styled finishes. This new style of finish is still killer and it's more than likely going to stay a part of his guitar gear for a while. You can see him play this specific KH-2 during live concerts.
ESP KH-2 M-II aka Ouija
Years used – 1983 to Present
Another guitar in Hammett's collection that has some horror inspiration behind it is Ouija, otherwise known as an ESP KH-2 guitar. On the front of the guitar are some ouija board graphics and the features are what you would expect from this model. Most notably on the ESP KH-2 are the 60 and 81 humbuckers along with a Floyd Rose bridge. During live shows Kirk uses this a lot and it's a favorite amongst fans.
ESP LTD KH aka Demonology
Years used – 2018 to Present
Even though this isn't directly related to a horror movie there is still some spooky inspiration going on with the Demonology guitar. Kirk Hammett added this to his lineup and it sports different symbols all over the black body along with the skull and crossbones inlays. It comes with your standard KH guitar specs.
ESP KH-2 M-II aka Frankenstein
Years used – 2000 to Present
Along with all of his other horror themed guitars is an ESP KH-2 that has a Frankenstein finished. There are more than likely three of these guitars in pink, green and red that were specially designed for Hammett that all have the custom graphic of Frankenstein on the front. There is also a caption that glows in the dark that says 'Warning! The monster is loose!' which appears over the fretboard.
ESP KH-2 M-II aka Dracula
Years used – 2010 to Present

We all know how much Kirk loves classic horror movies so it's no surprise that he owns a Kirk Hammett signature guitar with a Dracula theme. The finish is based on the movie from 1931 that starred Bela Lugosi. Along with the finish it also has some unique bat and cross inlays. It's another ESP custom shop model that is made to Kirk Hammett's specific style.
ESP KH-2 M-II aka Bride of Frankenstein
Years used – 2000 to Present
Whenever Frankenstein is around there will always have to be his bride to go along with him. Although we don't have an image for this guitar, it has a custom finish which shows the promo material that was done for the 1935 Bride of Frankenstein film. Other than the custom graphics you will see the standard elements such as the Floyd Rose tremolo bridge, EMG pickups and the 61 and 80 humbuckers.
ESP KH-2 M-II aka Greenburst
Years used – 2012 to Present

Coming in with a custom green sunburst finish, this is yet another M-II model. According to the tech who works with Kirk, he wanted the finish to match up with his signature Dunlop Cry Baby wah pedal. The guitar features six strings along with EMG humbucker pickups and the same Floyd Rose bridge as we see on many of his guitars.
ESP KH-3 aka Spider
Years used – 2022 to Present

One of the latest editions to the guitar collector arsenal that is Kirk Hammett's collection is this Les Paul style ESP KH-3 model. It stands out because it's not the typical super strat design we are used to seeing Kirk play. Instead, it is single cut and features a bright green spider with a skull on the black body. The inlays are the skull and crossbones which are typical for Kirk's guitars and they appear from the 12th to 22nd frets. On the 1st to the 9th frets there are spider inlays.
1970s Gibson Flying V
Years used – 1976 to 1989

Before Kirk Hammett joined forces with Metallica he was one of the founding members of a band called Exodus that helped pioneer what we now know to be thrash metal. During his time with the band he would use a Gibson Flying V guitar which was made in the 70s. This guitar saw a lot of action during his early career, including with Metallica during the 80s both in the studio and during live performances. Towards the end of the 80s this model was modified to feature EMG pickups along with a rare Leo uan BadAss bridge.
Jackson Flying V Randy Rhoads Model
Years used – 1983 to Present

A guitar that is one of the longest lasting in Hammett's collection is the Jackson Flying V Randy Rhoads piece. He got it just after he had recorded the debut album with Metallica calls Kill 'Em All and he has used it ever since. The guitar was used during the recording sessions for Master of Puppets too, with rumours that this was the instrument that recorded most of the tracks heard on that album. You will also see Kirk playing guitar live with this model quite often.
Gibson Les Paul Custom Black
Years used – 1986 to 2004

It's not a common thing for a thrash metal guitarist to use a classic Gibson guitar but Kirk started using this Les Paul Custom in the late 80s. Even though it was a Gibson model it has EMG pickups along with a tune-0-matic bridge and some locking tuning machines which are made by Sprezel. Other than these specs the guitar came with the classic looks that you would expect from a Les Paul Custom piece. The guitar was part of Kirk's rig until around 2008, being used most notably in performances of fade to Black, the band's most famous power ballad.
ESP KH-1 Flying V
Years used – 1997 to Present

Hammett already had a Gibson Flying V in his collection but in 1997 ESP released their own replicas of these models under the Flying V name. Just like the originals, they had ESP active pickups and the 81 and 60 humbuckers which are the usual modifications Hammett makes to his guitars. Kirk has three of these in his collection in total, each with slightly different specs. The one he uses the most has a tune-o-matic bridge and Gotoh tuners.
Fernandez Stratocaster
Years used – 1983 to Unknown

In the early 80s Kirk got his hands on a Fernandes Stratocaster. These were popular instruments at the time and he used it in the early days of Metallica. It looks like the instrument was modified to feature new pickups along with a Floyd Rose tremolo bridge. You can see Kirk using this guitar during the Ride the Lightning tour.
ESP KH-DC STBC
Years used – 2011 to Present
This is one that sticks out in Kirk's collection because it's not a model we would typically associate with him. He was seen to use green and red versions of this guitar so we assume he has a few in his collection. Designed to be a double-cutaway guitar, it has a mahogany body and a set-neck construction. The top is crafted from maple which gives it a more stylish appearance. It resembles a vintage Les Paul and would be what we have come to expect from blues and jazz instruments.
Epiphone Limited Edition Matt Heafy Les Paul Custom
Years used – 2014 to Present

Another part of Kirk Hammett's guitar collection is this piece which was gifted to him by Matt Heafy from Trivium. While it's typically the older generation of guitar players that hand down their instruments, this story works the other way round. Most of the features come from Les Paul Custom guitars such as the mahogany body and a scale length measuring 24.75″. The inlays are pearl and it also has some great looking binding. The pickups used on this guitar were a pair of 81 and 85's but we're unsure whether Kirk swapped these out. He can be seen playing this guitar live in performances of Fade to Black.
Martin D-28
Years used – 1992 to Present

We don't know much about the acoustic guitars that Hammett uses because, let's face it, acoustic guitars aren't very metal. However, he can be seen playing a Martin D-28 guitar on a few different occasions, although these have been few and far between.
Fender Acoustasonic Stratocaster
Years used – 2020 to Present

When the Fender Acoustasonics were released they were a massive breakthrough for guitar players. If you caught any of the pay-per-view performances by Metallica back in 2020 you will see Kirk use one of these models. It's your typical hybrid of an acoustic and electric guitar which we expect will keep popping up in the future in this guitarists hands.
Kirk Hammett's Amps
Marshall JCM 800 2203
Years used – 1983 to Present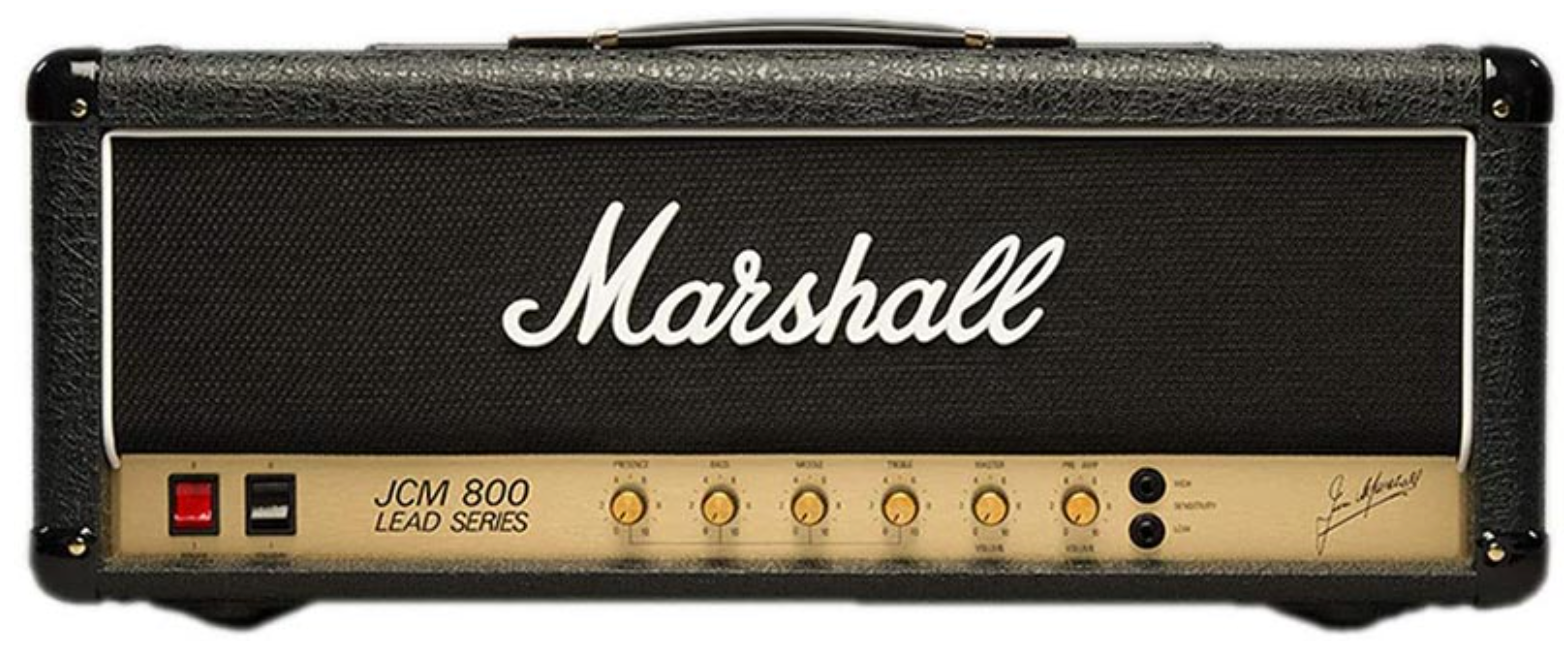 Because Kirk Hammett is a metal guitar player it will come as no surprise that he uses a Marshall amp. It became part of his rig in the 80s. The model is a 2203 which has a 100 watt head and a single-channel to produce a clean tone. It can distort well when you push the preamp controls up to high. It has been popularly paired with a distortion pedal and a overdrive, usually the Ibanez Tube Screamer.
Marshall 1959 SLP
Years used – 1983 to Unknown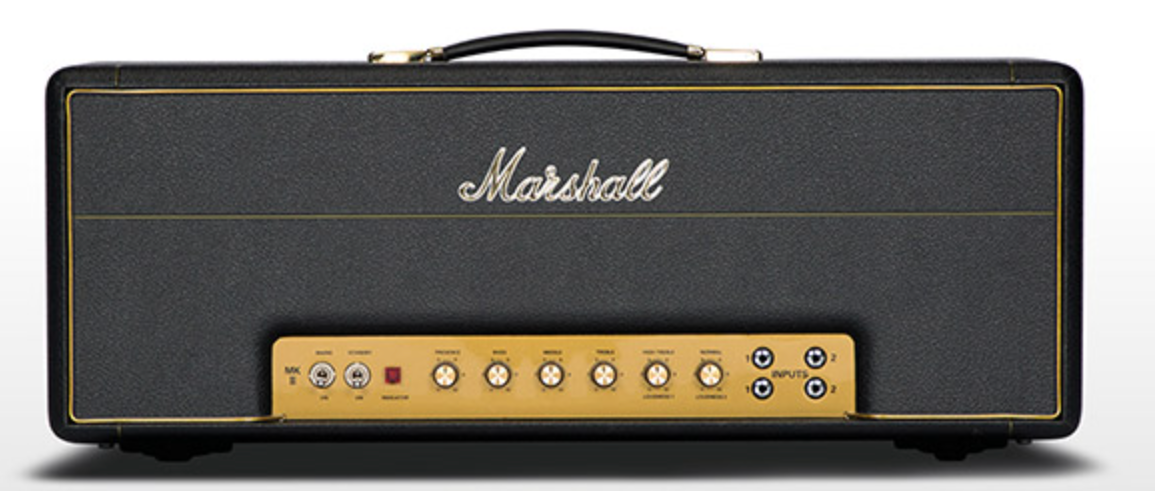 For old school lovers of metal, there's nothing that can create the sound of the genre more than a Marshall amp. Another amp that Kirk uses from the company is the 1959 SLP Super Lead. It is a 100 watt amp that was used to create the tone you here on Kill 'Em All. The original amp belonged to James Hetfield and was modified by Jose Arrendondo. This was when the band was first starting out and didn't have the funds to buy more than one amp so they all had to share the same one. The model has two channels and has four EL34 tubes that powers it. The amp was also used on the album Ride the Lightning along with And Justice For All.
Mesa Boogie Mark IIC+
Years used – 1983 to Present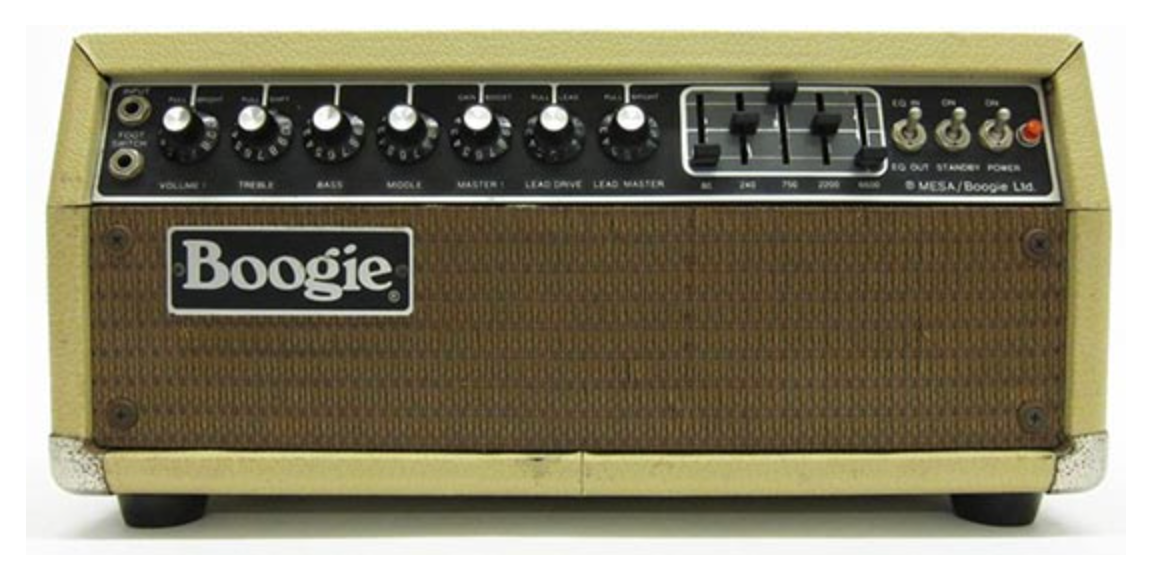 While Marshall amps have served Hammett very well over the years, he also has used Mesa Boogie amps which made their way into his rig in the 80s. The Mesa Boogie Mark IIC+ model is incredibly versatile and allows metal guitarists like James and Kirk to get that tightness needed in their tone.
This particular amp was most notably used during the recording of the Master of Puppets album. It was odd for the band and the producer to want to switch from their standard Marshal models but it was this Mesa amp that helped them record the album, plus appeared for live shows too.
Kirk Hammett's Effects and Pedals
Ibanez Tube Screamer TS-9
Years used – 1983 to Present
Kirk used the classic Tube Screamer and Marshall combination for most of his career. The TS-9 is common in the metal genre and Hammett began using it back in the 80s. He has continued to use it on and off for live shows and more than likely for recording sessions as well. It's a great sounding overdrive pedal and pairing with with a Marshall amp results in some pretty iconic tones.
Dunlop KH95 Cry Baby
Years used – 2013 to Present
At the moment this pedal is probably the most famous in Kirk's collection. It's a wah pedal that is part of his signature Dunlop Cry baby line. When Kirk was recording the Black Album and going on tour, he teamed with the Dunlop brand to make a rack-mounted wah unit that would have different control pedals placed around the stage. He would use the DCR-1SR from Dunlop for a while before his KH95 was created. It has some great characteristics in terms of sound and also is really cool looking as well.
KHDK Kirk Hammett Ghoul Screamer Overdrive
Years used – 2013 to Present
In 2013 Kirk finally turned his hand to making his own pedals. The KHDK brand features a load of different models, but it's the Ghoul Screamer Overdrive that has found its way into Kirk's own rig. It comes with three standard controls for the drive, tone and volume. Along with this there are four more switches which help you to achieve those tighter tones needed for heavy music. It's pretty much like Kirk having his own custom Tube Screamer TS808 pedal.
Conclusion
Kirk Hammett has been able to achieve stardom through his work in both Exodus and Metallica. After years of being the underdog, he's finally reached the Rock N' Roll Hall of Fame and made himself known for the way he plays metal guitar. It's arguable that he has written some of the most iconic riffs to ever exist in music history.
Noone can argue that Hammett is a key figure in what metal music is today and he set the scene for some of the most hard-core thrash anthems. He's more than just a guitar hero – he's been able to leave his mark through riffs featured on Master of Puppets and Enter Sandman. It's hard to imagine what the genre of metal would be without Hammett and his unique playing style. Long may he continue.
FAQs
What kind of guitar does James Hetfield play?
James Hetfield is known for using some of the best guitars for metal to create his signature sound. We have a full guide on his extensive guitar collection here on our website so make sure to check it out.
What kind of acoustic guitar does Kirk Hammett play?
Hammett is known for playing both a Martin D-28 acoustic guitar and a Fender Acoustasonic Stratocaster, with the latter only being used as recently as 2020.