The Yamaha DGX 660 digital piano is a premium grand piano, exquisitely designed to replicate the sound of an acoustic piano with a very strong body build, robust construction and many great features for better performance, fun, and learning. This model of digital piano from Yamaha is widely used, and it's the most promising and durable.
It has a high-quality, grand piano sounds with other instrument sound, and it is preferred because of its wireless compatibility. It happens to be an advanced version of the Yamaha DGX-650 with additional features.
This piano features 88-keys, fully-weighted keyboard with Graded Hammer Standard (GHS) action. It has dimensions of 55 × 17.5 × 5.7 inches, and weighs 46lbs (21kg), without the stand. Although, it is bulky and heavy, yet it offers more interesting features than other digital pianos. It is an entertainment/learning center, a little studio, and can be used for music making. 
With 192-note polyphony, you should expect a great feel on your fingertips. It also comes with an Intelligent Acoustic Control (IAC) that adjust the settings to give a balanced sound. If you are an experienced pianist and want to purchase this highly recommended digital piano, you should first consider the detailed information about the functionality, features, and product specifications.
To make things easier for you, this Yamaha DGX-660 review will highlight the amazing features of this instrument with its specification, design, quality, and functions.
Now, let's see what this keyboard is made of, and why it is so outstanding.
Yamaha DGX 660 Specs & Features
Weight – 46lbs. 5oz. (21kg)
Dimension – 55 × 17.5 × 5.7 inches (1,397 × 445 × 146mm)
Number of keys – 88 keys
Type of keyboard – Graded Hammer Standard (GHS) action keyboard with matte black key tops
Keyboard Response – Touch sensitive with soft, hard, fixed, and medium settings

 

Display – 320 × 240 monochrome LCD screen with display functions
Panel language – English

 

Sound – Pure CF Sound Engine
Number of polyphony – 192-notes
Built-in sounds – 554 built-in sounds (Panel: 151; Drum kits: 15; XGlite: 388)
Preset Styles – 205
Preset songs – 100
Preset number of voices – 151 + 15 Drum/SFX kits + 388 XGlite
Featured voices – 1 Natural, 10 live, 11 sweet, and 7 cool voices
Recording – 5 songs
Number of tracks – 6 tracks
Data capacity – Approx. 30,000 notes for 1 user song.
Modes – Split and Dual mode

 

Effects – Reverb: 41; Chorus: 44 types; Harmony: 26 types; DSP: 237 types; Master Equalizer: 5
Extra feature: Yamaha Education Suite (Y.E.S.)
Recorder – 6-tracks with 5 songs; Audio recorder (USB): WAV
Overall controls – Tempo range, Transpose, Metronome, Fine-tuning
Other controllers – Pitch Bend
Amplifier – 6W × 2
Speakers – 12cm × 2 + 5cm ×2
Connectivity – Headphones jack, USB-to-Host, Mic In, Pedal jack, USB-to-Device, Aux In, Sustain jack
Power supply – Adaptor (PA-150)
Power consumption – 13W
Power button – Auto power off function

 

Warranty – 3 years manufacturer's warranty
DESIGN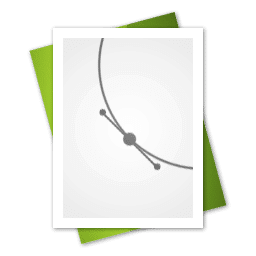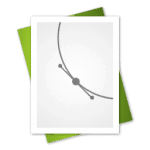 The Yamaha DGX 660 belongs to the P-series, Grand Piano line, but it is bigger and heavier than other models of the digital piano. It has dimensions of 55 inches wide, 5.7 inches high, and a depth of 17.5 inches. 
The height of this keyboard is the standard for an average 88-keys piano, and its dimension makes it bulkier than other alternative keyboards such as Casio CGP700 or Yamaha P-115. It also has a weight of 46lbs (21kg), and comes with a matching stand.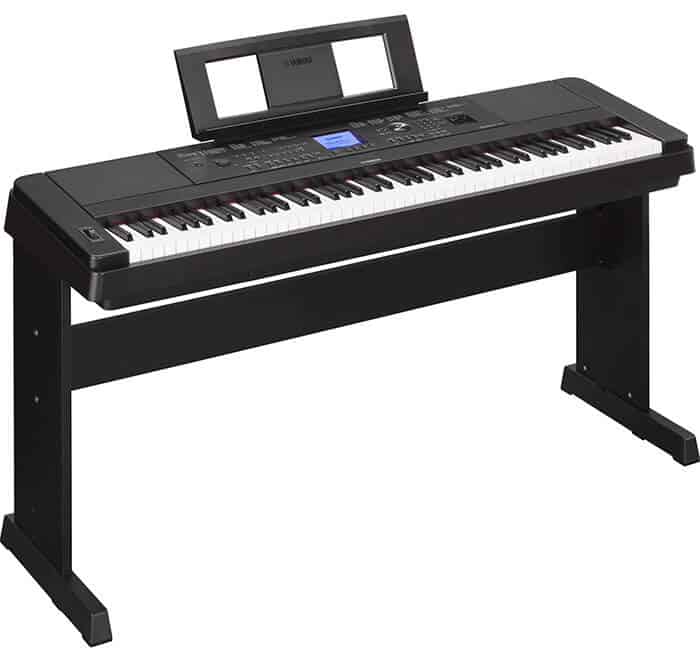 A sturdy and well-built stand accompanies the Yamaha DGX 660, designed to support the piano perfectly. Due to its weight, it is difficult to be transported more often. If you need a similar keyboard that you can move around, consider the Casio CGP700 with a compact design but similar features as the Yamaha DGX 660. 
This digital piano also has wooden side panels and a stand, available in white and black color options. There are several buttons on this instruments user interface which include sound, features, bells, whistles, and music style buttons, which enables the user to access the functions/settings with few taps on the keyboard.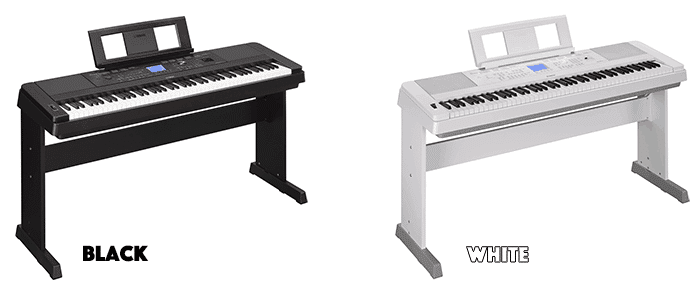 The DGX660 digital piano is user-friendly with an LCD screen. This screen displays the scores, lyrics of songs, and the current setting on the keyboard. 
With the Lesson function on the piano, you will see the notes played, and the ones to be played on the virtual keyboard.
There is also a dedicated button for pianists, designed by Yamaha for a function known as the Piano Room. Once you press this button, the default settings required for the instrument to perform well, will be activated. This is extremely convenient as it does not consider the settings made on the panel.
KEYBOARD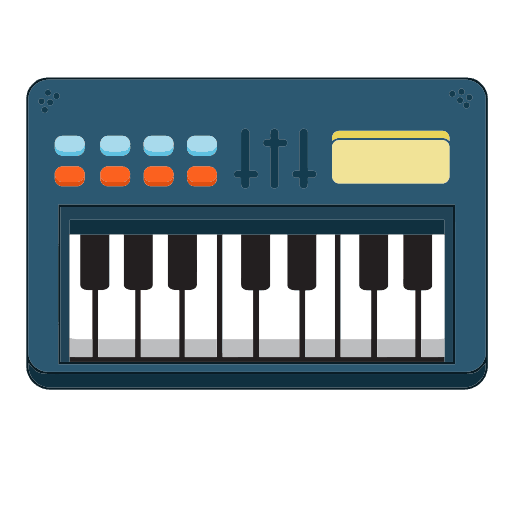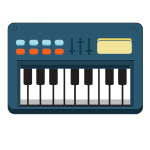 The Yamaha DGX-660 has a plastic, touch-sensitive, 88-keys, fully-weighted keyboard with Graded Hammer Standard (GHS) action, which is also applicable to Yamaha P115 and P45 digital pianos.
This keyboard action means that, the key uses graded hammers to give the acoustic piano feel which explains why the low range of the keys has a heavier touch, while the higher range has a lighter touch. This helps to develop strength on the fingers and good techniques needed for effective performance on a grand piano.
The touch-sensitivity of this piano's keyboard means that, the sound increases with an increase in the velocity used to strike the keys. This gives the player a total control over expression and dynamics. 
You can adjust the keyboard sensitivity with four preset settings to suit your style of play. The preset settings include: hard, medium, soft, and fixed settings. Selecting the "Fixed" setting will produce the same volume regardless of how the keys are played. This will neutralize the keyboard's sensitivity. 
Also, the black keys matte finish and the white keys glossy finish, will prevent slipping of the fingers when they are wet due to long playing sessions.
SOUND


This piano uses Pure CF Sound Engine which is the same source of sound applicable to the Yamaha P255 and P115.
This Pure CF Sound Engine is responsible for the sound recorded on the Yamaha CFIIIS Full Concert grand piano. There are a total of 10 piano sounds and hundreds of piano sounds that makes creativity possible in the Yamaha DGX-660 digital piano.
The 554 instrument sound that comes with the DGX-660 include: 
10 piano sounds such as Natural, Live, Warm Grand, Grand, Studio Grand, Pop Grand
12 Electric pianos
5 Accordions
14 Guitars
14 Saxophones
14 Organs
9 Trumpets

 

16 Strings

 

9 Bass Guitars
Brasses, drum kits, synths, flutes, and several other sounds are also included. This keyboard has sophisticated sound effects library that can be used by a pianist to produce a unique and interesting performance.
41 Reverb types that simulate the acoustics of different environments with various concert halls, stages, rooms, and other reverbs including basement, club, canyon, tunnel, and others.

 

44 chorus types that will give a thicker and richer sound, simulating the timing variations and pitch, to produce sound that appears to come from several players performing at the same time.
26 harmony effect types for better performance.
A Pitch Bend wheel is also included in the Yamaha DGX 660 digital piano, which allows interesting effects such as vibrato, guitar, and choking, to be produced by pitch bending, while the keyboard is played. The sound can be adjusted to a unique level with the 5 Master Equalizer (EQ) types which are: piano, bright, soft, normal, and powerful.
The sound can be customized and transformed with Digital Signal Processing using more than 230 sound effects which may include choruses, distortions, reverb, echoes, and others.
Polyphony
The number of polyphony on the DGX 660 piano is 192-notes, and it is more than that of the DGX-650 which has 128-notes. This means that, multiple sounds can be played and layered freely. Also, accompaniment styles and backing tracks can be used without the notes dropping out.
Speakers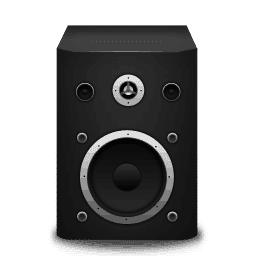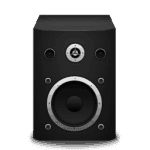 There are two 6W amplifiers and built-in speakers of 12cm × 2 + 5cm × 2, producing a good sound in the DGX-660 digital piano. The bare-faced speakers directs sound towards the player, thus giving a clear and wonderful experience.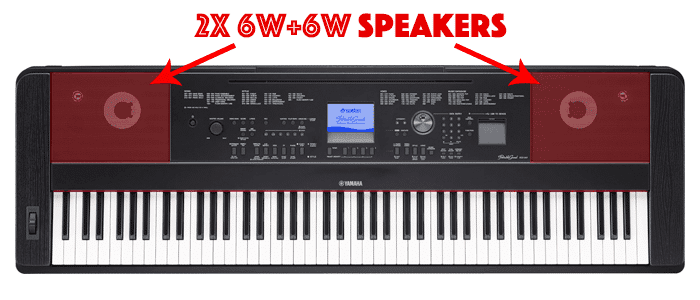 This piano also has the Intelligent Acoustic Control (IAC) function that helps improve the quality of sound, and adjust the frequencies of the tremble and bass to give a clear sound at a reduced volume level. 
The speakers embedded in this piano are suitable for small performances and home practice. Moreover, if you need a powerful sound for a bigger performance, you can connect an amplifier to the digital piano.
FEATURES
This keyboard has all the relevant and important features to give a real piano experience, and it is equipped with outstanding qualities that can only be found on customized keyboards. It has a "Piano Room" function which makes it possible for pianists to navigate some features easily.
A separate button is dedicated to this function, thereby making it easier for the Grand Piano tone to be selected, and the default settings which gives the real piano experience will also be activated once the button is pressed.
The settings on the piano can be changed at anytime to suit your needs, and there are four piano types you can select. They include: Grand, Honky Tonk, Pop, Warm Grand. The position of the lid can be changed so that the effects of sound could be achieved. 
There are other parameters which can be configured in the Piano Room. They include: 
Reverb: Recital Hall, Stage, Room, Concert Hall
Damper resonance
3 levels of touch-response
Tuning by pitch adjustment in steps of 1Hz.
MODES
This piano offers two modes which can be used to play two instrument sounds at the same time. There are the split mode and the Dual (layering) mode. 
With the split mode, the keyboard can be divided into 2 sections for assigning different instrument sounds; the piano assigned to the right, and the drums to the left. You can split any sound you may wish to, and also adjust the split point. 
The Layering mode allows the layering of two sounds to give a sound output simultaneously over the whole keyboard range. This means that, with the layering mode, you can combine an electric piano with harpsichord. There are more than 500 pre-installed sounds which can give a player enough opportunity for creativity.
Transpose and Fine-tuning
The transpose or fine-tuning function of the DGX 660 can be used to adjust the keyboard pitch. With the transpose function, you can shift the keyboard pitch in semitone steps. That is, songs written in difficult keys can be facilitated, or you can use a different key to play music without changing the keys you are using. 
The fine-tuning function can be used to adjust the keyboard pitch in 1Hz steps.
Recording/Playback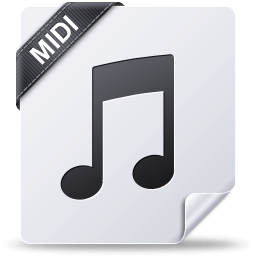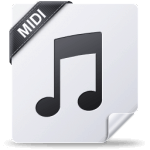 Yamaha DGX-660 digital piano works with the MIDI and Audio data. Play performance can be recorded and played back in both audio (WAV) and MIDI (SMF). The piano's internal memory can be used to playback audio and MIDI files gotten from the web, or you can playback from a flash drive.
The MIDI data which comprises of the velocity, length, and sequence of notes may be recorded and played back on the keyboard, or computer using a Media Player, Winamp, Quicktime programs to interpret them.
The internal flash memory can accommodate up to 5 recorded, and each song has 6 tracks that can then be played as one, or preferably, you can turn-off some tracks to silence the unwanted parts such as percussion, melody, accompaniment. 
After recording the needed tracks, the tempo can as well be adjusted, fast-forward or rewind, and you can set it up to play a song partly and repeatedly from one point to another.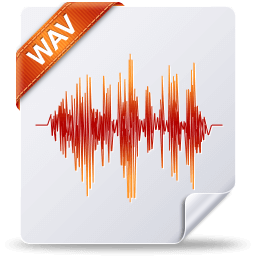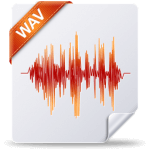 With the DGX-660, to record/playback the piano's actual sound is possible, and 80 minutes of recording could be made and saved in WAV format to a USB flash drive. The audio recordings can then be played on devices such as the music player, laptop, or a smartphone. These audio recordings may be shared on social networks or burned to a Compact disc.
Metronome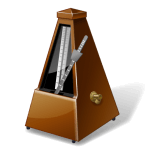 This digital piano by Yamaha has an onboard metronome which helps improve the timing accuracy and playing speed of a player. You can change/adjust the volume, time-signature, and tempo of the metronome.
Another unique feature of the Yamaha DGX-660 digital piano is the Lesson function.
With the Lesson function, piano learners can utilize the Yamaha Education Suite (Y.E.S.) which allows a player to use up to 100 internal songs, for a right, left, and both-hand practice, so that, by selecting the right-hand lesson, the left-hand lesson will be automatically played.
This piano has 3 types of lessons. They include: Your Tempo, Waiting, and Minus One. 
"Your Tempo" song lesson is all about playing with the correct timing , as the playback tempo will change to match your playing speed, while the melody adjusts its speed if wrong notes are played, and will only go back to the initial tempo gradually, as the correct note is played.
In the "Waiting" lesson, the song will wait until the correct note shown on the screen is played before the playback continues.
In the "Minus One" song lesson, a player can choose either the left or the right-hand part of a song to practice and play at normal tempo, along with the playback of the other hand part of the piano. This digital piano can also display lyrics and music scores of songs.
CONNECTIVITY OPTIONS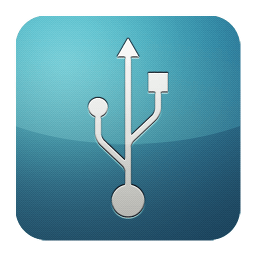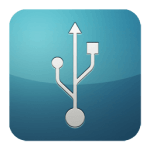 The Yamaha DGX660 has several connectivity that may not be found on some digital pianos. The rear of the piano houses all ports and jacks, except the USB-to-Device port.
The connectivity options of this instrument include: USB-to-Host terminal, USB-to-Device terminal, Headphone jack, Mic Input jack, AUX In, Sustain jack, and pedal unit jack.
USB-to-Host terminal – Files and songs can be exchanged through this terminal by linking it to a computer. This digital piano may be used to exchange MIDI data, and control learning apps such as GarageBand, Flowkey with music making. To achieve this, an A-B USB cable must be purchased separately since it is not included in the package.
USB-to-Device terminal – Data/files such as recordings and parameter settings can be sent to/from the keyboard conveniently, by using a USB flash drive. This means that, files created on this piano can be saved to a drive, and loaded back to the piano when needed. However, MIDI files and songs can be widely selected and downloaded from the internet, and played directly from a drive, while performing alongside.
Headphone jack – Headphones can be connected to this keyboard through the ¼" stereo jack, and played privately to avoid disturbing others. This jack may be used as a Line Out for devices such as the Public Address system, amplifier, or a mixer to be connected to the keyboard.
Mic In jack – You can perform alongside with a song's playback or your keyboard's performance by using a microphone connected to the ¼" jack, and the output will be heard through the device speakers. It also has a volume knob which controls the settings, effects, and volume of the microphone, and the microphone used must be compatible with the

 

¼" plug to enable it link up with the keyboard.
Aux In – External audio devices can be connected to the keyboard through this 3.5mm (1/8") mini jack, and its output heard from the instrument's built-in speakers. A Male-to-Male cable of 3.5mm will be needed for this.
Sustain jack – A sustain pedal is connected to the keyboard through this jack.
Pedal Unit jack – A LP-7A/LP-7AWH 3-pedal unit can be connected to the keyboard through the pedal unit jack.
ACCESSORIES
The following accessories of the DGX660 is included in the purchase:
Keyboard Stand
Music Rest
Data list
AC Power Adapter (PA-150)
Sustain Pedal
Owner's manual
Sustain Pedal
A basic footswitch by Yamaha accompanies the DGX-660 digital piano. This footswitch is made of plastic, and it is a box-like unit, which doesn't have the look and feel of the pedal of an acoustic piano. 
More advanced players will find it difficult to use this included pedal, and for this reason, purchasing a more realistic pedal is the best option. The M-Audio SP-2 piano-style pedal is recommended for use with this piano, because of its high quality, more realistic feel and look, with an affordable price.
Best Pedal for Yamaha DGX-660
Stand
The matching stand that comes with the Yamaha DGX-660 is sturdy and quite heavy, weighing 15.4lbs, which may not be easy to move around anyhow. With this included stand, mounting of the piano will not be difficult. 
There are also some compact and portable X-type stand which may be purchased separately. You can fold it and keep it safe when you are not using it.
Best Stand for Yamaha DGX-660
These 3 X-type stands will be a good alternative for the DGX660 digital piano:
Case
Due to the size of this piano, it is not a good choice for gigs, but if you really want to carry it along for outdoor performance, you will need a case to transport it safely. 
The first one you can go for is the Yamaha Artiste Series Keyboard Bag, suitable for 88-keys digital piano. This bag is quite big, and the DGX660 will fit in with a little space left.
Another good option is the Gator 88-note Gig Bag, made of a multi-purpose nylon with reinforced riveted handles, and a thicker padding compared to the previous one, but its very expensive.
These bags are only good for simple travelling and solo gigs, but not for heavy movements.
Best Case for Yamaha DGX-660
Headphones
Headphones are suitable for private practice, when you don't want to disturb people nearby. A clear and detailed sound which cannot be offered by the built-in speakers, could be achieved from headphones.
It is better to purchase a good quality headphone separately, because the one that comes with the Amazon bundles cannot offer comfort and a good quality sound. 
CUSTOMER IMPRESSIONS

The first time I played this keyboard, I realized that it is not just a digital piano, but a real grand piano. I have played several pianos, and I must say that, this is the best of its kind.

When I scrolled through its presets and found the "Ambient piano," function, I was convinced that the piano is real. This keyboard response as if it is telling me to play a passage in a particular way.

When I compared the P-series piano with this digital grand, I realized I was paying extra cash for the voices, backing tracks, and other extra features, but as I enrolled in a 1-hour playing session, I knew that the price is totally worth it. The Concert Hall filter and the Grand Piano Voice is amazing.

As a pianist and music maker, I wanted a keyboard with varieties of voice features, sustain pedal, headphone port, and a real piano sound, this Yamaha DGX660 has provided all these. 

Although it wasn't easy to assemble when I first bought it, but I was able to do it alone within two hours, and the stand gets firmly attached and screwed into the piano. It is very heavy and of a high-quality for the price, but the sustain pedal looks cheap. I had to purchase a quality one separately.

If you own a good headphone with ¼" adapter to be used on the piano, you will so much enjoy the sound that comes from it. The built-in speakers are clear and nice too, with a smooth volume control to ensure that your sound level is perfect.

The adjustable keys action of this keyboard from hard, medium to soft, is amazing, and it replicates the feel of an acoustic piano. 
SUMMARY
The Yamaha DGX-660 digital piano has 88-keys, fully-weighted keyboard, plus an outstanding instrument tone, selected from the CFIIIS Concert Grand. It also has 192-notes polyphony to create a real piano experience.
That's not all, it is great for music production, piano performance and learning, offering more features than a regular digital piano. There are hundreds of songs, sounds, effects and styles, to keep you engaged for a long time.
Educational features, virtual keyboard, and on-screen notation, which can bring about an effective learning, is embedded in it.
With its great recording abilities, a user can compose, edit, and record songs without an additional equipment or software. You can also use the various connectivity options provided by the DGX-660 to connect several devices or equipment to the keyboard.
This piano also has drawbacks even with all these great features it offers. 
Its drawback is that, it is quite heavy and bulky, which makes it not suitable for outdoor performances, but if you can transport it safely, you will get the best from it, as an entertainment center, a studio, and a digital keyboard combined into one instrument.
After considering the great features of this keyboard, its design, sound system, connectivity options, accessories, customers reviews added with personal experience in using it as a little studio and learning/entertainment hub, I can give it an overall rating of 8.8/10 .
Pros
Has an LCD screen
Good quality and efficient performance

 

88-key, Graded Hammer Action keyboard

 

Real piano feel
Control panel is easy to use

 

Large library of rhythms, styles, songs, and sound effects
Ability to record MIDI/Audio
Several connectivity options

 

Matching stand is sturdy

 
Cons
It is heavy and bulky
Not portable
Sustain pedal is inferior

 

Headphone jack is on the rear panel
It is very expensive.
ALTERNATIVES
Listed below are alternatives to the Yamaha DGX-660.
Yamaha P115
This is a P-series digital piano made by Yamaha, but it doesn't have all the extra sounds and features as theDGX-660. It also has a Pure CF Sound Source, GHS keyboard, the same polyphony amount as the DGX660, and offers a real piano experience.
The Yamaha P115 is a basic keyboard with 4 reverb, 10 styles, 50 preinstalled songs, and 14 built-in sounds, instead of 550 instrument sounds, with hundreds of songs, styles, effects, and rhythms found in the DGX660. 
It is also portable and compact with good features including fine-tuning, dual, transpose, onboard metronome, duo, split modes, and a 2-track MIDI recorder.
If the extra features and sounds in the Yamaha DGX660 is not important to you, then the Yamaha P-115 may be a good choice.
The Casio CGP700 is very similar to Yamaha DGX-660, and it is also a direct competitor with the same price. You cannot be wrong by choosing any of these two keyboards.
The CGP700 is very versatile, and offers a real piano experience with features for learning and music production. It has a stand featuring 2 low-frequency, built-in speakers, added to the keyboard speakers to offer 40W of sound. 
There is also a 5.3" colored touchscreen which makes navigation easier and convenient while on stage.
Casio CGP-700 has the Tri-sensor Scaled Hammer Action keyboard with Ivory/Ebony feel simulated on the key-tops to give a realistic touch and feel compared to the DGX660 keyboard. There are split/layer functions, 200 styles, 6 delay, 550 built-in sounds, duo mode, 17 reverb, 128-note polyphony, 16 chorus, 17 tracks, 100 songs memory capacity, MIDI/Audio recorder, but no microphone jack.
Comparing the two keyboards, the Yamaha DGX-660 has more styles, sounds, effects, good keyboard sound, and higher polyphony counts, while Casio CGP-700 offers a more convenient navigation with touchscreen, powerful speaker sound, and a more authentic keyboard action.
Casio PX-360
Casio PX-360 and Casio CGP-700 are almost the same, and also good alternatives to DGX660 digital piano. 
Casio PX-360 may be preferred to the CGP-700 because of the AIR Sound Source that comes with it. Due to this feature, a more realistic sound is offered by adding key-off, hammer response simulation, and string resonance.
Casio PX-360 has MIDI jacks and Line In, but a stand is not included in the purchase, instead, it has 8W × 2 onboard speakers. 
In addition, the Casio PX-360 is very expensive when compared to its contemporaries which I feel is not worth the price. 
Please share your opinion with us.