Playing a musical instrument has been proven to increase brain capacity. Not only that but – especially in young kids – piano lessons are great for improving fine motor skills and coordination too. We won't let this article turn into a science journal, but the amount of joy and pleasure that accompanies the proven health and developmental benefits when you play the piano should serve as enough motivation for you to buy a decent piano.
So, if you're the type who loves to tinker on the ebony and ivory keys of a decent piano – be it as a concert pianist or a total newbie player with an enthusiasm to boot, you'll love one of the best pianos for beginners and professional players alike: The Alesis Recital.
Introducing the Alesis Recital
Since the mid-'80s, Alesis has been manufacturing electronics of the highest standard – including a wide range of digital instruments that have proven to be reliable and fun to play on. This range includes Alesis pianos, and the Alesis Recital 88-key beginner digital piano which we'll be reviewing today. The Alesis Recital was initially designed in their USA factory, where they have been at the forefront of digital advancements and cost-cutting developmental changes – which included moving their manufacturing plant to China.
While the thought of a Chinese manufacturer scares a lot of people off buying, the good news here is that manufacturing instruments offshore often makes prices at which they are sold reasonable – as a matter of fact, the Alesis Recital is the cheapest (playable) 88 key piano with semi-weighted keys on the market today.
Speaking of the Alesis Recital, you are about to see why this is one of the best piano keyboards for beginners. Oozing with style and functionality, offered at a price that won't break the bank, and the reputable name of Alesis stamped on the casing means that you're getting a great piano at a great price.
Of course, we can't review a digital piano on price and look alone – so in this review, we'll take a comprehensive look at the pros and cons and discuss all the advantages and disadvantageous of the Alesis Recital in depth. We'll have a look at the design, sound, and features and weigh up its pros and cons. So, after reading this article, you should be able to make an informed buying decision.
Specs and Dimensions
These are the specs and dimensions of the Alesis Recital:
Keys: 88
Key type: Full-sized, semi-weighted.
Polyphony: 128 notes max.
Voices: 5 (acoustic piano, electric piano, organ, bass, and synth).
Effects: Chorus and reverb
System requirements: Windows 7 (32 bit and 64 bit); OS X=10.8; USB=at least 2.0 port
Connectivity: RCA stereo output and USB – MIDI connectivity (not included pedal input)
Metronome: Built-in, capable of 30 – 280 beats per minute.
Modes: Standard, lesson, split and layer.
Sound: 20W onboard speakers.
Dimensions:
Measurements: 50.5" x 11.5" x 3.96"
Weight: 15.7 lbs
Alesis Recital review
These are all the elements and functions that make the Alesis Recital one of the best digital pianos on the market today:
Design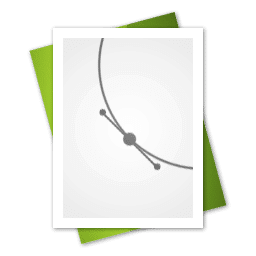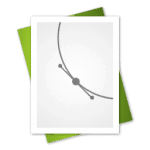 This piano really should have been named the Alesis Recital 88-key beginner digital piano. Yes, we know, many avid players who currently own the Alesis Recital will be up in arms if we make it sound any less potent than it is. But, the sensational design of the body that encases the 88 keys, the simplistic style of operation, and the easy can-do attitude of this piano are IDEAL for the beginner pianist.
Let's start with the slim physique of this piano. Ultimately, transporting this piano is a breeze, and it can be stored or packed away easily too.
The LED buttons that action the functions on this piano looks futuristic and modern – especially when you compare them to other pianos offered in the same price range.
All in all, if you go just on looks, you will undoubtedly nod your head in approval when we say that it is very clear that the designers at the Alesis plant didn't just chuck a few keys together and plug a few buttons on it. It LOOKS like it can do the job, and everything is in proportion. The buttons, flanked by speaker covers with modern-looking corners, and even the exact placement of the sheet music stand… the looks are just testament to the incredible design of the Alesis Recital as a whole.
Set up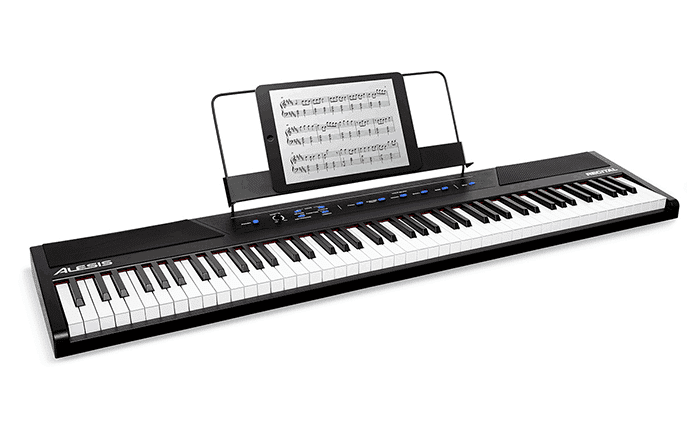 The Alesis Recital is packaged with a power supply cable. Set up is as easy as plug and play. Literally, Simply plug the adaptor into the power port, and switch the piano on.
The Recital also has the ability to run on batteries – so if your first-play is at a remote location, simply insert the batteries at the back in the battery port, and you're good to go. Just remember, these batteries aren't included in the purchase, so you'll need to buy 6D batteries before you can operate it on battery power.
All the systems and functions on the Alesis Recital are self-explanatory and easy to master – but, it comes boxed with a comprehensive user manual too. So, after initially powering her up, you might want to refer to this manual to master all the features of this stunning piano.
Keyboard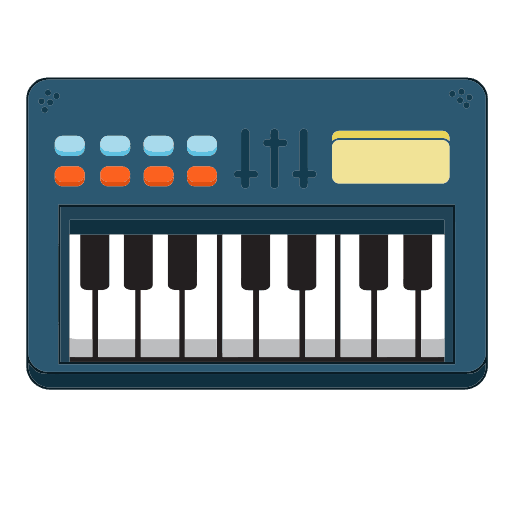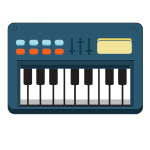 The Alesis piano comes stock with 88 full-sized piano keys – meaning they are the same length and width of a traditional piano. The fact that there are 88 keys means that you'll have the same range as that of a grand piano too!
These keys are semi-weighted, which equates to keys that respond to force and velocity inputs. If you play the keys loudly, the feedback you'll get will be loud. And likewise, a softer touch will result in softer sounds. The keys also feature an "adjustable touch sensitivity" function which allows you to manipulate the sensitivity of the touch response to your liking.
Most beginners will prefer a more sensitive touch, and more professional players will probably want something less responsive so that they can really bang out those forte notes, and tone down considerably for the softer pianissimo notes. We'll leave that choice and setting up to you.

The Alesis Recital takes a lot of rap when it comes to these keys, and the touch response it has. It is important to know that these keys aren't weighted – so they do NOT feel like real piano keys. Touch response or semi-weighted keys just don't simulate the action of graded or weighted keys, like those found in the way more expensive ranges of digital pianos and acoustic pianos. And to be fair, unless you're buying a top-end digital piano, most digital pianos aren't equipped with weighted keys.
The fact that the keys are essentially spring-loaded, and that you have touch sensitivity (which adjusts) means that you do get a fairly realistic feel. And, this is a way easier keyboard to play, as the semi-weighted keys aren't as heavy as fully weighted or graded keys. Some see this as a drawback – but, this is one of the things that makes the Alesis Recital one of the best pianos for beginners.
If you're doing long performances (like hotel pianists who perform for upwards of 3 hours at a time) having semi-weighted keys is also less of a drain on energy and stamina.
So to conclude: The keys aren't premium range. But, they're responsive and they are fun to play on!
Sound


Many digital pianos are equipped with sub-par speakers, with the manufacturers rating you can amplify them yourself if you need better quality or output. The Alesis Recital is NOT one of them.
The sound quality of the two 20W speakers is fantastic, and they offer a well-balanced smooth and rich sound.

Besides the reverb and chorus settings which can enrich the sound output in different rooms and situations (depending on where you're playing on it), the Recital also has a good sort-of surround sound. The sound is cleverly programmed to distribute between the two speakers – the bass tones sound more from the left speaker, and the crisp higher notes resonate from the right with the mid-range tones being distributed between both to create a centered feel.
The stereo RCA output at the back is perfect for plugging in speakers if the need arises – such as in live-performance situations. We need to mention how awesome the sound IS that comes out of live PA/stereo systems once you plug this piano in… it really is stintingly close to the sound a grand piano would make!
The Alesis piano comes with perfectly sampled piano tones that will appease any ear. We especially like the rich sound of the lower notes, which offers the opportunity to create a perfect bass line for any melody. There are also other curated voices – such as the electric piano, pipe organ, synth and bass to choose from. Although 5 isn't a big number, you can customize these voices by combining any two at once in the layer mode.
Features
The Alesis Recital has a user interface that does what it needs to do without overpowering you. The buttons for accessing its features are easy to reach, and most of its features can be activated with the push of a button.
We've already mentioned that it has 5 voices and a customizable touch response. These are the other features that should convince you of the boundless potential of this piano:
Skoove lesson platform
We'll start with the one feature that makes the Alesis piano stand head and shoulders above its competitors: It is fully Skoove Compatible. Skoove is an online piano instruction service that works on your piano playing skills in a progressive, easy to follow approach. This is done via manual instructions and a feedback system that simulates a one on one piano lesson.
Skoove can listen to your performance and offer real-time feedback on your playing. You can also play songs on the piano with adjustable tempo settings (that are chosen to match your level of capability) while you learn. So, set your learning tempo, and let Skoove show you how!
The folks at Alesis have thought it good to include a 3-month premium subscription with the purchase of any new Alesis Recital, which will get you on the way to becoming a Liberace if you're not already a competent player. Skoove premium is packed with a curated catalog that contains everything from current chart hits to the most beautiful classical melodies.
Modes
The Alesis Recital has three noteworthy and very useful modes.
Lesson mode
Lesson mode is a feature that allows you to dissect the 88 keys of the piano into two equal parts, which creates two 44-key keyboards with the same pitch and voice. This feature will come in handy if you're a piano teacher, or if a perpendicular teacher comes to your house. You won't need to swop around or listen to one person playing down on the deep base notes while the other is shattering window glass on the high treble tones. Lesson mode allows both players to play on the SAME pitch, at two different places on the piano.
Split mode
The built-in split mode allows you to bank two different voices for the different sides of the piano. So, your left hand will play one voice, and your right hand the other. This function is cool if you learn to use it the right way – imagine backing a pop melody with a bass line, or having a synth melody accompanied by flowing arpeggios on the piano. This is all possible in the split mode, and if you let your imagination go a bit, you'll have a heap of fun here!
Layer mode
When in layer mode, you can layer any two different voices at the same time. This mode almost triples the initial 5-voice setup that the Alesis Recital has, and it opens up a world of opportunity for the creative pianist. Layering sounds bring out magical, rich tones and expressive timbre that can complement everything from your run-of-the-mill romantic night into an aggressive outburst of Griek's 'March of the dwarfs'.
Transposing, Octave Shifting & Tuning
The Recital does not have a transposing function – one simple feature that shouldn't have been left out. But then again, if you're a beginner you won't need it, and if you're a professional pianist, you would be able to transpose songs on the keys yourself… so there's that…
There is no option for octave shifting or tuning to join other instruments either. Other instrumentalists will need to tap into what you've got – which is pretty standard unless you start looking at the Rolls-Royce type of digital pianos.
Recording and Playback
The Alesis Recital has no recording and playback function.
Metronome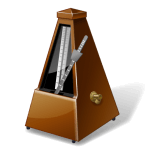 The Alesis Recital 88 key is not only a full-sized piano. It is also a full-sized metronome! This piano comes with a built-in metronome, that is capable of clicking anything between 30 and 280 beats per minute. There is also a tap tempo function, which no traditional or old school wind-up metronome can replicate: simply tap the rhythm you wish to play, and the metronome will click it and keep the beat regular for you.
Connectivity
The Alesis Recital has a variety of different ports and connectivity options. This is a modern-day piano that has all the options the average pianist would need.
Let's start with the standard or expected connections. First off, to power it, we have the plug-in power port. Then there's the ¼ inch sustain pedal input, to make it easier for you to play legatos or phrase ballad-like melodies. There is also a ¼ inch stereo headphone output, which is great for students who want to practice on the piano without disturbing those around them. Playing with a decent set of stereo headphones improves the quality of the sound and the general playing pleasure you have tremendously!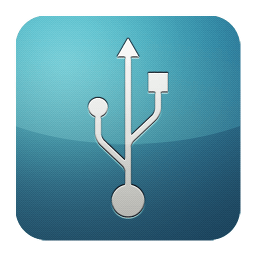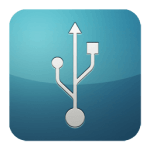 There is a USB connector, which makes laying down MIDI tracks a breeze. You can use the USB connector to connect to any smartphone or device with a USB port, including a laptop or computer.
The RCA stereo output, located at the back of the Alesis's cabinet, connects to recorders, mixers, amplifiers or any other sound system of your choice. Having RCA ports mean that you can connect this piano to a speaker system and use it as a performance instrument.
Whatever function you have in mind, the Alesis Recital will render the service required. Simply connect it to the device or system you have, and Presto… your flexible digital piano does it!
How does the Alesis Recital differ from the Alesis Recital Pro?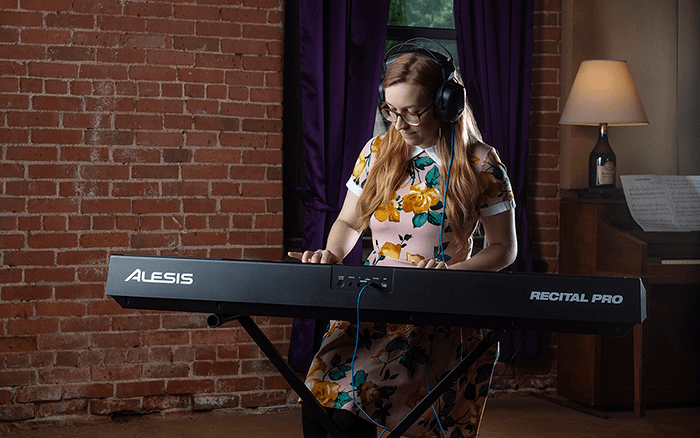 The Alesis Recital is one of three different models currently made by the Alesis factory.
The other two models are the Alesis Recital Pro, and the more sophisticated (and expensive) Alesis Coda Pro, which we won't discuss in this article.
The Alesis Recital and the Alesis Recital Pro are very similar instruments. They look almost identical, and they share some of the same features. They both have 88 keys – but the biggest and most notable difference is that where the Recital has semi-weighted keys, the Alesis Recital Pro has hammer-action keys.
Furthermore, the Alesis Recital Pro features 12 instrument voices, while the Recital has only 5.
Both of these pianos share the same 20W built-in speakers and a 128 note polyphonic capability. The lesson mode is also transplanted into the Pro version, and the chorus and reverb effects are identical.
The only other benefit of the Alesis Recital Pro is that it has a record mode and an adjustable modulation function.
In the east, the saying "Same same but different" is a very popular saying – and it seems to hold true here. Sure, the Alesis Recital Pro has a few additional "pros", but you're essentially just buying a Recital with a better key action if you go for this one!
Accessories
If you're the lucky owner of an Alesis Recital, high five. You might want to better your playing experience with some of the following accessories:
The best sustain pedal for the Alesis Recital
Donner DK-1 Sustain Pedal
This is a great pedal to use with your Alesis Recital. It has the look and feel of a classic-style piano pedal, and is made out of high-quality chrome, with a rubberized cover. The bottom is made of slip-resistant rubber, and the 63" cable makes it easy for you to place it in a comfortable position.
Cherub WTB-005 Sustain Pedal
The Cherub sustain pedal is a low-cost pedal that is still full-sized and quite close to the feel of the legato pedal on acoustic pianos. While the action isn't that accurate, it will do the job – and unless you're a professional pianist you won't notice the difference. It has non-slip rubber bottoms and a chromed pedal, and it carries a one-year warranty for peace of mind.
Yamaha FC5 compact sustain pedal
The Yamaha FC5 is a square-like small sustain pedal that is easy to pack up and store away, and a great accessory for the performer who wants to take a pedal along when he or she performs on the Alesis Recital. The 60" cable is more than long enough, and the little pad is fun to stomp on when you want to phrase your music.
The Best keyboard cover for the Alesis Recital
Clicks Depot Piano Keyboard dust cover
This dust cover is made from 87% nylon and 13% spandex material that is durable and washable. The stretchable material will easily cover the Alesis Recital and keep dust and dirt off the keys. When the piano is in used, this cover can be stored in the pouch that is included with the purchase.
Gator Cases Stretchy Keyboard dust cover
The Gator Cases stretchy keyboard cover is made from stretchy Lycra and Spandex which makes fitting it over the Alesis Recital a breeze. The adjustable shock cord allows you to create a snug fit over the keys and keep ALL the dust and dirt from entering. It is hand washable too if the need arises.
On-Stage keyboard dust cover
If you want to protect your Alesis Recital 88 key piano, you need a cover that can cover… well, 88 keys! The On-Stage keyboard cover does so well, and the Spandex material it is manufactured from is durable and really stretchy. It comes complete with a built-in bag, plastic cord and a locking clasp to secure it to the piano.
The best stand for the Alesis Recital
ChromaCast CC-KSTAND
The ChromaCast keyboard stand is a bestseller on Amazon, and it's easy to see why. This double-braced x-style stand is sturdy and durable. It has an adjustable playing height 23.5″ to 38.5″ and adjustable width of 12″ to 33″, and setting it up is quite easy. Simply click the bullet-nose pull knob in place, and it's showtime!
Plixio Piano Keyboard stand
The Plizio Z-style keyboard stand was designed to be fully adjustable, so it's easy to align the Alesis Recital on it. The 4 pads that ground the stand are made to grip the floor and keep the keyboard in place. The height of the stand can adjust between 22.5" and 33.5", and the width can adjust between 22.5" and 33.5". Setup and breakdown take less than a minute, and this is a great option to get if you are a rock and roller or someone who plays with a hard action.
RockJam Xfinity Heavy-Duty Piano Keyboard stand
If this stand won't carry it, nothing will. Made with a heavy-duty, double X style metal construction complemented with high strength support straps that lock your keyboard in place means your Alesis Recital won't ever move around on the stand during performance. The height can be adjusted between 4" and 38", which is the widest range we could find on keyboard stands. This is the perfect stand for younger kids who will require lower settings!
The best headphones for the Alesis Recital
LyxPro HAS-10
If you search for headphones for a digital piano on Amazon, the top result is the LyxPro. With close to a thousand good reviews and an average rating of 4.3 out of 5 stars, you can't go wrong.  The closed-back over-ear headphones are great for stereo sounds such as those you'll be making on the Alesis Recital. The leather headband and comfortable earpads sit on your head without becoming a nuisance, and this is a great set of headphones overall.
Roland RH-5 Stereo headphones
No products found.
Roland makes these great mid-range headphones that offer dynamic, quality sound. They have proven to bring continuously balanced stereo sound across the frequency spectrum, meaning you'll never cringe when you play those very high notes. This is marketed as a lightweight option, and it really is. If you need a set of headphones to take along wherever you find yourself in front of a piano, this is it!
Yamaha HPH-MT5W Monitor Headphones
No products found.
Although the Yamaha HPH-MT5W is slightly more expensive than the other two on this list, this is the ultimate headphones to get for the Alesis Recital. The sound is fantastic, and it does everything you expect, and more. Imagine listening to yourself playing piano at Carnegie Hall, with fantastic acoustics that compliments your playing… that is the real-world feel that the HPH-MT5W creates. The cable is extra-long, and the muffs are really comfortable on your ears. It weighs only half a pound and stores away easily in the nylon bag that accompanies your purchase.
User reviews
The Alesis Recital has been well received by pianists across the globe. It seems like the general level of satisfaction is quite high – with hundreds of users providing an average rating of 4.1/5 for the Recital on Amazon.
Most users who provided reviews made comments such as "you get what you pay for", which seems unfair but realistic at the same time. Sure, it's not a high-end piano… but for what you pay, it seems, everyone concurs that it is a fantastic piano.
Some reviewers had much to say about the key action and mentioned it didn't feel "great" or "right". It goes without saying that this is not a hammer-action keyboard, and you don't get the feel of an acoustic piano of it.
Everyone seemed to love and rave about the excellent sound quality. Many people cited how easy it is to cart the slim and lightweight body of the Alesis Recital around too.
Our favorite review was made by one user who mentioned that he is a professional pianist who has been playing for many years – and he was so impressed that he gave it a 5-star rating, citing the excellent feel and sound of the Alesis Recital as the reason.
Summary
It doesn't matter what reason you voice for wanting or buying the Alesis Recital. It is a great beginner digital piano, and a workhorse you can rely on. There are many reasons to fall in love with the Recital – not the least the price-point at which it is offered.
The ease of operation, great key action, and phenomenal sound system add up to its appeal, and the subscription and compatibility with Skoove make the Alesis Recital the leader of the pack when it comes to 88 key digital pianos for beginners.
It is an unpretentious instrument that doesn't even try to be an acoustic piano – but in the realm of entry-level digital pianos, it reigns supreme. We are of the opinion that the Alesis Recital will open the world of music up to anyone and everyone – and we conclude that this IS a great digital piano and a must-buy!
The Alesis Recital Pros
Price: Let's start with the one factor that determines whether you end up buying a digital piano you like or not. Finding an 88 key keyboard at an affordable price is really hard – but the Recital comes at a price you'll love.
Portability: This is a piano that is easy to transport, and small enough to pack away. It will function well as a permanent fixture in the house, and as a performance instrument that gets lugged around equally well. The fact that it can run on battery power adds to just how portable this piano is. Imagine the most secluded spot you've ever been to… the Alesis Recital could be played there!
Layering and split modes: These modes, coupled with the well-sampled tones onboard offer you the opportunity to create and play a wide range of rich and beautiful tones.
Full-sized, semi-weighted keys: The touch sensitivity of the Alesis Recital's 88 keys offers great feedback to your touch, and it allows players of all levels to perform a range of different dynamic levels. The fact that the Alesis has a full spectrum of the 88 piano keys means you won't miss out on ANY pieces or ever run out of keys!
128 note max polyphony: While having the capability of playing 128 notes or tones at the same time isn't an industry-leading number, it is enough for even the most pedantic pianist who simply wants to sit down and play. Rachmaninov or Mary had a little lamb? The Alesis Recital has your back.
The true surround 20w speakers: This makes the piano sound natural. You can expect deep boomy bass sounds and crisp and clear treble notes – and having a decent onboard sound system ticks a few boxes in the "Ideal player's piano" analysis.
The Lesson mode is well thought out, and a great benefit to students and teachers alike. If you ARE a student, the inclusion of the Skoove learning portal should be another great pro.
The Alesis Recital Cons
No stand: The Alesis Recital does not come with a stand. While a music stand is included, you'll need to purchase a keyboard stand if you want to play on it like you would on an acoustic piano.
Only 5 instruments: The limited variety of tones impedes on the performance if you want to make awesome effects or program beats for a song.
No XLR port: This means that amplifying the Recital through an amplifier that doesn't have an RCA port will be impossible.
¼ inch headphone jack: It seems petty to mention this, but most new digital pianos (and a lot of the better headphones) rock 1/8" ports and plugs. You will need to make sure that you have compatible headphones if you plan on using this function.
No Demo songs: The Alesis Recital has no pre-recorded songs. Not many people would use this function, but it could serve as a great motivator (and teacher) to novice pianists and children. You can't emulate the greats if you've never heard them play…
Only semi-weighted keys: Most people, given the choice, would want to play on hammer-action or fully weighted keys.
Like a stand, a sustain pedal is not included. So, if you want to get the feeling of playing on a real piano, you'll need to invest in an aftermarket plug-in pedal.
While it doesn't seem to be a dominant issue, some people reported that they received either faulty pianos, or that the volume control on the Recital died out after a few uses. While the warrantee program sorted this out, imagine the headache of having a performance – or even a practice schedule – bomb out because your volume control turned the piano into a device that makes your playing sound like you are knocking on a wooden door!
Our rating
It doesn't really matter where you fall on the spectrum of piano playing ability – the Alesis Recital can do it all. It functions perfectly well as a beginner's keyboard, and it is the ultimate travel partner for the gigging pianist.
If we're perfectly honest, a lot of the digital pianos currently flooding our shores have too many features (and unfortunately, a lot of them don't have ANY). In this regards, the elegant, easy-to-use Alesis Recital 88-key piano has proven to be the ultimate middle-of-the-road solution, it's sleek, semi-weighted keys are fun to play on, and easy to use.
Bearing these facts, and the low, low price point in mind, we score this piano at 5/5, the most we could give it.
Alternative options
Casio is known for its reliable, cut-price range of instruments. The Privia PX160 is no exception, and it is a worthy competitor of the Alesis Recital.
The first big difference between the two is the price at which they sell. The Alesis is WAY cheaper.
Both offer 88 keys – although the action is slightly better on the PX160's tri-sensor hammer-action keys. Both have 128-note polyphony, and both have split and layering functions. The Casio has more voices (13, versus the Alesis's 5), but no teaching function that comes close to that of the Alesis.
The Yamaha P-45 is another old favorite and a best seller from the Yamaha stable. We know Yamaha as a manufacturer of fantastic pianos, and the P45 is their version of the entry-level digital piano. It is slightly more expensive than the Alesis Recital, but probably its fiercest competitor.
The P-45, like the Recital, has 88 keys. The keys are graded hammer keys, with weighted action. They are much better to play on, BUT only capable of a 64-note polyphony (versus the Alesis's 128).
The 10 built-in tones are more than what is on offer from the folks at Alesis, but the meager 7w speakers come nowhere near the 20w speaker system of the Alesis.
The Yamaha P-45 is a solid piano, and if you're a Yamaha fan, you'll probably see more good than bad in it, and you won't necessarily be wrong!