Yamaha P125 is a P (Portable) series digital piano released by Yamaha in the early part of 2018 to replace the glorified Yamaha P-115.
In this Yamaha P125 review, I'll give you a detailed description of the features and specifications of this new model digital piano, and I'll also share my experience of playing on it.
Yamaha P125 Specs & Features
Weight – 26lbs (11.8kg)
Dimensions – 52.2 × 11.6 × 6.5 inches
Number of keys – 88
Type of keyboard – Graded Hammer (GH) keyboard
Keyboard Response – Touch sensitive with soft, medium, hard, and fixed settings
Panel Language – English
Piano Sound – Pure CF Sound Engine
Number of Polyphony – 192 notes
Equalizer – 3 bands
Sound Boost – 3 types
Modes – Split, Dual and Duo
Preset Number of Rhythm – 20
Preset songs – 21 Voice Demo songs, 50 piano preset songs
Number of tracks – 2
Overall Controls – Metronome, Transpose, Fine-Tuning
Connectivity – USB to HOST, Headphones jack, Line Outs, Sustain jack
Amplifiers – 7W × 2
Speakers – 12cm × 2 + 4cm × 2
Power supply – AC Power Adaptor (PA-300c)
Power Button – Auto Power-off Function
Included Accessories – Music Rest, Sustain Pedal/Footswitch, AC Power Adaptor, Owner's Manual
The P-125 is light and easy to carry, weighing 26lbs (11.8kg), with dimensions of 52-inches wide, 6.5-inches high, and 11.6-inches deep. Its compact body is ideal for gigging musicians, and it has inherited some features from the P-115.
DESIGN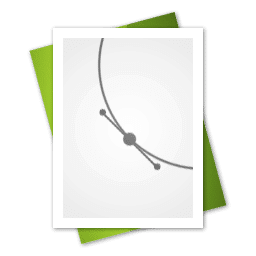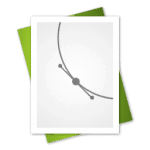 Yamaha P125 has a plastic body, with an outstanding build quality, slightly modernized, redesigned, and suitable for home use.
It is a lightweight digital piano, relatively compact with a minimalist design, and a red ribbon-like design used to decorate the upper end of the keypad.
14-buttons make up this instrument's board, and few have built-in LED indicators to identify the function used.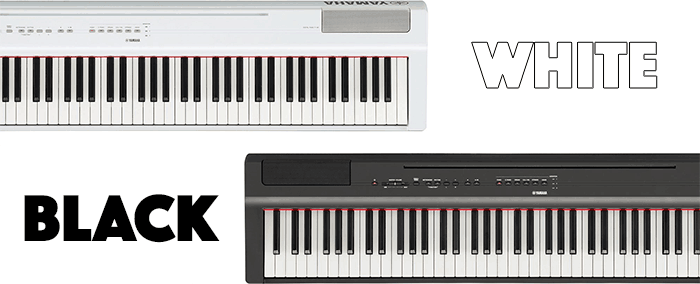 KEYBOARD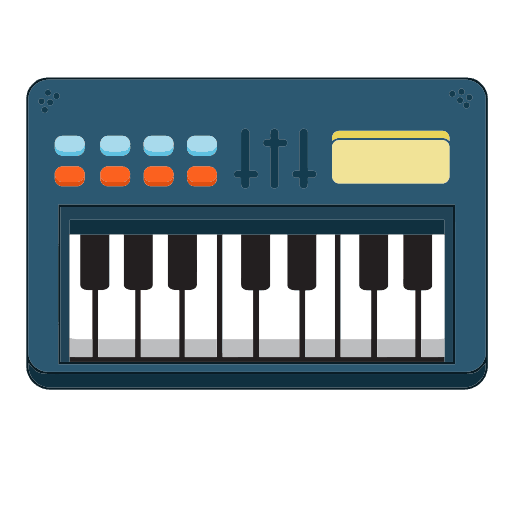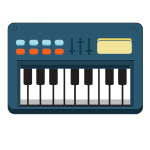 This instrument has 88-keys, fully-weighted keyboard using the Graded Hammer Standard (GHS), to re-modify the feel that comes with a traditional piano. The Graded Hammer Standard action is a weighted keyboard which simulates a hammer keyboard of a real acoustic piano, and is embedded on the Yamaha P125. 
You may not have any problem with the performance of this instrument if you have played a complicated sketch on an acoustic grand piano. The keypad sensors of the Yamaha P-125 is good for its task, allowing fast temperament performance, and responds to any key-press in any of its ranges.
Yamaha P115 vs P125
After having a feel of the keyboard of this P125, and that of P-115, played simultaneously, I can say that there is no much difference between them, although the manufacturing company, Yamaha claims that, the Yamaha P-125 has a more natural feel compared to its predecessor.
Just like an acoustic piano, the key feels lighter on the higher end of the keyboard, and heavier on the lower part, that is why it is said to be Graded. Also note that, the touch sensitive keyboard allows changes in sound volume, according to how the key is pressed whether hard-pressed or soft-pressed.
This digital piano provides a range from soft to loud, with its 4-speaker, powerful sound system.
There are 4 touch sensitive settings which include fixed-setting, soft-setting, medium-setting, and hard-setting. If you want to achieve a volume of the same level which may not depend on how hard or soft you press the keys, choose the "Fixed" setting. The conventional keypad of this P125 digital piano isn't rough but smooth, although there are sputtering on the dark-colored keys, to prevent your fingers from slipping during playing sessions.
SOUND


For each of the sound sections which include Organ, Piano, E. Piano, Strings, there are 6 dedicated buttons. There are also buttons for rhythms, metronome, recording features, and you can change the volume gradually with the volume slider.
This model of Yamaha's P-series digital piano has a sound engine of high-quality, and uses the CF line of pianos to sample from, an Advanced Wave Memory to encode and playback, with 4-layer sampling of the renowned Yamaha CFIIIS9' Concert Grand, with systematic piano components such as string resonance, damping intensity, and off-key duplication, to enrich the sound and make it more natural.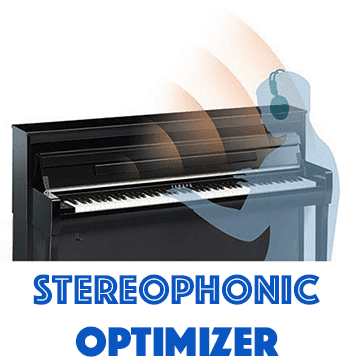 This piano has a Stereophonic Optimizer feature found in more sophisticated digital pianos meant to adjust the sound spaciousness when the headphone is used during playback. The main difference in sound quality between the P-125 and P-115 is the addition of 10 instrument's sound to the P-115's successor to give twenty-four factory-fitted tones, consisting of 6 sections of sound, and 4 variation tones each.
A well-known sound effect of this instrument is the Reverb, which can be selected from the 4 types available, such as Concert Hall, Recital Hall, Club, Chambers.
Polyphony
Did you know?
The word "
Polyphony
" means many sounds arranged in parts for an instrument. The
Yamaha P125
piano has
192 notes
, that means, it has 64 notes more than other digital pianos of the same caliber. With this number of polyphony, it is nearly impossible to exhaust all the notes.
Speakers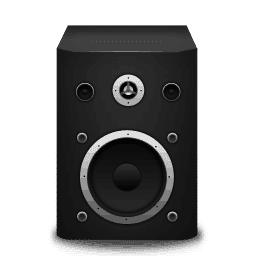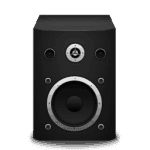 The P-125 speaker system is redesigned with four speakers. Two of these speakers are mounted on the upper left and right side of the keyboard, while the other two is on the lower left and right side of the instrument. To ensure crystal clear high frequencies, there are two 12cm main speakers, and two 4cm tweeters which delivers power up to 14W, to give enough volume without additional amplification.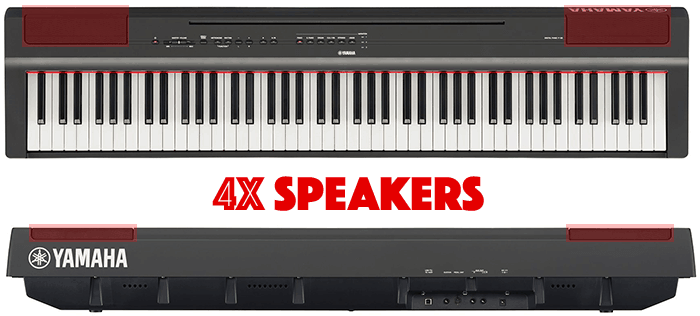 This instrument also offer new features to promote the quality of sound. These are Table EQ, Sound Boost, and Intelligence Acoustic Control responsible for acoustic control.
FEATURES
Six patterns of rhythm have been added to the P-125 which makes it different from the P-115.
Modes
Yamaha P125 has 3 modes applicable to today's digital pianos. There are Dual mode, Split mode, and Duo mode.
Dual mode – With this mode, you can combine two different instruments, and play them simultaneously.
Split mode – This allows the keyboard to be split into two parts while putting each hand on different instruments.
Duo mode – This is an interaction mode between the teacher and the learner.
Transpose and Fine-Tuning
The pitch of the keyboard can be shifted in semitone steps using a feature called Transpose. You can play a song in a different pitch without changing the position of your hands. With fine-tuning, you can change the pitch in 0.2Hz steps when matching the pitch of another instrument.
Recording/Playback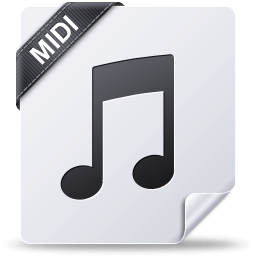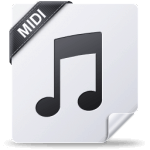 With this feature, you can record all sessions, use MIDI format to save, and then send it to your device such as a computer, to listen and evaluate your performance. The memory space only contains 3 songs which is so improper with regard to recent advancements in technology, though this can be overlooked if you install the Smart Pianist Application, to playback Audio files/MIDI from your iPad or iPhone.
Metronome
You can improve your rhythm and timekeeping skills with this tool. Its volume, tempo, and beat is adjustable.
CONNECTIVITY OPTIONS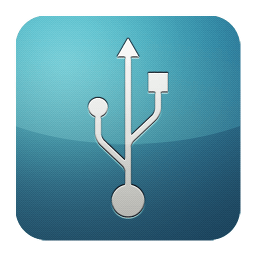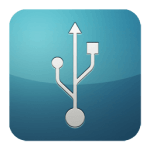 Yamaha P125 has important ports such as USB-to-Host port, Sustain jack, two Headphone jacks, Auxiliary-out jacks, and Pedal Unit Connector port. These ports can be found at the rear of the instrument, except the two Headphone jacks positioned on the front panel of the piano.
With the USB-to-Host type B port, you can exchange MIDI data and files by connecting the instrument to a computer or smart device.
Sustain Connector (1/4" jack) for the included footswitch.
The two Headphone jacks can be used simultaneously.

 

The Auxiliary-out jack connects audio equipments with the keyboard.
Pedal unit connector is used for connecting optional 3-pedal unit.
The P125 is also upgraded to be compatible with Smart Pianist App by Yamaha, but the app only works with Apple's iOS devices for now.
ACCESSORIES
The Yamaha P-125 comes with the following accessories:
Sustain Pedal
Headphones
AC Adapter
Music rest
Other accessories that can be purchased separately include:
Sustain Pedal


There are 3 pedals used by an acoustic piano, they include Footswitch (FC5), Sustain pedal (Yamaha FC3A), and Yamaha LP-1, but the one that is used most often are the Sustain Pedals (Yamaha FC3A).
Stand
A keyboard stand is not included in the Yamaha P-125 package, but you can purchase them separately. There are two types of stand, the X-type and the Z-type stand. There are portable, affordable, and adjustable. 
The X-type is more suitable for on-the-go musicians or those who may want to collapse the stand when not in use to create more space in their homes.
Case
The Keyboard Bag (SC-KB850) is not included in the piano package, and can be purchased separately.

Headphones
The headphones included in the bundle allows you to practice in private without disturbing others. It can provide a detailed and clear sound compared to what onboard speakers can give.
SUMMARY
If you feel that, the Yamaha P-125 is too expensive for its price, I think you should try its predecessors like P-45 or P-115 offered at a reduced price. Though this is a matter of choice, but your choice should depend on recording features, sound, and ability to use the Yamaha Smart Pianist App.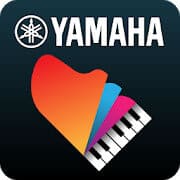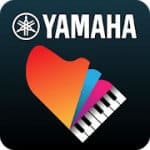 While some piano upgrades can have minimal functions, and not to be considered, my personal view is that, the Yamaha P125 has additional richer-sound features, and can incorporate your iOS devices into the piano playing sessions, thereby making it a worthwhile and impressive digital piano suitable for beginners and intermediates.
Pros
Pure-CF sampling with 4-layers
Weighted Hammer Action
Good design
Superior sound processor
Compatible with Yamaha Smart Pianist App
Light, portable, and easy to move about
USB connectivity
Line-out port for an amp
Great price for its features
192-note polyphony
2-track MIDI recorder
Built-in library with 50 songs, 20 versatile rhythm accompaniments
Cons
Limited number of voices (24)
Piano samples are a bit sterile
Basic Sustain footswitch
No Bluetooth connectivity
ALTERNATIVES
The main alternatives to the Yamaha P125 are: 
This Yamaha P-125 review is based on my personal experience with the instrument. Have you used this digital piano? Share your experience with us.